ButcherBox Review
Meat The Way Nature Intended It To Be

Advertiser Disclosure
This website features affiliate links. For purchases made via these links, we earn commissions that allow us to keep producing helpful content. To find out more
click here
.
Close
If you are a passionate carnivore, it may sometimes seem like it is easier to find a soul mate than to get a decent cut of meat that is not filled with growth hormones and antibiotics. This modern meat lover's plight is what inspired Mike Salguero to create ButcherBox, a top-notch meat delivery company.
Advertised as the neighborhood butcher for modern America, this service provides regular deliveries of high-quality, sustainably sourced meat and makes it easier for home cooks across the country to make healthy, protein-packed meals for their families. One of the things you're going to notice right away is just how important customers are to this company. After all, they list their phone number right there, on the homepage, unlike some others. Read this ButcherBox review and discover all the key details about this company's impressive offer.
How ButcherBox Works
ButcherBox is a subscription-based meat delivery service. It brings fresh, quality meat to your doorstep every month or every other month, depending on your family's needs.
The company's selection includes more than 60 meat items. You can enjoy 100% grass-fed and grass-finished beef, pasture raised and free-range organic chicken, and heritage breed pork. Both premium and convenience cuts are available.
You can choose between 2 main types of boxes – the Curated Box, including cuts handpicked by the ButcherBox team, and the Custom Box, including cuts of your choice. You can further choose between 2 box sizes. Whether you choose the Curated Box or the Custom Box, you get to decide which types of meat you want to get in your delivery.
Although a subscription is required, it comes with many perks and no limitations. As a subscriber, you get to enjoy free shipping, members-only offers, recipes, and other exciting perks. You also get to modify your subscription, switch between boxes, and pause or cancel your subscription at any point.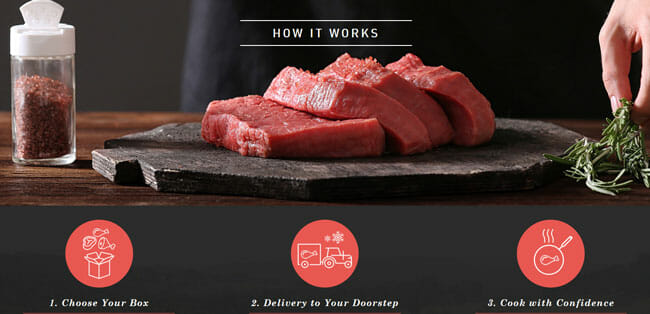 What Makes ButcherBox Different
ButcherBox has already won over more than 10,000 families across America thanks to its unique sourcing methods. The meat you get from this company is the same meat the folks at ButcherBox and their families enjoy at home. It is as good as it gets and here is how it is sourced.
ButcherBox meat is not just free from antibiotics and growth hormones. It is also humanely raised on family-run farms, with no interference with the animals' natural diet. The animals on these farms have full access to both pastures and shelters and they are not kept in crowded spaces. They spend their lives out in the open, interacting with other animals.
The reason why not all animals are grown this way is that it is expensive. According to expert estimates, less than 5% of the beef currently on the market is grass-fed, making this kind of high-quality meat hard to find. With ButcherBox, you do not only get the highest-quality meat delivered to your doorstep but also support hardworking local farmers who employ humane raising practices.
ButcherBox Products
As mentioned earlier in this ButcherBox review, there are more than 60 delicious meat items to choose from and you can decide whether you want to handpick the items yourself or get a tasty surprise in your box. Now, we will provide more details about what is inside ButcherBox boxes.
Curated Box
With the Curated Box, you get a nice mix of premium and convenience cuts selected by the ButcherBox team. You can expect to get both New York strip, ribeye, and other fancy steaks and easy-to-cook chicken thighs, sirloin steaks, and roasts. Depending on your preferences, you can decide whether you want to receive a mixed box including beef, pork, and chicken, a beef and pork box, a beef and chicken box or a beef-only box.
You can choose between the smaller Classic box and the larger Big box. The Classic box brings you 8-11 lbs. of meat, enough to make around 24 meals, while the Big box contains 16-22 lbs. of meat, allowing you to cook around 48 tasty meals.
If you wish, you can customize your box by adding any of the 12 add-ons available, including burgers, breakfast sausage, ground beef, boneless pork chops, boneless, skinless chicken thighs, uncured, sugar-free bacon, and more.
Custom Box
The Custom Box includes up to 21 items of your choice. Just like with the Curated box, you can choose between two box sizes and include any of the 12 add-ons. With the Custom Box, the Classic size brings you 9-14 lbs. of meat, good for around 30 meals, and the Big box comes with 18-26 lbs. of meat, which should be enough to cook around 60 individual meals.
In addition to the gorgeous meat, ButcherBox provides lovely, inspiring recipes that make perfect use of the items in your box. The prep time usually ranges from just 5 to around 30 minutes. There are dozens upon dozens of recipes in the ButcherBox recipe library, so you can easily find something you would like to try out.
Pricing
With ButcherBox, pricing is perfectly straightforward, so you always know exactly how much your box is going to cost. The price exclusively depends on the box type and box size you choose.
With the Custom Box, the price of the 9-14 lbs of high-quality meat box is $159 per month. The Mixed Box costs $137 per month. If you opt for the Beef & Chicken Box, you get the Classic-sized box for $137 per month and the price is the same for Beef & Pork Box. ButcherBox All Beef Box will set you back $137 per month.
Of course, you can always throw in a couple of add-ons when you need some extra meat. The prices of add-ons range between $7 and $25 per pack, depending on whether you opt for premium or convenience cuts. Shipping is always free and there are no additional or hidden costs.
Delivery Areas
At the moment, ButcherBox delivery map covers the entire contiguous US. The company is actively working on finding adequate delivery solutions that would allow it to ship its products to Alaska, Hawaii, and Canada. The boxes are shipped from Monday to Friday and deliveries are made from Tuesday to Saturday. Deliveries can be made to both home and business addresses. However, the company does not recommend using a business address due to potential issues caused by limited business hours.
ButcherBox Pros And Cons
To make sure ButcherBox meets all your standards and expectations, it is important to know its biggest advantages and disadvantages. With a short overview of its pros and cons, you can easily decide if ButcherBox is the right company for you.
Pros
More than 60 high-quality meat items
100% grass-fed beef, organic chicken, and heritage breed pork
Great selection of both premium and convenience cuts
Customizable boxes
Delicious add-ons
Excellent membership perks
Mouthwatering recipes
Flexible subscription
Free shipping
Bottom Line
ButcherBox promises to bring the best natural meat straight to your doorstep and from our experience, the quality really is as high as advertised. The meat is more flavorful and boasts a richer texture than the kind you get at the store. What is great is that you can decide exactly what you want to get in your box and there are tons of options to choose from.
The boxes may be a bit too large for families that do not eat meat every day, but since you can receive the boxes every other month, this should not be too big of a problem. We have to admit that the prices are not as low as we would like them to be. However, the truth is that in order to raise animals the natural way, farmers need to invest a lot of money, so keeping that in mind, the prices are more than reasonable. Not only that, but after tasting the meat, we can say that it is definitely worth it.