Compare Prices
The following price comparison is designed to help you easily figure out which of our top-ranked meal kit deliveries for singles best fits your budget. We have brought all the pricing information to one place, including the shipping costs and details about the companies' delivery areas, so you can identify the perfect fit in a single glance.
Company
Avg. Meal Price
Shipping
Delivery Areas
Plated
Avg. Meal Price
Shipping Cost
$0
Delivery Areas
Blue Apron
Avg. Meal Price
Shipping Cost
$0
Delivery Areas
HelloFresh
Avg. Meal Price
Shipping Cost
$6.99
Delivery Areas
Purple Carrot
Avg. Meal Price
Shipping Cost
$0
Delivery Areas
What A Crock
Avg. Meal Price
Shipping Cost
$0
Delivery Areas
FreshDirect
Avg. Meal Price
Shipping Cost
$5.99
Delivery Areas
Benefits Of Meal Kit Deliveries For Singles
If you're like most people nowadays, around half of your food expenditure is spent on meals you eat outside of your home, which means you don't have a clue where your food actually comes from. Needless to say, this type of diet is not the healthiest choice you could be making. The more you cook at home, the more you're aware of what you're eating and where your food comes from. This is one of the biggest advantages of meal kit delivery services.
Meal kit deliveries for singles can also save you a lot of trouble and time usually spent on browsing different recipes online and shopping for ingredients. They deliver only top-quality organic, fresh, and seasonal components and provide you with a whole bunch of yummy recipes to choose from according to your culinary skills. The ingredients also come pre-portioned, which will save you from going overboard on particularly ambitious recipes.
Bottom line, meal kit delivery for singles will keep you out of restaurants and fast food joints and put you back in the kitchen with all the necessary equipment for your culinary acrobatics. You'll have a lot of recipes to choose from and high-quality pre-portioned ingredients will be delivered to your doorstep, ready to be pieced together into mind-blowing culinary delights. 
How Are Meal Kit Deliveries For Singles Different
Meal kit deliveries are usually aimed at couples and families, leaving singles with a ton of unnecessary food that either has to be frozen or eventually thrown away. In order to put a stop to the whole "single shaming" practice when it comes to preparing meals for one, we've developed this comprehensive list of mouthwatering meal prep delivery options that'll allow you to prepare delicious meals just for yourself. 
There are currently more than 100 different meal delivery services, which creates a very healthy and competitive market. Thus, every company strives to provide its users with more attractive, diverse, and budget-friendly offers than the competition.  
Renowned meal kit deliveries dish out only the best ingredients and the most delicious recipes that scale with your skill level in the kitchen. The recipes will guide you throughout the entire process and you'll be making complicated culinary treats in no time. On top of maintaining a healthier diet, you'll also become a better cook without having to waste money on cooking classes.  
Meal kit deliveries are also much more convenient than your local store since you get all the ingredients delivered straight to your home address. This doesn't only save you time, it's usually cheaper as well, as meal prep delivery companies frequently offer below-retail prices. All of the ingredients are pre-portioned, so you'll save even more time on measuring, chopping, and slicing.
Meal kit deliveries have to continually offer top-quality services due to the fierce competition, they are convenient, the ingredients are healthy and without artificial substances, they offer a wide range of easy-to-follow recipes that'll also boost your cooking skills, and they're usually cheaper than the food you'd buy at your local store. 
Choosing The Right Meal Kit Delivery For Singles
We expect excellence from each and every pick on our list and use a convoluted system of ranking criteria in order to ensure that every company is worthy of its spot. Our testing circuit is tough, but it's the only way to provide you with the best meal kit delivery companies on the market and stand firmly behind our top picks. 
The first thing we pay attention to is the overall variety of meals every company has to offer. The companies need to have a wide range of meal options to satisfy the culinary spectrum and dietary needs of all home cooks out there. We're also looking for optimal nutritional value and portion sizes suited for both adults and children. Flavor is not the official criterion during our testing process, but it also affects the final ranking. 
Flexibility is our next criterion since we want to provide our readers with the most customizable subscription options. Flexible providers will allow you to personalize the length of your subscription, the frequency of the deliveries, the type, quality, and quantity of your meal kits, and many other factors. We also pay great attention to the possibility of pausing your subscription if you decide to move, go on a vacation or skip a week or two for whatever reason.
Lastly, we want you to get the best value possible for the money invested 100% of the time. This is why we browse the market in search for the best prices for the service provided. 
Best Meal Kit Deliveries For Singles
What all of our top picks have in common is that they are currently the best on the market. Now it is time to discover what makes each of these meal kit deliveries for singles unique. Explore their distinctive features in the mini-reviews below and choose the one that best satisfies your personal needs.
1. Plated


Plated is a healthy meal kit delivery launched to supply its customers with fresh ingredients and save them time and money on searching for new recipes and shopping for groceries. All the ingredients come pre-portioned, which optimizes your chances of creating gourmet meals in your own kitchen. 
Everything is delivered fresh and contains no harmful chemicals. You can choose between different dinner recipes and dessert options each week and opt for 2, 3 or 4 servings 2, 3 or 4 times a week. 
2. Blue Apron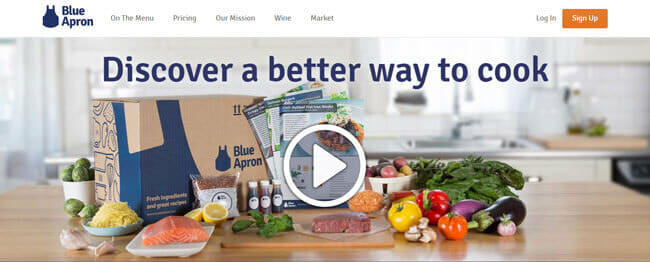 Blue Apron meal kit delivery provides only high-quality fresh ingredients and easy-to-follow recipes designed by culinary experts. The company implements responsible food-growing practices and cooperates only with top-quality suppliers. This allows it to set lower price tags than most grocery stores. All of the meats are antibiotic and hormone-free as well.  
Blue Apron is currently the most popular meal kit delivery service that features a wide range of delicious options every single week.  
3. HelloFresh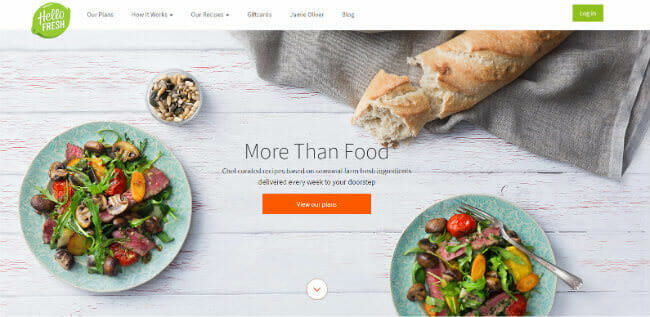 HelloFresh meal kit service is built around the idea of spending as little time as possible on meal preparation and enjoying extraordinary recipes and top-quality food hassle-free. All of the ingredients are handpicked and delivered completely fresh, alongside easy-to-follow recipes for any day of the week. 
You can choose between 4 basic meal plans, including Classic, Veggie, Calorie Smart, and Family, and specify the weekly number of dishes and days you want your food delivered. 
4. Purple Carrot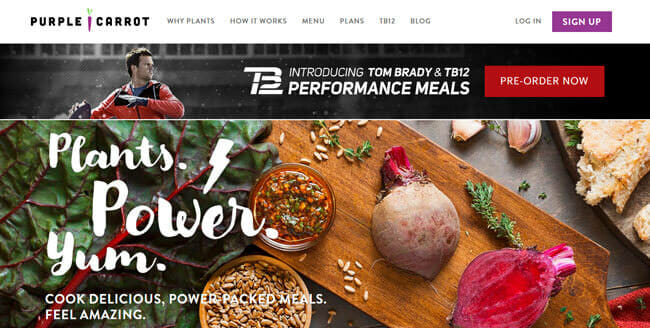 Purple Carrot is one of the few exclusively vegan meal kit delivery services. The main idea behind the company is to allow vegans to prepare healthy and varied food without having to spend a bunch of time hunting for ingredients. 
New creative recipes and fresh ingredients are brought to you every single week giving you the opportunity to enjoy a multitude of mind-blowing flavors spread across 2 meal plans designed with healthy eating and active lifestyles in mind.
5. What A Crock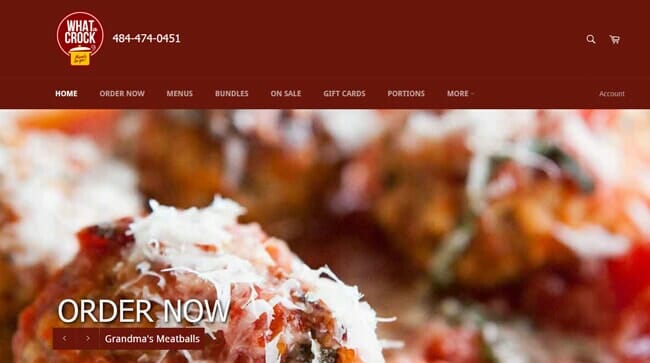 What A Crock is a meal box delivery service that specializes in crock-pot-ready meals and performs all the prep work for you, so you can basically put your meal into the slow cooker and enjoy fresh and natural ingredients trimmed, chopped, and browned by professional chefs.  
All of the meals are ready to be placed into your slow cooker, so you won't have to waste time with additional prepping. You can opt for regular deliveries and get 3 or 4 meal kits per week or order at your leisure with the one-off ordering option. 
6. FreshDirect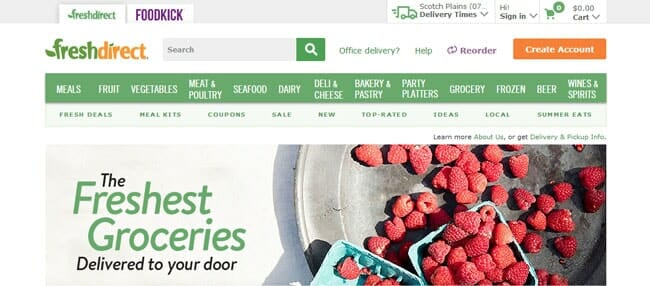 FreshDirect is not your ordinary meal prep delivery service but a full-blown online shop for all your dietary needs. You just can't avoid getting overwhelmed by all the delicious goodies offered on the site, ranging from meal kits and ready-made meals to pastries, groceries, and drinks. 
You don't have to worry about meal variety with FreshDirect as you will have hundreds upon hundreds of dishes at your disposal. The offer is a bit more modest when it comes to meal kits, usually hovering around 30.