EveryPlate Review
Quality Meal Kits At Unbeatable Prices

Advertiser Disclosure
This website features affiliate links. For purchases made via these links, we earn commissions that allow us to keep producing helpful content. To find out more
click here
.
Close
If you like the idea of meal kit services but find them overpriced, EveryPlate was designed for you. It is one of the most affordable meal kit services in America and its pricing fits virtually any budget.
This New York-based service was launched in 2018 by HelloFresh, one of the biggest names in the meal kit industry. It promises high quality at a low price and the main goal of this EveryPlate review is to reveal whether there is truth to this claim.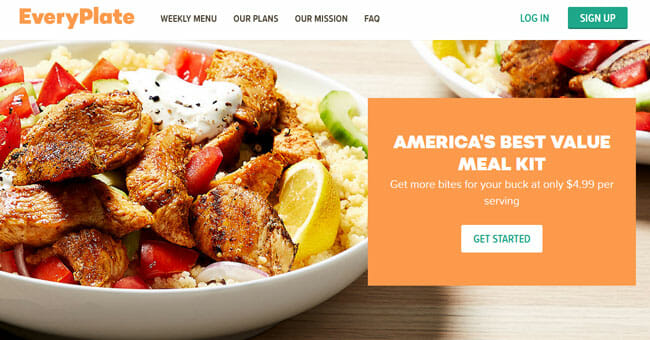 How EveryPlate Works
EveryPlate is a subscription-based service, which means that by placing your initial order, you agree to receive meal kits on a regular basis until it no longer works for you. Fortunately, the subscriptions are highly flexible, as we will explain later on. The service offers 2 meal plans, one designed for 2 people and the other suitable for families of 4. As a subscriber, you get to choose 3 out of 5 fresh recipes per week. All recipes are dinner ideas and they are designed with carnivores and omnivores in mind.
Once you make your choice, the service obtains and measures all the ingredients necessary to make the meals and sends them to your home. Along with the food, you get handy recipe cards featuring step-by-step cooking instructions.


Since the weekly menu only includes 5 meal ideas, you may wish to skip a delivery from time to time in case there are not enough recipes that suit your preferences. The company has made the skipping process perfectly easy. All you need to do is log into your EveryPlate account and choose the week you want to skip. If you change your mind, you can unskip with equal ease. The same goes for modifying your order and changing the delivery day and your payment and shipping information.
Even more importantly, you can cancel your subscription anytime since you are not bound by any legal contract. Thus, you do not have to worry about being stuck with a subscription that does not suit your changing needs.
There is only one fact you need to remember and that is the deadline for order modifications and skipping or canceling your subscription. If you want to make any changes or do not wish to receive your next order, you need to state your intentions and desires by midnight 5 days before your next delivery is scheduled.
What Makes EveryPlate Different
Indeed, EveryPlate differs from most of its competitors in both good and bad ways. Starting with the positive qualities, we need to highlight that you currently cannot get meal kits at a lower price, at least not in America. Plus, based on our experience and the experiences of home cooks who have ordered from EveryPlate, the ingredients are fresh and of rather high quality, the recipes are simple, and the meals are classics that suit most tastes. These are all very good reasons to give EveryPlate a try.

On the downside, the low price is reflected in the selection and numerousness of the recipes. Granted, the recipes change every week, so you get to experience plenty of variety, but there are just 5 of them on the menu, compared to a dozen or more on the weekly menus of some of EveryPlate's top competitors. Second, the recipes are only suitable for people who eat meat and do not suffer from any major food allergies. This significantly reduces the number of potential customers.
In other words, EveryPlate's offer confirms the well-known fact that you cannot have it all. With this service, you get quality food and great convenience at an unbeatable price. However, you should not expect anything fancy and if you want your meals to be customized to suit any special dietary preferences, you need to customize them yourself.
Meals And Recipes
Now, let us talk about the menu. So far in this EveryPlate review, we have covered the basics. There are 5 recipes per week, 3 recipes of your choice in your delivery, 2 or 4 servings per recipe. There are no recipes for vegans and vegetarians and the meals usually include the most common allergens, like wheat, dairy, and nuts.

On the plus side, even if you are pretty picky, you are likely to enjoy the dishes on offer. You can expect filling pasta, sticky roasted chicken, delicious steaks, meatballs, pork chops, comforting soups, risottos, grilled cheese, sloppy joes, fajitas, quesadillas, and other favorites. The recipes are rarely exotic and they can hardly be classified as haute cuisine. They are designed for everyday cooking and the chefs aim to please everyone by opting for familiar textures and flavors and all-around safe choices. However, for those who want to make their meals special, the company does offer upgradeable recipes that allow you to replace standard ingredients with those of premium quality. If you are interested in this option, just look for menu items labeled Premium.
Apart from being family-friendly and pretty satisfying, the meals are also easy to make. Normally, there are just 6 simple steps that you need to complete before enjoying your meal. There are not too many ingredients, so the prep process does not take long. Many of the dishes can be prepared in a single pot or pan. The average cook and prep time is 45 minutes, with times ranging from 30 to a maximum of 60 minutes.
The portions are medium-sized, meaning they are large enough to satisfy everyone but those with a particularly big appetite. The meals are often high in calories, normally ranging between 500 and 950 calories per portion. Calorie count and allergen and nutrition information are provided for all recipes.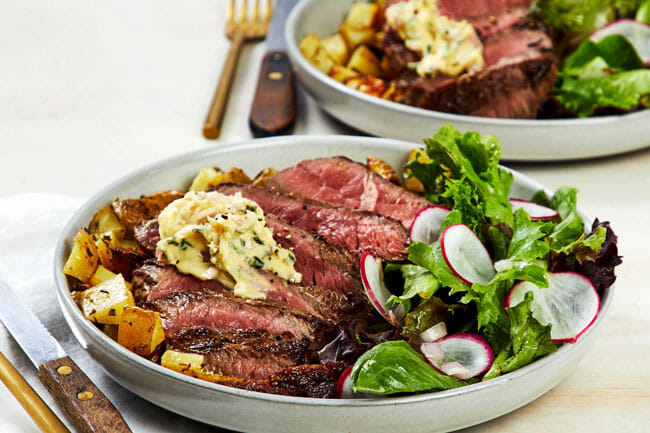 Deliveries include all the necessary ingredients, apart from pantry staples like salt, pepper, and oil. The ingredients are fresh, natural, and pre-measured. However, they are not sorted by recipe and not all of them are labeled, so you need to learn how to tell parsley from cilantro or basil.
You do not need any expensive equipment in order to cook EveryPlate meals. Most of the time, you just need a pot, a pan, a cutting board, and a good knife, along with some baking sheets. Occasionally, you may need some inexpensive additional tools and resources, like a peeler, a strainer, a whisk or aluminum foil.
Pricing
EveryPlate pricing is as simple as it can be. Regardless of whether you opt for the 2-person or the 4-person meal plan, you pay $4.99 per serving. If you want to get premium ingredients instead of the standard ones, you pay $3 more per serving. As expected, since the price per meal is so low, shipping does not come free of charge.

For every delivery, you pay an $8.99 shipping fee. This may seem a little steep, but you still get to save quite a lot. In comparison to ordering from some of the most popular meal delivery services that offer free shipping, you get to save $40 or more per delivery if you are ordering for 4 people, which is rather great.
EveryPlate meal plan
Dinner 2-person
Dinner 4-person
$4.99 per serving
$4.99 per serving
Delivery Areas
According to the EveryPlate website, the service delivers to the majority of the continental US. What is clear is that Alaska and Hawaii are not a part of the company's delivery area, but we were curious to find out what other areas and states may not be included. Unfortunately, EveryPlate's representatives were not willing to disclose this information.
There are 2 ways to check whether EveryPlate delivers to your area. You can go through the signup process, enter your zip code, and receive a confirmation. The other, time-saving option is to make use of the 24/7 live chat. Just reach out to customer support, ask whether the service delivers to your zip code, and get an answer in a minute.
EveryPlate Pros And Cons
To make sure EveryPlate meets all your standards and expectations, it is important to know its biggest advantages and disadvantages. With a short overview of its pros and cons, you can easily decide if EveryPlate is the right meal kit service for you.
Pros
Fresh, quality, pre-portioned ingredients
Suitable for all cooking skill levels
Picky-eater-friendly menu
New meal ideas every week
Meal plans for couples and families
Highly affordable prices
Flexible subscription
Cons
Not all ingredients are labeled
Few items on the weekly menu
No options for special diets
Sample Dishes
If you subscribe to EveryPlate, you can easily prepare culinary masterpieces using only the ingredients and recipes found in your meal kit box. You may not be a pro chef just yet, but with EveryPlate, you can easily make restaurant-grade meals. You don't have to take our word for it – check out the images below to get a better idea of the types of dishes you can enjoy with EveryPlate.
Buffalo Chicken Rice Bowl
Chili Cherry Pork Chops
Easy Chicken Fajitas
Gravy Lover s Meatballs
Bottom Line
Finishing off this EveryPlate review, we can conclude that this meal kit service is designed to fit every budget, but it is not designed to fit all dietary needs. It is perfect for omnivores and carnivores who want to save cash and time, cook with absolute ease, and enjoy delicious and nutritious home-cooked meals on a regular basis. At $4.99 per serving, its kits are as affordable as they get and the service does not compromise on the quality. Thus, if you have no special dietary requirements that may prevent you from giving EveryPlate a try, we warmly recommend ordering from this reliable and budget-friendly service that delivers on its promises and makes home cooking a breeze.