Our modern lifestyle and general lack of time don't magically erase our need for high-quality food. We still need a ton of nutrients in order to grow, think, function, and stay healthy. That's why we comprised this all-encompassing list of the best frozen meal deliveries that'll save you both time and money from day one.
Advertiser Disclosure
Top10MealDeliveryServices.com is an independent professional comparison site supported by referral fees from the sites which are ranked on the site. The Meal Delivery Services sites and Special Offers that we present are from companies from which Top10MealDeliveryServices.com receives compensation. This compensation impacts the ranking of the sites. Other factors, including our own opinions, your location and likelihood of signing up for the site, may also impact how the ranking of the sites appears to a particular user. Top10MealDeliveryServices.com cannot and does not present information about every Meal Delivery Service provider or Meal Delivery Service offer available.
Close
Compare Prices
The following price comparison is designed to help you easily figure out which of our top-ranked frozen meal delivery services best fits your budget. We have brought all the pricing information to one place, including the shipping costs and details about the companies' delivery areas, so you can identify the perfect fit in a single glance.
Company
Avg. Meal Price
Shipping
Delivery Areas
Avg. Meal Price
$12.00
Shipping Cost
$19.95
Delivery Areas
Avg. Meal Price
$10.00
Shipping Cost
$0
Delivery Areas
Avg. Meal Price
$8.95
Shipping Cost
$0
Delivery Areas
Avg. Meal Price
$14.50
Shipping Cost
$15.95-$59.95
Delivery Areas
Avg. Meal Price
$8.00
Shipping Cost
$0
Delivery Areas
Avg. Meal Price
$11.33
Shipping Cost
$20.00
Delivery Areas
Avg. Meal Price
$72.00
Shipping Cost
$0
Delivery Areas
Avg. Meal Price
$18.80
Shipping Cost
$0
Delivery Areas
Avg. Meal Price
$10.00
Shipping Cost
$18.00-$20.00
Delivery Areas
Avg. Meal Price
$8.00
Shipping Cost
$0
Delivery Areas
Best Frozen Meal Delivery Services
What all of our top picks have in common is that they are currently the best on the market. Now it is time to discover what makes each of these frozen meal delivery companies unique. Explore their distinctive features in the mini-reviews below and choose the one that best satisfies your personal needs.
1. BistroMD
The main feature that sets Bistro MD apart is the support you'll get as its registered member. You can make use of its app for meal-mapping and calorie count and/or get a fully customized diet plan made by a physician specializing in weight management.
None of the meals provided by this frozen meal delivery have added MSG or trans fats, the ingredients are prepared fresh, and nothing is freeze dried, so you can enjoy delicious food and boost your health at the same time.  
2. The Good Kitchen

The Good Kitchen offers a wide variety of delicious meals that are frozen fresh in order to prevent the loss of nutrients. All meals are prepared by professional chefs and don't contain any added sugars, processed products, additives, and preservatives.  
The company offers separate meal plans for adults and kids, with 4 different options in each. The food is delivered free of charge anywhere in the US, including Alaska and Hawaii. 
3. Balance By BistroMD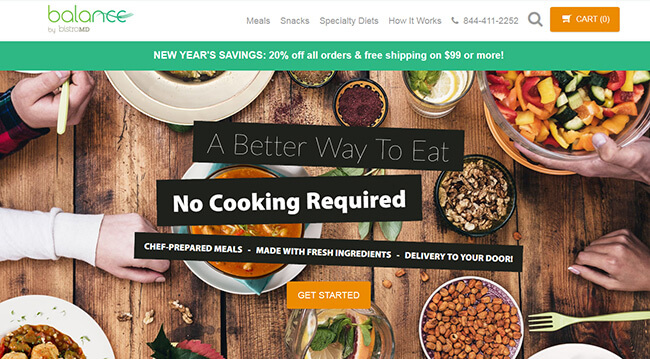 Balance by BistroMD is a meal delivery service based on the bariatric science implemented by the company's physician. It's specially designed for people who take care of their diet and overall health. 
All meals are prepared by professional chefs after careful planning and nutritional calculations. This makes it a perfect choice for individuals who want to lose weight without feeling hungry all the time. You'll have a wide choice of meals, shakes, and snacks at your disposal and you can change your order every month. 
4. Home Bistro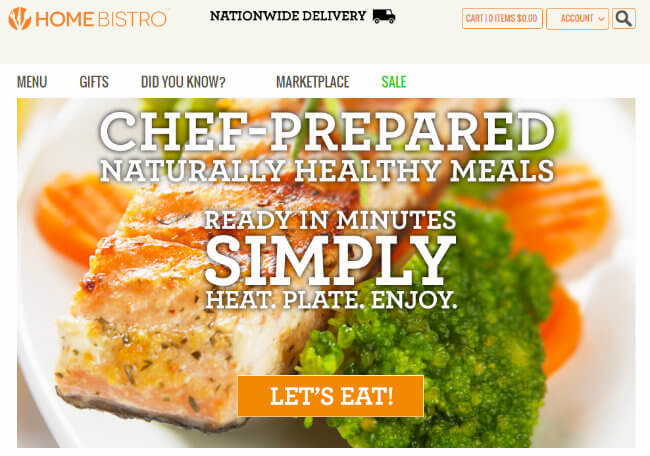 The basis of Home Bistro's portfolio lies in the intricate structures and fine textures of Mediterranean delicacies. The company uses only high-quality ingredients, all locally sourced and natural. The menu is seasonally inspired, so there are never any corners cut when it comes to freshness. 
The meals are low in sodium (800- mg per meal) and with clearly marked nutritional values. Every portion contains fewer than 700 cal, which is an optimal intake per serving for a modern, high-functioning individual.  
5. Veestro

Veestro is a vegan meal delivery service dedicated to spreading top-quality plant-based cuisine, according to its "Plantfesto." The company also provides semi cold-pressed, half-blended juices in different juice cleanse packs. Every meal has a nutritional and ingredients chart, which makes life much easier if you can't eat certain foods or have allergies. 
The packaging is 100 percent recyclable and comes with a calculated amount of dry ice, meaning it is designed to melt just as it reaches its destination.    
6. Diet-To-Go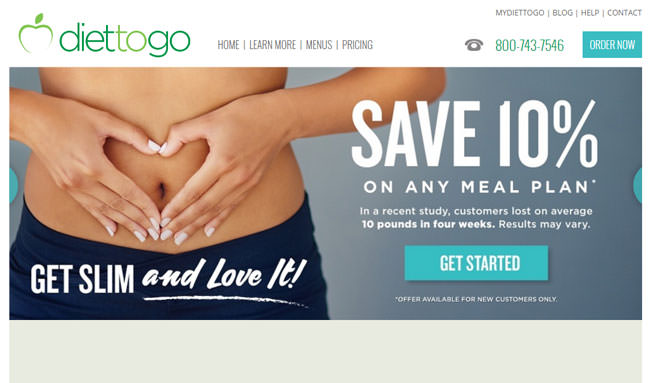 Diet-To-Go is a groundbreaking frozen meal delivery service that allows you to personalize your selection of delicious, healthy, ready-to-eat dishes. The company offers a free diet analysis before your first order, which will help you determine your BMI and customize your delivery according to your dietary needs.  
Apart from delicious meal choices, Diet-To-Go also provides you with professional support and guidance to complement your weight loss efforts.  
7. Pre-Made Paleo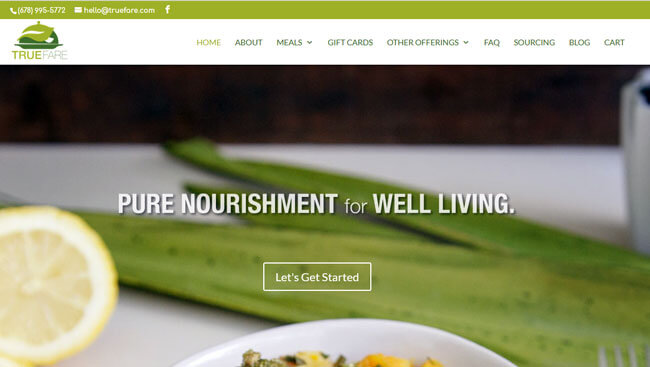 Pre-Made Paleo, which is currently known as True Fare, offers a wide spectrum of delicious meals that'll help you maintain your Paleo lifestyle. Apart from Paleo, the company also incorporates a bunch of other popular diet programs, such as keto, AIP, and Whole30. 
The ingredients used are top-shelf, with certain wild-caught options, and new recipes are added regularly. You can also create a custom meal plan by using the a la carte option. 
8. Paleo On The Go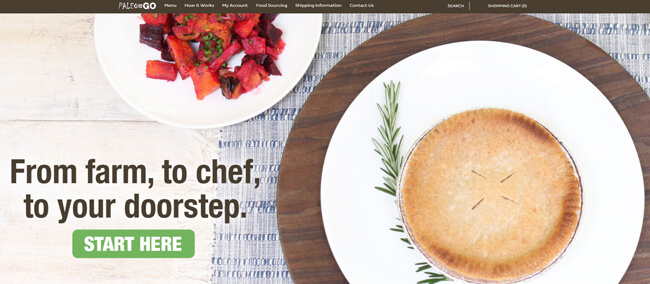 Paleo On The Go is an award-winning autoimmune protocol and Paleo meal delivery service that offers chef-prepared meals and ships them to the entire US. The company sources only the healthiest, locally grown ingredients and free-range, sustainably raised meats. The menu is constantly upgraded to provide you with new, delicious, and exciting meals every week.  
Once received, the meals can be kept in the freezer for up to a year and up to 5 days in the refrigerator when thawed.  
9. Magic Kitchen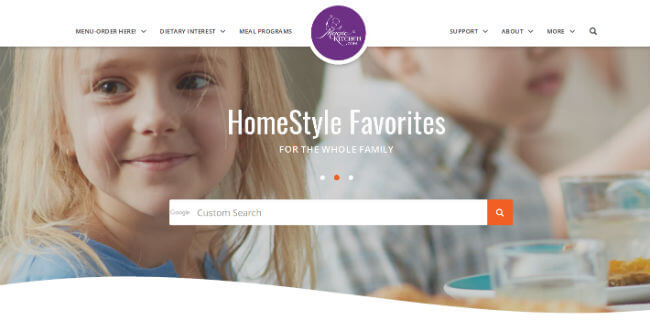 Magic Kitchen is a frozen meal delivery service that allows you to choose from a rich selection of complete meals or create your own program using the a la carte menu. Ordering from Magic Kitchen doesn't result in any contracts or standing ongoing commitments, whether you opt for a single order or set up a meal program. 
The company offers a wide range of meals for seniors and people on special diets, as well as perfect gift options. 
10. Personal Trainer Food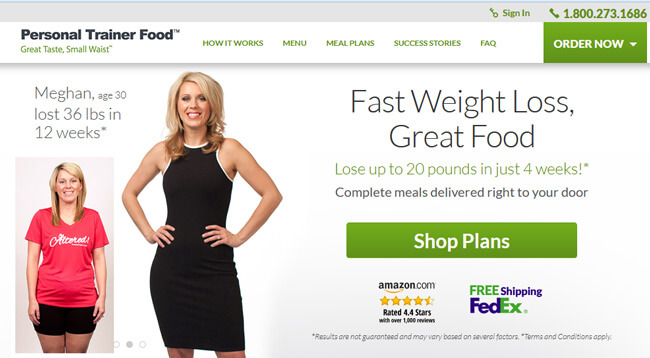 Personal Trainer Food was created with the goal of helping you lose weight as quickly and efficiently as possible without endangering your health. You can choose from a rich menu filled with delicious and healthy meals and create your personal diet plan for losing weight. You can even order packs with different snacks.  

The food is delivered in a recyclable Styrofoam box with just the right amount of dry ice to keep your meals refrigerated until they reach your home. 

* All the prices on this website are subject to change without notice. While we put a great deal of effort into making sure that all the prices are accurate, one or more products may have outdated prices. Please visit the specific product's official website for exact prices.