Compare Prices
The following price comparison is designed to help you easily figure out which of our top-ranked frozen meal delivery services best fits your budget. We have brought all the pricing information to one place, including the shipping costs and details about the companies' delivery areas, so you can identify the perfect fit in a single glance.
Company
Avg. Meal Price
Shipping
Delivery Areas
Bistro MD
Avg. Meal Price
Shipping Cost
$19.95
Delivery Areas
MealPro
Avg. Meal Price
Shipping Cost
$9.99
Delivery Areas
Balance By BistroMD
Avg. Meal Price
Shipping Cost
$0
Delivery Areas
Home Bistro
Avg. Meal Price
Shipping Cost
$15.95-$59.95
Delivery Areas
Paleo On The Go
Avg. Meal Price
Shipping Cost
$22+
Delivery Areas
Diet-to-Go
Avg. Meal Price
Shipping Cost
$9.99
Delivery Areas
Veestro
Avg. Meal Price
Shipping Cost
$0
Delivery Areas
Ice Age Meals
Avg. Meal Price
Shipping Cost
$10-$50
Delivery Areas
Pete's Paleo
Avg. Meal Price
Shipping Cost
$0
Delivery Areas
Magic Kitchen
Avg. Meal Price
Shipping Cost
$18.00-$20.00
Delivery Areas
Benefits Of Frozen Meal Delivery Services
Let's face it – pretty much nobody has enough time to cook in this day and age. Regrettable as that may be, it's the life we built and enjoy for the most part. Modern (frozen) meal delivery services spotted what was falling through the cracks and gave us just what we needed when we needed it the most.  
Frozen meal delivery services might sound contradictory at first, but freezing processes have advanced beyond our comprehension since the first baby steps of this business idea. Freezing affects the overall taste and moisture of your delivered meals in absolutely ZERO ways.  
Reputable meal delivery services use organic ingredients exclusively; naturally grown, without pesticides and other chemicals. Furthermore, during the cooking process or after, no preservatives whatsoever are added.  
Most of the well-known frozen meal delivery services offer a wide array of delicacies, divided into different plans and programs. Whether you're into losing a couple of pounds, giving a solid push to your sports activities or just living healthy, there is a perfect program for you out there. Many of those programs are crafted by reputable medical doctors or fitness instructors and nutritionists.  
After you register, you'll usually receive some extra benefits. These include but are not limited to personal diet programs, customized to fit your unique nutritional needs, access to a meal-planning /calorie-counting app (if there is one) that can do half the work for you, various loyalty discounts and gift options, and much, much more.  
Recurring programs are especially handy. You can order a test package (the first one is usually discounted universally) and apply for the recurring regime if you like it. With a recurring subscription, you basically never have to think about food again. You can always change the contents of the package yourself or simply give some general pointers and leave it to the chefs to diversify it.  
How Are Frozen Meal Delivery Services Different
Frozen meal delivery services allow you to maintain a healthy diet without so much as leaving your home. They're convenient beyond belief and can provide singles and entire families with delicious, mouthwatering restaurant-grade dishes without having to waste time shopping for groceries, prepping the ingredients, and cooking.   
Furthermore, the food bought at your grocery store will usually be way past its nutritional peak. The food can lose up to 50% of its nutritional value between being picked too early and just sitting around the grocery store. Freezing your food, on the other hand, locks in all the nutrients, so you'll always receive a perfectly balanced set of meals that can meet your daily dietary requirements.  
Most frozen meal deliveries on our list flash freeze their meals, which saves their nutritional value and keeps them in top shape until you decide to put them on your daily menu. Flash freezing (synonym – blast freezing) is the circulation of cold air used to bring food down to extremely low temperatures. The method of "quick chill" prevents the loss of moisture by keeping the ice crystals as small as possible.  
Subpar freezing methods can "damage" your food, which is why we tend to rank only companies that have perfected the process of flash freezing. By choosing only the best of the best, we make sure that you get nothing but food of the highest quality and enjoy maximum variety, taste, and flavor.
Choosing The Best Frozen Meal Delivery For You
In order to isolate the best frozen meal delivery services on the market, we used our established set of ranking criteria that focuses on every important aspect of this type of service. In order to familiarize you with the entire process, we'll share some of our most important ranking factors. 
Our first point of inquiry is a steady stream of meal options. We want to see a rich menu filled with delicious meal choices spread into appropriate categories. This factor also takes into consideration the possibility of customizing your deliveries to match your dietary preferences. This will allow you to eliminate ingredients you don't like or are allergic to and include only those you enjoy. 
Variety is also an important factor since no reputable frozen meal delivery should allow its customers to grow bored of its food. This especially goes if you are following a particular diet, such as Paleo or gluten-free. So, we are interested in rotating menus with new tasty dishes every single week. Food variety will allow you to use your favorite meal delivery on a regular basis without often encountering identical meal options. 
Nutritional value and portion sizes are also essential since you want to get all the necessary nutrients every day without having to waste food and deal with leftovers. 
Lastly, we deal with the overall flexibility of the meal deliveries and their prices. We have to make sure you can cancel, pause or skip your delivery without any monetary penalties. Additionally, the value provided has to match the price tag. 
Best Frozen Meal Delivery Services
What all of our top picks have in common is that they are currently the best on the market. Now it is time to discover what makes each of these frozen meal delivery companies unique. Explore their distinctive features in the mini-reviews below and choose the one that best satisfies your personal needs.
1. BistroMD
The main feature that sets Bistro MD apart is the support you'll get as its registered member. You can make use of its app for meal-mapping and calorie count and/or get a fully customized diet plan made by a physician specializing in weight management.
None of the meals provided by this frozen meal delivery have added MSG or trans fats, the ingredients are prepared fresh, and nothing is freeze dried, so you can enjoy delicious food and boost your health at the same time.  
2. MealPro
MealPro is a top-notch frozen meal delivery that aims to please. It uses only the freshest ingredients of high quality, combines them into meals that suit a variety of healthy diets, and flash-freezes the meals to lock in the nutrients. Its meals are ready to eat in 3-5 minutes and great for low-sodium, high-protein, keto, and Paleo diets as well as individuals allergic to gluten, dairy or soy.
You can customize your meals to eliminate carbs and add more veg and proteins. Your meals come with seasoning packets so you can adjust the flavor to your taste. If you want, you can order cooked food by the pound and create your own custom dishes. Order whenever you wish or subscribe and earn reward points you can exchange for free meals.
3. Balance By BistroMD
Balance by BistroMD is a meal delivery service based on the bariatric science implemented by the company's physician. It's specially designed for people who take care of their diet and overall health. 
All meals are prepared by professional chefs after careful planning and nutritional calculations. This makes it a perfect choice for individuals who want to lose weight without feeling hungry all the time. You'll have a wide choice of meals, shakes, and snacks at your disposal and you can change your order every month. 
4. Home Bistro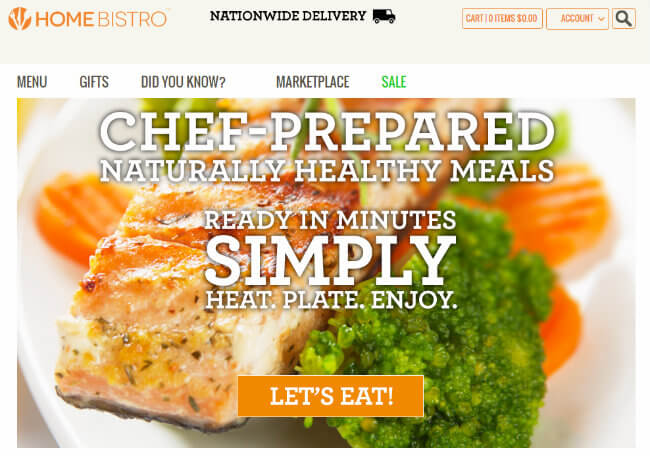 The basis of Home Bistro's portfolio lies in the intricate structures and fine textures of Mediterranean delicacies. The company uses only high-quality ingredients, all locally sourced and natural. The menu is seasonally inspired, so there are never any corners cut when it comes to freshness. 
The meals are low in sodium (800- mg per meal) and with clearly marked nutritional values. Every portion contains fewer than 700 cal, which is an optimal intake per serving for a modern, high-functioning individual.  
5. Paleo On The Go
Paleo On The Go is a frozen meal delivery that provides certified gluten-free and Paleo meals suitable for AIP, Whole30, low-carb, and keto diets. It exclusively sources natural and organic ingredients and boast a rich menu with over 70 different items. You can order chef-crafted breakfasts, entrees, sides, sauces, desserts, soups, and more.
The meals take just 3-4 minutes to reheat and taste great. You can order completely commitment-free, although it is good to know that subscribing allows you to get a discount on every order.
6. Diet-To-Go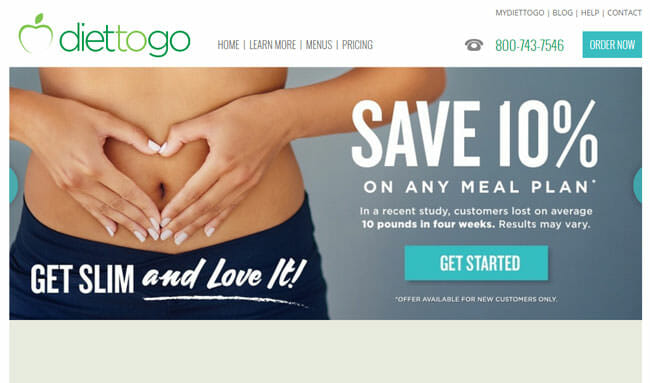 Diet-To-Go is a groundbreaking frozen meal delivery service that allows you to personalize your selection of delicious, healthy, ready-to-eat dishes. The company offers a free diet analysis before your first order, which will help you determine your BMI and customize your delivery according to your dietary needs.  
Apart from delicious meal choices, Diet-To-Go also provides you with professional support and guidance to complement your weight loss efforts.  
7. Veestro
Veestro is a vegan meal delivery service dedicated to spreading top-quality plant-based cuisine, according to its "Plantfesto." The company provides organic frozen meals for weight loss and healthy eating. Every meal has a nutritional and ingredients chart, which makes life much easier if you can't eat certain foods or have allergies. The meals are perfectly balanced, taste great, and take just 4-6 minutes to reheat in a microwave.
The packaging is 100 percent recyclable and comes with a calculated amount of dry ice, meaning it is designed to melt just as it reaches its destination.    
8. Ice Age Meals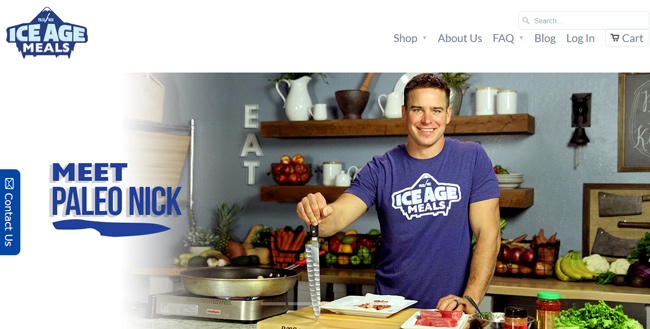 Ice Age Meals specializes in diet-friendly meals that are prepared fresh using premium ingredients and delivered frozen for easier storage. Its meals are designed in accordance with the rules of the Paleo, Zone, and ketogenic diets. While highly satisfying, the meals rarely have more than 500 calories.
All the meals yield a single serving, they are microwave-ready, and you can purchase them whenever you wish, subscription-free. Each delivery comes with a 100% satisfaction guarantee.
9. Pete's Paleo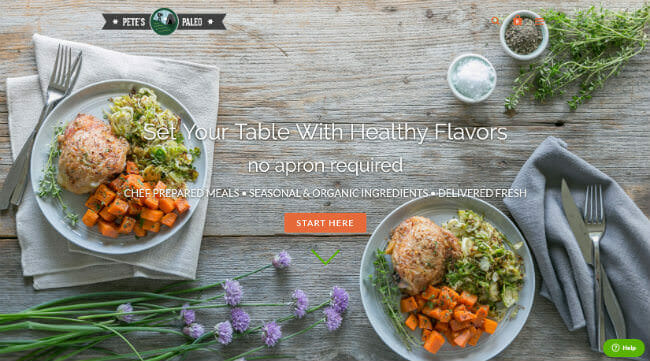 Pete's Paleo is a meal delivery that normally ships its meals fresh, but has a dedicated Eat What You Love menu featuring frozen organic meals for a range of special diets. You can choose from over 20 delicious options and order individual meals or meal bundles.
You can filter the meals by diet and opt for AIP-friendly, ancient grains (gluten-free), ketogenic, Low-FODMAP, and Paleo meals, as well as bowl bundles. The minimum order is 5 frozen meals and each order comes with free shipping.
10. Magic Kitchen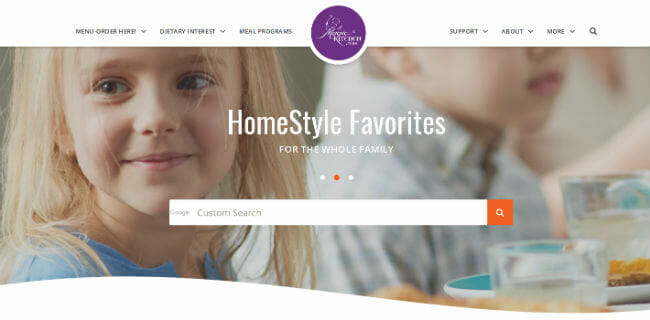 Magic Kitchen is an affordable frozen meal delivery that takes great care to satisfy the diverse needs and preferences of its patrons. Its selection features more than 100 dishes, including calorie-controlled, vegetarian, senior, diabetic-friendly, low-sodium, low-carb, low-fat, renal-friendly, dairy-free, and gluten-free meals.
You can handpick each meal in your order, opt for easy-ordering meal bundles or get a custom meal program. The Magic Kitchen menu includes both complete meals and individual items like entrées, sides, soups, desserts, and more. The meals can last for 6+ months and take 3 minutes to reheat.