Compare Prices
The following price comparison is designed to help you easily figure out which of our top-ranked vegan meal delivery services best fits your budget. We have brought all the pricing information to one place, including the shipping costs and details about the companies' delivery areas, so you can identify the perfect fit in a single glance.
Company
Avg. Meal Price
Shipping
Delivery Areas
Veestro
Avg. Meal Price
Shipping Cost
$0
Delivery Areas
22 Days Nutrition
Avg. Meal Price
Shipping Cost
$20.00
Delivery Areas
Atkins Meal Delivery
Avg. Meal Price
Shipping Cost
$6.95
Delivery Areas
Trifecta Nutrition
Avg. Meal Price
Shipping Cost
$0
Delivery Areas
Healthy Chef Creations
Avg. Meal Price
Shipping Cost
$20.00
Delivery Areas
Vegin' Out
Avg. Meal Price
Shipping Cost
$0
Delivery Areas
Daily Harvest
Avg. Meal Price
Shipping Cost
$0
Delivery Areas
Kitchen Verde
Avg. Meal Price
Shipping Cost
$5.00
Delivery Areas
FreshDirect
Avg. Meal Price
Shipping Cost
$5.99
Delivery Areas
The Vegan Garden
Avg. Meal Price
Shipping Cost
$29.00
Delivery Areas
Best Vegan Meal Delivery Companies
What all of our top picks have in common is that they are currently the best on the market. Now it is time to discover what makes each of these vegan meal delivery companies unique. Explore their distinctive features in the mini-reviews below and choose the one that best satisfies your needs.
1. Veestro

Optimized for the best possible flavor, all meals prepared by Veestro chefs are made from 100% organic, preservative-free, and non-GMO produce. As one of the best meal delivery services for vegans and vegetarians alike, Veestro selects the freshest produce from farmers' markets and prepares meals that are balanced for perfect flavor and nutritional value.
2. 22 Days Nutrition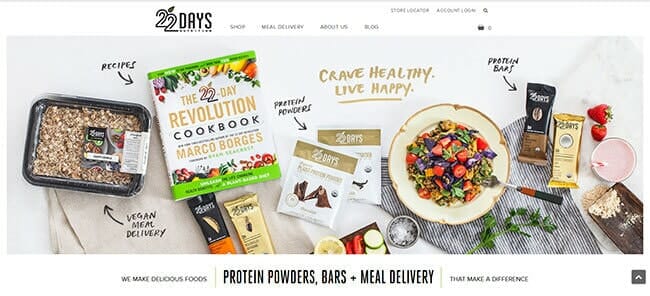 While 22 Days Nutrition may be best known for its creators – Beyoncé and her trainer Marco Borges – it is its dedication to quality that truly sets it apart. All of its meals are USDA-certified organic, gluten-free, soy-free, dairy-free, GMO-free, and plant-based. They are healthy, delicious, and ready to eat. Choose from a variety of delicious vegan breakfast, lunches, dinners, protein bars, and protein powders.
3. Atkins Meal Delivery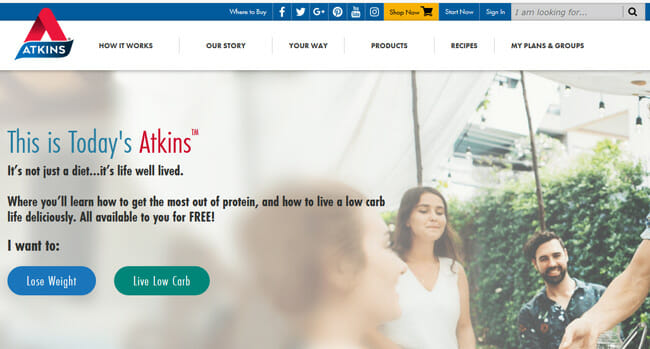 Atkins Meal Delivery is a vegan-friendly delivery service that makes weight loss easier for everyone who wants to try out the Atkins weight loss program, including individuals on plant-based diets. The company's online store features vegan meals and snacks that are low in carbs and designed to help your body switch from burning carbs to burning fat. If you want to experience the joint benefits of veganism with a low-carb diet, be sure to give Atkins Meal Delivery a try. No subscription is required and the meals are quite affordable.
4. Trifecta Nutrition

Trifecta Nutrition offers a great selection of plant-based meals and aims to satisfy the gastronomic needs and desires of all of its vegan customers. Its dishes contain nothing but the finest and freshest organic ingredients. Whether you wish to have your meals ready-made or just want to skip the cooking part and go straight to combining cooked food into a perfect meal seasoned to your taste, Trifecta has got you covered.
5. Healthy Chef Creations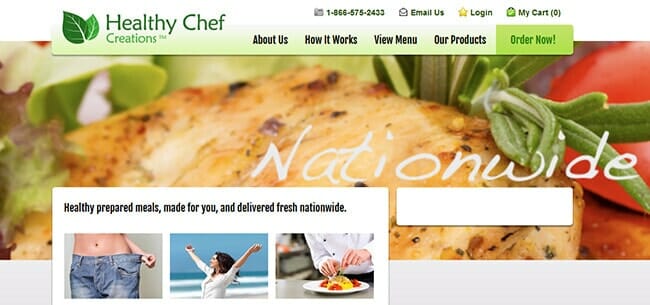 Healthy Chef Creations has all the plant-based goodness you need to keep your body fueled and your appetite satisfied. Depending on your needs and lifestyle, you can order a la carte whenever you wish or have the service create a completely customized vegan meal program just for you. Enjoy maximum variety with its rich seasonal menu of 1,000+ meals rotating weekly. Menu items include breakfasts, lunches, dinners, desserts, and add-ons such as salads and soups.
6. Vegin' Out

Vegin' Out is a dream come true for vegans throughout the nation. Unlike with most meal delivery services currently out there, there is no need to browse through the menus just to find out that only a handful of vegan dishes are offered. At Vegin' Out, every dish on the menu is completely vegan, with no eggs, dairy, meat, honey or calcium caseinate. Enjoy healthy entrées, sides, soups, and cookies.
7. Daily Harvest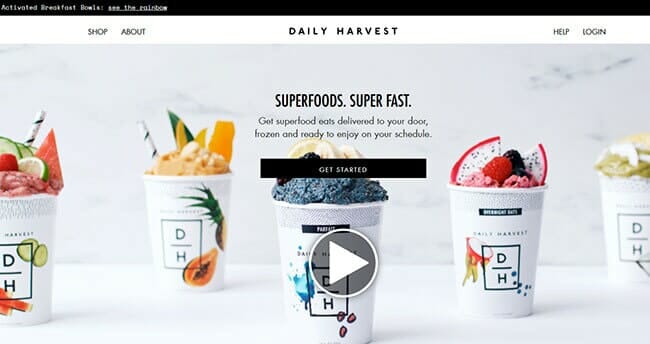 With Daily Harvest, you can have your meals ready in minutes and feel more energized than ever thanks to the abundance of superfoods in every one of its cups. You get to choose how many cups you want per week and select any of over 2 dozen menu items. The meal selection is constantly enriched with healthy soups, meals in a cup or bowl, chia parfaits, and even lattes and sundaes, all 100% natural and vegan-friendly.
8. Kitchen Verde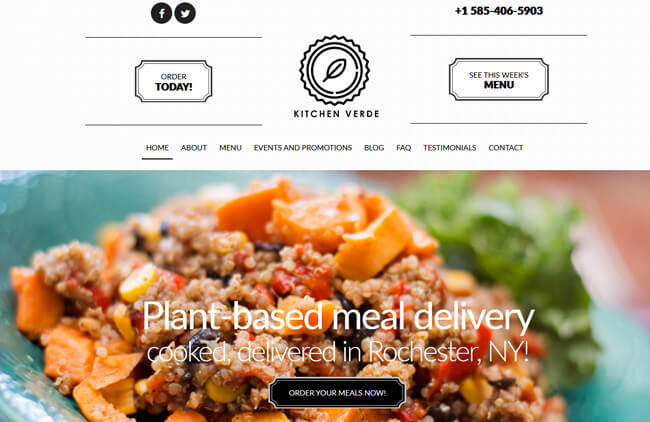 Kitchen Verde is a vegan meal delivery service that provides healthy, chef-prepared, plant-based meals to the residents of Monroe County, NY. All of its meals are natural and free from animal products, the majority of items are free from gluten, and there are always a couple of nut-free items on the menu as well. It offers dishes for all 3 meals of the day, along with healthy snacks, drinks, comforting soups, and tasty sides.
9. FreshDirect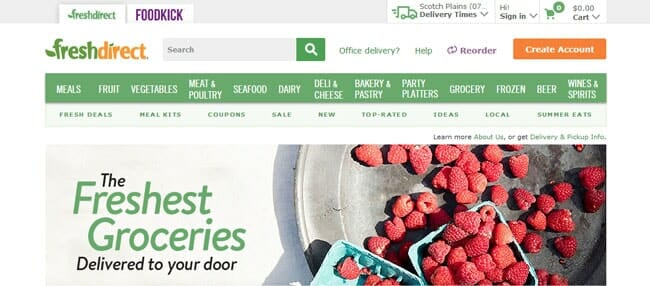 FreshDirect is a one-stop solution for all your dietary needs. Its assortment of vegan-friendly products is impressive and features everything from the freshest fruit and veggies to ingenious plant-based dishes from famous brands such as Beyond Meat. Ordering is as simple as it gets and you can fill your pantry and fridge with as many healthy, vegilicious items as you need. Freshness and quality are guaranteed due to its commitment to the best, farm-to-table sourcing practices.
10. The Vegan Garden

The Vegan Garden offers gorgeous meals made with top-quality plant-based ingredients. It allows you to take a trip around the world and enjoy the best of what cruelty-free cuisine has to offer. Whether you are trying to lose weight or just eat healthily, this company has just the right vegan meals to help you reach your goals. Order a la carte or choose from a variety of vegan meal packages and plans.