Sakara Life Review
Organic Food For A Healthy Lifestyle

Advertiser Disclosure
This website features affiliate links. For purchases made via these links, we earn commissions that allow us to keep producing helpful content. To find out more
click here
.
Close
What Gwyneth Paltrow, Iman, and Victoria's Secret models all have in common is that they rely on Sakara Life to keep them healthy, beautiful, energized, and satiated. Sakara Life is one of the most famous organic meal delivery services in America. It started out as a small startup in 2012, with its creators Whitney Tingle and Danielle DuBoise cooking fresh, organic, meat-free meals in their Brooklyn kitchen and delivering them to their friends and acquaintances.
Today, the company delivers its meals throughout the contiguous US and has a number of celebrity patrons who help further spread the word about this unique vegan meal delivery service. In addition to organic vegetarian and vegan meals, the company offers supplements and beauty and lifestyle products, as well as wellness programs in workplaces. Read this Sakara Life review to learn more.
How Sakara Life Works
Sakara Life is a subscription-based vegan meal delivery service that offers a variety of meal plans to suit your lifestyle. It offers 2 basic types of plans, including Signature and specialized plans. With the Signature plan, also known as Level I, you can get breakfasts, lunches, and dinners for 3 or 5 days per week, plus wellness supplements in each weekly delivery.
In addition to the Signature plan, Sakara Life offers specialized plans, including the RE:PROGRAM plan designed to help you transform your body, Level II: Detox plan for expert deep cleansing, and the Bride plan, designed to help brides get in the best shape of their life before the big day. Read more about the plans in the Meals And Recipes section of this Sakara Life review.
Regardless of which plan you choose, you can enrich your orders with various healthy items from the company's Clean Boutique, filled with delicious plant-based snacks, drinks, supplements, and lifestyle items.
Since the service delivers fresh meals free from preservatives, you always get up to 3 days' worth of food per delivery, so you can enjoy your meals at peak freshness. If you opt for a 5-day plan, you get your 5 weekly meals in 2 weekly deliveries.
Sakara Life subscriptions are flexible and allow you to pause or cancel at any time, with no hidden fees. If you want to pause or cancel your subscription, be sure to state your plans for the following week by Thursday at midnight PST.
What Makes Sakara Life Different
Being one of the rare meal delivery services that are committed to providing exclusively healthy, organic, plant-based food, Sakara Life already stands out as an extraordinary choice. It offers highly nutritive, delicious meals that you can start eating the minute you get them out of the box.
The owners of the company focus on healthy living. This means that Sakara Life is not just about healthy food but also about improving your overall quality of life. Its main goal is to show its clients that eating healthily means choosing a better, more vivacious life. Healthy nutrition is all about making smart choices and enjoying delicious meals that are good for your body.
Sakara Life's food philosophy relies on 9 pillars of nutrition. First, the company is against counting calories, as calories are a metric of energy, not nutrition. Second, it exclusively relies on healthy, plant-based protein. Third, it focuses on water-rich plants that keep you hydrated longer. Fourth, its meals are rich in nutritious greens, which help you lose weight, prevent and heal inflammation, dissolve gallstones, balance your pH, and more. Fifth, it focuses on good fats that feed the brain. Sixth, it encourages you to "eat the rainbow," as eating differently-colored foods gives your body all the phytonutrients it needs to stay healthy. Seventh, it provides nutrient dense meals in order to prevent micronutrient deficiency. Eighth, it uses sulfur-rich foods that feed cells and mitochondria and eliminate toxins. Finally, Sakara Life believes in body intelligence, that is, it creates its meals in accordance with the belief that a healthy gut is linked to intuition and feeling connected. By keeping your gut healthy, you are building a body you can listen to.
All the pillars together build a strong foundation for healthy living. To help you learn more about taking care of your body and mind, the company has created its own health and lifestyle magazine called S Life Mag.
If you know someone who would enjoy Sakara Life meals and products, you can join the company's referral program and receive rewards. Every time you successfully refer your friends, you get $50 per referral and your friends get $50 off their first purchase.
Meals And Recipes
Sakara Life's weekly menu includes 3 plant-based dishes (breakfast, lunch, and dinner) per day for 5 days per week. The meals on the menu are gluten-free, dairy-free, egg-free, low-fat, vegan, vegetarian-friendly, and they are suitable for weight loss. All menu items are GMO-free and organic. Some dishes can include honey or bee pollen, but if you are a vegan or allergic to any of these, you can state your preferences and receive only those meals that meet your dietary needs.
Like we stated previously in this Sakara Life review, there are 4 meal plans to choose from: Signature (Level I), RE:PROGRAM, Level II: Detox, and the Bride plan. The plans include meals pre-selected by Sakara Life. Depending on your plan, you may be able to swap up to 2 meals per week, but generally, you cannot handpick your meals.
Signature (Level I) Plan
The Signature plan is highly customizable. You get to decide whether you want to get 1, 2 or 3 meals per day and state whether you are interested in receiving breakfast, lunch, and/or dinner. You can further choose between the 3-day and 5-day versions of the plan and opt for the weekly subscription or the 1-week trial. It is important to note that you can freely choose between the 3 types of supplements included in the program. You can opt for daily probiotics, beauty chocolates or water drops.
RE:PROGRAM Plan
The RE:PROGRAM plan lets you enjoy 3 consecutive weeks of Sakara Life meals, along with daily detox teas and probiotics, and holistic health coaching. You can choose to receive 2 or 3 meals per day, 3 or 5 days per week. In your first delivery, you get a complimentary set of self-care essentials whose retail value is $155.
Level II: Detox Plan
The Level II: Detox plan is not customizable. It is a 5-day detox plan that brings you breakfasts, lunches, dinners, probiotics, supplements, beauty and detox water concentrates, digestive tea, and bonuses like instructional guides and daily support from certified health coaches. This program provides for a deep-level detox by eliminating meat, dairy, gluten, all sugar, nuts, soy, nightshades, pesticides, harmful chemicals, GMOs, toxins, alcohol, and caffeine.
Bride Plan
Finally, the Bride plan is a 20-day wedding prep program featuring fresh, organic, plant-based breakfasts, lunches, and dinners for 5 days a week, as well as daily probiotic blends and detox teas for cell hydration, pH balance, and deep detox and skin rejuvenation. The program lasts for 4 consecutive weeks and includes a bonus bridal prep kit containing beauty chocolates, sleep tea, a resurfacing mask, a 1-month membership to ModelFit online classes, a 1-month membership to Inscape meditation app, and a $250 credit to spend on a wedding gown at Kleinfeld.
If you want to get some extra items, you can browse the company's Clean Boutique, which features clean snacks, bars, chocolates, cookies, teas, probiotic blends, and beauty and detox water.
Heating And Storage Tips
As stated earlier in this Sakara Life review, the service delivers fresh, preservative-free meals. This means that you should store your meals in a fridge and use them up in 3 days. Your deliveries never include more food than you can eat in 3 days, so you do not have to worry about your meals going bad before you get a chance to enjoy them. Freezing is not recommended.
With Sakara Life, you get both ready-to-eat and ready-to-heat meals. The meals that taste better warm are clearly labeled and come with heating instructions. For reheating purposes, you can use a microwave, an oven or a stovetop. The quickest and easiest way to heat is in a microwave. You should remove all the packaging and place your meal in a microwave-safe dish. Breakfast pastry should be heated for 15-20 seconds, soups and other cooked dishes take 30-60 seconds to reheat, while other meals like falafels and burgers should be heated for about 30 seconds.
Pricing
The prices of Sakara Life meal plans mainly depend on the number of days per week, the number of meals per day you choose to receive, and the type of meals you order. For example, breakfasts cost less than dinner. The prices may further vary depending on your location.
The 3-day Signature plan starts at $81 per week, while the 5-day Signature plan starts at $120 per week. The RE:PROGRAM plan starts at $417 for 12 days including 2 meals per day and the Level II: Detox plan costs $400. Finally, the Bride plan comes at the price of $1,395.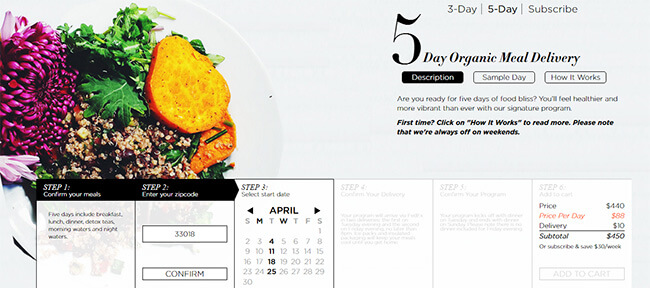 Items in the Clean Boutique can cost anywhere between $9 and $95. Orders over $100 come with free standard shipping.

Signature (Level I)
Meals per day
Days per week
Price per week
1
3
$81.00
2
3
$141.00
3
3
$240.00
1
5
$120.00
2
5
$250.00
3
5
$350.00
RE:PROGRAM
Meals per day
Days per week
Price per week
2
3
$139.00
3
3
$239.00
2
5
$249.00
3
5
$349.00
Level II: Detox
Meals per day
Days per week
Price per week
3
5
$400.00
Bride
Meals per day
Days per week
Price per week
3
5
$348.75
Delivery Areas
Like most meal delivery companies, Sakara Life ships its food all over the contiguous United States. Hawaii and Alaska aren't covered, unfortunately. It's important to mention that the company's offer can differ depending on the area you live in, so it's a good idea to check on Sakara Life's official website what a weekly menu for your state or town looks like. It's very simple, all you need to do is enter your zip code and get all the information about the programs and menus. You can receive your healthy meals from Sakara Life only Monday through Friday since the company doesn't deliver on weekends.
Sakara Life Pros And Cons
To make sure Sakara Life meets all your standards and expectations, it is important to know its biggest advantages and disadvantages. With a short overview of its pros and cons, you can easily decide if Sakara Life is the right meal delivery service for you.
Pros
Organic, healthy food delivered to your home
Gluten-free, dairy-free, egg-free, low-fat, vegan, and vegetarian meals
All meals are organic and non-GMO
Balanced, carefully planned meal programs
Special re-program, detox, and wedding prep plans
Free shipping on orders over $100
Cons
Not all meal plans are customizable
You can swap 2 meals per week at most
Does not provide nutrition info about its meals
Sample Dishes
With Sakara Life, you get delicious meals prepared by pro chefs at affordable prices. To find out what kinds of delights you will receive in your delivery, we have chosen a couple of sample dishes that accurately represents its offer and can help you decide if it is the right service for you.
Macroplate
Rawvioli
Sexiest Salad
Sunshine Curry
Bottom Line
While doing research for this Sakara Life review, we were happy to learn that Sakara Life offers plant-rich, organic meals that are ready to eat the moment they're delivered to you. There are plenty of meal plans to choose from, the meals are vegan, vegetarian, and allergy-friendly, and everything is completely natural and healthy.
The revolutionary lifestyle that Sakara Life has introduced can bring balance to your nutrition, health to your body, and harmony to your mind. Eating properly, as they say, should be a lifestyle. Sakara Life can help you embrace it.
Sakara Life FAQ
How many calories do Sakara Life meals contain?
One of Sakara Life's missions is to free people from the need to count calories. It encourages its patrons to look at food as nourishment, not a caloric number. Consequently, it does not offer information on the number of calories its meals contain.
What is Beauty Water® by Sakara Life?
Beauty Water® by Sakara Life is a tincture with 72 ionic trace minerals. It is meant to counteract the mineral-depleting effects of an irregular diet, stress, and aging. It comes in the form of drops that should be mixed with regular water.
Why is Sakara Life so expensive?
Sakara Life products are exclusively made of fresh, organic ingredients that are not easy to come by. The company's commitment to providing carefully designed products of the highest quality is the reason why it is somewhat pricy.
How are Sakara Life meals delivered?
Sakara Life delivers 3 days of meals at a time. Its 3-day programs arrive in 1 delivery and its 5-day programs arrive in 2 deliveries. Orders are shipped in insulated boxes with ice packs to keep the food fresh during transit.
View All FAQs