Organic food for a healthy lifestyle
Sakara Life Review - UPDATED Apr 2018
One of the most famous organic meal delivery services in the United States, Sakara Life was founded in 2011 in New York. The founders of the company Whitney Tingle and Danielle DuBoise wanted to change their eating habits and feed their bodies with unprocessed, healthy, all-natural foods. Both DuBoise, who experienced first-hand what a model's diet looks like, and Tingle, who gained a lot of weight while working on Wall Street, were bent on changing their ways. That's how Sakara Life was created. Today, the company also offers supplements and beauty and lifestyle products, as well as wellness programs in workplaces. Read this Sakara Life review to learn more.
How Sakara Life Works
The moment you enter the Sakara Life website, you realize that the company is dead serious about getting their message across to clients: they are here to pamper your body and mind with delicious, whole-food, plant-rich meals.
Sakara Life is devoted to helping their customers find the easiest way to start a better, healthier life. DuBoise and Tingle have introduced a simple, yet effective way to lead a healthy lifestyle. Sakara Life offers organic, plant-based food prepared by professional chefs and delivered to your doorstep. All meals are fresh and ready to eat the moment you receive them.
Sakara Life provides two programs for their customers, "Taste It" and "Live It".
It's well-known how difficult it is to change your lifestyle, so Sakara Life gives you an opportunity to try out living healthy before getting serious about it. "Taste It" is a weekly program for anyone who'd like to try balanced nutrition, but is not completely certain that they can stick to it.
Meals are set in advance and you don't get to choose the dishes you receive, but "Taste It" allows you some adjustments when it comes to the frequency of delivery. Sakara Life doesn't deliver on weekends, so you get to choose between the 3-day and 5-day plan. Your food arrives in 2 deliveries with the 3-day plan and in 3 deliveries with the 5-day plan. It's possible to select 1, 2 or 3 meals per day. Sakara Life provides breakfast, lunch, and dinner, and you can opt for any or all of them.
The "Live It" program gives you a choice between the 3-day and 5-day plan. Your organic, plant-based meals are delivered 2 or 3 times per week, depending on the plan you choose. You can receive your food on Mondays, Wednesdays and/or Fridays. Just as with "Taste It," you can select breakfast, lunch, and dinner for every day of your delivery. You can get all three meals, only one, or any combination of them. It's also possible to make changes, edit your order or skip a week, but you have to inform Sakara Life on Thursday night the latest.
What Makes Sakara Life Different
Being one of the rare meal delivery services that are committed to providing exclusively healthy, organic food, Sakara Life already stands out as an extraordinary choice. They do not only offer highly nutritive, healthy food, they also prepare it for you so that you can start eating the minute you get it out of the box.
The owners of the company focus on healthy living. This means that Sakara Life is not just about healthy food but also about improving your overall quality of life.
The main goal of Sakara Life is to show their clients that eating healthy means choosing a better, more vivacious life. Healthy nutrition is all about making smart choices and enjoying delicious meals that are good for your body. Sakara Life has a thorough explanation of their philosophy on their website, which enables you to decide whether this type of diet could work for you. They even have a health and lifestyle magazine that further elaborates on the importance of taking care of yourself.
In case you have some questions, you can check out their detailed FAQ section where the most common questions about Sakara Life and their way of doing business are answered. There's a separate section called Clean Boutique that offers salad dressings, detox tea, beauty water, and many other items to help you stay healthy, fresh, and beautiful. One more feature that makes Sakara Life different is their gift selection. You get the opportunity to surprise someone you love by sending them a box of Sakara tea collection or a gift card worth from $50 to $300.
Meals And Recipes
The people behind Sakara Life are devoted to providing only the finest ingredients and best recipes to their customers. Food from Sakara Life is gluten-free, dairy-free, meat-free, and most importantly, GMO-free. They pay close attention to the quality of the food they offer, so you can be absolutely sure that every single meal you receive from Sakara Life is organic and healthy.

Their innovative recipes cover breakfast, lunch, and dinner. All of them are perfectly planned to satisfy your nutritional needs. Meals from Sakara Life don't contain seafood, meat, dairy or eggs, so this meal delivery services may be an ideal option for vegans and vegetarians. On the other hand, some dishes can include honey or bee pollen, but if you're a vegan or you're allergic to any of these, you can state your preferences and receive only those meals that meet your dietary needs.
Pricing
Food costs the same with both the "Taste It" and the "Live It" meal plan, the only difference being the delivery fee. If you subscribe to Sakara Life delivery, shipping is free. On the other hand, if you choose the one-week "Taste It" plan, you have to pay a flat rate delivery fee in the amount of $10.
With Sakara Life, breakfast costs $26.67, lunch is $28.33, and dinner $31.67. So, if you opt for the "Taste It" 3-day plan and get all 3 meals every day, your bill will be $239 and you will have to pay an additional $10 for shipping, which amounts to $249 in total for 3 days of perfectly prepared organic food. If you subscribe to the "Live It" plan, you will have to pay $349 for the 5-day plan that includes all 3 meals every day.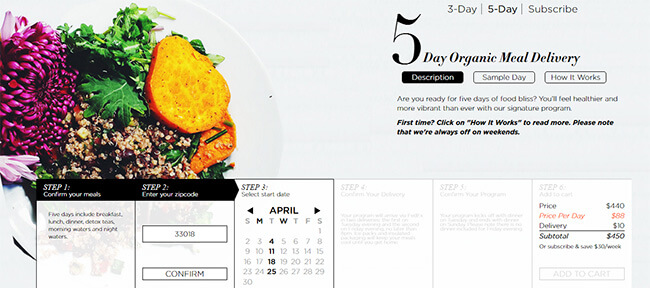 In case you want to skip a week or cancel your subscription for any reason, you can do it completely free of charge. You just have to make sure that you let Sakara Life know before processing your next delivery.
Delivery Areas
Like most meal delivery companies, Sakara Life ships their food all over the continental United States. Hawaii and Alaska aren't covered, unfortunately. It's important to mention that their offer can differ depending on the area you live in, so it's a good idea to check on their website what a weekly menu for your state or town looks like. It's very simple, all you need to do is to enter your zip code and get all the information about the programs and menus. You can receive your healthy meals from Sakara Life only Monday to Friday since they don't deliver on weekends.
Pros
Organic, healthy food delivered to your home
Balanced, carefully planned meal programs
Gifts you can purchase and send to your friends and family
Cons
Fixed meals plans
They don't deliver on weekends
Bottom Line
While doing research for this Sakara Life review, we were happy to learn that Sakara Life offers plant-rich, organic meals which are ready to eat the moment they're delivered to you. The revolutionary lifestyle that Sakara Life has introduced can bring balance to your nutrition, health to your body, and harmony to your mind. Eating properly, as they say, should be a lifestyle. Sakara Life can help you embrace it.