Planet-friendly meal service
Home Chef Review - UPDATED Nov 2017
Takeout is great, but it isn't the best option for most people. The fact is that, with takeout, you spend more money than you need to. Cooking at home can often be problematic as well because many people buy too many groceries or end up making too much food and a lot of it ends up in the trash can.
Home Chef is a solution to both of these problems. With this meal delivery service, you will receive the precise amount of ingredients you need to cook with, alongside recipes and detailed instructions. If you enjoy home cooking and food variety yet can't find the time to search for the recipes and groceries you need, take a look at our Home Chef review and find out why they're rapidly rising in popularity.
Besides the usual meal delivery features, Home Chef goes so far as to ask for your personal taste profile according to which they will provide your recipes. With pre-portioned ingredients and one of Home Chef's delicious 30-minute recipes, you can become pro chef in no time.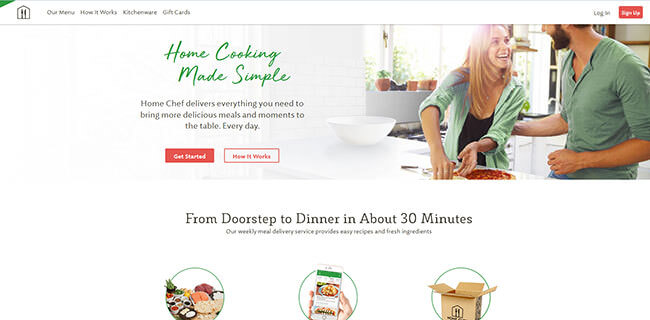 How Home Chef Works
Curious about how their service works? Check out what we have discovered during our Home Chef review.
Taking special care not to disappoint with their menu variety, Home Chef makes sure they offer 12 new dinner options, as well as new breakfasts, a fruit basket and even a smoothie each week. There's always a dinner option to suit even the pickiest of eaters: from meat and seafood ingredients to gluten-free, soy-free and low-carb dishes.
Home Chef won't ask you to commit for any particular period of time. Instead, they offer a flexible plan to suit everyone's schedule. It's no problem if you want to skip a delivery, edit your orders, or cancel directly online.
If you like Home Chef's service and would like your loved ones to try it too, you can purchase a gift card in the amount of $60, $120, $240, or your own custom value, which they can use to order meals from Home Chef's website.
What Makes Home Chef Different
Unlike what happens when you order takeout food, Home Chef takes special care to honor their 3 R rules, including reducing, reusing, and recycling the packaging they use. Remember, when using pre-portioned ingredients you also eliminate food waste and help preserve the environment. This is also reflected in the company's policy of carefully choosing their suppliers, selecting only the most prominent who take care not to damage the ecosystem and demonstrate that same respect towards their employees.
Home Chef's website even allows you to "meet" a few of their suppliers – you can read a little about who they are, how they work and what their standards are, and even see some pictures. In the spirit of environmental consciousness, Home Chef also advises you to recycle all the plastic parts you find in their delivery boxes. Their produce is always shipped in insulated, biodegradable boxes with water soluble, cool gel packs designed to keep your food refrigerated, not frozen. This way the food will be ready to cook, but won't go bad even if it waits for you a couple of hours.
Home Chef's marketplace offers a selection of kitchen dishes, utensils and other essentials you can purchase, in case you realize you're missing something needed for one of your recipes. What really sets Home Chef apart from their competition is their taste profile feature – you can choose between numerous culinary preferences to get recipe offers especially tuned to your tastes.
Meals and Recipes
If you decide to register with Home Chef, you'll be asked to fill out a taste chart, specifying what sort of ingredients you'd like to have in your meals. Home Chef offers one of the most detailed meal preference choices you'll find, which they use to build your taste profile.
As far as dining preferences go, you start out by choosing meat, seafood, vegetables, or any combination of those. You can then specify any ingredients you'd like to avoid; for example, you can choose not to eat pork, red meat, gluten, mushrooms, soy, nuts, dairy, shellfish, or any combination of those. In addition, you can choose whether you prefer a low carb or low-calorie diet, both or neither.
Obviously, this is especially useful for vegetarians or people with allergies. When you're done choosing your taste preferences, you can choose whether you'd like 2, 3, 4, 5 or 6 meals per week for 2, 4 or 6 people. Compared to most food delivery services this is exceptionally flexible: instead of choosing a 2-person or typical family plan, you've got more choices. Afterward, you choose the day of the week you'd like your meals delivered – Tuesdays, Wednesdays, Thursdays or Fridays.
When your package arrives, just follow the step-by-step recipe cards. The preparation should be easy even if you're a kitchen rookie.
Pricing
Home Chef takes pride in being able to offer you ingredients that are fresher and better than those you'll find in local stores – and all that for about the same price. Their meals cost $9.95 per serving and you can choose between 2, 4, or 6 serving options.
The good news is that you can order as many different meals as you'd like. They even offer fruit and smoothie add-ons for $4.95, as well as premium meals on occasion. These are special meals that are a bit pricier than what they normally offer, such as holiday specials which include multiple sides and a desert. Next Christmas you might not have to spend time shopping for groceries and looking for recipes, as Home Chef has everything you need for the occasion.
As far as delivery itself goes, it's free of charge for orders over $45 but costs $10 for anything below that price. Unless you're eating by yourself, you'll probably end up ordering enough to get your food delivered for free. Taking all of this into account, we can say that Home Chef definitely has one of the most flexible payment plans when it comes to home deliveries. You're offered lots of choices regarding the number of servings you're ordering, as well as the recipes and add ons.
Delivery Areas
At this point, Home Chef offers delivery services to about 90% of the US. Their delivery range will, however, continue to grow, so in case your location isn't supported yet, it probably will be in the near future. Just to be safe, you can enter your zip code on their website to find out whether they deliver to your area.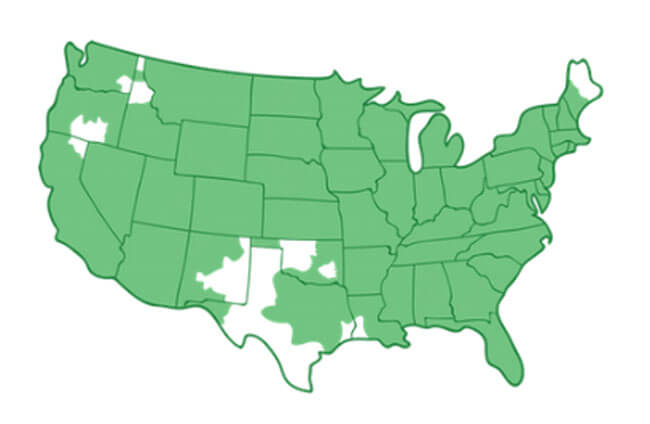 Pros
Huge variety of meals to choose from
You can set your personal taste preference
Fresh and of high-quality ingredients
Easy-to-follow recipes
All meals prepared in 30 minutes or less
Cons
Delivers to 90% of the US
Sample Dishes
Bottom Line
Home Chef has been in the meal delivery game for a while. But, even though meal delivery is becoming more and more popular now and competitors are stepping up, Home Chef not only keeps up, they offer some pretty neat features you probably won't find with any other service. For example, they have an amazing variety of options including gluten-free, soy-free, low-carb and vegetarian meals.
The ingredients are fresh and tasty and meal preparation takes as little as 30 minutes, with easy to follow step-by-step recipe cards to help you along the way. All in all, we were pleasantly surprised with what we found out while doing research for our Home Chef review. If you're tired of ordering takeout or shopping for ingredients, but still want a warm, home-cooked meal, then we certainly recommend you give Home Chef a try – we're sure you won't be disappointed.