Compare Prices
The following price comparison is designed to help you easily figure out which of our top-ranked meal kit delivery services best fits your budget. We have brought all the pricing information to one place, including the shipping costs and details about the companies' delivery areas, so you can identify the perfect fit in a single glance.
Company
Avg. Meal Price
Shipping
Delivery Areas
Sun Basket
Avg. Meal Price
$11.99
Shipping Cost
$6.99
Delivery Areas
Home Chef
Avg. Meal Price
$9.95
Shipping Cost
$0
Delivery Areas
Blue Apron
Avg. Meal Price
$9.99
Shipping Cost
$0
Delivery Areas
Plated
Avg. Meal Price
$9.95
Shipping Cost
$0
Delivery Areas
HelloFresh
Avg. Meal Price
$9.99
Shipping Cost
$0
Delivery Areas
Green Chef
Avg. Meal Price
$11.99
Shipping Cost
$9.00
Delivery Areas
Marley Spoon
Avg. Meal Price
$9.00
Shipping Cost
$0
Delivery Areas
Terra's Kitchen
Avg. Meal Price
$12.99
Shipping Cost
$0
Delivery Areas
Gobble
Avg. Meal Price
$11.99
Shipping Cost
$6.99
Delivery Areas
Dinnerly
Avg. Meal Price
$5.00
Shipping Cost
$8.99
Delivery Areas
Best Meal Kit Companies
What all of our top picks have in common is that they are currently the best on the market. Now it is time to discover what makes each of these meal kit companies unique. Explore their distinctive features in the mini-reviews below and choose the one that best satisfies your personal needs.
1. Sun Basket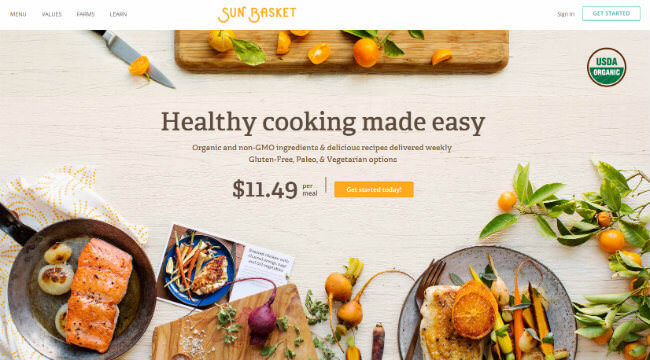 Sun Basket is an organic meal kit delivery service that has you spoilt for choice, with 18 amazing meal ideas on its weekly menu. You can choose 2, 3 or 4 recipes for 2 or 4 people and cook up a delight in just half an hour. The recipes are designed to suit a variety of diets including vegan, vegetarian, Paleo, Mediterranean, pescatarian, and gluten-free. Satisfaction and superior flavor are guaranteed.
2. Home Chef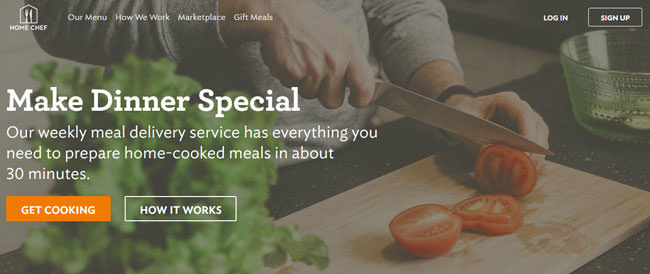 In addition to 12 new dinner recipes every week, Home Chef boxed meal delivery offers something unique to its patrons: 2 lunches that take just 5 minutes to make and 2 deliciously sweet and healthy add-ons, including a fruit basket and a smoothie. You can order 2, 3, 4, 5 or 6 recipes for 2, 4 or 6 people per week. The selection is varied and includes omnivore, vegetarian, low-carb, and low-calorie dishes.
3. Blue Apron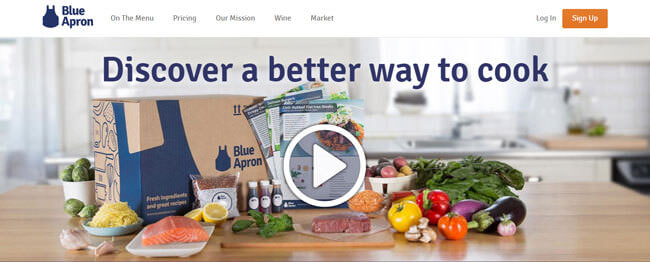 Blue Apron meal kit service is best known for the creativity of its recipes. It offers 12 exciting meal ideas every week, 8 on its 2-person menu and 4 on its 4-person menu. The ingredients are fresh and organic whenever possible and the recipes are suitable for vegetarians and omnivorous and carnivorous foodies alike. Complement your delicious meals with a bottle of fine wine from the Blue Apron wine club.
4. Plated
With 20 dinner recipes and 2 dessert ideas on its weekly menu, Plated is a healthy meal kit delivery service that aims to impress with both the quality and the variety of its meal kits. With Plated, you can cook for 2, 3 or 4 people 2, 3 or 4 times a week and create gorgeous meals that are sure to wow any vegetarian, omnivore or seafood lover.
5. HelloFresh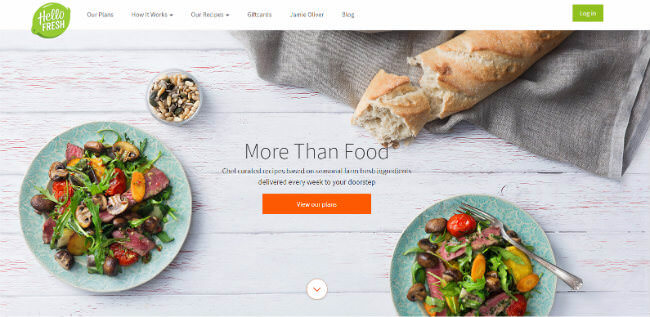 You cannot go wrong with HelloFresh, the highly popular meal prep delivery service that makes cooking healthy and tasty meals as simple as it gets. With 8 recipes on its Classic menu, 3 recipes for veggie lovers, and 5 delicious dinners for the whole family, it manages to satisfy the needs of thousands of home chefs around the nation. To make your meals more special, HelloFresh meal kit service offers quality wine from its own cellar.
6. Green Chef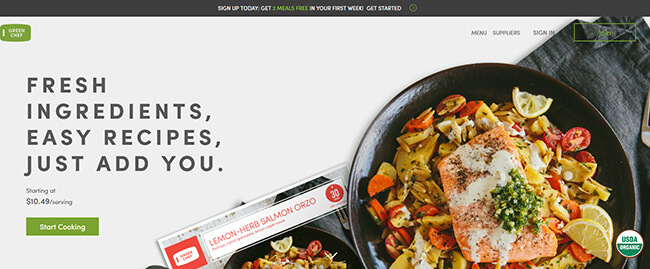 Green Chef meal box delivery service does not only offer great meal kits for couples and families, but also covers a spectacular range of special diets, with meal plans suitable for omnivore, carnivore, gluten-free, vegan, vegetarian, keto, and Paleo diets. No matter which meal plan you choose, you get 3 mouthwatering recipes per week. If you feel like switching things up, you can opt for a different meal plan whenever you wish.
7. Marley Spoon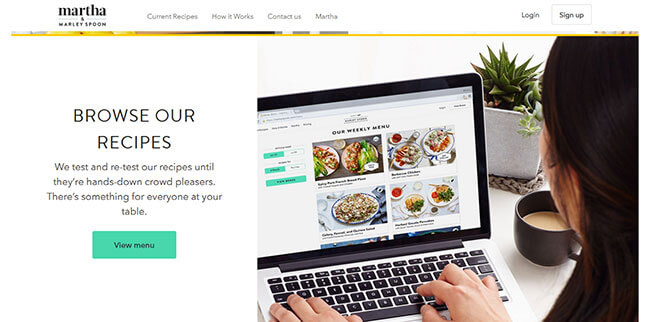 Marley Spoon, also known as the Martha Stewart meal kit service, offers some of the tastiest meal kits we have ever tried. With 10 delicious recipes per week, broken down in just 6 simple steps, cooking like Martha is easier than you ever imagined and the results are nothing short of sheer perfection. The recipes are designed for couples and families and include gluten-free, dairy-free, low-carb, and low-calorie options.
8. Terra's Kitchen

Inspired by the Mediterranean cuisine, Terra's Kitchen is a healthy meal kit service that knows how to please both your body and your palate. It offers a sensationally rich selection of 50 recipes, including dinners, lunches, snacks, sides, proteins, beverages, desserts, and even recipes suitable for weight loss. The meals can take as little as 15 minutes to make and you can choose whether you want to cook for 2 or 4 people.
9. Gobble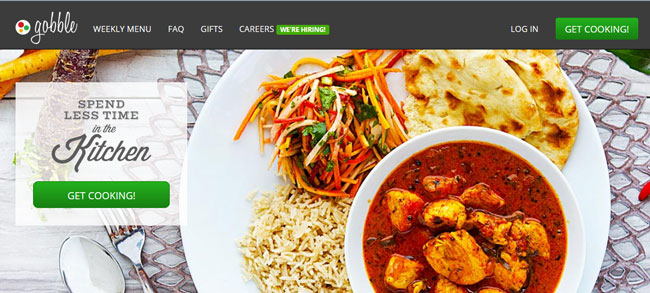 With Gobble meal kit service, cooking a healthy meal is as easy as preparing a frozen dinner. The Gobble team does all the shopping, chopping, and trimming, so you can skip straight to cooking, with zero prep. The meals are ready in just 10 to 15 minutes, the recipes are incredibly varied and colorful, and everything on the menu is as flavorful as it is good for you.
10. Dinnerly
Dinnerly is by far the cheapest meal kit service on the market. In addition to being budget-friendly, it is also family-friendly, offering crowd-pleasing recipes that are sure to delight both adults and little picky eaters. All of its recipes include 6 premium-quality ingredients and they are easy and quick to make. Order 3 recipes per week and enjoy delicious vegetarian-friendly, low-carb, gluten-free, and dairy-free meals.

* All the prices on this website are subject to change without notice. While we put a great deal of effort into making sure that all the prices are accurate, one or more products may have outdated prices. Please visit the specific product's official website for exact prices.