Gobble Review
Healthy, Fresh, And Ready In No Time

Advertiser Disclosure
This website features affiliate links. For purchases made via these links, we earn commissions that allow us to keep producing helpful content. To find out more
click here
.
Close
Gobble is an innovative meal delivery service based in Palo Alto, California. This premium company can become your new sous chef if you're passionate about cooking but hate shopping for groceries and preparing the ingredients. Gobble chefs offer to do all of that for you, develop a simple recipe for a delicious meal, and let you take all the credit for making a mouth-watering dinner.
If you're curious to learn more about this excellent meal delivery service, join us as we explore its colorful menu in this detailed Gobble review.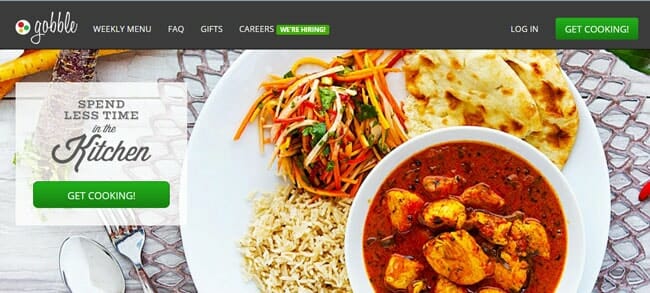 How Gobble Works
Like many meal delivery services, Gobble lets you avoid the boring parts of cooking and enjoy all the perks that come with making sumptuous dinners. Professional chefs pick and measure the ingredients before chopping, slicing, and packing them for Gobble's customers. Gobble basically offers you pre-measured, par-cooked ingredients followed by chef-created recipes delivered to you every week.
Once a week, on a day you choose, Gobble delivers a meal kit packed with pre-portioned ingredients and excellent recipes for 3 dinners. You can opt for 3 meals for 2 or 4 people, which means 6 or 12 meals in total. After your first delivery, you can lower the number of meals to 4 or increase it to any number you want, there are no limits.
Gobble does its best to provide only sustainable, fresh meat, shellfish, and produce for you. It cooperates with trusted local purveyors and farmers and sends freshly hand-picked ingredients to your home.
Moreover, with Gobble, you don't have to plan cooking in advance since you need only about 10 minutes to prepare a delicious dinner. All ingredients are chopped, so all you need to do is follow its simple 3-step recipe and serve an exquisite dinner in the blink of an eye.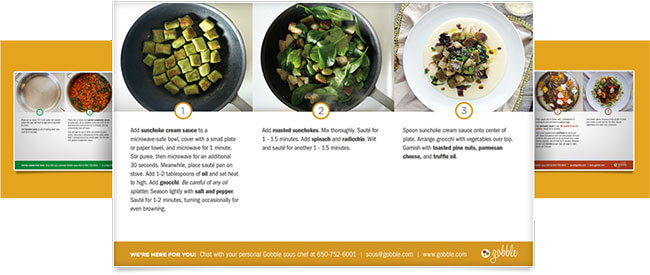 What Makes Gobble Different
Gobble brings an innovative way of healthy eating to your home. It enables you to eat a well-balanced diet without spending time on grocery shopping and preparing ingredients. With its par-cooked ingredients and easy-to-follow recipes, you can become a first-class chef yourself. There's absolutely nothing you can do wrong since all the ingredients are prepared and all the recipes are as straightforward as it gets.

What's more, you can use your recipes an infinite number of times. Even if you lose or misplace your recipe cards, you can easily download any recipe you want from Gobble's website.
Another great advantage of Gobble is that it uses nothing but food of the highest quality. Although you're dining at home, you always get extraordinary food that can be found in first-class restaurants. Every ingredient you get comes from the same producers that provide food for local Michelin-starred restaurants.
If you like Gobble and enjoy its food so much that you'd like to share it with your friends and family, you can send them a Gobble gift. Gobble gives you an opportunity to send your loved ones a gift card worth $75, $150 or any amount of your choice, which can be spent on orders from Gobble.
Meals and Recipes

When you subscribe, you can select the sorts of meat you prefer or you can opt for exclusively vegetarian meals. If you eat meat, you can choose poultry, lamb, pork, beef, fish or shellfish. You can also select all types of meat or make a combination of your favorites. Gobble gives you the freedom to tailor your orders however you want, so you can change your preferences anytime.
As we've previously stated in this Gobble review, you can choose between dinners for 2 or 4 people. In both cases, you receive 3 dinner kits. After your first order, you can change the number of meals you want to receive. Gobble's rich weekly menu offers 24 delicious meals you can choose from. The meals are divided into 4 categories, based on the origin of the proteins they feature. The categories include From The Range (poultry), From The Ranch (beef, pork, and lamb), From The Sea (fish and seafood), and From The Earth (vegetarian), each featuring 6 items. The menu always features several kid-friendly, gluten-free, dairy-free, and low-carb dishes.
Unfortunately, people with special dietary needs don't have so many choices as omnivores since Gobble doesn't offer exclusively dairy-free, gluten-free or nut-free menus. There are options for people with special dietary needs on the weekly menu, just not as many as some other meal delivery services offer.

Gobble Pricing
How much does Gobble cost?
With Gobble's straightforward pricing, it is easy to know how much your deliveries will cost. All meals cost $12 per serving. Salads come at the price of $6 per serving. The prices of side dishes range between $2 and $5 per portion.
There aren't additional shipping or handling fees. In case something's wrong with your shipment or you aren't satisfied with it, you can contact Gobble within 7 days and get a replacement or credit in the amount of the money you've spent.
Two People Plan (2 servings)
Meals per week
Meal kit price
Price per serving
2
$55.96
$13.99
3
$71.94
$11.99
Four People Plan (4 servings)
Meals per week
Meal kit price
Price per serving
3
$143.88
$11.99
Delivery Areas
Until recently, Gobble's delivery area included only California, Nevada, Washington, Utah, Oregon, Idaho, and Arizona. Now, the service proudly delivers its meals throughout the continental US. Deliveries are made between 8 am and 8 pm on the scheduled delivery day. Your personal delivery day depends on your location, but you can usually choose between Tuesday, Wednesday, and Thursday.
Gobble Pros And Cons
To make sure Gobble meets all your standards and expectations, it is important to know its biggest advantages and disadvantages. With a short overview of its pros and cons, you can easily decide if Gobble is the right meal kit service for you.
Pros
High-quality ingredients
Chef-crafted, easy-to-follow recipes
Freshly cooked meals in 10-15 minutes
Flexible meal plans
7-day refund policy
Free shipping
Cons
Few options for special dietary needs
Sample Dishes
If you subscribe to Gobble, you can easily prepare culinary masterpieces using only the ingredients and recipes found in your meal kit box. You may not be a pro chef just yet, but with Gobble, you can easily make restaurant-grade meals. You don't have to take our word for it – check out the images below to get a better idea of the types of dishes you can enjoy with Gobble.
Chicken Florentine Rigatoni Bake
Pan Roasted Salmon
Potato Pierogies
Vietnamese Shaking Beef
Bottom Line
Gobble helps you cook premium dinners without the hassle of grocery shopping or preparing ingredients for cooking. With Gobble, you get to pick excellent chef-created recipes and prepare exquisite meals in a matter of minutes. You can get 3 or more dinners per week at an affordable price and eat food of the highest quality. The company is constantly expanding its menu and we hope that soon enough it will introduce more options for home cooks with special dietary requirements.