RealEats Review
Advertiser Disclosure
This website features affiliate links. For purchases made via these links, we earn commissions that allow us to keep producing helpful content. To find out more
click here
.
Close
RealEats is a New York-based meal delivery with a rich menu, good sourcing practices, and meal plans suitable for singles, couples, and families of various sizes. It focuses on real food prepared by top-notch chefs and delivered fresh to your home on a weekly basis.
Launched in 2016, the service has quickly gained a rather large customer base. It is universally praised by its loyal patrons who love how healthy and delicious its meals are and how easy it is to eat well with RealEats. Of course, this does not mean that there is no room for improvement. Keep reading this honest RealEats review to discover whether the service's advantages outweigh its downsides.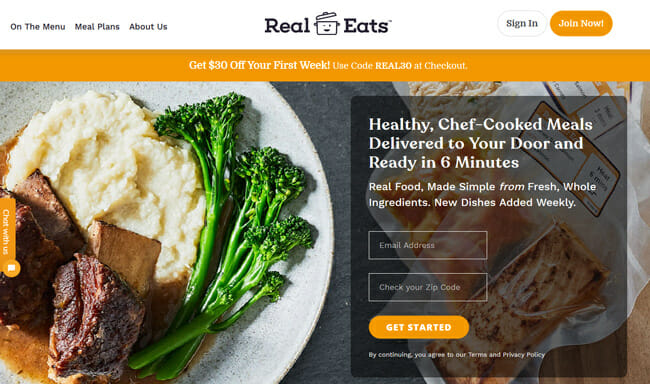 What Is RealEats
RealEats is a prepared meal delivery that provides ready-to-heat dishes made of natural and organic ingredients. It allows you to handpick your weekly meals, decide how much food you want to get, and enjoy fresh, chef-crafted food of exquisite taste.
The company was launched with the goal of helping Americans move away from processed foods and effortlessly switch to a healthy diet made up of wholesome, genuinely nutritious produce, proteins, and grains. Its meals are well-balanced, controlled for calories, and ready to eat in just 6 minutes.
RealEats sources its ingredients from local farms that employ organic growing practices. It is not certified organic because such a certification would significantly raise the price of its meals. Still, you can be sure that every dish you get from this service is absolutely natural and good for you.
As a RealEats patron, you can expect to choose from about 2 dozen scrumptious dishes every week, customize your every order to suit your needs, and only receive your deliveries when you need them. There are no membership fees or long-term commitments, just amazing convenience and fresh and tasty food ready to eat when you are.
It is interesting to note that RealEats has a world-class chef on its side. Her name is Aliya LeeKong, she worked in many Michelin-starred restaurants, and you may know her as a judge on Beat Bobby Flay and a guest chef on NBC's Today Show. If you have always dreamed of having your meals crafted by a celebrity chef, RealEats gives you a perfect chance to make your dreams come true.
How Does RealEats Work
RealEats is a subscription service. It lets you choose from 22 mouthwatering items on the menu and receive 4 to 24 meals per week. You can decide whether you want to get dinners and breakfasts or dinners only. Every RealEats meal yields one serving.

The service offers 4 dinner plans and 4 dinner + breakfast plans. With dinner plans, you can get 4, 6, 8 or 12 dinners per week. Dinner + breakfast plans bring you weekly deliveries including 4 dinners and 4 breakfasts, 6 dinners and 6 breakfasts, 8 dinners and 8 breakfasts or 12 dinners and 12 breakfasts. The selection of meals in your order is entirely up to you.
Subscriptions are automatically renewed, but there is no minimum subscription period. You can pause or cancel your subscription at any time. You just need to make changes to your subscription before your next order is processed and shipped. Your order is charged on Thursday the week before your delivery is due to arrive.
What Makes RealEats Different
Like we mentioned at the beginning of this RealEats review, the service has both positive and negative distinctive features. Let us start with the positive.
First of all, it is important to reiterate that RealEats chooses only 100% natural food for your meals. Its ingredients are farm-fresh, locally grown, and free from artificial substances or anything that could negatively affect your health or figure.
Secondly, the entire menu is suitable for individuals who are keeping an eye on their calorie intake. Normally, all the items contain fewer than 600 calories and some of them may even have fewer than 300 calories per serving. That means that RealEats can help you stay slim or lose a couple of extra pounds the healthy way. Nonetheless, it should be considered a healthy eating solution rather than a weight loss service.

Finally, the service is single-friendly, family-friendly, and designed to easily fit into your schedule. You can order anywhere between a couple and 2 dozen single-serving meals per week. You can cook on your own often or never. You can enjoy chef-prepared dinners at the end of a busy day or enrich your menu with the addition of nutritious pre-made breakfasts. You can order every week or pause your subscription whenever you wish. Whatever works for you, RealEats can make it happen.
On the downside, the company does not cater to individuals with special dietary needs. There are only a couple of dishes that could be suitable for individuals on meat-free diets. This could be considered a major flaw, particularly since many meal deliveries nowadays offer an abundance of choices for home diners with special dietary requirements.
When it comes to minor downsides, we have to mention the absence of actual gift subscriptions. Namely, the service claims you can buy its meals as a gift. However, in that case, you need to start a regular subscription and use the gift recipient's address as the shipping address. You can share access to the account with your friend, so he or she can choose the meals. Then, you need to cancel the subscription when your friend receives as many deliveries as you wanted. This is far from the easiest way to send someone a food gift.
RealEats Meals And Recipes
Out of 22 items on the RealEats menu, 3 are particularly designed for the week and 19 are standard items that are available every time you order. Therefore, you have an abundance of safe choices at your disposal, but you can also try out something new with every delivery.
Dinners make up the largest portion of the menu. Normally, all 3 weekly specials are dinner items and the standard offer includes 15 dinner options. At all times, there are 4 healthy breakfasts to choose from.

All dishes are suitable for omnivores. Pescatarians can usually find 3-4 menu items that suit their needs. Vegetarians normally have about 3 veggie-based dinner options at their disposal, along with 3 vegetarian-friendly breakfasts. Since the minimum number of dinners or breakfasts you can order is 4, there are hardly enough options for a diverse vegetarian or pescatarian weekly menu. Allergy-friendly options are not available.
Dishes mostly originate from American, Italian, Greek, and Cajun cuisines, with a couple of Asian delights. You can look forward to familiar flavors combined in more or less creative ways. The most frequently featured proteins include chicken, beef, lamb, shrimp, and fish (e.g. salmon).
The company's meals normally contain 1 protein and 2 sides. The average calorie count per portion ranges between 270 and 580 calories. The portions are not particularly large, but they are filling enough to keep you satisfied for several hours.
Earlier in this RealEats review, we mentioned that the meals take just about 6 minutes to reheat. They are delivered fully cooked and individually packed in vacuum-sealed sous-vide pouches. However, you should not use a sous-vide machine to reheat them due to the risk of overcooking. You simply need to place your meal in a pot of boiling water and wait for about 6 minutes before enjoying it. The exact reheating time is indicated on the packaging.
You can keep your RealEats meals in your fridge for 7 days. Freezing your meals is always an option if you think that you cannot eat them all before they go bad. However, the service advises against freezing since the meals are designed to be enjoyed fresh.

How Much Does RealEats Cost
As a RealEats subscriber, you can expect to pay $54 to $198 per week, depending on how many meals you want to receive in your deliveries. Dinners cost between $11.50 and $13.50 (the more you order, the lower the price) and breakfasts always cost $5.

Shipping is free for all $115+ orders. For orders worth up to $115, the shipping fee normally amounts to $7.99 per delivery.
To learn how much you would pay with each of the company's meal plans, please view the handy pricing table below.
Dinner plans
Number of meals
Price per week
Price per portion
4 dinners
$54.00
$13.50
6 dinners
$75.00
$12.50
8 dinners
$96.00
$12.00
12 dinners
$138.00
$11.50
Dinner + breakfast plans
Number of meals
Price per week
Price per portion
4 dinners + 4 breakfasts
$74.00
$13.50 per dinner, $5 per breakfast
6 dinners + 6 breakfasts
$105.00
$12.50 per dinner, $5 per breakfast
8 dinners + 8 breakfasts
$136.00
$12.00 per dinner, $5 per breakfast
12 dinners + 12 breakfasts
$198.00
$11.50 per dinner, $5 per breakfast
Where Does RealEats Deliver
At the moment, RealEats delivers to 21 US states. Its delivery map includes CT, DE, IL, IN, KY, ME, MD, MA, MI, NH, NJ, NY, NC, OH, PA, RI, SC, TN, VT, VA, and WV. Orders are shipped via FedEx every Monday and delivered on Tuesdays and Wednesdays.
The company provides tracking information for every package. A signature is not required. You should properly store your meals (in a fridge) within a few hours after arrival to make sure they stay fresh.
RealEats Pros & Cons
To make sure RealEats meets all your standards and expectations, it is important to know its biggest advantages and disadvantages. With a short overview of its pros and cons, you can easily decide if RealEats is the right meal delivery service for you.
Pros
Farm-fresh, natural, and organic ingredients
Fresh, never frozen meals prepared by pro chefs
22 tasty and healthy items on the menu
Calorie-controlled breakfasts and dinners
Single-friendly
Flexible subscriptions
Free shipping on orders over $115
Cons
Does not deliver nationwide
Lacks options for special diets
Sample Dishes
With RealEats, you get delicious meals prepared by pro chefs at affordable prices. To find out what kinds of delights you will receive in your delivery, we have chosen a couple of sample dishes that accurately represents its offer and can help you decide if it is the right service for you.
Chickpea and Squash Curry
Honey Sesame Chicken
LemonChicken
Spring Lamb
Bottom Line
At the end of this RealEats review, we can say that this prepared meal delivery has quite a lot to offer to omnivorous home dinners. Its meals are delicious, carefully portioned, nutritious, and healthy. Its menu is rather rich and more than likely to please picky eaters. The prices are reasonable, although not exactly low. As far as the necessary improvements go, the company should certainly consider introducing special diet options in the near future.
All in all, we believe that RealEats is an excellent choice for omnivores who want to eat healthily with minimum effort.