Compare Prices
The following price comparison is designed to help you easily figure out which of our top-ranked cheapest meal box delivery services best fits your budget. We have brought all the pricing information to one place, including the shipping costs and details about the companies' delivery areas, so you can identify the perfect fit in a single glance.
Company
Avg. Meal Price
Shipping
Delivery Areas
EveryPlate
Avg. Meal Price
Shipping Cost
$8.99
Delivery Areas
Dinnerly
Avg. Meal Price
Shipping Cost
$8.99
Delivery Areas
HelloFresh
Avg. Meal Price
Shipping Cost
$6.99
Delivery Areas
Home Chef
Avg. Meal Price
Shipping Cost
$0
Delivery Areas
Marley Spoon
Avg. Meal Price
Shipping Cost
$0
Delivery Areas
Blue Apron
Avg. Meal Price
Shipping Cost
$0
Delivery Areas
Hungryroot
Avg. Meal Price
Shipping Cost
$0
Delivery Areas
Purple Carrot
Avg. Meal Price
Shipping Cost
$0
Delivery Areas
Gobble
Avg. Meal Price
Shipping Cost
$6.99
Delivery Areas
Sunbasket
Avg. Meal Price
Shipping Cost
$6.99
Delivery Areas
Benefits Of Cheap Meal Kit Services
The main purpose of meal kits is to make it easier to fit home cooking into the modern, busy lifestyle. These little boxes of wonder contain everything you need to prepare delicious meals throughout the week and they are conveniently delivered straight to your doorstep. They bring you fresh, high-quality ingredients in just the right quantities and quick, no-fail recipes with step-by-step instructions that detail every single part of the process.
With meal kits, you no longer have to spend tons of time searching for recipes, or even worse, cook the same meals over and over again. You can discover new dishes all the time and make every meal unforgettable. Plus, you get to take a break from grocery shopping. There is nothing worse than realizing you forgot to buy something just as you start preparing your meal. If you cook with meal kits, this can never happen because all the ingredients are right there in your kit.
Now, imagine enjoying all of these benefits while actually saving money. This may sound too good to be true, but it is the magical reality of the 21st century and a little thing called outdoing the competition. As a home cook and a meal kit fan, you have all the meal kit services on the market vying for your attention and trying to win you over with a higher quality of ingredients, richer menus, and better prices.
The cheapest meal kit services allow you to enjoy all the benefits mentioned above at the lowest possible prices. They do all the tedious work for you and let you focus on cooking gorgeous meals that can cost even less than the meals you make with the groceries you buy yourself. They are the dreams of home cooks and smart shoppers all across the nation.
What Makes Cheap Meal Kit Services Different
The distinction between the cheapest meal kit services on our list and other services of this kind currently available on the market is an obvious one. They offer more for less. They have beautiful menus filled with delicious meal ideas suitable for all kinds of tastes and diets. They provide fresh, natural ingredients and never compromise on quality. They offer great convenience at an excellent price.
They understand that pricing matters and they do their best to keep their customers happy by offering kits that make it easy to cook tasty and healthy meals while staying on budget. They invest a lot of effort into finding the right suppliers, choosing the right shipping methods and packaging, and devising recipes for meals that look and taste luxurious but do not call for too many exotic ingredients that would increase the price of the meals. They stick to locally sourced, healthy ingredients with wonderful natural flavors that make your meals taste divine.
With the cheapest meal kit services we have selected for you, cooking is completely stress-free. While others may make cooking a breeze, these meal kit services allow you to cook with ease and let you stop thinking about money. You can afford everything on the menu. You can cook whatever you wish. You can order amazing meal kits every week and even have some extra cash left for treats. Now that is an offer that is basically impossible to beat.
Choosing The Right Cheap Meal Kit Service For You
Usually, an analysis and comparison of the prices is the final step in our selection process. This time, due to the unique nature of this list, we started by comparing meal kit services in terms of their affordability. We selected the ones that offer reasonable prices that fit the budgets of the vastest majority of home cooks in America.
Once we made sure that all the companies that made it to the next step are the most affordable options on the market, we conducted in-depth analyses of their offers. We started with meal options and variety.
While greater variety usually results in a higher price, we did our best to identify the cheap meal kit services that offer enough menu items to satisfy most tastes. Furthermore, we chose the ones that offer allergen-free and kid-friendly kits and meal ideas for different special diets.
After thoroughly inspecting their menus, we focused on the crucial characteristics of their individual menu items, including nutritional value and portion size. We selected the companies that allow you to make optimally balanced, highly nutritious meals that can keep you full and satisfied until your next meal.
Finally, we examined subscription flexibility. We selected the companies that allow you to freely modify your subscription, skip deliveries, cancel whenever you wish, and customize your orders to your liking.
The end result of our selection process is a list of the cheapest meal kit services that can satisfy most dietary needs, preferences, and appetites and offer subscriptions that can be tailored to your lifestyle.
Cheapest Meal Kit Companies
What all of our top picks have in common is that they are currently the cheapest on the market. Now it is time to discover what makes each of these meal prep delivery companies unique. Explore their distinctive features in the mini-reviews below and choose the one that best satisfies your needs.
1. Dinnerly
Dinnerly, otherwise known as the cheapest meal kit service in the US, offers delicious meal kits at about half the average meal kit price. It provides healthy, natural, high-quality ingredients and quick and easy 6-ingredient recipes for 2 and 4 people. Its menu often includes vegetarian-friendly, low-calorie, low-carb, gluten-free, and dairy-free meal ideas. All Dinnerly recipes are true crowd-pleasing classics designed to satisfy the tastes of even the pickiest of eaters.
2. EveryPlate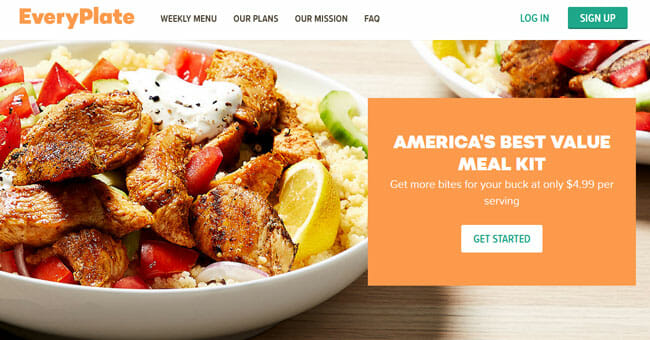 EveryPlate has the same pricing as Dinnerly, which makes it one of the 2 absolute cheapest meal kit delivery services in America. It offers 2 meal plans, one suitable for 2 people or 1 person who likes leftovers and the other designed for families of 4. The menu changes every week and features 9 easy, picky-eater-friendly recipes for omnivores and carnivores. Subscriptions are flexible, so you can modify your order, skip a week or end your subscription whenever you wish.
3. HelloFresh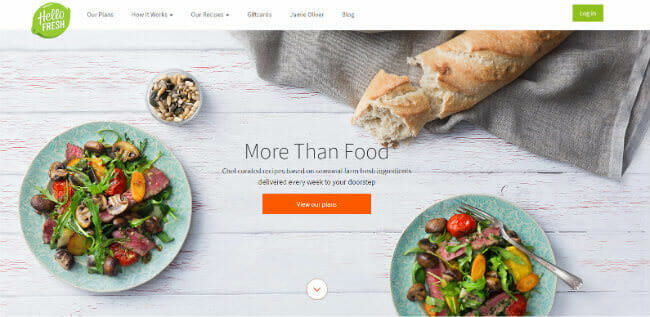 HelloFresh is an excellent meal box delivery that provides budget-friendly meal kits filled with fresh, natural, pre-measured ingredients and quick, easy-to-follow recipes designed for 2 and 4 people. You can pick one of the 4 meal plans, including Classic, Veggie, Calorie Smart, and Family. For each of the plans, there are 3-17 specially crafted meal ideas every week. Turn your meals into wine & dine events with affordable fine wine from the HelloFresh wine club.
4. Home Chef
Home Chef is an affordable meal box delivery with an incredibly varied menu. Every week, you can choose from 13 lovely dinner ideas, 3 tasty and convenient 5-minute lunches, and two fruity add-ons – a fruit basket and a smoothie. You can decide whether you want to cook 2, 3, 4, 5 or 6 meals per week, each yielding 2, 4 or 6 servings. As far as special diets are concerned, Home Chef offers gluten-free, soy-free, low-carb, and vegetarian meal kits.
5. Marley Spoon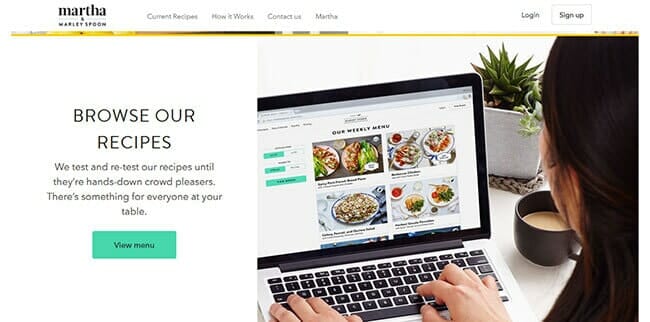 Marley Spoon, often referred to as the Martha Stewart meal kit service, offers amazing dinner ideas for 2 and 4 people. There are 20 inspiring items on the menu every week, including meals for carnivores, omnivores, and vegetarians, as well as gluten-free, dairy-free, low-carb, and low-calorie meals. The meals usually take just about half an hour to make and the recipes feature just 6 steps, which makes them wonderfully easy to follow.
6. Blue Apron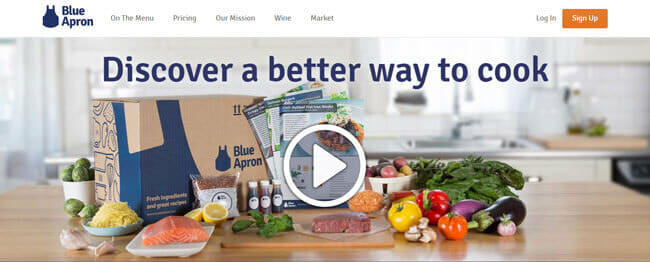 Blue Apron is a healthy meal kit delivery known for the superior quality of its ingredients, incredibly creative recipes, and good prices. It has 4 meal plans and 22 tasty items on its weekly menus. Its recipe selection includes omnivore and vegetarian options, Mediterranean-inspired meals, kid-friendly meal ideas, and recipes designed in partnership with WW, Weight Watchers reimagined. For fans of good wine, Blue Apron offers monthly deliveries of fine wine at affordable prices as well.
7. Hungryroot
Hungryroot is a boxed meal delivery that brings you pre-prepped veggies, sauces, dressings, pastas, proteins, sweets, and toppings that you can combine into delicious and affordable meals that take 10-15 minutes to make. You can choose from 3 meal plan sizes and customize your plan to exclude foods you wish to avoid. The service boasts a rich menu with more than 80 items suitable for omnivores, seafood lovers, vegans, and vegetarians. Its prices are rather low and shipping is always free.
8. Purple Carrot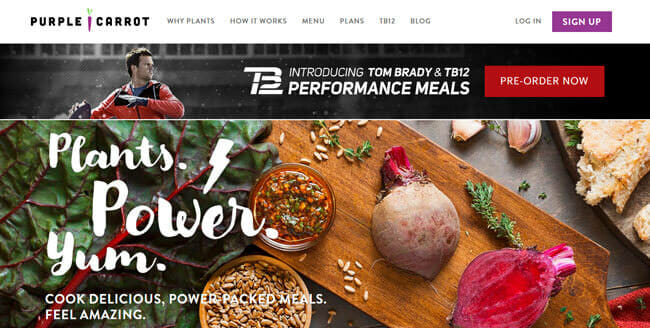 Purple Carrot is one of the cheapest meal kit services for home cooks on plant-based diets. It focuses on dinners that can be ready in about half an hour but also provides lunches and breakfasts that you can assemble in just 5 minutes, no cooking required. All items on the menu are vegan and vegetarian-friendly and many of them are gluten-free and high in protein. You can opt for one of the 2 meal plans and choose to get 2 or 6 servings per meal.
9. Gobble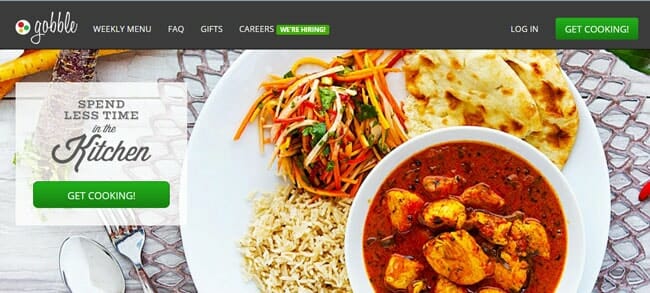 Gobble is a healthy meal kit delivery that makes cooking a cinch and does not overcharge for the service. It provides premium ingredients that are prepped by pro chefs, so you can make your dinners in only 10-15 minutes. You can cook for 2 or 4 people and choose any 3 dinner kits out of 24 available on the menu. If you need some healthy lunches as well, you can get the lunch subscription and batch-cook 6 individual lunches in an hour and a half.
10. Sun Basket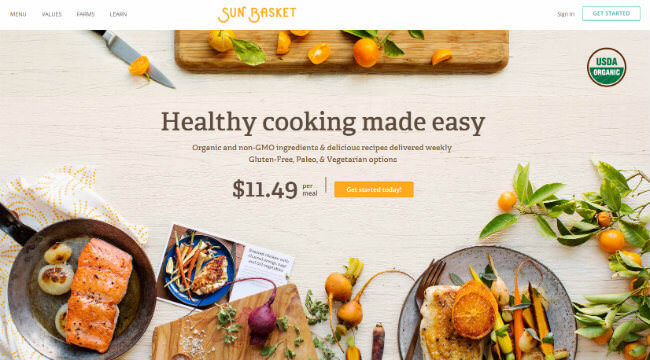 Considering it is one of the best organic meal kit services on the market, Sun Basket is rather affordable. It allows you to get a perfectly healthy homecooked meal at the price of a burger. Every week, it provides 18 fresh recipes crafted by a top San Francisco chef and approved by an in-house nutritionist. It offers 2 menus – Classic and Family – and allows you to choose from 10 meal plans: Chef's Choice, Paleo, Lean & Clean, Gluten-Free, Vegetarian, Vegan, Pescatarian, Diabetes-Friendly, Quick & Easy, and Mediterranean.