Hungryroot Review
Advertiser Disclosure
This website features affiliate links. For purchases made via these links, we earn commissions that allow us to keep producing helpful content. To find out more
click here
.
Close
Hungryroot is a New York-based meal kit delivery service that offers plant-based meals that are ready to cook and sometimes even ready to eat. It was founded in 2015 and its popularity has been steadily growing since its inception.
Its menu is innovative and constantly expanding and its focus on feel-good food that is both quick and healthy makes it one of the rare attention-worthy vegan meal kit services in the country. Read our in-depth Hungryroot review to discover key facts about this company's unique offer, including info on its variety, meal options, and prices.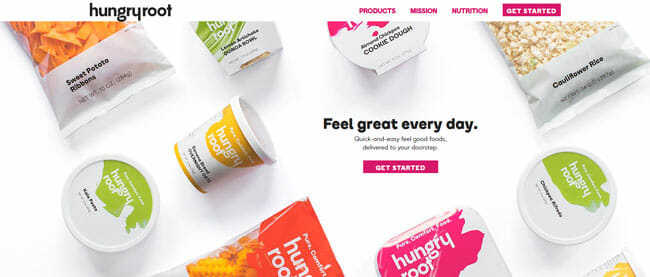 How Hungryroot Works
Hungryroot is a subscription-based service that allows you to enjoy quick and easy vegan meals available with 2 meal plans: The Starter Set and The Good Life. With both plans, you get weekly deliveries and you can decide whether you want to get a curated selection of meals or customize your order to your taste.
The Starter Set plan brings you 4 meals for 2 people and 2 shareable side dishes, snacks or sweets. It is suitable for busy individuals on healthy diets who cannot cook every day and need some quick-to-make goodness to supplement their home-cooked meals.
The Good Life plan includes 5 meals, each featuring 2 servings, plus 5 shareable side dishes, snacks or sweets. It has you covered throughout the workweek and lets you relax, knowing you can get a great meal on the table in minutes.
It is good to know that there is no minimum subscription period and you do not have to receive deliveries every week. You can skip any delivery, modify your order or cancel your subscription whenever you wish. It is only important to remember that the cutoff to make these changes is 5 pm EST the Friday before your delivery is scheduled.
What Makes Hungryroot Different
The very fact that Hungryroot is a vegan meal kit service makes it a rare find and its approach to the business is quite unique as well. Its creators have decided to make healthy, low-calorie food more appealing by disguising it into guilty pleasures, such as tacos, fries, and raw cookie dough. Thus, this company does not only aim to offer great food to vegans but also to make plants more interesting to people who generally consider plant-based diets to be dull and unsatisfying. Its meals are highly innovative and may introduce you to some delicious plant-based substitutes you have not tried before.

Apart from carefully designing its meals to resemble non-plant-based comfort food favorites, Hungryroot makes sure anyone can prepare its dishes in virtually no time. No cooking skills are required and as long as you are able to reheat a meal without burning it, you can easily prepare a Hungryroot meal. Unlike with other meal kit services, the recipes include zero hands-on time and the effort involved is the same as with frozen dinners.
If you happen to like what this service is offering and want to give the gift of Hungryroot food to your friends and family, you can purchase an e-gift card and treat someone special to 1, 2, 3 or 4 weeks' worth of Hungryroot meals. You can choose between The Starter Set and The Good Life gift subscriptions, which are not automatically renewed and cost the same as standard subscriptions.
Meals and Recipes
Now we come to the most exciting part of our Hungryroot review. It is time to take a look at the menu. The company's offer currently includes more than 50 tasty items and new dishes are added regularly. You can choose from a variety of breakfasts, lunches, dinners, side dishes, snacks, and sweets. Everything on the menu is vegan and 100% gluten-free. All meals are low in both sugar and sodium and some dishes are soy-free.

Not a single item contains more than 500 calories per serving. Generally, the dishes contain between 90 and 460 calories and most of them are under 300 calories. The meals usually come in 8 oz. and 10 oz. packages.
Hungryroot meals are incredibly creative and make the best use of seasonal produce. You can enjoy such delights as zucchini noodle eggplant Bolognese, black bean brownie batter, sweet potato Pad Thai, kale salad guac burger, fried rice, kohlrabi edamame pesto pasta, and more. Since the company only sources the freshest natural ingredients, organic whenever possible, great flavor and texture are guaranteed. What is also great is that the meals can last for at least 5 days in the fridge, so you do not have to worry about the food going bad before you get a chance to enjoy it.
As far as the preparation is concerned, more than a dozen Hungryroot meals are ready to eat and can be enjoyed straight from the box. Ready-to-cook meals normally come with recipes including just 2 or 3 steps and require you to either cook the food on your stovetop for 10 minutes or bake for 20 minutes and combine the elements of the meal into a perfect dish. There is no chopping or slicing or prep of any kind. The meals are microwaveable, but the company recommends cooking them on a stovetop.
While all the recipes are worth trying out, you can get creative with the pre-prepped ingredients and pre-made sauces and make unique meals of your own. The food is not heavy on spices and you are encouraged to season your meals to taste, which provides another way to customize your meals in accordance with your preferences.

Pricing
With Hungryroot, the price you pay per meal depends on the meal plan you choose. The Starter Set costs $69 per week while The Good Life plan costs $99 per week. The company offers nice discounts on the first order with both plans. The first box with The Starter Set plan costs $59 and the first box with The Good Life plan costs $79.

The prices are rather reasonable, starting at $9.99 per item, that is, around $4.99 per serving, assuming that your appetite is not too big and you can share the sides, snacks, and sweets with 1 person. All orders come with free ground shipping. If you opt for air shipping, a $10 shipping fee applies to every delivery.
Delivery Areas
Hungryroot meals are available in all 48 continental US states and Washington DC. The company does not ship to Alaska and Hawaii. Packages are delivered on weekdays and you can choose the desired delivery day. However, the available delivery days depend on your location. Your order should arrive between 8 am and 9 pm on the day you selected. You do not have to be at home to receive the delivery, as long as there is a safe place where the driver can leave your box.
The food is shipped in insulated boxes with ice packs designed to keep the food fresh for 48 hours. If there is something wrong with your shipment (e.g. damaged or spoiled goods or missing items), you can get in touch with the support staff and request credit for the items you are not satisfied with.
Hungryroot Pros And Cons
To make sure Hungryroot meets all your standards and expectations, it is important to know its biggest advantages and disadvantages. With a short overview of its pros and cons, you can easily decide if Hungryroot is the right meal delivery service for you.
Pros
Fresh, natural ingredients, organic whenever possible
Ready-to-eat and ready-to-cook vegan meals
More than 50 items on the menu
All meals are plant-based, gluten-free, and low in calories
Healthy breakfasts, lunches, dinners, sides, snacks, and sweets
Reasonable prices
Nice discount on your first box
Free ground shipping
Cons
Meals cannot be purchased a la carte
Few plan customization options
Sample Snacks
Hungryroot features an impressive collection of snacks in its offer. To get a better idea of what you will receive in your delivery, check out our curated selection of the items you can enjoy with Hungryroot.
Brownie Batter
Curried Peas
Fried Rice
Pasta Puttanesca
Bottom Line
Hungryroot is certainly one of the most interesting vegan meal kit services we have encountered so far. It focuses on feel-good food, it provides a great variety of ready-made and ready-to-cook meals, and it takes great care to satisfy your cravings throughout the day, providing healthy and delicious breakfasts, lunches, dinners, and extras, such as sides, snacks, and desserts. It exclusively offers plant-based meals and provides plenty of allergy-friendly options.
We would just like to see more flexibility in terms of ordering options. A la carte menus are always welcome and it would be nice if the service offered a custom plan that would allow customers to decide on both the number and the selection of meals in their orders. Still, we are more than satisfied with this company's offer and believe that it is a great solution for busy vegans.