Compare Prices
The following price comparison is designed to help you easily figure out which of our top-ranked meal delivery services best fits your budget. We have brought all the pricing information to one place, including the shipping costs and details about the companies' delivery areas, so you can identify the perfect fit in a single glance.
Company
Avg. Meal Price
Shipping
Delivery Areas
Sun Basket
Avg. Meal Price
Shipping Cost
$6.99
Delivery Areas
Home Chef
Avg. Meal Price
Shipping Cost
$0
Delivery Areas
Freshly
Avg. Meal Price
Shipping Cost
$0
Delivery Areas
Plated
Avg. Meal Price
Shipping Cost
$0
Delivery Areas
Blue Apron
Avg. Meal Price
Shipping Cost
$0
Delivery Areas
The Good Kitchen
Avg. Meal Price
Shipping Cost
$0
Delivery Areas
HelloFresh
Avg. Meal Price
Shipping Cost
$6.99
Delivery Areas
Home Bistro
Avg. Meal Price
Shipping Cost
$15.95-$59.95
Delivery Areas
Green Chef
Avg. Meal Price
Shipping Cost
$6.99
Delivery Areas
Veestro
Avg. Meal Price
Shipping Cost
$0
Delivery Areas
Best Meal Delivery Companies
What all of our top picks have in common is that they are currently the best on the market. Now it is time to discover what makes each of these meal delivery companies unique. Explore their distinctive features in the mini-reviews below and choose the one that best satisfies your needs.
1. Sun Basket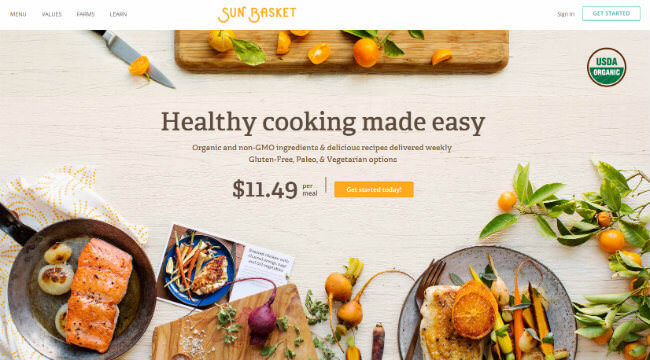 Sun Basket is more than just a meal delivery service. It is a personal choice platform that lets you choose everything from the number of meals, add-ons, and servings per kit to the quality of the ingredients and the frequency of your deliveries. It allows you to make a gorgeous meal in just 20-30 minutes and every meal comes with a 100% happiness guarantee. The meal plans available include Chef's Choice, Paleo, Lean & Clean, Gluten-Free, Vegetarian, Vegan, Pescatarian, Diabetes-Friendly, Quick & Easy, Carb-Conscious, and Mediterranean.
2. Home Chef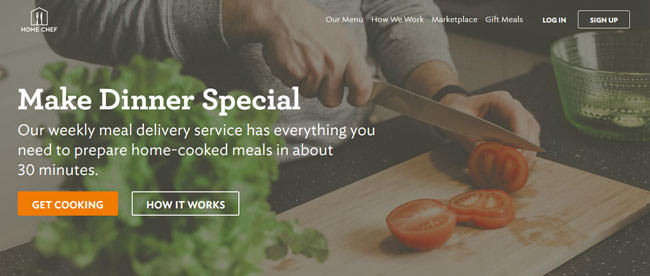 Every week, Home Chef whips up 13 delicious dinner recipes, 3 amazingly convenient 5-minute lunches you can throw together at work, and 2 delicious add-ons, including a nutritious smoothie and a fruit basket. You can tweak your order to your preferences and choose ingredients you wish to avoid, including pork, red meat, gluten, mushrooms, soy, nuts, dairy, and shellfish. If you are watching your weight, you can opt for low-carb and low-calorie meals.
3. Freshly

Freshly is a gluten-free meal delivery service that brings chef-prepared, mouthwatering perfection to your doorstep. It focuses on healthy eating, with protein-rich, low-carb, low-sugar meals that keep you feeling full for longer. Order 4, 6, 9 or 12 meals per week and choose from 2 dozen scrumptious entrées and half a dozen healthy breakfasts. The meals are designed to suit the needs of people on the Paleo and gluten-free diets, as well as diabetics.
4. Plated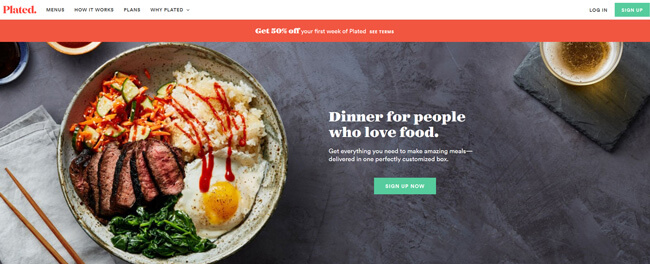 Plated is a healthy meal kit service designed with convenience, customizability, and affordability in mind. Its menu changes every week and features 20 easy and inspiring dinner recipes and 2 desserts to satisfy your sweet tooth. The ingredients are always fresh, usually organic, and the flavor of the dishes is elevated with special artisanal goods that you cannot find at your local store. The meals never take more than an hour to make.
5. Blue Apron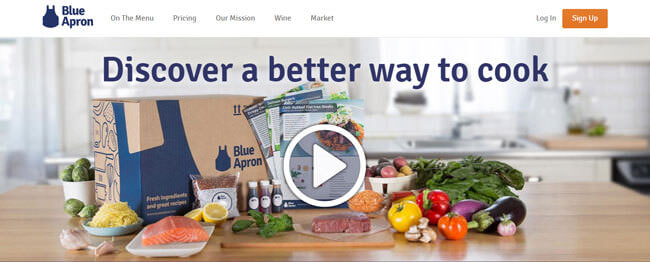 If a healthy, varied diet is what you crave, Blue Apron can be a perfect fit for you. Every week, there are 22 fresh, chef-crafted recipes on the menu divided into 4 sections dedicated to omnivorous and vegetarian couples, families of 4, and people who want to look good and stay healthy with a little help from WW, Weight Watchers reinvented. The recipes are only repeated once a year. You can easily eliminate the ingredients you dislike, including beef, poultry, pork, lamb, fish, and shellfish or all of the above if you are on a meat-free diet.
6. The Good Kitchen


The Good Kitchen is a perfect example of a meal delivery service that understands the needs of both adults and kids. With 4 distinct meal plans for adults and just as many plans for children, you can get as many meals as you need every week, bi-weekly, monthly or as often as you please. The selection includes around 20 chef-prepared meals and you can order multiple portions of the same dish. Special diet options include gluten-free, peanut-free, soy-free, Paleo, keto, and Whole30-compliant items.
7. HelloFresh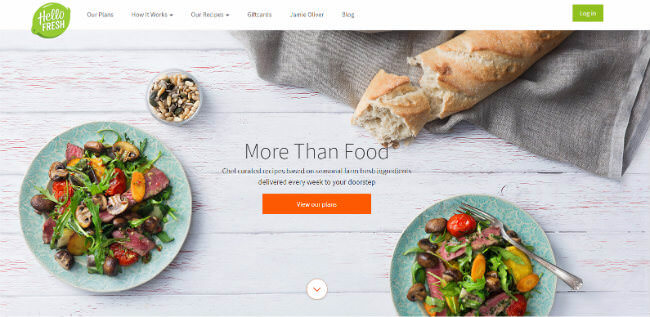 HelloFresh is dedicated to quality and you can feel it in every bite. With natural, pre-portioned ingredients and easy and healthy recipes for busy couples, vegetarians, and families of 4, HelloFresh aims to satisfy the needs of the majority of home cooks around the nation. From 20-minute meals and one-pot wonders to crowd-pleasing slow-cooker dishes, its menu features all the right recipes that are going to save your time and satisfy your appetite throughout the week.
8. Home Bistro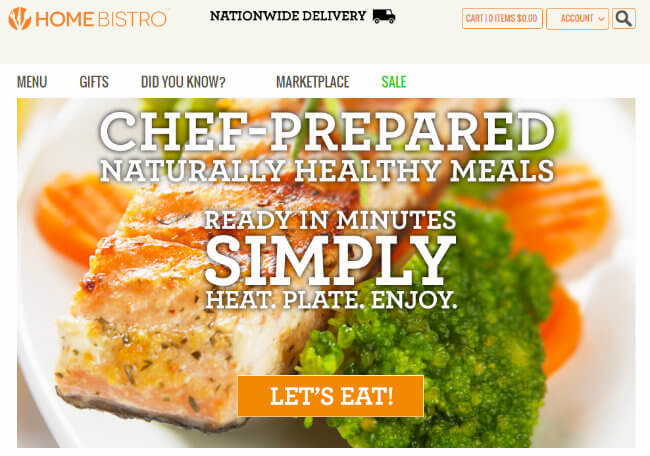 If you do not feel like eating out but crave some restaurant-quality goodness, Home Bistro can be a perfect home-dining solution. Its meals are crafted by a chef who is ranked in the top 1% of all chefs in America, so you can expect every meal to be even better than those you enjoy at a restaurant. Pick the combo of meals that hits the spot and get a delicious dinner on the table in just 10 minutes.
9. Green Chef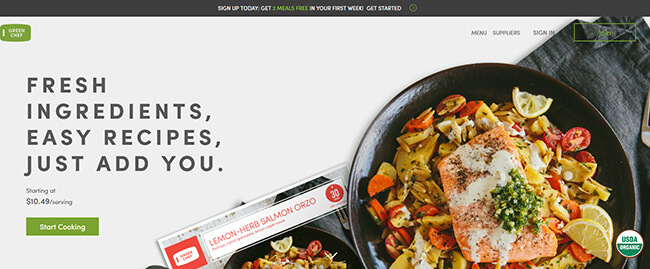 Green Chef is designed for home cooks who seek a perfect combination of effortless cooking and optimal nutrition. It offers both 2-person and 4-person meal kits and allows you to choose from as many as 9 different meal programs, including Omnivore, Carnivore, Balanced Living, Gluten-Free, Plant Powered, Pescatarian, Vegetarian, Keto and Paleo. Making sure you can enjoy maximum variety, Green Chef allows you to switch between meal programs at your convenience.
10. Veestro


Veestro is a vegan meal delivery service that offers hand-crafted, gourmet, plant-based meals made using only fresh, organic ingredients. It allows you to order any way you wish. You can freely choose meals from the a la carte menu, opt for one of 8 different meal packs, including kosher, gluten-free, and wedding prep combos, boost your immunity with a 3-day or 5-day juice cleanse or shed a couple of pounds with its excellent weight loss plans.