Compare Prices
The following price comparison is designed to help you easily figure out which of our top-ranked meal delivery services best fits your budget. We have brought all the pricing information to one place, including the shipping costs and details about the companies' delivery areas, so you can identify the perfect fit in a single glance.
Company
Avg. Meal Price
Shipping
Delivery Areas
Green Chef
Avg. Meal Price
Shipping Cost
$7.99
Delivery Areas
Home Chef
Avg. Meal Price
Shipping Cost
$0
Delivery Areas
Bistro MD
Avg. Meal Price
Shipping Cost
$19.95
Delivery Areas
Freshly
Avg. Meal Price
Shipping Cost
$0
Delivery Areas
Marley Spoon
Avg. Meal Price
Shipping Cost
$0
Delivery Areas
Sunbasket
Avg. Meal Price
Shipping Cost
$6.99
Delivery Areas
Home Bistro
Avg. Meal Price
Shipping Cost
$15.95-$59.95
Delivery Areas
Veestro
Avg. Meal Price
Shipping Cost
$0
Delivery Areas
Gobble
Avg. Meal Price
Shipping Cost
$6.99
Delivery Areas
Blue Apron
Avg. Meal Price
Shipping Cost
$0
Delivery Areas
Benefits Of Meal Delivery Services
The modern busy lifestyle and the mass production of low-quality food have made it rather hard to eat healthily. High-quality, organic ingredients are expensive and not easy to find and with the ubiquitous lack of time, a home-cooked meal is rarely an option. That is where meal delivery services come in.
The current trends in the meal delivery industry are oriented toward healthy eating, with an increased focus on plant-based, Mediterranean, and other diets that can have major favorable effects on your metabolism, immune system, weight, and overall health. Meal delivery services constitute one of the easiest solutions for clean eating and allow you to improve your well-being with minimum effort.
One of the most conspicuous benefits of meal delivery services is the convenience they offer. However, this benefit is in fact twofold. Obviously, you get to save a lot of time and effort by having the food delivered to your door. However, what is even more important is that with delicious and healthy meals so easily available, you can avoid eating an irregular and unbalanced diet, which is one of the main causes of weight gain and a number of related medical issues.
Meal delivery services allow you to take back your free time. They let you forget about long trips to the store, meal planning, and recipe searching. They allow you to improve your diet, get high-quality meals whenever you need them, and enjoy the convenience of home delivery, all this without overstepping your budget.
How Are The Best Meal Delivery Services Different
The primary difference between the meal delivery services on our top list and other options on the market is that with these companies, there are no unpleasant surprises. The quality of the food is always high, the service is always impeccable, and the portion size never varies. If you loved your first delivery, you can be sure that the subsequent ones will be equally satisfying.
What is even better is that these companies actually listen to what their patrons have to say and improve their service in accordance with the customers' requests. They expand their menus, introduce new special diet options, add new locations to their delivery map, and come up with more effective and affordable delivery methods. Their work hard on making you happy and the results are obvious. Just like good wine, they get better with age and that is why their popularity is constantly rising.
We know that pricing is an important factor, which is why our top list never includes meal deliveries that are outside the average consumer's budget. With our top-ranked meal delivery services, you get premium-quality food at a reasonable price and you can even save money in comparison to how much you would spend if you were buying the groceries yourself.
In addition to quality and affordability, all of our top choices offer something unique that you cannot get elsewhere. Whether it is greater customizability or a vaster variety or secret spices that make your meals infinitely more flavorful, there is something special about these services that is sure to keep you coming back for more.
Choosing The Right Meal Delivery Service For You
The speedy expansion of the meal delivery market in the past years has allowed home diners to choose from a vaster range of options than ever before, but it has made the search for the perfect meal delivery service all the more difficult. In order to be sure that a meal delivery service is as good as advertised, you need to taste the food yourself. This trial-and-error method requires a lot of time and money and it is something most home diners simply cannot afford.
We have reviewed dozens of meal delivery services over the years, went through innumerable rounds of tastings, detailed analyses, and extensive research in order to find the ones that are worth your trust. Along the way, we have devised a set of criteria that serve as reliable indicators of the quality of a meal delivery service.
First, we focus on the range of meal options available and the variety of meals on the menu. The companies that get a spot on our top list are the ones that offer rich menus suitable for different tastes and different diets. They are allergy-friendly, they regularly enrich their offers, and they know how to satisfy the needs of each and every one of their patrons.
Second, we assess the nutritional value of the meals along with their portion size. Our top picks always offer meals that are optimally balanced, with just the right content of micro- and macronutrients, and they offer ample portions designed for both adults and children.
Finally, we focus on subscription flexibility and pricing. The best meal delivery services are the ones that offer subscriptions that conform to your needs and lifestyle and provide the best value for your money.
Best Meal Delivery Companies
What all of our top picks have in common is that they are currently the best on the market. Now it is time to discover what makes each of these meal delivery companies unique. Explore their distinctive features in the mini-reviews below and choose the one that best satisfies your needs.
1. Green Chef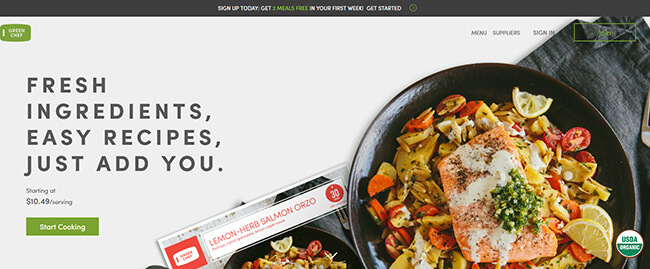 Green Chef is designed for home cooks who seek a perfect combination of effortless cooking and optimal nutrition. It offers both 2-person and 4-person meal kits and allows you to choose from as many as 5 different meal programs. Its selection includes family-friendly, certified gluten-free, balanced living, vegan, vegetarian, keto, and Paleo recipes. Making sure you can enjoy maximum variety, Green Chef allows you to switch between meal programs at your convenience.
2. Home Chef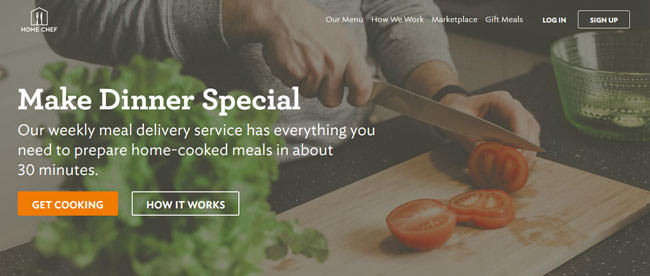 Every week, Home Chef whips up 13 delicious dinner recipes, 3 amazingly convenient 5-minute lunches you can throw together at work, and 2 delicious add-ons, including a nutritious smoothie and a fruit basket. You can tweak your order to your preferences and choose ingredients you wish to avoid, including pork, red meat, gluten, mushrooms, soy, nuts, dairy, and shellfish. If you are watching your weight, you can opt for low-carb and low-calorie meals.
3. Freshly
Freshly is a gluten-free meal delivery service that brings chef-prepared, mouthwatering perfection to your doorstep. It focuses on healthy eating, with protein-rich, low-carb, low-sugar meals that keep you feeling full for longer. Order 4, 6, 9 or 12 meals per week and choose from more than 2 dozen scrumptious entrées. The meals are designed to suit the needs of people on the Paleo and gluten-free diets, as well as vegetarians and diabetics.
4. Marley Spoon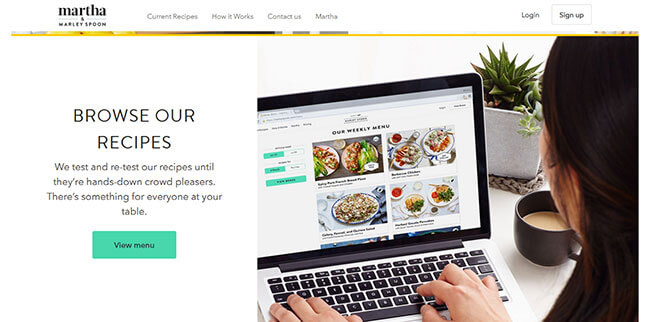 Marley Spoon is a meal kit delivery that has partnered with Martha Stewart to bring you domestic goddess' favorite recipes and spice blends along with the finest natural ingredients, pre-measured for quick prep. You can choose from 20+ recipes every week, pick 2-4 of your favorites, and cook for 2-4 people. The menu features a variety of options, including gourmet, health & diet, vegan, vegetarian, speedy, and family-friendly recipes. The prices are reasonable and shipping is always free.
5. BistroMD
BistroMD is one of the tastiest and healthiest weight loss meal delivery programs. It brings you dietitian-designed, chef-crafted meals and lets you choose from nearly 200 portion-controlled breakfasts, lunches, dinners, and snacks. You can decide whether you want to get 2 or 3 meals per day for 5 or 7 days per week and get healthy diet food at great prices.
The meals are made of natural ingredients, frozen for optimal nutrition, and praised by thousands of patrons for their flavor and effectiveness. Choose the program that suits your dietary needs, eat well, and steadily lose 1-2 pounds per week.
6. Sunbasket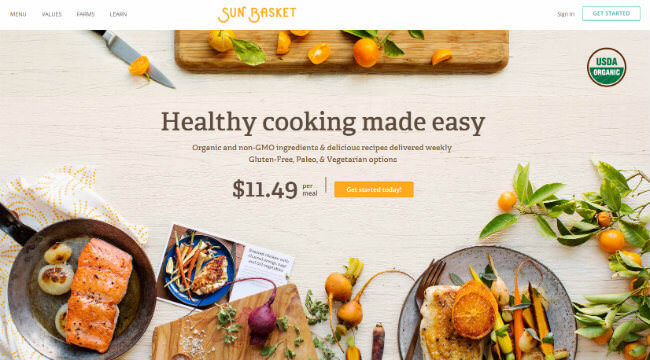 Sun Basket is more than just a meal delivery service. It is a personal choice platform that lets you choose everything from the number of meals, add-ons, and servings per kit to the quality of the ingredients and the frequency of your deliveries. It allows you to make a gorgeous meal in just 20-30 minutes and every meal comes with a 100% happiness guarantee. The meal plans available include Chef's Choice, Paleo, Lean & Clean, Gluten-Free, Vegetarian, Vegan, Pescatarian, Diabetes-Friendly, Quick & Easy, Carb-Conscious, and Mediterranean.
7. Home Bistro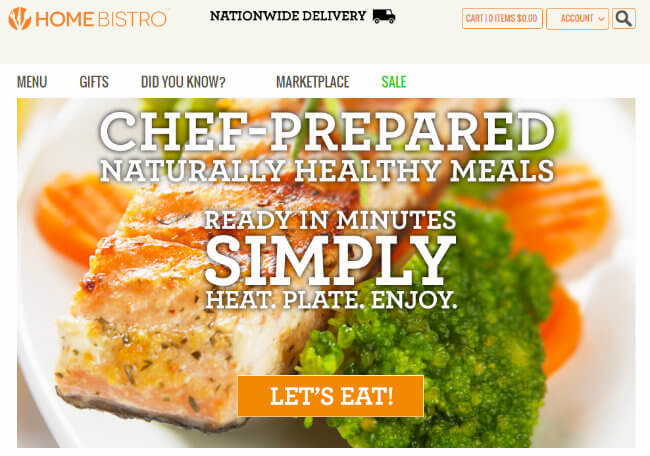 If you do not feel like eating out but crave some restaurant-quality goodness, Home Bistro can be a perfect home-dining solution. Its meals are crafted by a chef who is ranked in the top 1% of all chefs in America, so you can expect every meal to be even better than those you enjoy at a restaurant. Pick the combo of meals that hits the spot and get a delicious dinner on the table in just 10 minutes.
8. Veestro

Veestro is a vegan meal delivery service that offers hand-crafted, gourmet, plant-based meals made using only fresh, organic ingredients. It allows you to order any way you wish. You can freely choose meals from the a la carte menu, opt for one of 8 different meal packs, including kosher, gluten-free, and wedding prep combos, boost your immunity with a 3-day or 5-day juice cleanse or shed a couple of pounds with its excellent weight loss plans.
9. Gobble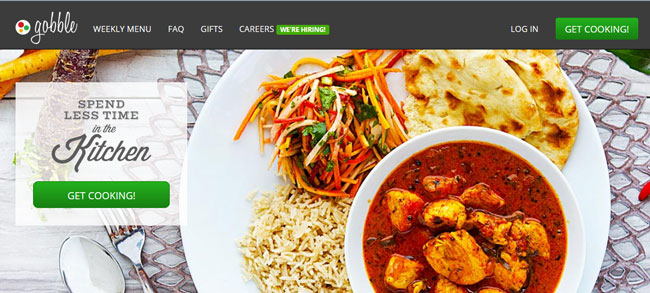 Gobble is a time-saving meal kit delivery that lets you cook amazing, healthy meals in just 10-15 minutes. The menu features 2 dozen dinner recipes, including omnivore, pescatarian, vegetarian, kid-friendly, gluten-free, dairy-free, and low-carb options. You get to choose 3 recipes that you like the most and decide whether you want to cook for 2 or 4 people.
The ingredients you get are pre-prepped by pro chefs, so all you need to do is cook, enjoy, and clean up in minutes. In addition to dinner kits, you can get the convenient lunch kits that allow you to batch-cook 6 single-serving lunches in just an hour and a half.
10. Blue Apron
If a healthy, varied diet is what you crave, Blue Apron can be a perfect fit for you. Every week, there are 22 fresh, chef-crafted recipes on the menu divided into 4 sections dedicated to omnivorous and vegetarian couples, families of 4, and people who want to look good and stay healthy with a little help from WW, Weight Watchers reinvented. The recipes are only repeated once a year. You can easily eliminate the ingredients you dislike, including beef, poultry, pork, lamb, fish, and shellfish or all of the above if you are on a meat-free diet.