Freshly Review
Gourmet meals that keep you fit

Advertiser Disclosure
This website features affiliate links. For purchases made via these links, we earn commissions that allow us to keep producing helpful content. To find out more
click here
.
Close
Freshly is a healthy meal delivery service that has quickly found its way into the homes of hungry home diners across America. The New York-based company with production facilities in Arizona started out in 2015 with the goal of becoming one of the industry leaders. Its mission statement insists that all its meals are absolutely fresh, never frozen. In the relatively short time that it has been on the market, it has doubled the number of states it delivers to, improved the variety of its offer, and consequently gained an increased number of loyal customers. It is a company that just keeps on improving. Read this detailed Freshly review to learn more.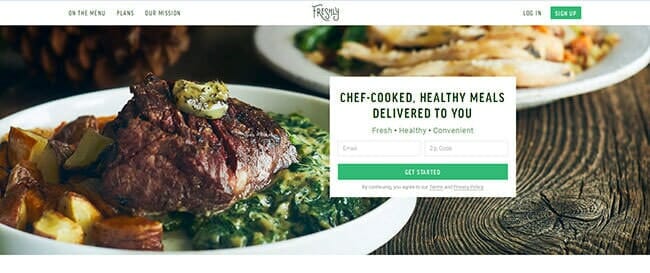 How Freshly Works
Freshly is in the business of providing fresh and healthy breakfasts and gourmet entrees for fans of the high-protein diet. Every week, there are a couple of dozen of delicious dishes to choose from and even though they focus on meat as the source of proteins, there are always several vegetarian meals available too.
Ordering from Freshly is a piece of cake. All you have to do is choose how many meals you wish to receive weekly – 4, 6, 9 or 12 – and pick the dishes you like the most. Unlike many other meal deliveries that offer fixed meal plans, Freshly allows you to customize your menu, so you get to hand-pick the meals you wish to see on your table.
The menu changes weekly, so there are new breakfast, lunch or dinner options every time you stop by. With dozens of dishes available every week, you always get to try at least one or two new dishes and revisit something you already ordered and enjoyed. If you need some help picking the best dishes, you can check out which meals are marked as Top Rated and rely on the experience of other happy customers.
Even though it is not exclusively an organic meal delivery, its ingredients are all natural and essentially good for your health. All of its meals are gluten-free, contain no processed sugars, and have low carb content. With plenty of protein, its meals keep you feeling full for longer and help your body burn fat much quicker, so you feel light and energized throughout the day.

What Makes Freshly Different
Freshly is unique in its efforts to give proteins the glory they deserve. Its diet philosophy has its roots in the Paleo diet. It highlights the importance of proteins in regard to feeling energized and losing weight more easily. The service has done away with everything that makes a person sluggish or overweight. By that, we primarily mean carbs and processed sugars, which seem to be the cornerstone of the modern diet. More protein, combined with fewer carbs and sugar, means more energy, easier fat burning, and above all, a healthier body.
Freshly provides you with all the info you may need to know exactly what you are eating. Apart from selecting only the highest-quality natural ingredients, it also lets you know exactly what each meal contains. If you would like to know all the nutrition facts, you can check out the detailed info on the fat, cholesterol, sodium, fiber, calcium, iron, and vitamin content, as well as on the amount of carbs, proteins, and calories in every meal.
What really impressed us while we were researching for this Freshly review is how extremely eco-friendly the service is. Every part of the packaging it uses is recyclable or biodegradable, so you can keep your environmental footprint to a minimum. Even the meals it ships are eco-friendly, as each meal is perfectly portioned, so there is no food waste either.
If you like Freshly and wish to spread the joy, you can join the refer-a-friend program. With every successful referral, you get $40 and your friend can get 6 dinners for just $39 for two weeks. Keep in mind that you can only be rewarded for up to 10 successful referrals every month.
Freshly is incredibly flexible and allows you to skip a delivery, pause your subscription or cancel at any time, as long as you do it before the weekly deadline. Luckily, the service sends you weekly emails in order to remind you of the deadline, so you do not have to worry about missing it and receiving any unwanted deliveries.
Meals and Recipes
As we have mentioned before in this Freshly review, this company offers delicious breakfasts and entrees that can serve both as lunch and dinner. In partnership with some of the best chefs in the country, it is constantly coming up with new recipes that satisfy its main criteria – healthy, tasty, fresh, and protein-packed.

While it does not offer specialized meal plans for different dietary needs and preferences, all of its meals are created in accordance with the requirements of several types of special diets. Its meals are mostly Paleo-inspired and contain no gluten or processed sugars, which makes them a good option for people on the Paleo or gluten-free diets, as well as diabetics. Being low in carbs and high in protein, they are a good choice for people who are trying to lose weight or just want to keep their bodies in good shape.

Every week, there are around 25 entrees and half a dozen breakfasts on the menu. The breakfasts usually include some tasty and creative omelets and frittatas, as well as lighter options based on grains and fruit. As far as the entrees are concerned, they feature all sorts of meat, with a heavy accent on chicken and poultry in general, as well as shrimps and other delicious seafood. The perfectly cooked meat is complemented by various kinds of healthy and nutritious veggies, which makes for a well-balanced meal beaming with flavor.
Pricing
The prices of meals at Freshly are quite similar to what we are used to with this kind of service. The 4-meal weekly plan costs $12.50 per meal or $49.99 per week, the 6-meal plan is $9.99 per meal or $59.99 per week, the 9-meal plan is $9.99 per meal or $89.99 per week, and the 12-meal plan is $8.99 per meal or $107.99 per week.
As you can see, the more food you order, the more you save on each individual meal (up to $3.50 per meal), so if you like what Freshly offers, consider opting for a larger plan. You may be happy to hear that shipping is free with all plans, so you end up paying only for what you eat.

Meal Programs
Meals per week
Price per week
Price per meal
4
$49.99
$12.50
6
$59.99
$9.99
9
$89.99
$9.99
12
$107.99
$8.99
Delivery Areas
One of the major downsides of Freshly is that their shipping range is quite limited. At the moment, they only deliver to 27 states: California, Texas, Illinois, Washington, Georgia, Arizona, Colorado, Tennessee, Oregon, Missouri, Utah, Oklahoma, Alabama, Indiana, Louisiana, Nevada, Arkansas, Kansas, South Carolina, New Mexico, Mississippi, Iowa, Idaho, Nebraska, Kentucky, Wisconsin, and South Dakota. However, it does not cover all areas even in the states mentioned above, so you better use the zip code checker to see if it can deliver to you. Nonetheless, considering it has managed to double the number of states it delivers to in such a short time, we have no doubt it will expand the list of delivery areas quite soon.

Freshly Pros And Cons
To make sure Freshly meets all your standards and expectations, it is important to know its biggest advantages and disadvantages. With a short overview of its pros and cons, you can easily decide if Freshly is the right meal delivery service for you.
Pros
All-natural, high-quality ingredients
Over 2 dozen healthy meals on the weekly menu
Low in carbs, no processed sugars or gluten
Reasonable prices
Free shipping on all orders
Flexible subscription
Great referral program
Cons
Few vegetarian options
Delivers to only 27 states
Sample Dishes
Freshly provides its happy customers with finger-licking chef-prepared meals that can suit virtually any taste. With this meal delivery service, you can enjoy restaurant-grade dishes in the comfort of your own home without breaking the bank. Take a look at our curated selection of Freshly meals to get a glimpse of the delights that await you on its menu.
Buffalo Chicken Breast
Pork Carnitas
Steak Peppercorn
Three Bean Ancho Turkey Chili
Bottom Line
The basic philosophy behind Freshly is that healthy means high in protein, low in simple carbs and sugars, and high in healthy fats. According to the help center, this means that there's not much room for dishes based on other nutrition principles, such as vegetarian or vegan. However, the service is constantly working on adding more vegetarian dishes to its menu and there are at least a few delicious meals for veggie lovers at all times. The meals are always fresh and nutritious and ready in just two minutes, which is as convenient as it gets. A team of pro chefs works hard on providing you with dozens of delicious breakfast, lunch, and dinner options every week. On top of that, shipping is always free, which significantly cuts down on the final price you pay for your meals. If you are looking for something affordable, convenient, healthy, and delicious, you should definitely consider giving Freshly a shot.