Freshly VS Pete's Paleo
Advertiser Disclosure
This website features affiliate links. For purchases made via these links, we earn commissions that allow us to keep producing helpful content. To find out more
click here
.
Close
Choosing between Pete's Paleo and Freshly, you are faced with a rather difficult task. Both services have unique qualities that make them highly popular among hungry customers nationwide. However, that does not mean that the choice is impossible to make, as one of these services does have a bit more to offer. Our Pete's Paleo VS Freshly comparison below allows you to discover what it is that makes these two services different from each other, as well as which one constitutes a better choice.

A major treat for Paleo food-lovers
VS

Gourmet meals that keep you fit
Highlights

Pete's Paleo allows you to enjoy delicious organic chef-prepared Paleo meals and decide on everything from meal selection and quantity to portion size and delivery frequency.
Average Price Per Meal:

$20.50

Shipping Cost:

$0

Delivery Area:

50 states

Freshly offers reasonable prices and a rich menu filled with hallmarks of Italian and American cuisines, all made of fresh, natural ingredients.
Average Price Per Meal:

$9.99

Shipping Cost:

$0

Delivery Area:

27 states
Compare Features

Best For
Best for Paleo lovers and people on high-protein, low-carb diets
Menu/Meal Plans
With Pete's Paleo, you can choose from its Weekly Menu, Lite Menu, and Eat What You Love Menu. You can also opt for its 21-Day Sugar Detox.
Recipes/Meal Options
If you opt for Pete's Paleo Weekly Menu, you can receive 5, 10 or 14 meals every week or every other week. With Pete's Paleo Lite Menu, you will receive 7 meals every week or every other week. If you choose the Eat What You Love Menu, you can choose from 16 meal options on the menu every week. You can recieve 7, 14 or 21 meals with the 21-Day Sigar Detox.
Meal & Recipe Variety
All meals on the Pete's Paleo menu are organic, gluten-free, dairy-free, soy-free, and Paleo-friendly. The service also offers keto-friendly, vegetarian, light, and low-carb meals, as well as AIP-friendly, sugar-free, and low-FODMAP dishes.
Food Quality
Pete's Paleo closely works with its farmers and suppliers to provide its customers with food of the absolute highest quality. It uses only organically grown produce free on GMOs or any other harmful substances and pasture-raised and grass-fed meat. Its food contains no dairy, soy or gluten.
Nutritional Value & Portion Size
Every Pete's Paleo meal includes 5 to 5.5 oz. of protein and two 4 oz. sides, which should satisfy a diner with a healthy appetite. If you need more food, you can double the protein or add an extra side. The average calorie count is around 500 calories and the meals contain just the right quantities of fat, protein, and carbs.
Subscription Flexibility
With Pete's Paleo, you can skip a week, change your order or cancel anytime. All changes to your order must be made by Monday at midnight of the week that you're scheduled to receive your order. Keep in mind that subscription plans can be paused or modified up to 3 times per quarter. Any additional changes come with a $15 administrative fee per request.
Refunds
For information about returns and refunds, you must contact Pete's Paleo directly.

Best For
Best for home diners who prefer classics and comfort food
Menu/Meal Plans
Freshly provides its customers with a weekly menu to choose from.
Recipes/Meal Options
Freshly offers 25+ entrees and half a dozen breakfasts on its menu every week.
Meal & Recipe Variety
Freshly offers chef-prepared entrées and breakfasts for different diets. Its menu includes low-carb, high-protein, Paleo, omnivore, vegetarian, gluten-free, soy-free, dairy-free, and calorie-conscious meals. It offers both classic and exotic dishes, most of them originating from the American and Italian cuisines, with occasional Asian dishes.
Food Quality
Freshly exclusively uses fresh, natural ingredients. Its meals never contain any artificial flavors or colors and they are free from gluten, added sugars, and preservatives.
Nutritional Value & Portion Size
Most Freshly meals contain between 400 and 500 calories per serving. They are generally healthy and nutritionally balanced but they are not free from cholesterol and may contain more than 600 mg of sodium. The portions are usually around 13 oz.
Subscription Flexibility
With Freshly, you can change, skip, pause or cancel your order whenever you want. The deadline for making any changes is 11:59PM PST 5 days before your scheduled delivery day.
Refunds
If you are not satisfied with your delivery from Freshly, you may receive a full or partial refund or credit. You must report your complaints to the company within 5 days of your delivery date.
Compare Plans & Pricing

Pete's Paleo Plans & Pricing
Standard
Number of meals
Price
Price per meal
5
$123.00
$24.60
10
$189.00
$18.90
14
$249.00
$17.78
Family Plan (4 servings)
Number of meals
Price
Price per meal
5
$324.00
$12.90
Vegetarian
Number of meals
Price
Price per meal
10
$129.00
$12.90
Pete's Paleo Lite
Number of meals
Price
Price per meal
7
$99.00
$14.14
21 Day Sugar Detox
Number of meals
Price
Price per meal
7
$147.15
$21.02
14
$241.65
$17.26
21
$315.00
$15.00

Freshly Plans & Pricing
Meal Programs
Meals per week
Price per week
Price per meal
4
$49.99
$12.50
6
$59.99
$9.99
9
$89.99
$9.99
12
$107.99
$8.99
Suitable For

Meals For Families
Meals For Kids
Meals For Seniors
Meals For One

Meals For Families
Meals For Kids
Meals For Seniors
Meals For One
Compare Meal Options

Vegetarian Meals
Vegan Meals
Paleo Meals
Keto Meals
Low-Carb Meals
Low-Fat Meals
Meals For Diabetics
Gluten-Free Meals
Organic Meals
Weight Loss Meals

Vegetarian Meals
Vegan Meals
Paleo Meals
Keto Meals
Low-Carb Meals
Low-Fat Meals
Meals For Diabetics
Gluten-Free Meals
Organic Meals
Weight Loss Meals
Compare Sample Meals

21 Day Sugar Detox
Black-Pepper-Tenderloin-with-Golden Beets and Sauteed Spinach
Coconut Curry Chicken Stew
Petes Paleo Meals

Buffalo Chicken Breast
Pork Carnitas
Steak Peppercorn
Three Bean Ancho Turkey Chili
Compare Extras

A La Carte Menu
Gift Cards
Marketplace

A La Carte Menu
Gift Cards
Marketplace
Compare User Reviews

Submitted By Charles W. Burkett on 03/07/2019

I've used this service for a while now and think that it's been been good. I had elected to try their double portions option and it was a good value as I received a double portion but not quite at double the price. The double portions, instead of coming in their traditional plastic plate, came in separate bags, which made it easy to use as much as you wanted and save the rest if you were not that hungry.I decided to order again, but received only the normal sized plastic plates. When I called to get the error corrected, I was informed that the plates which had the normal portions, were now holding the double portion.While there was a little for food stuffed onto the plates, it was not a double portion.I complained and had an email from Sarah, who identified herself as one of the owners, who basically told me that my eyes were wrong and it was a double portion.Obviously I'm disappointed for two reasons. One, the customer service is lacking but more importantly, two, that they would take advantage of a happy customer like this.Very disappointed.

Submitted By Sevy Gambs on 01/01/2018

I ordered my first shipment and did not realize the meals would be delivered not froze. One meal was partially frozen. I threw all meals away and asked my account be cancelled. I did not ask fr a refunds, as I threw the meals in the trash without fist calling and speaking with someone. I accept full responsibility for that mistake. However, I sent a total of 8 emails and three instant messages requesting cancellation of my account over a 3 day period without a response. I received an email letting me know my new order is being processed and my account has been charged. As a consumer Pete's Paleo website make it impossible to cancel ones account or stop shipment of an order without having to take additional time to submit an email or call. I can't speak to the quality of the meals, but do not recommend engaging their service unless you have time to dispute charges and take time out of your busy day to continuously follow-up with requests.

Submitted By Aiden West on 07/05/2017

21-day sugar detox changed my life! I've lost 15 pounds on the first run and I'm preparing for another round! And after the first week I stopped having those monstrous pizza and candy cravings!

Submitted By Daisy Blackwater on 05/05/2017

It would've been a great, permanent solution for my keto diet if it wasn't that expensive. Especially for one person, like you're basically telling you should suffer if you're eating alone.

Submitted By Terrill Barnes on 02/27/2019

Too... Many occasions when meals have been late or not arrive at all. NOT A RELIABLE FOOD DELIVERY CONPANY.

Submitted By Ann Griffin on 12/27/2018

I'm a single mom to a 7-month old baby boy and having Freshly in my life has been a true lifesaver. I'm currently working two jobs and have absolutely no time or energy to cook and junk food and fatty snacks are simply out of the question. Freshly was an important part of my effort to turn my life around and become a better persona for my son. So far, I liked most of the breakfasts and entrees and I can already see the baby fat starting to disappear inch by inch. Some meals are definitely a bit higher in fat but nothing too excessive and you can maintain a healthy diet and lose weight effectively if you keep track of everything you're eating.

Submitted By Bonnie Gordon on 08/02/2018

I'm absolutely delighted with the Freshly meals. They are indeed fresh, wholesome, and delicious. I recently regurned from the Duke University Diet & Fitness Center where I was fed 3 balanced, relatively low calorie meals a day for 3 weeks. The Freshly meals are entirely comparable, both in terms of ingredients and total calories. I live alone and do not want to prepare dinners on a daily basis. Freshly is a reasonably priced, excellent alternative. The packaging is great in terms of keeping the food cool and protected delivery. I only regret that the insulation isn' recyclable.

Submitted By Travis Wright on 02/05/2018

Awesome meals, my only complaint is that they focus on chicken, more beef and pork wouldn't hurt.
Winner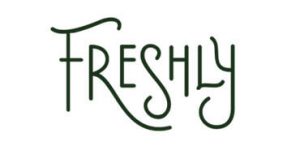 Freshly is a Paleo-inspired meal delivery service that brings you protein-packed, chef-prepared meals that are sure to keep you feeling full and energized throughout the day. If you are thinking about giving Freshly meals a try, be sure to read our detailed review of Freshly and check out Freshly reviews written by more or less satisfied customers.