Compare Prices
The following price comparison is designed to help you easily figure out which of our top-ranked meal delivery services for seniors best fits your budget. We have brought all the pricing information to one place, including the shipping costs and details about the companies' delivery areas, so you can identify the perfect fit in a single glance.
Company
Avg. Meal Price
Shipping
Delivery Areas
Silver Cuisine By BistroMD
Avg. Meal Price
Shipping Cost
$19.95
Delivery Areas
Magic Kitchen
Avg. Meal Price
Shipping Cost
$18.00-$20.00
Delivery Areas
Mom's Meals
Avg. Meal Price
Shipping Cost
$14.95
Delivery Areas
Top Chef Meals
Avg. Meal Price
Shipping Cost
$19.95
Delivery Areas
Balance By BistroMD
Avg. Meal Price
Shipping Cost
$0
Delivery Areas
Diet-to-Go
Avg. Meal Price
Shipping Cost
$9.99
Delivery Areas
Home Bistro
Avg. Meal Price
Shipping Cost
$15.95-$59.95
Delivery Areas
Medifast
Avg. Meal Price
Shipping Cost
$0
Delivery Areas
Healthy Chef Creations
Avg. Meal Price
Shipping Cost
$20.00
Delivery Areas
Send A Meal
Avg. Meal Price
Shipping Cost
$0
Delivery Areas
Benefits Of Meal Delivery For Seniors
Meal delivery services are suitable for just about anyone, but they are particularly convenient for seniors. First of all, many seniors have special dietary needs and there are many excellent meal delivery companies that do a great job accommodating their senior patrons' differing dietary preferences, whether we are talking about low sodium, gluten-free, low sugar or low-fat meals, or lifestyle choices like vegetarianism and veganism.
Second, most seniors cannot really go out every day to buy groceries and they also prefer not to stand by the stove for hours cooking a nutritious, healthy meal. Third, some seniors have conditions that prevent them from even leaving the house. If their family does not live nearby, meal delivery is a perfect solution.
Another important aspect is the convenience of meal delivery. In most cases, meals are delivered periodically, for example, once a week, in insulated boxes that keep them fresh and safe. You can stock up on your meals for the week and simply take a meal out and reheat it in the microwave or in boiling water whenever you are ready. There are little or no dishes to wash after dinner, just a couple of boxes to throw away.
After spending their whole lives taking care of others, seniors deserve to have someone take care of them and meal delivery services for seniors are the right fit for this rewarding task.
How Are The Best Meal Deliveries For Seniors Different
Just because a meal delivery service offers meals that are low in sodium or cholesterol, it does not mean that it is perfectly suited for the elderly. What most seniors deal with on a daily basis and many services simply do not understand are the numerous dietary restrictions prescribed by doctors due to a variety of medical issues that almost inevitably come with age. Fortunately, there are several meal delivery services that offer meals particularly designed for seniors, with all of their needs in mind.
The best meal deliveries for seniors do not offer universal solutions for the elderly, assuming that all of their golden-aged patrons can fit into a single dietary category. Instead, they offer more customization options than all other services of their kind. They allow seniors to choose everything from the ingredients that make up their meals to meal selection, quantity, and delivery frequency. They ask their senior patrons what they want to get in their deliveries and do their best to make it happen.
However, the abundance of customization options is not the only characteristic that sets these companies apart from the rest of the lot. We believe that one of the finest qualities of our top-ranked senior meal delivery services is the respect and love they have for their senior patrons, which drives them to provide superior-quality service available to everyone who may need it. They make their meals affordable and even offer additional discounts for seniors, providing unrestricted access to personalized meal delivery to elderly individuals across the country.
Choosing The Right Meal Delivery For Seniors
When choosing a meal delivery service for yourself or a senior in your life, there are several criteria to keep in mind. The quality of ingredients and meals, flavor, presentation, and price are just some of the general factors that determine a good meal delivery company. However, when it comes to seniors, there are several other factors to keep in mind, considering the sensitive status of many elderly folks, their lifestyle, health, and general condition. A good meal delivery for seniors needs to provide its elderly patrons with a choice of delicious, nutritious food that will both please their palate and protect their health.
The best senior meal delivery services on our list have passed our rigorous 6-step test and more than satisfied all of our requirements. They offer enough meal options to satisfy the needs of seniors with different dietary preferences and levels of activity. They provide breakfasts, lunches, dinners, and extras, eliminating the need for grocery shopping and home cooking.
Furthermore, the variety of meals on their menus is nothing short of impressive and includes tasty, healthy meals that are low in sodium and cholesterol, heart-healthy, and suitable for seniors who suffer from different medical conditions.
Their meals provide optimal nutritional value and carefully calculated portion sizes, too.
Lastly, our top choices offer flexible subscriptions that can be easily modified to suit any senior's lifestyle and their prices are never too high. Some of them even offer meals that cost less than an average home-cooked meal.
Best Meal Delivery For Seniors
What all of our top picks have in common is that they are currently the best on the market. Now it is time to discover what makes each of these meal delivery services for seniors unique. Explore their distinctive features in the mini-reviews below and choose the one that best satisfies your needs.
1. Silver Cuisine By BistroMD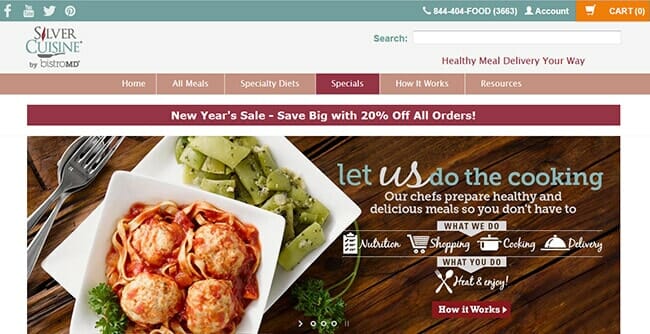 One of the rare meal delivery services particularly designed with seniors in mind, Silver Cuisine By BistroMD offers doctor-designed, chef-prepared meals for individuals over 50. Its menu is incredibly varied and includes more than 150 healthy and delicious meals. It aims to satisfy a vast range of special dietary needs with its low-sodium, gluten-free, dairy-free, low-carb, diabetic-friendly, heart-healthy, vegetarian meals, and meals specially designed for women in menopause.
2. Magic Kitchen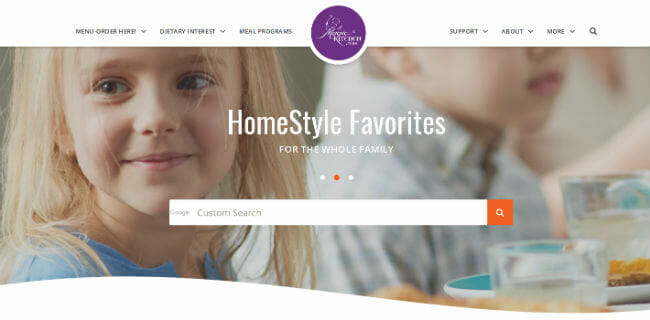 Magic Kitchen is a famous meal delivery service that takes senior meals and health issues very seriously. Its senior meals are designed by a dietitian to be as healthy as possible. They are prepared by pro chefs to be low in sodium, tasty, and flavorful. Each course consists of a main dish and 1-2 sides. You can order multiple 7-serving meal packs or create your custom diet plan by selecting individual courses. Senior discounts are available.
3. Mom's Meals

The winner of the Isadore King Service Award for 2017, Mom's Meals is one of the best and most affordable solutions for elderly individuals. This service does not only offer senior-friendly meals but has menus particularly designed to suit the needs of seniors who suffer from a variety of medical conditions, including diabetes, heart conditions, and renal diseases. Mom's Meals is a company that truly cares, so you can be sure that your diet is in the right hands.
4. Top Chef Meals

Top Chef Meals is a revolutionary meal delivery service that goes to great lengths to satisfy the needs of its senior patrons. It offers made-to-order senior meals and allows you to choose all the elements of every dish you receive, including the entrée, source of starch, and vegetable sides. Its menu includes a variety of low-sodium, low-carb, gluten-free meals, all healthy, professionally prepared, readily customizable, highly affordable, and delivered right to your doorstep.
5. Balance By BistroMD
Another senior meal delivery that has you spoilt for choice is Balance By BistroMD. Going way beyond just offering senior-friendly meals, this service provides meals designed in accordance with the American Heart Association's guidelines for calorie, sodium, and fat content. Its meals have fewer than 600 mg of sodium, fewer than 3.5 g of saturated fat, and no more than 25 g of NET carbs. It also offers menopause-friendly and vegetarian-friendly meals, as well as meals free from dairy and gluten.
6. Diet-To-Go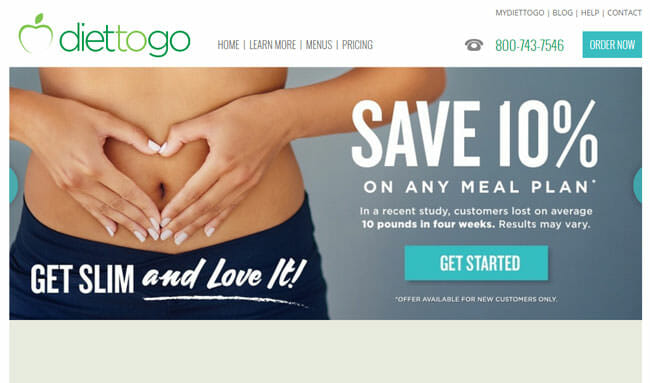 Diet-To-Go is a weight loss meal delivery service that has been serving senior dieters for more than 25 years. Its most famous, heart-healthy, senior-friendly meal plan has been rated #1 for taste by Epicurious. This means that you do not only get to lose weight while letting professionals take care of your dietary needs, but you also get to enjoy restaurant-grade meals that can please your palate and do wonders for your body at the same time.
7. Home Bistro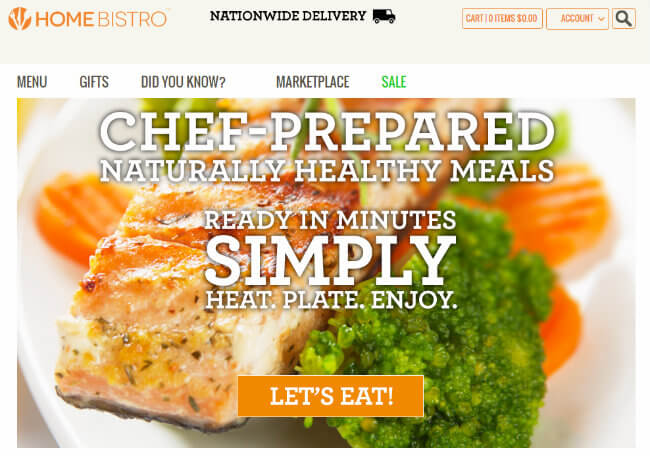 Home Bistro provides a fine dining experience that won't shortchange your preferences. It offers delicious meals with lowered sodium content and as low as 30% of fat per meal. By providing you with options to customize your diet plan, Home Bistro lets you enjoy great tasting meals that are also good for your health. The service helps you improve your well-being with nutritionally-balanced, fresh-made meals that are heart-friendly and/or diabetic-friendly.
8. Medifast
Medifast offers a specially designed diet program for seniors aged 65+ called Medifast for Seniors, which enables you to eat well and age well at the same time. You can choose from 3 senior meal plans for weight control and healthy nutrition. The options include a plan for active seniors who plan to lose less than 100 lbs, those who want to lose up to 100 lbs, and seniors who seek to lose 100+ pounds or have a serious medical condition.
9. Healthy Chef Creations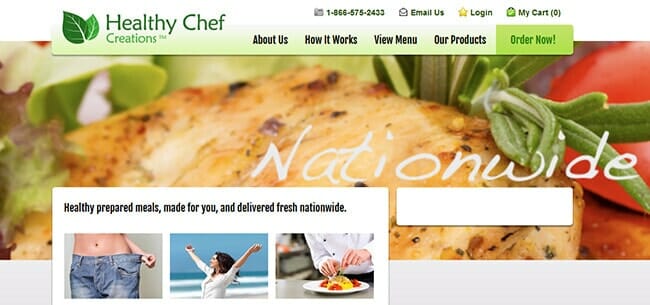 Healthy Chef Creations has already won numerous awards for its perfectly crafted meals suitable for everyone who wants to eat healthily, including seniors. You can opt for a healthy living or weight loss plan, request a custom meal plan that perfectly suits your needs or handpick senior-friendly meals from the company's rich a la carte menu. Enjoy delicious, organic breakfasts, lunches, dinners, drinks, salads, and more.
10. Send A Meal
Send A Meal provides nutritionally balanced, low-sodium meals that make for perfect gifts for seniors. You can order individual meals or save time and cash with convenient senior meal bundles including tasty, chef-prepared entrees, side dishes, and optional soups and desserts. No subscription is required, you can order as many or as few meals as you wish, and the prices suit virtually any budget. The meals are fully cooked and delivered frozen and they can last for months in a freezer. They come on microwave-safe paper trays and take just a couple of minutes to reheat.