Medifast Review
Advertiser Disclosure
This website features affiliate links. For purchases made via these links, we earn commissions that allow us to keep producing helpful content. To find out more
click here
.
Close
Medifast is an American meal delivery service dedicated to weight loss and healthy nutrition. It was founded back in 1980 by doctor William Vitale. In the beginning, Dr. Vitale sold his products directly to doctors, who then prescribed them to their patients who needed to lose weight.
Today, Medifast owns five subsidiaries and features more than 65 delicious, fortified, low-calorie, and portion-controlled meals to choose from. In other words, the company offers effective weight loss plans that can fit every budget and lifestyle. If you're interested in losing weight the right way, read our Medifast review and learn why more than 20,000 doctors recommend its meal plans. 

How Medifast Works?
Medifast is a healthy meal delivery service based on a clinically proven and nutritionally balanced weight loss program that can help you shed those pounds much faster than any other traditional diet plan. The program puts an emphasis on eating portion-controlled meals at regular intervals throughout the day. Every single meal provides you with adequate amounts of nutrients while nourishing your body with vitamin and mineral fortification. 
The point of Medifast is to create a new, healthier lifestyle for you. In other words, it can help you lose weight by changing your lifelong habits instead of just acting as a regular fad diet. No matter how good a diet is, its nutritional regimen ends at some point and you have to improvise if you want to maintain your results. We all know how that usually ends. Medifast, on the other hand, features numerous follow-up plans that you can use once your initial weight loss program comes to an end. Medifast doesn't only teach you how to lose weight quickly and efficiently but also how to sustain your results.
Medifast has been used by physicians and doctors for many years. The program was redesigned 10 years ago to allow users to follow it without medical supervision. Whether you want to lose 10 or 100 pounds, it is designed to be effective and, most importantly, safe. 
The program works by shattering the most famous myth when it comes to nutrition and exercise – the one that you can't lose weight and keep/build muscles simultaneously. Namely, after only a couple of days on the Medifast plan, you can start burning fat and losing weight while preserving as much muscle tissue as possible. Nutrient-dense meals fortified with 24 different vitamins and minerals allow you to lose pounds without sacrificing proper nutrition. Every single meal features the same nutritional profile with enough healthy fiber (4-6 grams) and low-fat protein that keep you feeling full between meals and nullify your need for snacks. 
Medifast also features a scientific advisory board composed of a panel of distinguished doctors and scientists. They constantly review the overall nutritional benefits, effectiveness, and safety of all the company's products and programs. The board is also there to help with the development of new meals and supplements and explore alternative weight loss methods for users with special nutritional or medical needs. 
Ordering Medifast meals is quite simple. You can order individual meals and create your own diet plan or go with one of the pre-made 30-day programs. Your order will be processed as soon as possible, usually within 24 hours, and shipped the next business day. 
What Makes Medifast Different
Medifast is the only weight loss program that helps you hold onto your muscle mass while burning excess fat. Most popular diets work by simply starving you, which ultimately results in a significant loss of your muscle volume and even possible health consequences. Medifast, on the other hand, bases its programs on striking the perfect nutritional balance that lets you maintain your muscle mass and look amazing after you lose weight.
Medifast weight loss program was developed by a doctor and reviewed by more than 20,000 physicians, doctors, and nutritionists. Unlike many other fad diets, Medifast is not only effective but also very healthy and safe, so regardless of how many pounds you are trying to lose, you will never have to starve yourself or compromise the nutritional quality of your meals.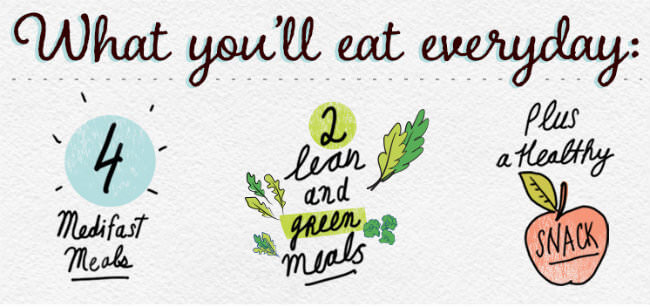 All Medifast meals feature a very low glycemic index, which means even people with type II diabetes can use them without any fear of endangering their health. This is yet another unique feature of this program; it caters to individuals with special dietary and medical needs. 
Medifast meal plans are very easy to prepare following the comprehensive guide provided with your chosen regimen. The company also does its best to motivate you to lose weight and prevent you from falling back to your old habits. One of the key components of every meal plan is that you will never feel hungry between meals or deprived of delicious food.
Medifast also provides you with exclusive access to nutritionists, numerous useful tools, and support materials that can help you learn more about the program itself and how to lose weight without endangering your health. Finally, the company will support you through your weight loss experience, see through your transition, and help you with lifelong maintenance. 
In case you want personal consultations regarding your weight loss endeavors, Medifast operates numerous weight control centers all over the US. Apart from talking to certified experts, you can also receive a medical review of your current condition and a personalized weight loss plan tailored to your individual needs.
Meals and Recipes
As we already mentioned previously in our Medifast review, the meal delivery service offers several 30-day weight loss kits that eliminate shopping, planning, calorie counting, and other tedious elements of losing weight from your daily routine. These pre-made kits include:
Medifast GO! 30-Day Kit – This is the most popular Medifast weight loss plan. It features 154 servings, your personal start-up guide, a plan guide, and a 30-day food journal.

 This kit is designed for people who want to cut their caloric intake drastically.

Medifast GO! 30-Day Gluten-free Kit –  The kit includes 154 delicious, 100% gluten-free Medifast meals.

 

Medifast Flex 30-Day Select Kit –  This kit features a perfect blend of Medifast favorites. It comes with 135 servings and is intended for users who want a bit more calories in their food during their quest to lose weight.

 

Medifast Flex 30-Day Complete Kit –  The complete Flex kit features 138 servings and five bonus items.

 
Medifast also has a loyalty program called Medifast Advantage that allows you to save money on shipping and earn rewards with every order. You also get special bonuses for your first order, including professional cookbooks, blender bottles, and many other convenient items.

On top of its 30-day weight loss plan kits, Medifast also offers numerous individual meals allowing you to create your own diet plan. These include energy bars, shakes, drinks, smoothies, crunches, hearty choices, breakfasts, desserts, lean & green meals, healthy snacks, supplements, and flavor infusers. The meal plans can also accommodate the nutritional needs of vegetarians, nursing moms, seniors, and people with gluten allergies or diabetes. The company offers numerous accessories, books & guides, and Fitbit activity trackers as well. 
Pricing
When it comes to 30-day kits, the prices go as follows: 
Medifast GO! – $429.00 ($329.00 with Medifast Advantage)

 

Medifast GO! Gluten Free – $429.00 ($329.00 with Medifast Advantage)

 

Medifast Flex Select – $395.55 ($299.00 with Medifast Advantage)

 

Medifast Flex Complete – $460.30 ($399.00 with Medifast Advantage)

 

Note that the Medifast Advantage discount only applies to your first order and cannot be used with any other discounts or promotions. 
If you want to create your own meal plan, the prices of all individual meals are $19.50, with some exceptions. For example, Dutch, French, and mocha ready-to-drink shakes cost $66.75, lean & green meals usually cost $29.70, and probiotic & omega-3 supplements range from $8.00 to $44.95. 
Medifast Go
Plan
Price per month
Price per meal
30 day kit
$329.00
$2.23
Gluten-free kit
$329.00
$2.13
Medifast Flex
Plan
Price per month
Price per meal
Select kit
$299.00
$2.37
Complete kit
$399.00
$2.71
Delivery Areas
With Medifast, all meal orders are usually processed and shipped within 2 work days. Depending on your location, it can take between 2 and 7 business days for the package to arrive at your home address. If you are a Medifast Advantage user, you get free shipping on orders over $250. 
Medifast ships its products anywhere in the US. If you live in Canada or Mexico, you have to place your orders through designated Canadian and Mexican websites.
If you're not satisfied with your order, you can return your shipment within 30 days of receipt and receive a full refund (minus the S&H fees). Your return request will be processed within 2 business days so that you can receive a refund in a timely manner. The promotional items you receive from Medifast don't qualify for a refund and are yours to keep. Note that if you refuse your shipment, a flat fee of $15 will be deducted from your refund. 
Medifast Pros And Cons
To make sure Medifast meets all your standards and expectations, it is important to know its biggest advantages and disadvantages. With a short overview of its pros and cons, you can easily decide if Medifast is the right meal delivery service for you.
Pros
Medically approved programs
Excellent nutritional value
Valuable weight loss support
Numerous meal plans
Money-back guarantee
Cons
Confusing website
Some of the items seem quite expensive
Sample Dishes
With Medifast, you get delicious meals prepared by pro chefs at affordable prices. To find out what kinds of delights you will receive in your delivery, we have chosen a couple of sample dishes that accurately represents its offer and can help you decide if it is the right service for you.
Blueberry Oatmeal
Brownie Soft Bake
Dutch Chocolate Shake
Original Pancakes
Bottom Line
Medifast is a unique meal delivery service that can make your weight loss journey much easier and more delicious. Its medically approved programs can help you burn excess fat while maintaining your muscle mass and containing your hunger between meals.
As presented in this Medifast review, the company's weight loss formula simply works! You can opt for one of the pre-set 30-day meal kits or you can build your own meal plan based on your particular taste and dietary needs. The program even caters to individuals with certain medical conditions, such as diabetes or gluten allergy. A handful of products aside, the prices are quite reasonable considering the quality provided, so all we can do is recommend Medifast programs wholeheartedly and wish you luck on your weight loss journey.