Medifast is a clinically proven meal delivery service that specializes in helping people lose weight by teaching them how to eat healthier. Developed by a physician, Medifast is a brand that has been recognized by more than 20.000 doctors since 1980. The core of the business are carefully planned, calorie-counted, and dietitian-designed meal kits that are delivered directly to your door every month or every two weeks.
This meal delivery service specializes in weight loss programs, which means that Medifast meals are formulated with low-fat proteins and fiber, fortified with nutrients and vitamins. Basically, everything that you need to lose those extra inches and pounds without skipping the essential nutrition. Continue reading this Medifast review to see how exactly they might help you on your weight loss journey.
How Medifast Works?
First of all, you need to remember that there are no quick fixes or magic pills for weight loss and Medifast doesn't claim to be one. But since they claim that their scientific and medical approach set them apart from similar meal delivery services, we had to make an order and see how it works.
A typical Medifast weight loss meal is packed with nutrients and fortified with more than 20 vitamins and minerals. This enables you to lose weight without losing out on nutrition. All meals share a similar nutritional profile and are designed to have enough low-fat protein and fibers that easily fill up your stomach and keep you full until the next meal. And we know how those munchies you feel between meals can be a real kick-in-the-teeth for any weight loss program. After a couple of days, you reach a mild fat-burning stage, but your muscle tissue gets preserved.
Medifast also employs a dedicated Scientific Advisory Board that consists of a group of specialists and doctors. Their role is to basically monitor and control everything about Medifast's products and programs. They also help in the development of new meals and supplements and investigate possible weight loss strategies for people with special medical or nutritional needs.
Ordering is very simple. You either choose one of two versions of 15 and 30-day programs or go on to order your personal selection of bars, snacks, shakes, lean & green meals, supplements, and much more. Deliveries are also very expedient. All orders are processed within 24 hours and shipped the very next business day.
The Medifast website is also very well equipped with a bunch of additional information in their Tools section. They provide additional resources such as guides and plans for successful weight loss, healthy living, exercise guides, guides for different age groups and taking care of specific medical issues, etc.
If you want to quickly ask them a few questions, the Medifast team is available for a live chat during their working hours. Start by choosing one of the available conversation topics and wait until the status of your request changes to Open.
What Makes Medifast Different
The first thing we thought about when we started writing this Medifast review was the amount of attention they put into their scientific approach. With Medifast, it's all about health and leading a healthy life. Not only is the entire meal program designed for optimum nutrition, there are also many different weight loss plans that focus on people with special medical and nutritional needs.
Through ongoing research and meticulous testing, Medifast's team of dietitians and nutritionists has created products and designed special meal plans to meet a wide range of special dietary needs.
But Medifast is not just a meal delivery service. We already mentioned in this Medifast review that they have a section on their website dedicated to providing additional information in many specialized categories. On top of this, there are also some cool bonus features:
MyWellness is a community that lets you connect with thousands of people who have undergone the Medifast weight loss program. There, you can join forum discussions, read blogs, watch videos, and take advantage of free guides and tools.
The Take Shape For Life support program was created by Medifast to offer health coaching. The coaches can teach you about healthy habits and ways to lead a healthy lifestyle based on a series of extensive training sessions and previous experience with Medifast.
Your local Medifast Weight Control Center is where you can get a one on one consultation, a medical review, and a weight loss plan tailored to your individual needs.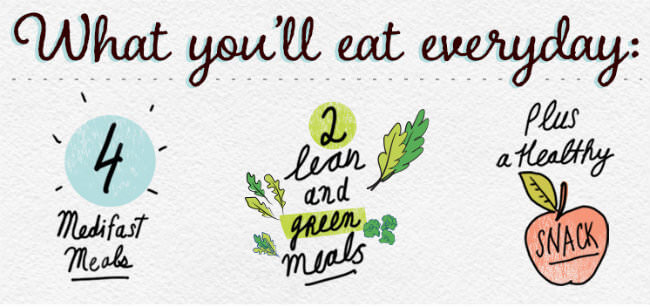 Meals and Recipes
As we already mentioned,  Medifast has a two-week and 30-day weight loss program. Both plans come in two variations – the two-week plan is available in deluxe and trial versions for a total of 56 meals while the 30-day kit comes in complete or select packages for a total of 126 meals.
The main difference between these two plans lies in additional features like microwave-ready meals and additional supplements. All packages are supposed to cover all important meals of the day (breakfast, lunch, and dinner) with additional snacks and crunches to stop you from feeling hungry throughout the rest of the day.
Two-week plans are a part of the Medifast Achieve Weight Loss Plan and work perfectly since you eat smaller portions every 2-3 hours for a total of 6 meals per day.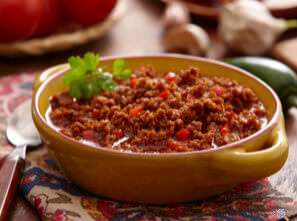 The other program is called the Thrive Healthy Living Plan and it was designed to enable you to maintain your weight in the healthiest way possible. Your daily intake will be 6 meals per day, three of which are Medifast Healthy Fuelings (healthy crunches and snacks, basically) that get you in between two lean & green and one balanced meal.
The third group of Medifast diet plans is called Weight Loss Plans for Special Nutrition and they offer a healthy caloric intake in line with your particular dietary preferences or special medial and nutritional needs. There are guides and plans for people with diabetes, gluten allergy, vegetarians, nursing moms, teens and seniors, and also a program we don't see very often – for people with a history of gout.
Also, you can visit their shop and create your own personal selection and a customized diet plan. Choose from a wide selection of different categories – Medifast Achieve Meals (bars, snacks, smoothies, drinks, crunchers, breakfast, and dessert collections), Thrive by Medifast (bars, shakes, and smoothies), Lean & Green Meals (with flavors of home), Snacks (crisps, popcorn & crackers), Hydration (infusers & drops) and Supplements (probiotic & omega-3).
Medifast Pricing
How much does Medifast cost?
Medifast has the same price for all products in the same range, which makes it very easy to calculate the final cost of your custom diet plans. Also, almost every item comes in a bundle of 6 or 7 servings per box.
These are the prices by category:
Medifast Achieve Meals: 19.50$ per box, 7 servings each
Thrive by Medifast: 19.50$ per box, 7 servings each
Lean & Green Meals: 29.70$ per box, 6 servings each; 54.96$ for a variety pack with 12 servings
Snacks: 7.95$ per box, 7 servings each
Hydration: 17.50$ per box, 21 servings each
Supplements: 24.95$ per box, 30 servings each; 44.95$ for a 30-day supplement bundle
Medifast Achieve Kits, aka the two-week and 30-day programs, cost less than the individual components which favors ordering bundles instead of individual boxes. The trial two week starter kit sells for 156.00$ while the 30-day kit goes for 460.30$.
Medifast Go
Plan
Price per month
Price per meal
30 day kit
$329.00
$2.23
Gluten-free kit
$329.00
$2.13
Medifast Flex
Plan
Price per month
Price per meal
Select kit
$299.00
$2.37
Complete kit
$399.00
$2.71
Delivery Areas
Medifast delivers in the entire US, including Hawaii and Alaska, as well as the United States Territories of Guam, Puerto Rico, and the Virgin Islands. Customers from Canada and Mexico can also order their meal kits through designated Canadian and Mexican websites.
Pros
Designed by doctors and nutritionists
Special medical weight loss plans
All the nourishment you need to lose weight
Money back guarantee
Cons
Poor choice of cooked meals
Lacking meal variety
Site is difficult to navigate
Snacks and juices are too expensive
Sample Dishes
With Medifast, you get delicious meals prepared by pro chefs at affordable prices. To find out what kinds of delights you will receive in your delivery, we have chosen a couple of sample dishes that accurately represents its offer and can help you decide if it is the right service for you.
Blueberry Oatmeal
Brownie Soft Bake
Dutch Chocolate Shake
Original Pancakes
Bottom Line
Medifast is a meal delivery service that can make your weight loss journey easy – if you're willing to sacrifice warm cooked meals for snacks and energy bars. For those of you who are determined to get in shape, Medifast can be an ideal solution, as its weight loss formula really works! As presented in our Medifast review, this meal kit delivery has a few plans that can speed up healthy weight loss. The prices of the kits are reasonable, so you should definitely give Medifast a shot.