Medifast Review
Advertiser Disclosure
This website features affiliate links. For purchases made via these links, we earn commissions that allow us to keep producing helpful content. To find out more
click here
.
Close
Important Update!!!
As of February of 2021, Medifast is set to be phased out and replaced with OPTAvia, a similar coach-driven dieating program. We recommend you check out two much better solutions BistroMD and Prolon, with the accent on BistroMD and its proven track record. You can read the BistroMD review here and if you click the button below you will get 25% off plus free shipping!
If you want to shed pounds but do not wish to choose between fast results and staying healthy, Medifast may be a good choice for you. This doctor-designed weight loss meal delivery program promises to help you get in shape quickly, improve your eating habits along the way, and feel better than ever.
In this Medifast review, we aim to find out if these are just empty promises or fact-based claims. What follows is a thorough exploration of the Medifast program, focusing on its scientific grounds, effectiveness, restrictiveness, affordability, and suitability for different weight loss goals and dietary needs.
Join us as we discover whether you can actually lose weight with Medifast.
What Is Medifast
Medifast is a well-known meal delivery dedicated to weight loss and proper nutrition. It offers specially formulated diet plans recommended by more than 20,000 doctors. Over the years, it has helped thousands of dieters lose weight the healthy way.
The company was founded back in 1980 by doctor William Vitale. In the beginning, Dr. Vitale sold his products directly to doctors, who then prescribed them to their patients who needed to lose weight.
Today, Medifast products are readily available to everyone seeking an easier way to shed some extra pounds. They can be purchased directly through the company's website. The service's offer includes more than 65 delicious, fortified, low-calorie, and portion-controlled food items. All products are available for a la carte ordering as well as within effective weight loss plans that can fit virtually every budget and lifestyle.
The service provides weight loss assistance both online and in its Weight Control Centers. Its counselors are always there to help you adjust the program to your needs, discover ways to enhance your results, and keep your body healthy and nourished as you progress toward your goal weight.
Medifast For Weight Loss
In this section of our Medifast review, we will go over all the facts that you need to know about how, whether, and why the Medifast diet works. We will discover what dieting method the program is based on, what kinds of results it produces, what kinds of foods it allows you to eat, and how it can affect your health.
Does The Medifast Diet Work
Medifast's effectiveness has been scientifically proven. According to a recently conducted study, the average weight loss in dieters who followed the Medifast program was 16.5 pounds and 2.25 inches in waist circumference over the course of 26 weeks.
Another empirical study confirmed these findings, reporting a loss of at least 5% of the initial weight in 93% of the participants who followed the Medifast diet for 16 weeks. Significant improvement in health-related parameters was also reported.
User reports show that numerous dieters have managed to lose over 50 pounds with Medifast. Some Medifast users report shedding up to 115 pounds on the program. It is important to note that dieters who work with counselors in Medifast Weight Control Centers usually report more drastic results and lose weight consistently for about 20 weeks. In contrast, dieters who lose weight independently by consuming Medifast products and taking advantage of Medifast online support normally lose about 11 pounds on average over the course of 8 weeks.
If you decide to give Medifast a try, you can expect to lose 2 to 5 pounds during the first week on the diet. In the subsequent weeks, the estimated average weight loss is 1 to 2 pounds per week. Your results may vary depending on your initial weight, your activity levels, your metabolism, and whether you follow the diet strictly. By strictly, we mean that you stick to the guidelines and consume neither more nor less food than your plan prescribes.
With the standard Medifast diet plan, you get to consume just 800 to 1,000 calories per day. If you opt for the more flexible version of the Medifast weight loss program, you can consume 1,100 to 1,300 calories per day and still lose weight quickly and steadily.
In sum, both science and user experience have shown that Medifast can help you shed extra pounds and produce visible results in a relatively short period of time. While results vary from one person to another, the diet does lead to weight loss if followed properly.
Why Does Medifast Work
The Medifast program is based on diet modifications that have been proven to cause weight loss. These include calorie and carbohydrate control and regular and frequent meals, combined with meal replacements, moderate physical activity, and hydration.
Simply put, the diet works because it reduces your calorie intake, limits your choice of foods to healthy options, and encourages you to adopt habits that promote weight loss. It removes bad carbs and fats from your diet and allows you to eat regularly and in reduced portions.
It offers uniquely designed meal replacements and carefully balanced, fortified meals that contain adequate amounts of nutrients and more than 24 vitamins and minerals. You get to enjoy good-for-you meals 6 times a day, every 2-3 hours. That means that you do not feel hungry all the time but instead nourish your body and stay satiated throughout the day.
Finally, Medifast helps you transform your habits and enhance your results by advising you to exercise in accordance with your needs and keep your body hydrated. These additional lifestyle modifications can help you feel lighter and more energized and they can lead to more substantial weight loss.
Medifast Food List
What all Medifast diet plans have in common is that they allow you to enjoy something healthy 6 times a day. However, they differ in the number of meals and snacks they require you to prepare yourself. You can cook just 1 meal a day, prepare 2 meals and 1 healthy snack or make 3 meals per day.
These homemade meals are referred to as Lean and Green meals because they combine lean proteins with healthy greens. They normally contain:
5 to 7 ounces of lean proteins;
Up to 2 servings of healthy fats;
3 servings of non-starchy veg.
Additionally, your meals can include a variety of condiments that can make them tastier and more satisfying. You can have no more than 3 condiment servings per day and each serving should contain up to 1 gram of carbs. The options at your disposal include:
Fresh herbs;
Dried herbs and spices;
Sauces and syrups;
Dairy, cheese, and milk substitutes;
Baking and cooking extras;
Flavor enhancers.
If you feel particularly hungry, you can have 1 extra snack per day. However, you do not get to freely choose your snacks and meal components. Medifast provides recommendations for all food categories included in your meals and snacks. To help you get a better sense of what your meals with Medifast would look like, we will now provide a categorized overview of the recommended foods.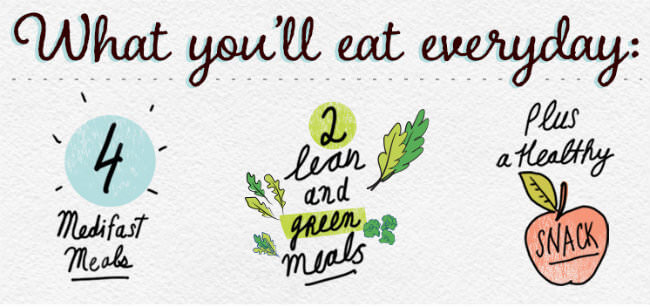 Lean Options
Lean options are grilled, broiled, baked or poached protein sources that are low in fat. They are divided into lean, leaner, and the leanest categories, based on their fat content. You can either opt for meat or meat substitutes. You can choose the preparation method that works for you, but it is important to avoid frying.
The leanest proteins are enjoyed in 7-ounce portions and they are combined with 2 servings of healthy fats. For your serving of the leanest proteins, you can choose:
7 ounces of lean fish (cod, grouper, tilapia, flounder, haddock, orange roughy, mahi mahi, tuna or wild catfish);
7 ounces of shellfish (lobster, shrimp, crab or scallops);
7 ounces of game meat (elk, buffalo or deer);
7 ounces of ground meat that contains no more than 2% of fat;
14 egg whites;
2 cups of egg substitutes;
2 veggie burger patties with no more than 6 grams of carbs per patty.
Leaner proteins should be enjoyed in 6-ounce portions and combined with 1 serving of healthy fats. Your choice is limited to just several options, including:
6 ounces of lean fish (swordfish, trout or halibut);
6 ounces of chicken breasts or white meat, skin removed;
6 ounces of white turkey meat;
6 ounces of ground meat with no more than 5% of fat;
15 ounces of extra-firm tofu;
2 whole eggs and 4 egg whites.
Finally, lean proteins come in 5-ounce servings and they do not require you to add any healthy fats to your meals. All of the following options count as 1 serving of lean proteins:
5 ounces of salmon, tuna, mackerel, herring or farmed catfish;
5 ounces of lean beef (ground, steak or roast);
5 ounces of lamb;
5 ounces of pork tenderloin or chop;
5 ounces of ground meat with no more than 15% of fat;
5 ounces of chicken or turkey dark meat;
15 ounces of firm or soft tofu;
3 whole eggs, which is the weekly limit for eggs.
Green Options
Green options are non-starchy vegetables that you can eat in large quantities. As mentioned previously in this Medifast review, your average homecooked meal should contain 3 servings of green options. You can opt for lower-carbohydrate, moderate-carbohydrate or higher-carbohydrate veg. You only need to avoid the highest-carbohydrate veg like corn, carrots or peas – unless you have already reached your goal weight.
Lower-carbohydrate veggies are the ones you should stick to if you want to improve your results and move past a weight loss plateau. A serving of lower-carb veg can include:
1 cup of fresh collards;
1 cup of endive;
1 cup of romaine, iceberg, butterhead or green leaf lettuce;
1 cup of mustard greens;
1 cup of fresh spinach;
1 cup of spring mix;
1 cup of watercress;
½ cup of celery;
½ cup of cucumbers;
½ cup of white mushrooms;
½ cup of radishes;
½ cup of alfalfa or mung bean sprouts;
½ cup of turnip greens;
½ cup of arugula;
½ cup of nopales;
½ cup of escarole;
½ cup of raw jalapeno peppers;
½ cup of raw Swiss chard.
With moderate-carbohydrate veggies, a single serving is always equal to half a cup. Vegetables that fall into this category include:
Asparagus;
Cabbage;
Cauliflower;
Eggplant;
Fennel bulb;
Kale;
Portabella mushrooms;
Cooked spinach;
Summer squash (either scallop or zucchini).
Just like with moderate-carbohydrate veg, your serving of higher-carbohydrate veggies should amount to half a cup. You can opt for:
Broccoli;
Red cabbage;
Cooked collard or mustard greens;
Green or wax beans;
Kohlrabi;
Okra;
Peppers;
Raw scallions;
Crookneck or striaghtneck summer squash;
Ripe red tomatoes;
Turnip;
Spaghetti squash;
Hearts of palm;
Cooked jicama;
Cooked Swiss chard.
Healthy Fats
Healthy fats are good for your body, but they need to be enjoyed in moderation. They are divided into 3 categories: healthy, healthier, and the healthiest. You can have 0-2 servings of healthy fats per meal, depending on your choice of proteins.
One serving of healthy fats can be:
½ tablespoon of butter;
1 teaspoon of margarine.
A serving of healthier fats can be any of the following:
½ ounce of almonds;
5 ounces of avocado;
3 tablespoons of half and half;
½ ounce of hazelnuts;
1 tablespoon of light margarine;
5 ounces of olives;
½ ounce of peanuts or pistachios;
1 tablespoon of regular cream cheese;
½ tablespoon of regular mayonnaise;
½ ounce of walnuts.
Finally, each of the following options counts as 1 serving of the healthiest fats;
1 teaspoon of canola oil;
1 teaspoon of flaxseed oil;
1 teaspoon of grapeseed oil;
1 teaspoon of olive oil;
1 teaspoon of peanut oil;
1 teaspoon of safflower oil;
1 tablespoon of light mayonnaise.
There is one more way to enrich your meals with healthy fats. You can use salad dressings that contain no more than 5 grams of carbs and have about 5 grams of fat per serving. Depending on the carb and fat content, 1 serving is equal to 1-2 tablespoons of dressing.
Fresh Herbs
Fresh herbs are among the healthiest condiments you can add to your meals. Your serving of fresh herbs can be one of the following:
1 cup of basil;
2 tablespoons of capers;
2 tablespoons of chives;
1 cup of cilantro;
1 cup of dill weed;
1 teaspoon of garlic;
2 teaspoons of ginger root;
2 teaspoons of lemongrass;
¼ cup of parsley;
¼ cup of peppermint;
2 tablespoons of rosemary;
2 tablespoons of sage;
¼ teaspoon of salt;
2 tablespoons of spearmint;
2 teaspoons of thyme.
Dried Herbs & Spices
When it comes to dried herbs and spices, you have numerous options at your disposal. One serving of dried herbs and spices can be:
½ teaspoon of allspice;
½ teaspoon of anise seed;
1 teaspoon of basil;
1 teaspoon of bay leaf;
½ teaspoon of caraway seed;
½ teaspoon of cardamom;
1 teaspoon of celery seed;
1 tablespoon of cilantro;
½ teaspoon of cinnamon;
½ teaspoon of whole cloves;
1 teaspoon of ground cloves;
1 teaspoon of coriander seed;
1 teaspoon of cumin seed;
½ teaspoon of dill seed;
1 teaspoon of dill weed;
½ teaspoon of fennel seed;
½ teaspoon of fenugreek seed;
½ teaspoon of garlic powder;
½ teaspoon of ground ginger;
1 teaspoon of lemongrass;
1 teaspoon of mace;
1 teaspoon of marjoram;
1 teaspoon of ground mustard seed;
½ teaspoon of nutmeg;
½ teaspoon of onion powder;
1 teaspoon of whole-leaf oregano;
½ teaspoon of ground oregano;
½ teaspoon of paprika;
1 tablespoon of parsley;
½ teaspoon of pepper;
1 teaspoon of poppy seed;
1 teaspoon of rosemary;
1 teaspoon of saffron;
1 tablespoon of sage;
1 teaspoon of savory;
1 tablespoon of spearmint;
½ teaspoon of spice mixes;
1 tablespoon of whole-leaf tarragon;
1 teaspoon of ground tarragon;
1 teaspoon of thyme;
½ teaspoon of turmeric.
Sauces & Syrups
As expected, sauces and syrups can be enjoyed in small quantities. Here is what counts as 1 serving of sauce or syrup:
½ teaspoon of barbecue sauce;
½ teaspoon of ketchup;
½ teaspoon of cocktail sauce;
1 teaspoon of Dijon mustard;
1 tablespoon of fish sauce;
½ teaspoon of honey mustard sauce;
1 teaspoon of horseradish;
2 tablespoons of hot pepper sauce;
2 teaspoons of low-sodium soy sauce;
½ packet of Medifast Sugar-Free Syrup;
1 teaspoon of oyster sauce;
1 tablespoon of tomato salsa;
1 teaspoon of soy sauce;
1 teaspoon of steak sauce;
1 tablespoon of sugar-free BBQ sauce;
1 tablespoon of sugar-free ketchup;
1 tablespoon of sugar-free cocktail sauce;
2 tablespoons of sugar-free syrups or flavorings;
½ teaspoon of sweet and sour sauce;
1 teaspoon of teriyaki sauce;
1 teaspoon of tomato paste;
2 tablespoons of white, wine or cider vinegar;
1 teaspoon of balsamic vinegar;
½ teaspoon of wasabi;
½ teaspoon of Worcestershire sauce;
1 tablespoon of yellow mustard.
Dairy, Cheese & Milk Substitutes
If you want to add some dairy to your meals, you have about a dozen products at your disposal. Your serving of dairy or dairy substitutes can include:
½ teaspoon of low-fat butter substitute;
1 tablespoon of low-fat cream cheese;
1 teaspoon of liquid cream substitute;
½ teaspoon of powdered cream substitute;
1 tablespoon of unflavored cow's milk;
1 tablespoon of unsweetened soy or rice milk;
½ cup to 1 cup of unsweetened almond milk, depending on the variety;
1 tablespoon of parmesan cheese;
1 teaspoon of sour cream;
1 tablespoon of whipped cream.
Baking & Cooking Extras
When preparing your meals, you can use everything from yeast to bouillon and employ a variety of cooking methods. Here is a list of baking and cooking ingredients that you can use, each counting as 1 serving:
½ teaspoon of baker's yeast;
½ teaspoon of baking powder;
1 teaspoon of baking soda;
1 cup of bouillon;
½ teaspoon of wheat, rice or corn bran;
1 tablespoon of chopped onion;
10 sprays of cooking oil spray;
½ teaspoon of cream of tartar;
1 teaspoon of extract;
1 teaspoon of flax seed;
10 sprays of imitation butter;
2 teaspoons of lime or lemon juice;
¼ ounce of pine nuts;
1 teaspoon of sesame seeds;
½ teaspoon of sunflower seeds;
½ teaspoon of wheat germ.
Flavor Enhancers
To add a bit of sweetness to your daily dose of liquids, you can use drink mixes and sweeteners, but you have to keep an eye on the calorie count. You can use the following products as 1 serving of flavor enhancers:
½ packet of no-calorie drink mix;
1 packet of calorie-free sweetener;
1/3 packet of zero-calorie stevia sweetener.
Optional Snacks
While you get to enjoy half a dozen meals and snacks during the day, Medifast still allows you to add 1 optional snack to your menu to deal with potential cravings. Eating nuts as an optional snack is allowed, but only occasionally due to their high calorie and fat content. You can choose any of these foods as an optional snack:
3 celery stalks;
1 fruit-flavored popsicle with zero sugar;
½ cup of sugar-free gelatin;
3 or fewer pieces of sugar-free mints or gum;
2 dill pickle spears;
½ ounce of almonds, walnuts or pistachios.
Is Medifast Healthy
Clinical studies have revealed that Medifast may offer multiple health benefits. According to research, it can lead to major improvements in body composition and prevent the most common chronic diseases by reducing oxidative stress and inflammation.
Therefore, in addition to promoting weight loss, the Medifast diet can help you improve your health and solve or prevent issues that come with excess weight. It can help you not only get fit but stay fit as well. It provides a follow-up program that you can use once your initial weight loss program comes to an end. In short, Medifast does not only teach you how to lose weight quickly and efficiently but also how to sustain your results and remain healthy and slim.
The Medifast diet has been used by physicians and doctors for many years. The program was redesigned 10 years ago to allow users to follow it without medical supervision. Whether you want to lose 10 or 100 pounds, it is designed to be effective and safe.
Medifast features a scientific advisory board composed of a panel of distinguished doctors and scientists. They constantly review the overall nutritional benefits, effectiveness, and safety of all the company's products and programs. Furthermore, the board is there to help with the development of new meals and supplements and explore alternative weight loss methods for users with special nutritional or medical needs.
To date, no major side effects of the Medifast diet have been identified. Like other solutions for rapid weight loss, the diet can cause minor issues like fatigue. Normally, these issues are only temporary and can be solved with proper hydration.
Some dieters may experience leg cramps, dizziness, fatigue, lightheadedness, increase in estrogen levels (in women), headaches, gas, diarrhea, constipation or bad breath. Other less common side effects may include feeling cold, rash caused by allergies or high protein consumption, loose skin due to rapid weight loss, and hair loss, which can be prevented or treated by increasing the daily intake of healthy oils and introducing a vitamin B complex into the diet.
We would like to emphasize that even minor side effects are rare and they are not characteristic for Medifast only but rather the result of drastic changes in diet and weight. If you experience any health issues while on the program, be sure to talk to your doctor to solve potential problems immediately and prevent discomfort.
How Does Medifast Delivery Work
With Medifast, you can order individual meals and create your own diet plan or go with one of the pre-made plans. You can choose from the Medifast GO! and Medifast Achieve plans for weight loss and the Medifast Thrive plan for weight maintenance.
As mentioned previously in this Medifast review, all the plans combine ready-made meals and meal replacements with healthy homemade meals prepared in accordance with the Medifast guidelines. Each of them can be adapted to suit special medical and dietary needs. The service provides helpful guides for adjusting its diet plans to the needs of vegetarians, nursing moms, seniors, individuals allergic to gluten, and dieters suffering from type 1 and type 2 diabetes.
No matter which plan you opt for, you can decide whether you want to go with one-time purchases or subscribe to auto-deliveries and enjoy discounts on all orders. You can switch between a la carte ordering and diet plans and arrange your deliveries in accordance with your schedule.
Once placed, orders are processed as soon as possible, usually within 24 hours. They are normally shipped the next business day. Auto-delivery subscriptions can be modified or canceled at any time.
Medifast Meals and Recipes
The time has come to discover what kinds of low-calorie treats you can find on the company's menu. Previously in this Medifast review, we said that you can choose from more than 65 specially designed diet food items available for a la carte ordering. These include energy bars, shakes, drinks, smoothies, crunches, hearty choices, breakfasts, desserts, ready-made Lean and Green meals, healthy snacks, supplements, and flavor infusers.
All the items on the menu are low-GI, low-calorie, low-fat, and rich in proteins, vitamins, minerals, and fibers. They are portion-controlled, carb-controlled, and nutritionally balanced. Surprisingly, they are rather tasty as well and crafted to keep you satisfied throughout the day, whether you are craving something hot and comforting, creamy and sweet or savory and crunchy.
If you do not have the time to construct your menu on your own, you can opt for the convenient plan-specific, pre-made 30-day weight loss kits. These kits eliminate shopping, planning, calorie counting, and other tedious elements of losing weight from your daily routine. They are designed to suit the needs of dieters on the Medifast GO!, Medifast Achieve, and Medifast Thrive plans.
Medifast GO!
The Medifast GO! plan is the company's standard weight loss plan formerly known as Medifast 5 & 1. Your daily menu on this plan includes 5 ready-made Medifast meals and snacks plus 1 homemade Lean and Green meal.
Medifast GO! is best suited for busy individuals who do not have much time to spend in the kitchen. It produces the fastest results and it only allows you to eat up to 1,000 calories per day.
If you opt for this plan, you can get the Medifast GO! diet kit that brings you 30 days' worth of Medifast meals and snacks, that is, 154 tasty servings. Apart from food, the kit features Medifast's welcome kit, food journal, and dining out guide, as well as a handy blender bottle.
The Medifast GO! kit is available in both standard and gluten-free versions.
Medifast Achieve
Medifast Achieve is the company's flexible weight loss plan designed for steady and gradual weight loss. In comparison to Medifast GO!, it increases your daily calorie intake by 300 calories. It lets you enjoy 4 ready-made Medifast meals and snacks, 2 homemade Lean and Green meals, and 1 healthy snack every day.
For this plan, the service has designed 2 separate 30-day diet kits. You can opt for the Medifast Achieve Select kit or the Medifast Achieve Complete kit.
The Select kit includes 30 days' worth of Medifast meals and snacks, that is, a total of 126 servings. It further brings you a sampling featuring 9 special microwaveable meals from Medifast's Flavors Of Home meal line. Finally, bonus items included in the kit include the company's welcome kit, food journal, healthy living workbook, and dining out guide, along with a blender bottle and 3 Flavors Of Home Lean and Green meals.
The Complete 30-day kit features 147 servings of Medifast meals and snacks and 12 microwaveable Flavors Of Home meals. On top of that, you get Medifast's welcome kit, food journal, cookbook, healthy living workbook, and dining out guide, as well as a blender bottle, 1 box of Calorie Burn Strawberry lemonade flavor infusers, 21 snacks including popcorn, crackers, and crisps, and 3 Flavors Of Home Lean and Green meals.
Medifast Thrive
Once you reach your goal weight, you can get started with the Medifast Thrive weight maintenance plan. This plan lets you enjoy 3 ready-made Medifast Thrive food items per day and enrich your daily menu with 2 homemade Lean and Green Plus meals and 1 homemade balanced meal focusing on whole grains, fruit and veg, lean proteins, low-fat dairy, and healthy fats.
This plan does not limit your daily calorie count to a specific number but lets you eat as many calories as your body burns during the day. It comes with a guide that helps you calculate your total energy expenditure and structure your menu accordingly.
Specifically for this plan, the company has designed the Thrive Healthy Living kit, which includes 15 boxes of Thrive by Medifast Healthy Fuelings that come in the form of ready-made meals, smoothies, shakes, and bars.
Special Diets
As mentioned previously in this Medifast review, the company's diet plans can be adjusted to accommodate the nutritional needs of vegetarians, nursing moms, seniors, and people with gluten allergies or diabetes. Dedicated guides for special diets can be downloaded from the company's website.
How Much Does Medifast Cost
With Medifast, you can expect to pay between $395.55 and $460.30 per 30-day diet kit, which translates to $13.18 to $15.33 a day. These prices apply to one-time purchases. If you opt for auto-deliveries, you can save as much as $100 per monthly kit. Auto-deliveries also allow you to earn rewards and reduce shipping costs to $0-$5 per delivery.
If you want to create your own meal plan with a la carte ordering, the prices of your meals slightly increase in comparison to 30-day kits.  For example, ready-made meals generally cost $20.50 per 7-serving package, with some exceptions. Dutch, French, and mocha ready-to-drink shakes cost $66.75, lean & green meals usually cost $29.70, and probiotic & omega-3 supplements range from $8.00 to $44.95.
Now, let us get more specific and discover how much each of the Medifast diet kits costs. View the table below and find out which option best suits your budget.
Medifast GO!
Kit
One-time delivery price
Auto-delivery price
Standard
$429.00
$329.00
Gluten-free
$429.00
$329.00
Medifast Achieve
Kit
One-time delivery price
Auto-delivery price
Select
$395.55
$299.00
Complete
$460.30
$399.00
Medifast Thrive
Kit
One-time delivery price
Auto-delivery price
Standard
$312.90
$312.90
Where Does Medifast Deliver
Medifast ships its products across the US, including Alaska, Hawaii, and the US territories. If you live in Canada or Mexico, you can still order Medifast products, but you have to place your orders through designated Canadian and Mexican websites.
All meal orders are usually processed and shipped within 2 work days. Depending on your location, it can take between 2 and 7 business days for the package to arrive at your home address. If you opt for auto-delivery and live in the continental US, you get free shipping on orders over $250.
If you are not satisfied with your order, you can return your shipment within 30 days of receipt and receive a full refund (minus the S&H fees). Your return request will be processed within 2 business days so that you can receive a refund in a timely manner. The promotional items you receive from Medifast do not qualify for a refund and are yours to keep. Note that if you refuse your shipment, a flat fee of $15 will be deducted from your refund.
Medifast Pros And Cons
To make sure Medifast meets all your standards and expectations, it is important to know its biggest advantages and disadvantages. With a short overview of its pros and cons, you can easily decide if Medifast is the right meal delivery service for you.
Pros
Medically approved programs
Excellent nutritional value
Valuable weight loss support
Numerous meal plans
Money-back guarantee
Cons
Confusing website
Some of the items seem quite expensive
Sample Dishes
With Medifast, you get delicious meals prepared by pro chefs at affordable prices. To find out what kinds of delights you will receive in your delivery, we have chosen a couple of sample dishes that accurately represents its offer and can help you decide if it is the right service for you.
Blueberry Oatmeal
Brownie Soft Bake
Dutch Chocolate Shake
Original Pancakes
Bottom Line
Medifast is a unique meal delivery service that can make your weight loss journey much easier and more delicious. Its medically approved programs can help you burn excess fat while maintaining your muscle mass and containing your hunger between meals.
As presented in this Medifast review, the company's weight loss formula simply works! You can opt for one of the pre-set 30-day meal kits or you can build your own meal plan based on your particular taste and dietary needs. The program even caters to individuals with certain medical conditions, such as diabetes or gluten allergy. A handful of products aside, the prices are quite reasonable considering the quality provided, so all we can do is recommend Medifast programs wholeheartedly and wish you luck on your weight loss journey. 
Medifast FAQ
How can I find Medifast locations near me?
Medifast operates weight control centers throughout the US, where you can get support from certified experts and receive medical advice and a personalized weight loss plan. You can search for Medifast centers in your area via the company's website.
How does Medifast work?
Medifast is a clinically proven weight loss program that helps you hold onto your muscle mass while burning excess fat. With Medifast, you can create your own diet plan by ordering individual meals or you can choose one of the pre-made 30-day kits. Find out more here.
Which one is better – Medifast or Nutrisystem?
Medifast and Nutrisystem are among the most effective weight loss meal delivery programs. They both offer carefully designed low-calorie meals, snacks, and shakes. Discover which one is better in our comprehensive Medifast vs. Nutrisystem comparison.
Which one is better – WonderSlim or Medifast?
Both are excellent weight loss meal delivery programs that can help you shed pounds and improve your health. Find out which one is the right choice for you in our objective WonderSlim vs. Medifast comparison.
Is Optavia the same as Medifast?
Optavia is a newer, updated program developed by Medifast. Based on pre-packaged foods, Optavia shares many characteristics with the original Medifast program.
Does Medifast work?
Developed by a doctor and recommended by more than 20,000 doctors and nutritionists, Medifast is an effective, clinically proven weight loss solution. On average, customers using Medifast Go! lose 11 pounds in 8 weeks.
What are the best Medifast alternatives?
Some of the top Medifast alternatives include BistroMD, Nutrisystem, and South Beach Diet. For a full list, see our selection of the best weight loss meal delivery programs.
Is Medifast safe?
All Medifast products are completely safe to use. However, the safest way to follow this weight loss program is under your doctor's supervision. Medifast recommends that you consult with a physician before starting the program.
Can the Medifast diet cause any side effects?
This low-calorie diet program may cause side effects such as constipation, diarrhea, fatigue, lightheadedness, feeling cold, and dry skin and hair. In case you are experiencing any side effects from Medifast, you should contact your doctor.
What are some of the cheaper Medifast alternatives?
Medifast is one of the cheapest weight loss programs on the market. However, WonderSlim may be a more affordable weight loss solution.
Where can I find the Medifast condiment list?
You can have up to 3 condiment servings per day. For detailed condiment recommendations, please check the official Medifast website or reach out to the company's customer support.
What is the average weight loss on Medifast?
The average weight loss for Medifast Go! users is 11 pounds. For Medifast Weight Control Center members, the average weight loss is 25 pounds.
What are the ingredients in Medifast shakes?
Medifast shakes contain over 40 ingredients, including soy and milk. They are rich in fiber, high in protein, low in fat, and packed with vitamins and minerals. The Medifast website features full ingredient lists for all shakes.
How much does Medifast cost per month?
Medifast costs $395.55 to $460.30 per month, depending on the weight loss plan you choose. As a new customer, you can get up to $100 off your first monthly order. Find out more here.
Is Medifast gluten-free?
Medifast offers a gluten-free weight loss plan and its menu features many gluten-free items.
Where can I buy Medifast shakes?
You can order Medifast shakes from the Medifast website.
Is Medifast healthy?
Although Medifast does not provide much information on ingredient sourcing, the company generally uses healthy ingredients when creating its products. Its meals are low in calories and fat and rich in fiber, lean protein, vitamins, and minerals.
Does Medifast cause cancer?
There is no evidence linking the Medifast diet program with cancer.
How can I lose weight faster on Medifast?
Exercise can help you lose weight faster. Medifast recommends that you exercise no more than 45 minutes each day. You should start your exercise program slowly, gradually increase both duration and intensity, and drink plenty of water.
How many calories per day do Medifast plans include?
With the Medifast 5 & 1 diet plan that includes 5 Medifast meals plus 1 lean and green meal, you get to consume only 800 to 1,000 calories per day. Medifast also offers plans that are less restrictive, providing 1,500 or more calories per day.
Can I drink alcohol while on the Medifast diet?
It is recommended that women have no more than one serving of alcohol per day. Men should consume no more than two servings per day. One serving of hard alcohol is 1 ounce, a serving of wine is 5 ounces, and a serving of beer is 12 ounces.
Can I follow the Medifast diet while pregnant?
The Medifast diet is not safe for pregnant women.
Is Medifast covered by insurance?
Some insurance companies offer health incentive programs, which may include incentives for participating in a weight loss program. Contact your insurance company to inquire about potential coverage.
Can I follow the Medifast diet while nursing?
Medifast provides a diet plan for nursing mothers. However, we recommend that you contact your healthcare provider before deciding to start your weight loss program.
View All FAQs