Sun Basket Reviews
Advertiser Disclosure
This website features affiliate links. For purchases made via these links, we earn commissions that allow us to keep producing helpful content. To find out more
click here
.
Close
Whether you love or loathe cooking, one thing is for sure – the hardest thing about it is coming up with what to cook for each day of the week. Many of us have tried making weekly menus but failed to stick to them with all the leftovers, night eating, and simply not really craving what is planned for that day. Still, even if you don't mind planning your meals, it takes a lot of time to discover new recipes that suit your taste and it always seems easier to cook the meals you are used to, which is a safe way to get stuck in a rut and eat the same dishes over and over again. Finally, if you are more creative than we are and always think of new recipes you would like to try out, it can prove hard to find the best, highest-quality ingredients that are the starting point of every great meal. This is where Sun Basket comes in.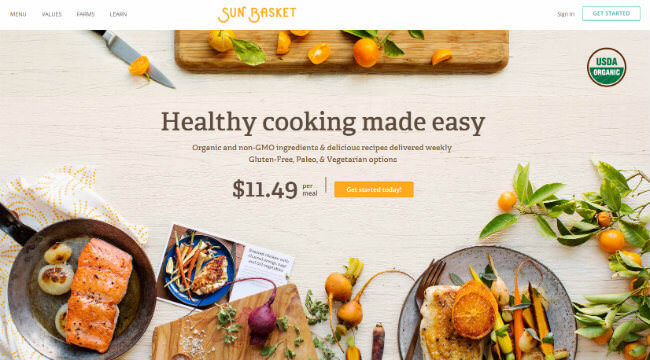 Every week, Sun Basket comes up with new recipe ideas, finds the freshest seasonal ingredients, and delivers them right to your door. That way, it offers you the chance to eat and cook something new every week, without having to spend time browsing through recipes and go grocery shopping. What's amazing about Sun Basket is that the recipes are easy to follow and the ingredients are pre-measured, which makes cooking a lot more fun and eliminates the unnecessary waste. Also, it kind of makes you feel like a superstar TV chef, with all the ingredients measured and laid out for you, so you can just put on a smile and get cooking.
How Sun Basket Works
The rules are simple. Every week, Sun Basket offers 18 new recipes to choose from. You can pick and order two, three or four recipes along with the necessary ingredients for two or four people. Apart from the option to hand-pick the recipes from its weekly selection, you can also choose a meal plan that works best for you. You can decide whether you wish to receive your deliveries on Mondays, Tuesdays, Wednesdays or Thursdays between 8am and 9pm.
The recipes it offers are crafted by a top San Francisco chef and approved by its in-house nutritionist. Most of the meals take about 20-30 minutes to make. Along with the handy recipe cards, you also get online tutorials, which make the process even easier. The meals contain just the right amount of calories you need to maintain a healthy diet – 500-800 calories per serving. As far as the ingredients go, you can expect nothing but the best seasonal ingredients, meat, and seafood our country has to offer.

If you like what Sun Basket has on offer and wish to share it with your friends, you can refer them to Sun Basket or send them a gift. If you choose to refer a friend, they get three free meals and you get $25 once they join. If you want to send a gift, you can choose between 1, 2, or 4 weeks of Sun Basket meal delivery, accompanied by a personalized gift note which is emailed to your friends on the date you select, and your friends get to choose the recipes and delivery dates that work best for them.
If you wish to cancel or skip a delivery, you can do it at any time, just make sure to make the desired changes before the weekly cutoff, which is every Wednesday before the scheduled delivery at 12 p.m. PT / 3 p.m. ET.
What Makes Sun Basket Different
The heart and soul of Sun Basket is its lovely chef, Justine Kelly. Apart from being the former head chef of James Beard award-winning restaurant The Slanted Door, Justine is also a mom who knows what kids need to eat and how to get them to love it. Her inspiration stems from a variety of sources, including restaurants where she dines, her endless collection of cookbooks, and the traditional cuisines of the countries she visits, as well as cooking for her family. When creating recipes for Sun Basket patrons, she makes sure that every dish is a perfect combination of nutrition, inspiration, and flavor. Her skills, imagination, and love for food know no limits and if you read more about her and try out her recipes, we're sure it will all rub off on you, too.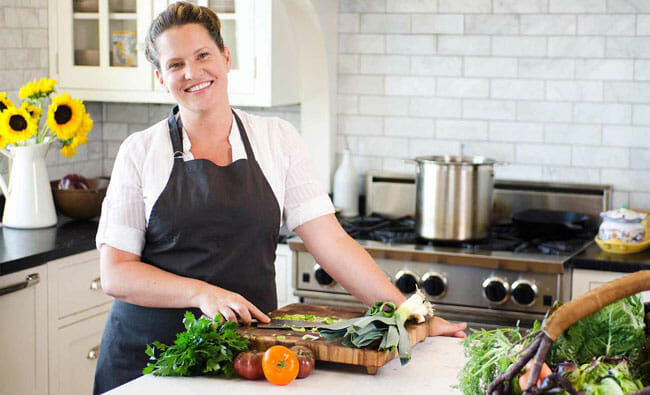 The company works hard on providing only the finest of seasonal ingredients. It cooperates with the best ranchers, fishermen, and farm owners in the country, who know that providing food and treating our planet with respect and care is not an option – but a necessity.
All Sun Basket produce is sustainably sourced and organic. The meat is humanely raised, grass-fed, and free from antibiotics and hormones. The seafood is sourced in accordance with the best practices and the noble mission of the Monterey Bay Aquarium Seafood Watch® program that aims to keep our oceans healthy.
The superior flavor of Sun Basket meals is the result of both careful ingredient sourcing and the ingenuity of its culinary team. Apart from the best seasonal ingredients and creative recipes, you also get Sun Basket's signature sauces and spice blends that elevate the flavor of every dish.
SUN BASKET SUPPLIERS
With Sun Basket, you know exactly where your food comes from. Proud of the origin of its ingredients, the company provides plenty of information on its suppliers, including exciting videos that allow you to get to know the people behind the food. You can learn more about the unique Hodo Soy's tofu made of the highest-quality non-GMO soybeans and the sensational spices from Oaktown Spice Shop. You can trace the origin of the seafood on your table back to the environmentally-conscious fisheries that work with the Fishpeople company from Portland. Finally, you can explore the gardens where the delicious organic Sun Basket produce grows, including Lakeside Organic Gardens and Durst Organic Growers.
FOOD STORAGE
What we found extremely useful while doing research for this Sun Basket review are the refrigeration tips it offers. Not only do the ingredients it delivers come in insulated boxes which keep the food fresh for 8 hours, but the people at Sun Basket have also taken the time to provide all the information you need to keep the food fresh until you decide to use it. For example, they advise you to put the meat and fish in the freezer if you do not plan to use them until much later in the week and check if there are some veggies or fruit in the bag, like tomatoes or avocados, which should be kept on the counter in order to allow for the ripening process to take place.
HOW SUN BASKET GIVES BACK TO THE COMMUNITY
Sun Basket is a company that truly cares. It supports local communities through local food banks and employee programs. Its cooperation with Feeding America makes it easy for the company's customers to donate meals to those who need them the most. By shopping at Sun Basket, you become a part of a community that cares about both people and the environment and does its part in making the world a better place.
The company's website features an entire section on recycling, which further shows how much it cares about keeping our planet green and thriving. Everything used in the process of packing the ingredients is fully compostable and recyclable and all you need to do is follow the instructions for choosing the right bin.
Finally, Sun Basket has a great blog with various tricks, tips, and useful information on numerous food-related matters.
Meals and Recipes
Every week, you get to check out what Chef Justine has in store for you next. You can browse through all the recipes or just look at the categories that interest you the most. Her ideas are always delicious and exciting, the photos are breathtaking, and we are sure you will have a hard time picking just three out of all the amazing dishes Chef Justine has crafted just for you.
As a subscriber, you can opt for the Classic or the Family menu.

Classic menu
If you choose the Classic menu, you can decide whether you want to cook for 2 or 4 people. The menu includes 18 delicious options every week and you get to pick 3 you want to receive in your delivery.
The Classic menu allows you to choose from 10 meal plans, including Chef's Choice, Paleo, Lean & Clean, Gluten-Free, Vegetarian, Vegan, Pescatarian, Diabetes-Friendly, Quick & Easy, and Mediterranean.
The Chef's Choice plan brings you the best seasonal recipes handpicked by Sun Basket's culinary team. All recipes within this plan are optimally balanced, wonderfully flavorful, and perfect for omnivorous foodies who want to try out something new and exciting every week.
The Paleo plan is designed for people on the Paleo diet, as well as those who want to eat fewer carbs and enrich their diet with healthy veggies and all kinds of protein-packed meat. The Gluten-Free plan is suitable for people allergic to gluten. The recipes included in this plan are just as varied and tasty as the ones included in the other plans, with the only difference being in the absence of gluten.
The Lean & Clean plan features recipes that are light yet satisfying and perfect if you want to eat clean and keep your health and weight in check. These recipes contain less fat and fewer carbs and calories. They are rich in fibers and valuable nutrients that keep your metabolism running like clockwork. The meals in this category usually contain around 550 calories.
The Vegetarian plan is particularly designed for veggie-lovers. The recipes available with this

plan make perfect use of all the flamboyant veggies of the season, farm-fresh, organic eggs, and responsibly sourced dairy. Some of them are suitable for vegans as well.
The Vegan plan features incredibly flavorful meat-free dishes focusing on seasonal organic produce. The addition of fresh herbs and house-made signature sauces make the dishes even more thrilling and chef-worthy. The meals normally take between 25 and 40 minutes to make and quite often, you can cook them in a single pan or pot.
The Pescatarian plan is designed for home chefs who love the vegetarian cuisine and want to enrich their diet with the best omega-3 rich seafood. The stars of all the dishes are gorgeous organic produce and wild-caught and sustainably sourced fish and seafood.
The Diabetes-Friendly plan includes recipes designed with the help of the American Diabetes Association. The recipes are suitable for both diabetics and pre-diabetics. They are calorie-controlled (under 700 calories per serving), carb-controlled (20-100 grams or fewer per serving), and low in added sugars (no more than 10% of total calories). They are rich in fiber and proteins and low in sodium (no more than 700 mg of sodium per serving).
The Quick & Easy plan is designed with beginners in mind, but it also works wonderfully for those on a tight schedule. It includes recipes that involve basic cooking techniques, quick prep, and minimum cleanup. Some of the Quick & Easy meals can be prepared in a single pot or pan.
The Mediterranean plan is another wonderfully healthy option that allows Sun Basket patrons to dive into the amazing world of the Mediterranean cuisine. The recipes designed for this plan focus on organic produce, lean meat, wild-caught seafood, whole grains, healthy fats, and fresh herbs.
What is wonderful about ordering from Sun Basket is that you are in no way limited by your meal plan. By choosing the Classic menu, you gain instant access to all the recipes on this menu, regardless of the plan you choose, so you can enjoy Chef's Choice dishes one week, go Paleo the next, and mix and match your recipes any way you wish.
Family menu
The Family menu features 6 recipes for 4 people every week. You can decide whether you want to receive 2, 3 or 4 recipes in your weekly delivery. The plans at your disposal include Chef's Choice and Vegetarian.
The recipes available with the Family plans are created with a little help from the famous Chef Tyler Florence of the Food Network. They are 100% family-friendly and everything from the ingredients to the cooking techniques is selected with the needs, appetites, and preferences of the little ones in mind. Just as in the case of the Classic menu, you can choose any Family recipe regardless of the meal plan you choose.

Both Family and Classic menus are allergy-friendly. Therefore, apart from the gluten-free recipes, you can also find dishes that are free from dairy, soy or both.
Sun Basket has long been working on transforming its meal delivery service into a personal choice platform. Its goal is to maximize ordering flexibility so your Sun Basket orders always match your desires. You can change your plan whenever you wish and double or triple your order if you are planning a party. You can substitute the meat and fish in your order with the highest-quality offerings, such as jumbo shrimp, wild-caught halibut, organic, grass-fed filet mignon, and New York strip steak. You can choose from a variety of recipe categories, from one-pan wonders to Heart-Check certified meals. The possibilities are endless.
Finally, be sure to check out the recipe section. If everything listed in this Sun Basket review has not convinced to give them a shot, browsing through all that delicious goodness will surely make you want to try it all and it will keep you craving for more.
Pricing
The cost of a meal (which includes a recipe and the ingredients) at Sun Basket is $11.99 per person when you opt for the Classic Menu. That means that three meals made using its recipes and ingredients will cost you $71.94 for two persons or $143.88 for four persons, plus the delivery costs. If you opt for the Family Menu, the price per person is $10.99 ($87.92 for 2 meals and $175.84 for 4 meals for 4 people, plus the delivery costs). Shipping is free for the first week of subscription.
The price of all other orders includes a shipping fee that amounts to $6.99. It is important to know that if you are not happy with the food you receive, you get a full refund.
Classic Menu (2 servings)
Meals per week
Meal kit price
Price per serving
3
$71.94
$11.99
Classic Menu (3 servings)
Meals per week
Meal kit price
Price per serving
3
$143.88
$11.99
Family Plan (4 servings)
Meals per week
Meal kit price
Price per serving
2
$87.92
$10.99
3
$131.88
$10.99
4
$175.84
$10.99
Delivery Areas
Sun Basket delivers to 47 states within the continental US. Currently, its delivery area does not include Alaska, Hawaii, and Montana, as well as parts of New Mexico.
The good news is that the company is constantly adding new states to the delivery map. If it does not deliver to your state and you are interested in the service, the friendly folks behind Sun Basket encourage you to contact them via email, so they could work on making it happen.
As previously stated in this Sun Basket review, we were a bit disappointed to find out that it does not offer free shipping. Delivery costs are $6.99 for all orders, except for the first week.
Sun Basket Pros And Cons
To make sure Sun Basket meets all your standards and expectations, it is important to know its biggest advantages and disadvantages. With a short overview of its pros and cons, you can easily decide if Sun Basket is the right meal kit service for you.
Pros
Perfect for busy couples and families
18 new, amazing recipes every week
10 meal plans for various healthy diets
Vegetarian, pescatarian, vegan, Paleo, diabetes-friendly, and allergen-free options available
High-quality, organic, and sustainably sourced ingredients
The meals usually take just 20 to 30 minutes to make
Nutritionist-approved
Incredibly environmentally responsible
High flexibility
Cons
Shipping costs $6.99 for every order
Not available nationwide
Sample Dishes
If you subscribe to Sun Basket, you can easily prepare culinary masterpieces using only the ingredients and recipes found in your meal kit box. You may not be a pro chef just yet, but with Sun Basket, you can easily make restaurant-grade meals. You don't have to take our word for it – check out the images below to get a better idea of the types of dishes you can enjoy with Sun Basket.
Chipotle rubbed chicken with strawberry and kale salad
Poached cod in tomato broth with potato and golden raisins
Spicy roasted shrim with and ajo blanco sauce
Thai style salmon in spicy red curry
Bottom Line
Sun Basket's motto is "we're not happy unless you're happy" and we feel like these folks truly mean it. The recipes the service offers are amazing and easy to follow and the ingredients you receive are fresh, high-quality, organic whenever possible, and sustainably sourced. We were honestly impressed by the variety of recipes and options it provides and we believe that Sun Basket really has something for everyone.
We also have to praise it for being one of the most environmentally responsible delivery services we have encountered so far. Honestly, the only thing we did not really like is that shipping is not free, which increases the price of your deliveries. However, according to the company's math, with Sun Basket, you save $16.99 on grocery shopping per meal, not to mention all the time you save by ordering from this service.
If what you need is more time, less hassle, and always something new and healthy on the table, you should certainly give Sun Basket a shot.