Compare Prices
The following price comparison is designed to help you easily figure out which of our top-ranked vegetarian meal kit delivery services best fits your budget. We have brought all the pricing information to one place, including the shipping costs and details about the companies' delivery areas, so you can identify the perfect fit in a single glance.
Company
Avg. Meal Price
Shipping
Delivery Areas
Sunbasket
Avg. Meal Price
Shipping Cost
$6.99
Delivery Areas
Green Chef
Avg. Meal Price
Shipping Cost
$7.99
Delivery Areas
Marley Spoon
Avg. Meal Price
Shipping Cost
$0
Delivery Areas
Home Chef
Avg. Meal Price
Shipping Cost
$0
Delivery Areas
Gobble
Avg. Meal Price
Shipping Cost
$6.99
Delivery Areas
Purple Carrot
Avg. Meal Price
Shipping Cost
$0
Delivery Areas
Blue Apron
Avg. Meal Price
Shipping Cost
$0
Delivery Areas
Hungryroot
Avg. Meal Price
Shipping Cost
$0
Delivery Areas
HelloFresh
Avg. Meal Price
Shipping Cost
$6.99
Delivery Areas
Benefits Of Vegetarian Meal Kit Delivery
The health benefits associated with a well-balanced vegetarian lifestyle are undeniable. Numerous studies have shown that a nutritious and well-planned diet based on plants can lower your risk of obesity, diabetes, heart disease, and stroke, also extending your life expectancy. Maintaining a healthy vegetarian diet is also associated with a higher consumption of folic acid, fiber, magnesium, vitamins C and E, countless phytochemicals, and unsaturated fat. In other words, the best vegetarian meal kit delivery services can help you adopt a healthier lifestyle, lose weight more effectively, lower your blood pressure and cholesterol, and ultimately, live longer. 
Apart from the benefits of eating a meat-free diet, you'll also experience all the advantages of the best vegetarian meal kit delivery services on the market. First of all, the provided ingredients are 100% fresh, all-natural, organic, usually locally sourced, and free of GMO and other harmful substances and chemicals. Secondly, the ingredients are pre-portioned and prepared (chopped, sliced, diced, browned, seasoned…) for your ultimate convenience. In other words, all you have to do is open a meal delivery box and cook delicious vegetarian dishes in 30 minutes or less. So, vegetarian meal kit deliveries will save you a lot of time you'd usually spend shopping for groceries and prepping the ingredients but also money due to their standing partnerships with local providers. This enables them to provide you with high-quality ingredients with documented origins at a better price than you'd get at your local grocery store. 
How Are Vegetarian Meal Kit Delivery Services Different
Many people are under the impression that eliminating meat from their diet is an automatic ticket to good health, which is not necessarily the case. It's just as easy for vegetarians to eat unhealthy, processed, and junk food as it is for omnivores. One of the best things about vegetarian meal kit delivery services is that they can either guide you through the initial stages of your transition or support your already established meat-free diet. Every respected company has a multitude of chef-crafted vegetarian recipes, which takes any guesswork out of the equation. All you have to do is pick what you like and these vegetarian kit deliveries will take care of the rest. 
This brings us to the second part of the problem – repetitiveness and boredom. If left to your own devices, you'll quickly run out of new dishes to cook in order to maintain your vegetarian lifestyle. This is where the best vegetarian meal kit delivery services can lend you a helping hand. Their menus are always rich in options and rotate on a weekly basis in order to keep things fresh and innovative at all times. So, you won't have to plan your meals, hunt for exotic spices and other ingredients, and generally waste time you could be spending doing something better.
Choosing The Best Vegetarian Meal Kit Delivery
Becoming aware of your health and adopting a vegetarian lifestyle is certainly an admirable step everybody should at least consider taking at a certain point in their life. In order to help you choose the best meal box delivery for your needs, we comprised this list of the best vegetarian meal kit delivery services on the market using our tried & true list of ranking criteria. We filtered all of the relevant companies through our testing circuit and made sure to provide you with the best of the best. We'll share some of our ranking factors in order to further familiarize you with our process. 
Initially, we check the company's meal options and its overall variety, making certain you have a lot of options to choose from and get new and exciting menus on a weekly basis. 
We then research the nutritional value and portion sizes of the provided meals. It's very important that you know exactly what you're doing with any restrictive diet, which goes double for vegetarians since you can't use animal proteins. Therefore, we need to make sure that you receive the required daily nutrients and avoid wasting food by giving your kids adult-sized meals. 
Finally, the best vegetarian meal kit delivery services have to be convenient for you. This is where our flexibility and price research comes into play. You want the option of pausing, skipping or canceling your delivery without any hidden charges and penalties. Of course, the price tag has to match the value provided. 
Compare Meals And Prices
Now comes our favorite part. We have selected the best vegetarian meal kits on the market, but our mission is not accomplished until you have found the best vegetarian meal kit for your personal needs. We will now zoom in on the individual offers of all of our top picks, allowing you to learn more about their menus, plans, pricing, and unique advantages. To make our service overviews more interesting and useful, we are also introducing you to some of our favorite vegetarian meal kits from each of our top-rated companies. Keep reading to discover which vegetarian meal kit service is just right for you.
1. Sun Basket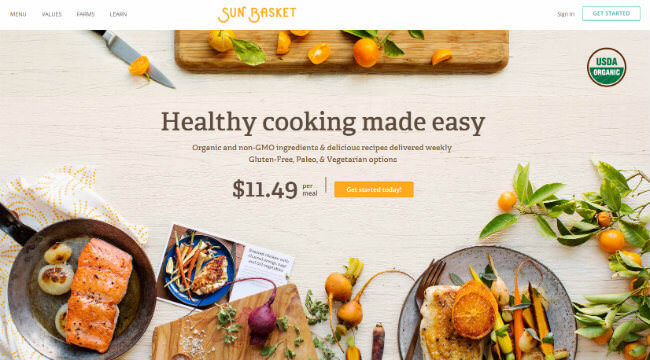 Sun Basket is our top pick for the best vegetarian meal kit delivery due to its sheer quality and excellent company practices. It is a USDA-certified organic meal kit delivery service that offers new meal choices every week. All of the ingredients are organic, clean, and delicious. Apart from vegetarian meals, you can also browse some interesting vegan, gluten-free, lean & clean, and Paleo options.  
The recipes are crafted by experienced chefs to offer delicious meals in just 30 minutes, which is ideal for busy individuals.  
2. Green Chef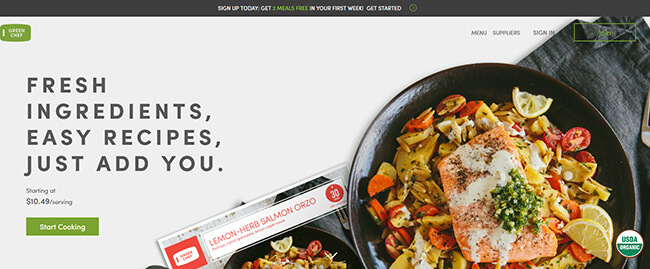 Green Chef offers more than just salads for its vegetarian patrons. Every dinner you cook will make your veggies the stars of the evening in unique and delicious ways.  
Green Chef is all about eating and living green, so every week will bring new and exciting recipes to your table. The company is USDA-certified organic, works with farmers to sustainably source its produce, and features no GMO ingredients whatsoever. Around 90% of the ingredients are also organic.  
3. Marley Spoon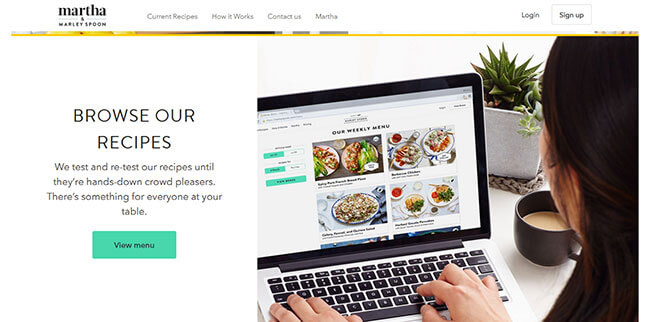 Marley Spoon is Martha Stewart's meal kit delivery service (which already says enough) that specializes in delivering fresh, high-quality, pre-portioned ingredients directly to your home. 
Every week brings 20 new recipes scattered across different diet plans. So, whether you're in the mood for delicious vegetarian meal kits or want to browse some gluten-free options, you'll find the menus to be more than impressive. Marley Spoon works with the best purveyors to deliver only top-shelf ingredients to your kitchen. You can also plan your delivery up to 5 weeks ahead.  
4. Home Chef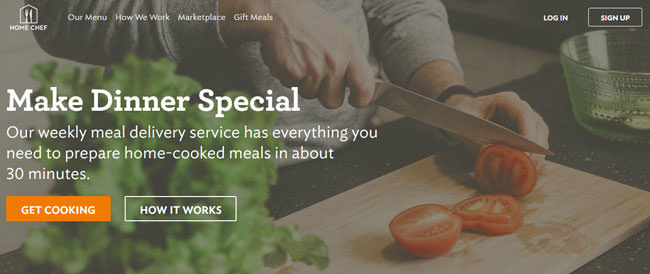 Home Chef offers a healthy variety of vegetarian meals that rotate on a weekly basis to avoid eating the same food over and over again. The recipe cards are very easy to follow and you'll turn your delivery of 100% fresh, pre-portioned ingredients into delightful vegetarian meals in just 30 minutes. Furthermore, you'll also receive valuable culinary tips and tricks from experienced chefs. 
Your delivery is highly customizable, so you can make a ton of tiny adjustments in your Taste Profile.  
5. Gobble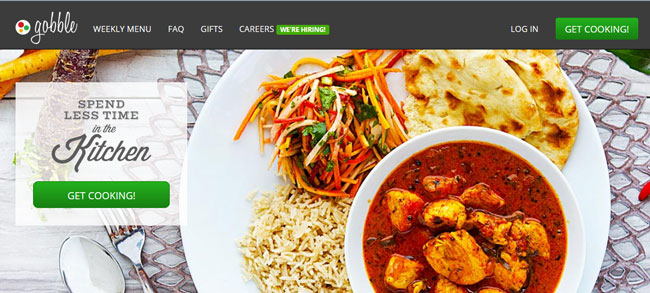 If you didn't already know, Gobble is a perfect choice for any aspiring or seasoned vegetarian since its very founder and current CEO maintains a vegetarian lifestyle. The weekly menu always features 6 different and delicious vegetarian meal kits for you to enjoy.  
The ingredients are 100% fresh and locally sourced by its creative and experienced chefs. Gobble works with the same providers as local Michelin star restaurants.   
6. Purple Carrot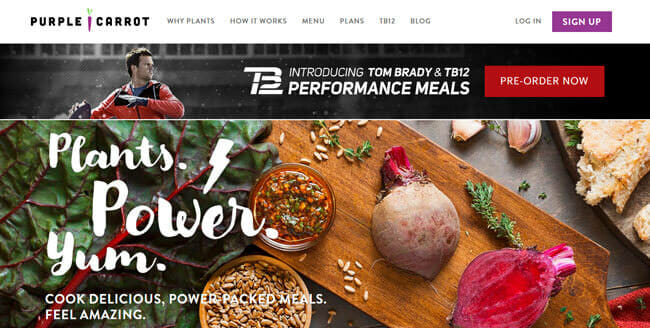 Purple Carrot is an optimal choice for veggie lovers who want to try out new recipes and enjoy cooking with pre-portioned, mostly organic ingredients. The service offers 2 standard meal plans that let you cook 2-serving or 6-serving vegetarian delights.
The company's weekly menus focus on dinners but also include 4-serving breakfasts and 2-serving lunches that are ready in 5 minutes. Everything on the menu is plant-based and vegetarian-friendly.
7. Blue Apron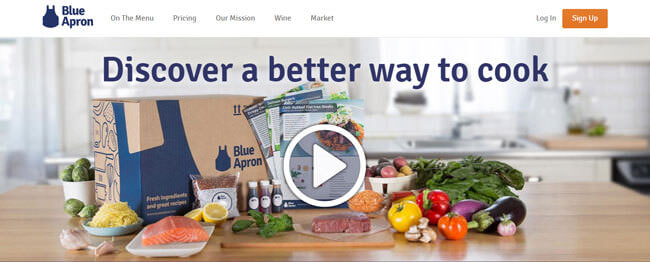 Blue Apron is an impressive meal kit delivery service that provides its users with delicious recipes every week, also offering tasty exotic wines and even kitchen utensils. The company features a dedicated 2-person vegetarian meal plan and boasts the Freshness Guarantee for its farm-fresh, seasonal produce.  
The recipes are created by professional chefs and are very easy to follow, so you'll improve your culinary skills while enjoying tasty, unforgettable vegetarian meals.  
8. Hungryroot
Hungryroot is a vegetarian meal box delivery whose rich menu includes 70+ vegetarian items including pre-prepped meal components and ready-to-eat and ready-to-heat dishes. You can get fresh-cut veg, plant-based proteins, sauces, and dressings, eggs, grains, pastas, toppings, sweets, as well as grab-n-go items that require no prep.
You can choose from 3 plan sizes – Small, Medium, and Large – and freely combine the items in your order to create custom vegetarian meals that perfectly suit your taste and take up to 15 minutes to make. Shipping is always free and the prices are truly budget-friendly.
If you choose to order from Hungryroot, you can enjoy vegetarian delights like Moroccan Spiced Chickpea Tagine and Cucumber Corn Black Bean Salad.
9. HelloFresh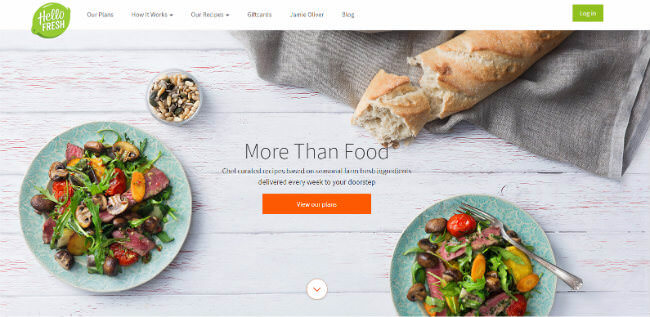 HelloFresh is a meal kit delivery service that brings that rustic and rural feel to life with its recipes and ingredients. It offers a specialized vegetarian meal plan suitable for couples and vegetarians alike. Every week, there are at least 3 healthy dinner ideas specifically designed for individuals on meat-free diets.
HelloFresh offers only the freshest farm-sourced ingredients and delicious recipes created by professional chefs. The recipes are very easy to make and feature nutritional info for every meal.