Purple Carrot Review
Advertiser Disclosure
This website features affiliate links. For purchases made via these links, we earn commissions that allow us to keep producing helpful content. To find out more
click here
.
Close
Purple Carrot is a perfect choice for individuals on plant-based diets who are seeking a simple and healthy home cooking solution. This vegan meal kit delivery service offers unique plant-based recipes suitable for all cooking skill levels and fresh, natural, sustainably sourced ingredients packed with nutrients. Whether you just want to cook easily and eat healthily or need a steady source of simple recipes and premium ingredients for high-protein vegan meals to support your active lifestyle, Purple Carrot has got you covered. Read this Purple Carrot review to find out more about this company's excellent offer.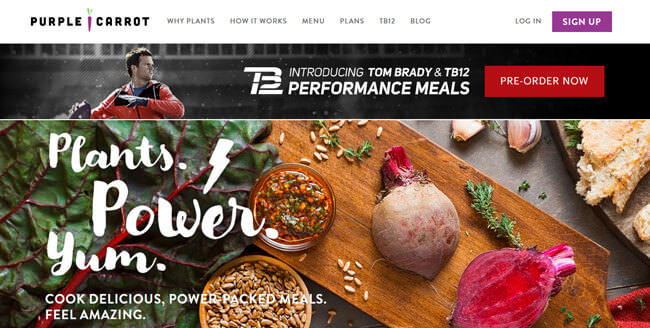 What Is Purple Carrot
Purple Carrot is a 100% vegan meal kit delivery that offers flexible subscriptions and straightforward pricing. Its recipes are designed to complement a healthy lifestyle, its ingredients are always plant-based, and its kits are delivered nationwide.
The service was born out of the desire to introduce more people to the benefits of a plant-based diet. Although the number of vegans in the US has grown tremendously in the past years, there are still many home cooks who find plant-based meals and recipes intimidating, unsatisfying or simply dull.
Purple Carrot aims to turn this frown upside down by making vegan cooking easy and tasty. It offers home delivery of innovative step-by-step recipes and handpicked, pre-portioned ingredients that eliminate all the common excuses for sticking to animal foods. With Purple Carrot, you can never run out of vegan recipes to try out and plant-based alternatives can be delivered to your home in a click. This is great news for passionate vegans and vegan-curious cooks alike.
While the service started out as dinner-focused, it has expanded its offer to include breakfasts and lunches as well, thus providing everything you need to eat healthily throughout the day. Its menu is not too vast, but the number of menu items has doubled since the service was launched, with the tendency of further growth.
As one of the best vegan meal kit delivery services currently on the market, Purple Carrot is an all-in-one solution that can suit the needs of numerous home cooks who want to introduce more plants into their diets.
How Does Purple Carrot Work
As a Purple Carrot subscriber, you can choose from 3 distinct vegan meal plans for health-conscious and active individuals. Weekly deliveries include 2-3 meal kits for 2 or 6 people, each containing an original recipe and the ingredients it requires.
The service offers 2 standard meal plans – the 2-Serving plan and the 6-Serving plan. The 2-Serving plan allows you to choose 3 out of 6 fresh dinner ideas on the menu every week. The 6-Serving plan brings you 2 handpicked dinner recipes in every weekly delivery. If you need more food, you can grab some breakfasts and lunches from the Extras section of the menu, featuring 4 items per week.
In addition to the standard plans, the service offers the special TB12 Performance plan, designed in cooperation with Tom Brady and TB12. This plan is best suited for athletes, fitness enthusiasts, and active individuals. Every week, it lets you try out 3 high-protein, gluten-free recipes crafted and curated by the Purple Carrot team.
While the selection of recipes on the Purple Carrot menu is not vast, there is no need to worry. All the recipes its culinary team creates are incredibly innovative and delicious and simply perfect for those on a vegan diet or anyone who wants to eat healthily. The menu is definitely quite varied – it's heavily based on seasonal foods and the meals are repeated only every once in a while.
Being a meal kit service that aims to please, Purple Carrot never forces you to stick to a subscription that does not work for you or receive its kits when you have something else in mind. There is no minimum subscription period. You can customize your orders, skip a delivery or switch to a different meal plan whenever you wish. Finally, you can cancel your subscription at any time, no questions asked. You just need to remember that all changes to your order or subscription should be made before Tuesday at 11:59 pm EST the week before your next delivery is scheduled.

With Purple Carrot, you can never run out of vegan recipes to try out and plant-based alternatives can be delivered to your home in a click.
What Makes Purple Carrot Different
The very fact that it exclusively offers plant-based, 100% vegan meals makes Purple Carrot different from the rest of the lot. This kind of meal delivery services is rarely found on the market and comes as a wonderful surprise to all the hungry and busy vegans nationwide.
As we have mentioned previously in this Purple Carrot review, the service now offers a 100% vegan, high-protein, gluten-free plan for athletes and people who are active in the gym or anywhere else. These meals are based on the diet of Tom Brady, the famous quarterback, and include meals that Brady and his family enjoy, as well as meals inspired by TB12 nutritional guidelines that shaped Tom's diet.

This company is also incredibly eco-friendly. Apart from using sustainably sourced ingredients it also ships just the right amount of ingredients in order to reduce food waste. On top of that, its sustainable packaging has recently got even better. Now, it features InfinityCore thermal liners that are made from recycled water bottles and keep your food fresh for up to 72 hours. Apart from being made of 85% recycled plastic, they are also extremely easy to dispose of – just take them out of the box, tear them down, and throw them into your recycle bin. You can check out the Recycling Info section of the Purple Carrot website for more useful advice on package recycling.
If you are looking for a thoughtful gift for a vegan friend, you can opt for the company's gift meal plans. You can choose the desired plan type and the duration of the gift subscription. You can decide between 1 week, 2 weeks, 1 month, and 3 months of deliveries.
The service now offers a 100% vegan, high-protein, gluten-free plan for athletes and people who are active in the gym or anywhere else. These meals are based on the diet of Tom Brady, the famous quarterback, and include meals that Brady and his family enjoy, as well as meals inspired by TB12 nutritional guidelines that shaped Tom's diet.
Purple Carrot Meals and Recipes
Purple Carrot meal options
We stated previously in this Purple Carrot review that this company has invested great efforts into creating meal plans that suit the preferences of virtually all plant lovers. Now it is time to discover what makes each meal plan unique.
The standard plans are created with busy home cooks in mind. Their dedicated menus mostly focus on quick & easy recipes that are perfect for beginners who want to cook tasty dishes in no more than 30 minutes, with minimum effort and clean-up. High-protein dishes and gluten-free options are often available. Unfortunately, the 6-Serving menu features only 2 recipes per week while the situation is a bit better with the 6-item 2-Serving menu.
A great advantage of the standard plans is that they allow you to enjoy more than 2 or 3 Purple Carrot meals per week. Namely, the standard menu includes 4 additional items called Extras, which you can pick up in addition to your weekly dinners. The Extras include two 4-serving breakfasts and two 2-serving lunches, all of which can be prepared in just 5 minutes or fewer. The 2-Serving plan allows you to add 3 extras to your orders and the 6-Serving plan lets you add 1 extra per delivery.
The TB12 Performance plan is somewhat different than the rest of the plans in that it is designed for individuals who are highly physically active. It can help you sustain your peak performance and it includes recipes that are always free from gluten, low in soy, and particularly high in protein. We are sad to say that the Extras are not available with this plan.

Recipes created by Purple Carrot are 100% vegan, but that does not mean that anyone else cannot enjoy them if they want to eat healthily and try out a plant-based diet. According to sources like Physicians Committee for Responsible Medicine and American Journal of Clinical Nutrition, if you go vegan, you do not only reduce your carbon footprint, but you also have a 55% less chance of suffering from high blood pressure. If you go vegan, you can also reduce the risk of suffering from heart disease by 32%. That is what Purple Carrot brings you, without all the hassle of finding the best ingredients and searching for recipes.
It is important to note that due to the fact that its facilities regularly process, walnuts, almonds, peanuts, and other allergens, Purple Carrot cannot accommodate special dietary needs, except for gluten intolerance.  However, you can contact the company in order to get advice from its recipe team on which ingredients you can use in order to substitute the ones you want to avoid.
It often happens that companies that offer ingredients and recipes do not exactly supply you with all the ingredients necessary to cook the meals. Luckily, this is not the case with Purple Carrot. It only expects you to have vegetable oil, olive oil, salt, and pepper in your pantry and its job is to provide everything else.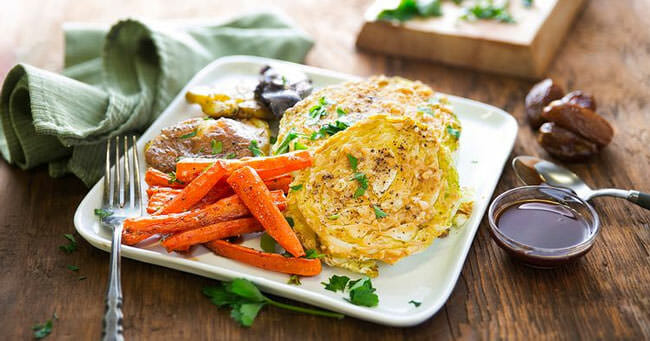 How Much Does Purple Carrot Cost
Purple Carrot meal kits cost between $6 and $13 per serving. The cost per serving depends on the select meal plan as well as meal type (breakfast, lunch or dinner). While the prices are slightly above average, they do include the shipping and handling costs.
With the 2-Serving plan, you pay $11.99 per serving. Therefore, you get 3 meal kits (6 servings) for $71.94 per week. The 6-serving plan costs $7.99 per portion. Since this plan brings you 2 meal kits, each serving 6 people, you pay $95.88 per delivery. If you opt for the Extras, you pay $24 per kit, meaning that breakfasts cost $6 per serving and lunches cost the same as dinners, that is, $12 per serving.
The TB12 plan is somewhat pricier. It includes 3 meal kits per week, 2 servings per meal, and costs $77.94 per weekly delivery. That means that one serving of TB12 performance meals costs $12.99.
As we already mentioned in this Purple Carrot review, there are no hidden fees, everything is included in the price, so you do not have to worry about shipping and membership fees.

Standard 2-Serving Meal Plan
Meals per week
Price per serving
Price per week
3
$11.99
$71.94
Standard 6-Serving Meal Plan
Meals per week
Price per serving
Price per week
2
$7.99
$95.88
TB12 Performance Meals (2 Servings)
Meals per week
Price per serving
Price per week
3
$12.99
$77.94
Extras
Meal type
Servings per kit
Price per serving
Breakfast
4
$6.00
Lunch
2
$12.00
Where Does Purple Carrot Deliver
Purple Carrot's delivery map used to include only the Northeast, Mid-Atlantic, and West Coast. New fulfillment centers have allowed the service to start shipping its kits across the mainland US. Hawaii and Alaska shipments are not available yet.
Deliveries are made on Mondays, Tuesdays, and Wednesdays. The company provides a tracking link for each order. You do not have to be at home to receive your delivery and the packaging should keep the food cool for several hours after arrival.
Purple Carrot Pros And Cons
To make sure Purple Carrot meets all your standards and expectations, it is important to know its biggest advantages and disadvantages. With a short overview of its pros and cons, you can easily decide if Purple Carrot is the right meal kit service for you.
Pros
Fresh, high-quality ingredients
100% plant-based meals
2 standard meal plans for 2 and 6 people
Dinners ready in 20 – 40 minutes
5-minute breakfast and lunch add-ons
Perfect for vegans
Special high-protein, gluten-free plan for active lifestyle
Eco-friendly
Cons
Lacks options for special dietary needs
Does not ship to Hawaii and Alaska
Sample Dishes
If you subscribe to Purple Carrot, you can easily prepare culinary masterpieces using only the ingredients and recipes found in your meal kit box. You may not be a pro chef just yet, but with Purple Carrot, you can easily make restaurant-grade meals. You don't have to take our word for it – check out the images below to get a better idea of the types of dishes you can enjoy with Purple Carrot.
Butter Lettuce Wraps
Coconut Ramen
Coconut Tofu
Smashed White Bean and Avocado Club
Bottom Line
Purple Carrot is the kind of meal delivery service vegans have been waiting for. All the meals on its menus are completely vegan and incredibly healthy. The ingredients are super fresh and the recipes are creative and tasty and take no more than 40 minutes to make. Purple Carrot is also very transparent when it comes to its prices, as all the costs are included in the price of meals and there are no hidden fees. The only problem is that it cannot accommodate the majority of special dietary needs and only offers plant-based and gluten-free recipes. However, we still believe that the majority of vegans would be highly satisfied with its service. It is definitely worth checking out.
Purple Carrot FAQ
How to cancel Purple Carrot?
Log into your Purple Carrot account and go to My Profile. In the Account Settings, click Change next to the Subscription Status. Choose the Cancel My Account option. Complete the short survey and follow the instructions to complete the process. Read our post on how to cancel Purple Carrot for more information.
Is Purple Carrot organic?
Some of the ingredients that Purple Carrot uses are organic.
Is Purple Carrot vegan?
Purple Carrot is a 100% vegan meal kit delivery service catering to individuals on plant-based diets who want a simple and healthy home cooking solution. The company offers fresh, sustainably sourced ingredients and unique plant-based recipes.
View All FAQs