Purple Carrot is a perfect choice for individuals on plant-based diets who are seeking a simple and healthy home cooking solution. This vegan meal kit delivery service offers unique plant-based recipes suitable for all cooking skill levels and fresh, natural, sustainably sourced ingredients packed with nutrients. Whether you just want to cook easily and eat healthily or need a steady source of simple recipes and premium ingredients for high-protein vegan meals to support your active lifestyle, Purple Carrot has got you covered. Read this Purple Carrot review to find out more about this company's excellent offer.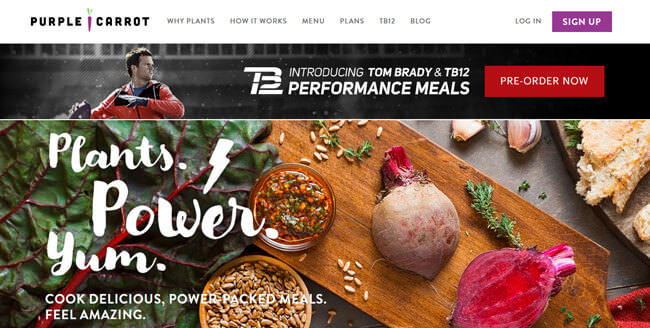 How Purple Carrot Works
Even if you have never ordered from this kind of meal delivery service before, you should have no problem figuring out how things work at Purple Carrot. They have explained the whole process in great detail and there are even photos showing what you can expect from the box that is delivered to your doorstep.
Purple Carrot does not offer ready-made meals but instead brings flavorful, fresh, pre-measured ingredients to your door, along with amazing recipes with precise instructions on how to cook the meals. The recipes are surprisingly easy to follow and no dish takes more than 40 minutes to make.
Purple Carrot offers two meal plans – the standard 1-2-person plan and the TB12 Performance plan for 1-2 people.
The standard 1-2-person plan is designed for vegans who want to cook healthy meals in no time and includes three meals per week for two people or one person with yummy leftovers. The TB12 Performance plan, designed in cooperation with Tom Brady and TB12, offers 3 meals for 1-2 people on high-protein, plant-based diets. It is best suited for individuals with an active lifestyle, fitness enthusiasts, and athletes.
Every week, menus for both of its plans feature exactly as many recipes as you can order – 3 delicious meal ideas freshly crafted by the Purple Carrot team. This may sound disappointing, but there is no need to worry. All the recipes they create are incredibly innovative and delicious and simply perfect for those on a vegan diet or anyone who wants to eat healthily. If you happen to dislike the dishes on the current menu, you can always skip a week of deliveries. The menu is definitely quite varied – it's heavily based on seasonal foods and the meals are repeated only every once in a while.
Since you do not choose the meals, you do not even have to log into your account in order to make sure if the recipes and ingredients will reach your home the following week. If you have subscribed to Purple Carrot's services, the packages are sent out automatically – unless you choose to skip an order.
What Makes Purple Carrot Different
The very fact that it exclusively offers plant-based, 100% vegan meals makes Purple Carrot different from the rest of the lot. This kind of meal delivery services is rarely found on the market and comes as a wonderful surprise to all the hungry and busy vegans nationwide.
As we have mentioned previously in this Purple Carrot review, it now offers a 100% vegan, high-protein, gluten-free plan for athletes and people who are active in the gym or anywhere else. These meals are based on the diet of Tom Brady, the famous quarterback, and include meals that Brady and his family enjoy, as well as meals inspired by TB12 nutritional guidelines that shaped Tom's diet.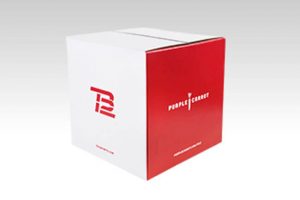 This company is also incredibly eco-friendly. Apart from using sustainably sourced ingredients it also ships just the right amount of ingredients in order to reduce food waste. On top of that, its sustainable packaging has recently got even better. Now, it features InfinityCore thermal liners that are made from recycled water bottles and keep your food fresh for up to 72 hours. Apart from being made of 85% recycled plastic, they are also extremely easy to dispose of – just take them out of the box, tear them down, and throw them into your recycle bin. You can check out the Recycling Info section of the Purple Carrot website for more useful advice on package recycling.
If you are looking for a thoughtful gift for a vegan friend, you can opt for the company's gift meal plans. You can choose the plan type – standard or TB12 Performance – and the duration of the gift subscription and decide between 1 week, 2 weeks, 1 month, and 3 months of deliveries.
Meals and Recipes
Purple Carrot meal options
Recipes created by Purple Carrot are 100% vegan, but that does not mean that anyone else cannot enjoy them if they want to eat healthily and try out a plant-based diet. According to sources like Physicians Committee for Responsible Medicine and American Journal of Clinical Nutrition, if you go vegan, you do not only reduce your carbon footprint, but you also have a 55% less chance of suffering from high blood pressure. If you go vegan, you can also reduce the risk of suffering from heart disease by 32%. That is what Purple Carrot brings you, without all the hassle of finding the best ingredients and searching for recipes.

Unfortunately, due to the fact that its facilities regularly process wheat, gluten, walnuts, almonds, peanuts, and other nuts, Purple Carrot cannot accommodate special dietary needs. However, you can contact the company in order to get advice from its recipe team on which ingredients you can use in order to substitute the ones you want to avoid.
It often happens that companies that offer ingredients and recipes do not exactly supply you with all the ingredients necessary to cook the meals. Luckily, this is not the case with Purple Carrot. It only expects you to have vegetable oil, olive oil, salt, and pepper in your pantry and its job is to provide everything else.
Pricing
Pricing is very simple with Purple Carrot. The 1-2-person plan always costs $72.00 per week and includes 3 meal kits, each yielding 2 servings, which amounts to $12 per serving. The TB12 plan is somewhat pricier. It includes 3 meal kits per week, 2 servings per meal, and costs $78 per weekly delivery. That means that one serving of TB12 performance meals costs $13.
As we already mentioned in this Purple Carrot review, there are no hidden fees, everything is included in the price, so you do not have to worry about shipping and membership fees.
Purple Carrot (2 servings)
Meals per week
Meal kit price
Price per serving
3
$72.00
$12.00
TB12 (2 servings)
Meals per week
Meal kit price
Price per serving
3
$78.00
$13.00
Delivery Areas
Until recently, Purple Carrot meals were only available in a limited number of areas. Now, the company has expanded its delivery area coverage and ships all across the contiguous US. Unfortunately, shipments to Hawaii and Alaska are still unavailable. As far as the shipping and handling costs are concerned, they are included in the price of the meals.
Pros
Fresh, high-quality ingredients
100% plant-based meals
Meals ready in less than 40 minutes
Perfect for vegans
Special plan for active lifestyle
Eco-friendly
Ships nationwide
Cons
No customization options
Special dietary needs not covered
Does not ship nationwide
Sample Dishes
If you subscribe to Purple Carrot, you can easily prepare culinary masterpieces using only the ingredients and recipes found in your meal kit box. You may not be a pro chef just yet, but with Purple Carrot, you can easily make restaurant-grade meals. You don't have to take our word for it – check out the images below to get a better idea of the types of dishes you can enjoy with Purple Carrot.
Butter Lettuce Wraps
Coconut Ramen
Coconut Tofu
Smashed White Bean and Avocado Club
Bottom Line
Purple Carrot is the kind of meal delivery service vegans have been waiting for. All the meals on its menus are completely vegan and incredibly healthy. The ingredients are super fresh and the recipes are creative and tasty and take no more than 40 minutes to make. Purple Carrot is also very transparent when it comes to its prices, as all the costs are included in the price of meals, there are no hidden fees. The only problems are that there are no customization options and it cannot accommodate special dietary needs. However, we still believe that the majority of vegans would be highly satisfied with its service. It is definitely worth checking out.