Cannot decide between Plated and Purple Carrot? It is definitely a tough choice. Both companies use high-quality ingredients in order to provide you with healthy, delicious food. Luckily, with this comparison, you can find out which one is a better choice for your dietary needs and preferences.

Cooking with superior ingredients
VS

Vegan Meals For A Healthy Lifestyle
Highlights

Plated offers incredible ordering flexibility, competitive pricing, and one of the richest menus in the meal kit market, with recipes for a vast range of tastes, diets, and cooking skill levels.
Average Price Per Meal:

$9.95

Shipping Cost:

$0

*

Delivery Area:

48 states
*
except on weekly plans under $60

Purple Carrot offers reasonably priced natural, plant-based meal kits designed for fitness enthusiasts, athletes, and vegans who want to eat healthily and cook effortlessly.
Average Price Per Meal:

$11.33

Shipping Cost:

$0

Delivery Area:

48 states
Compare Features

Best For
Best for semi-experienced home cooks who value variety and want to eat healthily
Menu/Meal Plans
Plated features one menu that changes on a weekly basis.
Recipes/Meal Options
Plated offers 20 new recipes each week, plus 2 desserts.
Meal & Recipe Variety
Every week, the Plated menu features fresh meal ideas suitable for omnivore, vegetarian, gluten-free, low-calorie, and low-carb diets. The recipes are inspired by popular world cuisines, such as French, Italian, Indian, Mexican, Chinese, and traditional American cuisine. Most items are quick-prep recipes with hands-on time ranging from 10 to 30 minutes.
Food Quality
Plated does not only offer sustainably sourced meat & seafood and the freshest seasonal produce from the best local farms but also supplies home cooks with rare artisanal spices that give rich flavor and tantalizing aroma to every dish.
Nutritional Value & Portion Size
Plated carefully calculates its portion sizes to satisfy the needs of an average adult, with no leftovers. By thoughtfully combining high-quality ingredients into satisfying meals, the Plated culinary team ensures all meals are rich in nutrients and well-balanced, with plenty of items under 600 calories.
Subscription Flexibility
With Plated, you can change your box's recipes or servings at any time. You can also skip, pause or cancel your order whenever you want. Keep in mind that all changes to your subscription must be made by noon six days before your delivery is due.
Refunds
If you are not satisfied with your delivery or something is missing from your box, you can contact Plated and they may issue a credit to your account.

Best For
Best for vegan home cooks with an active lifestyle
Menu/Meal Plans
Purple Carrot features 2 menus: 1-2 Person and TB Performance Meals
Recipes/Meal Options
Both menus offered by Purple Carrot feature only 3 meal options per week.
Meal & Recipe Variety
Purple Carrot offers vegan meals suitable for lunch and dinner. Its selection includes both everyday, healthy-eating meals and performance meals for active individuals. The meals are usually inspired by Moroccan, Chinese, Italian, and Spanish cuisines and include veggie stews, risottos, pastas, quesadillas, and grain bowls. The prep and cook time is around 30-45 minutes.
Food Quality
Purple Carrot delivers fresh, nutrient-packed ingredients that are sustainably sourced. All ingredients are of high-quality, chosen in accordance with the season, and completely natural.
Nutritional Value & Portion Size
Purple Carrot meals come in medium-sized portions and contain 500-800 calories on average. They are nutritionally balanced, with the right quantities of healthy fats, lean proteins, and complex carbohydrates.
Subscription Flexibility
With Purple Carrot, you can skip or cancel your order anytime. You must inform the company about any changes to your order by Tuesday night at 11:59 PM EST the week before your next delivery is due.
Refunds
For information about returns and refunds, you must contact Purple Carrot within 7 days of your delivery.
Compare Plans & Pricing

Plated Plans & Pricing
2 Servings
Meals per week
Meal kit price
Price per serving
2
$47.80 (first week: $35.85)
$11.95
3
$71.70 (first week: $53.77)
$11.95
4
$95.60 (first week: $71.70)
$11.95
3 servings
Meals per week
Meal kit price
Price per serving
2
$59.70 (first week: $44.77)
$9.95
3
$89.55 (first week: $67.16)
$9.95
4
$119.40 (first week: $89.55)
$9.95
4 servings
Meals per week
Meal kit price
Price per serving
2
$79.60 (first week: $59.70)
$9.95
3
$119.40 (first week: $89.55)
$9.95
4
$159.20 (first week: $119.40)
$9.95

Purple Carrot Plans & Pricing
Purple Carrot (2 servings)
Meals per week
Meal kit price
Price per serving
3
$72.00
$12.00
TB12 (2 servings)
Meals per week
Meal kit price
Price per serving
3
$78.00
$13.00
Suitable For

Meals For Families
Meals For Kids
Meals For Seniors
Meals For One

Meals For Families
Meals For Kids
Meals For Seniors
Meals For One
Compare Meal Options

Vegetarian Meals
Vegan Meals
Paleo Meals
Keto Meals
Low-Carb Meals
Low-Fat Meals
Meals For Diabetics
Gluten-Free Meals
Organic Meals
Weight Loss Meals

Vegetarian Meals
Vegan Meals
Paleo Meals
Keto Meals
Low-Carb Meals
Low-Fat Meals
Meals For Diabetics
Gluten-Free Meals
Organic Meals
Weight Loss Meals
Compare Sample Meals

Tahini Chicken Schnitzel
Brie Mac and Cheese
Farro and Arugula Salad
Cauliflower Tinga Tacos

Butter Lettuce Wraps
Coconut Ramen
Coconut Tofu
Smashed White Bean and Avocado Club
Compare Extras

A La Carte Menu
Gift Cards
Marketplace

A La Carte Menu
Gift Cards
Marketplace
Compare User Reviews

Submitted By April on 06/13/2018

My husband and I have been using Plated since October of 2016, roughly around 360 meals to date. We began our box delivery service with HelloFresh and then Blue Apron and finally landed on Plated. At first, the meals were extremely time-consuming and difficult. I am a teacher and my husband is in sales, so coming home after 13 hour days and having to cook a meal that took me over an hour just wasn't going to cut it. However, I stuck with them a little longer because their food was delicious and this is the only company that we had tried, thus far, that offered so many options. We have now been using them going on two years and I have no plans to stop. They have adjusted their recipes so that they are not so time consuming and require so much prep; they have also added a ton of recipe choices including yummy desserts! Yes, they may be a tad more expensive, but in my opinion, it's worth it because the food is always fresh and delicious! Plated also has AMAZING customer service. If there is absolutely anything wrong with any of your ingredients, no matter how small the ingredient, they will credit your account no questions asked. If you have allergies, Plated always lists all allergens on their recipe cards and on the website or app when you are selecting your recipes. They offer vegetarian, low-cal/carb, and gluten free options as well. I highly recommend this company and I can only see them getting better each year!

Submitted By Robyn IarobyncoaRngeli on 03/28/2018

I ordered for the 1st time. Waited all day- Started a chat at 7:45 to let them know nothing has been delivered. Told me to wait until 8:00. Reached out again at 8:01. Going back and forth finally got a credit back to me, only that it will take 5-7 business days. Fedex - stated at 8:15 that the business was closed. This was a condo delivery. Called fed-ex not helpful. Contacted Plated again - it will be my descretion if I choose the food upon arrival. Completely unacceptable! Cancelled my subscription immediately. Very Poor - I do not want to give them a 1 star - completely below standards.

Submitted By Tammy on 03/24/2018

I used Plated for a couple of years and enjoyed. When they were bought out this year the meat .... beef was less quality cut and the package was 2 ice packs instead of 4 packs.. It looked like getting less for the same price.. the original plated company always cared about your comments and concerns.......new owners never replied to my concerns. I no longer purchase Plated meals.

Submitted By Diane B on 02/28/2018

My experience with Plated has been top notch so far. I've made three meals, and I found that the ingredients and the recipes are excellent. I've been really impressed with the produce, it's al been so fresh, and the herbs are just beautiful. I read a review that complained about the work involved to put together a meal, but hey, it's not Meals On Wheels! If that's what you're looking for then you're better off ordering take out. It's true that there is some preparation required to make a meal; the vegetables need to be rinsed and chopped, and you have to combine some ingredients before cooking them, but what you don't have to do is shop for the ingredients wherein you purchase more than you're going to use because that's how they're sold, and end up cluttering up your refrigerator with the leftover bok choy or whatever a week or so before you throw it out. (At least that's what I do). With this, the food arrives in just the quantities you need, which incidentally saves the steps of measuring and wrapping and storing the stuff you don't use. Not to mention not having to wash and put away measuring cups and spoons. I really love this service and the results have been delicious. And it's made cooking a whole lot more fun for me!

Submitted By Kimberly Zeh on 06/05/2018

Do not order Purple Carrot. Unlike listed on their website, or in this review of their food. Purple Carrot does not have 100% plant-based ingredients. Some of their recipes include High Fructose Corn Syrup. When I approached them about it, here's what they told me: "I just wanted to take a moment and share with you that we are not and do not claim to be a health service, a dietary service and have never made claims that we source specifically non-GMO or Organic produce. While I do understand the wants for more "whole foods" as you put it, I just want to ensure you that we have always and will always stick to our mission of providing delicious, hassle-free plant-based meals for our customers to prepare in home." I too received boxes of food perished or main ingredients missing - and they have been nice about refunding me. However, I cannot and will not continue my service with them because I feel cheated from their false advertisement. For those of us looking for healthy options, MAKE SURE you read all the packages before you use. Also, their spices, pastes, dairy substitutes come in containers that label the name of the ingredient - you don't actually know what the stuff is made up or what brand it is from. Anyway folks, BE CAREFUL.

Submitted By David Herring on 05/19/2018

1st meal delivery for me . WOW!! Talk about good. 5 stars is not enough. Purple Carrot is the best.

Submitted By jennifer Hughes on 04/09/2018

I'm reading reviews and I havent experienced any of the bad they speak of. I'm going on 6 months of getting weekly deliveries and I'm blown away more with every recipe I make. Absolutely delicious meals incorporating ingredients I've never tried before. Eating plant based has never been so easy!

Submitted By stephenie on 03/04/2018

I was so excited to try Purple Carrot meals! Our first delivery of meals was very enjoyable. Our second delivery was the beginning of the end. The food box arrived upside down and OPEN! Liquid had leaked throughout one of the packaged meals, the recipe cards were missing, the eggplant was not fresh, and garbanzo beans were substituted with kidney beans (for a hummus recipe). I did receive a full refund, but I find it annoying that customer service is via email only. I was billed for a third box, 3 weeks has gone by and the delivery hasn't come! I really am very sad to have had such a poor experience. I have canceled my subscription.
Winner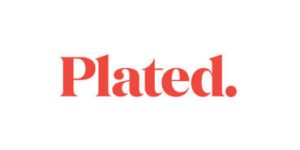 Plated is a meal kit delivery service that offers very flexible subscription plans, as well as high-quality foods. Each week, it comes up with a new seasonal menu, including 20 new recipes and 2 desserts, easily meeting the needs of its customers. Read our thorough analysis of the Plated meal kit service and dozens of user-written Plated reviews.