Compare Prices
The following price comparison is designed to help you easily figure out which of our top-ranked organic meal kit delivery services best fits your budget. We have brought all the pricing information to one place, including the shipping costs and details about the companies' delivery areas, so you can identify the perfect fit in a single glance.
Company
Avg. Meal Price
Shipping
Delivery Areas
Sunbasket
Avg. Meal Price
Shipping Cost
$6.99
Delivery Areas
Green Chef
Avg. Meal Price
Shipping Cost
$7.99
Delivery Areas
Takeout Kit
Avg. Meal Price
Shipping Cost
$0
Delivery Areas
One Potato
Avg. Meal Price
Shipping Cost
$7.99
Delivery Areas
FreshDirect
Avg. Meal Price
Shipping Cost
$5.99
Delivery Areas
Benefits Of Organic Meal Kit Delivery
Eating organic is not easy. Finding the freshest organic food takes a lot of time and the sad truth is that you cannot always trust the labeling. Big companies that produce organic food find clever ways to bend the rules and still label their products as organic because mass production of organic food is simply impossible and if everyone followed the rules strictly, there would not be enough organic food to meet the increasing demand. That is why the organic food you buy at the store is usually just partly organic.
Organic meal kit delivery services cooperate with local farmers who offer food that is truly organic and fresher than the food you find at the store. They do not only rely on labeling but have a deep insight into how the food is grown, due to a close partnership with their suppliers. That way, they can guarantee that the food that reaches your home is 100% organic and fresh from the farm.
Apart from the guaranteed freshness and quality, organic meal kit deliveries offer a range of additional benefits. They help you save time, they are unbelievably convenient, they allow you to discover new recipes, and they make meal planning a breeze. They bring the best organic ingredients to your home, pre-measured and carefully packed to preserve freshness. They come up with innovative meal ideas that are sure to delight everyone at the table. They allow you to cook a great meal in less time than usual and have more time for yourself and your loved ones.
How Are The Best Organic Meal Kit Deliveries Different
The best organic meal kit deliveries are simply better in every aspect than other solutions available on the market. Their organic ingredients are locally sourced and do not spend weeks in transport, losing their nutritional value and flavor along the way. Their produce is never wilted, their meat is of the highest quality, and their seafood spends no time at the frozen food aisle.
They do not just offer organic ingredients but make sure that their recipes can satisfy virtually any taste and preference. They take special care to accommodate the needs of people on special diets and they offer plenty of allergen-free options. Their menus are incredibly rich, so you are not limited to just a few meal ideas that you may or may not like.
The best organic meal kit delivery services understand the importance of customization and flexibility. They offer subscriptions that can easily be modified depending on the number of people you want to cook for, the number of meals you want to cook per week, and your plans for the upcoming weeks. They allow you to customize your order, perhaps eliminate some ingredients you do not like or even choose the key elements of your meals, like the main protein source. Their aim is to please, which is why they offer as many options as you may possibly need.
It is a well-known fact that organic food is expensive. Another well-known fact is that many companies overcharge for their services just because they offer organic food. The best organic meal kit deliveries never make you pay more than their service is worth. They offer reasonable prices, so nearly everyone who wants to cook healthy, organic meals can afford to be their patron.
Choosing The Right Organic Meal Kit Delivery For You
As you may have guessed, the most time-consuming part of our selection process is the first step in which we identify the services that do not just claim to offer organic ingredients but are highly transparent about their sourcing practices and allow you to know exactly where your organic food is coming from. Once we find the organic meal kit deliveries that you can trust, we proceed to carefully examine all the key aspects of their services.
First, we closely analyze their menus, taking into account both the range of meal options available and the variety of items on the menu. We eliminate the ones that offer too few choices and the ones that do not do their best to satisfy the needs of home cooks on special diets.
Next, we focus on the nutritional value of the meals you can make with these services, as well as portion size. We choose the companies that offer well-balanced meals with the optimal amount and ratio of valuable nutrients and make sure that the meals you cook with them can keep you full and happy, so you never have to deal with an abundance of leftovers or portions that are too small to satisfy your appetite.
Finally, we determine the flexibility and affordability of our short-listed candidates. In this step, we eliminate the companies that offer meal kits that are too expensive to be enjoyed on a weekly basis and the ones that offer rigid subscriptions that cannot be customized to meet your needs. Thus, we choose the ones that fit both your pocket and your lifestyle.
Best Organic Meal Kit Delivery Companies
What all of our top picks have in common is that they are currently the best on the market. Now it is time to discover what makes each of these organic meal prep delivery companies unique. Explore their distinctive features in the mini-reviews below and choose the one that best satisfies your needs.
1. Sun Basket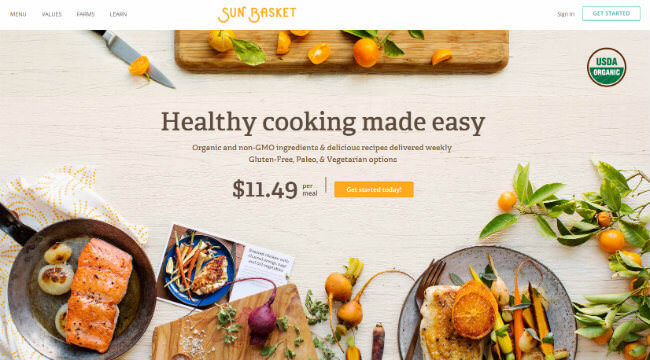 Sun Basket is an organic meal box delivery designed for families of 2 and 4. Its rich weekly menu includes 18 delicious, wonderfully healthy meal ideas crafted by a top San Francisco chef, along with a dozen tasty add-ons. Striving to accommodate the needs of home cooks with different dietary preferences, Sun Basket lets you choose from as many as 11 different meal plans, including Chef's Choice, Paleo, Lean & Clean, Gluten-Free, Vegetarian, Vegan, Pescatarian, Diabetes-Friendly, Quick & Easy, Carb-Conscious, and Mediterranean.
2. Green Chef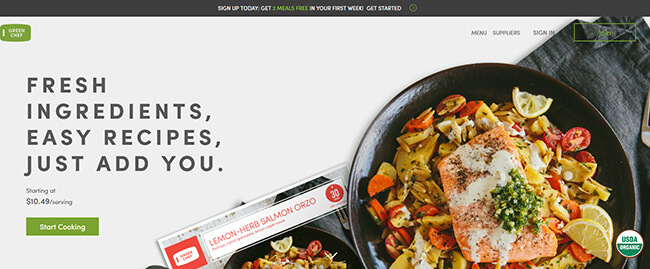 Green Chef is a USDA-certified organic meal kit delivery that offers beautiful 30-minute recipes for 2 and 4 people. Keeping up with the latest healthy food trends, it has designed 9 meal programs for home cooks who want to look good, feel good, and keep their bodies perfectly nourished. The programs at your disposal include Omnivore, Carnivore, Pescatarian, Balanced Living, Gluten-Free, Plant Powered, Vegetarian, Keto, and Paleo. You can switch between the programs at your leisure.
3. Takeout Kit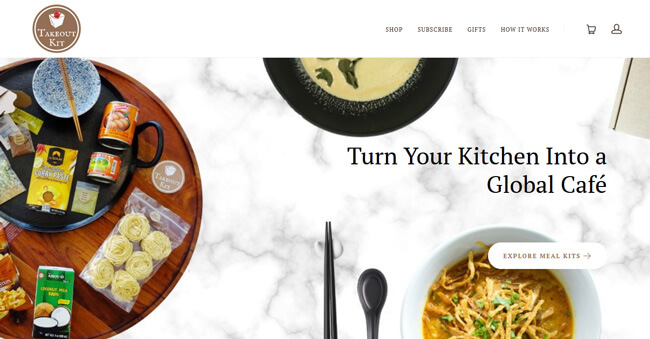 Takeout Kit is a boxed meal delivery that does not only provide the finest, preservative-free, and organic ingredients but also allows you to cook with authentic international products and make the most delicious and exciting dishes from famous world cuisines, including Italian, Spanish, German, Indian, Ethiopian, and Moroccan. You can opt for a subscription or a la carte ordering and even customize certain meals by choosing protein sources and spiciness level.
4. One Potato
One Potato is a family-friendly organic meal kit service that provides 5 meal plans for families of different sizes (2-6 members). Every week, there are 8 delicious dinner kits on the menu, 6 of them designed for omnivores and 5 suitable for vegetarians. Nut-free and gluten-free options are also available.
All kits include 100% certified organic ingredients prepped by One Potato chefs. The meals are ready in no more than 30 minutes. As a bonus, you get organic slice-and-bake cookie dough in every delivery.
5. FreshDirect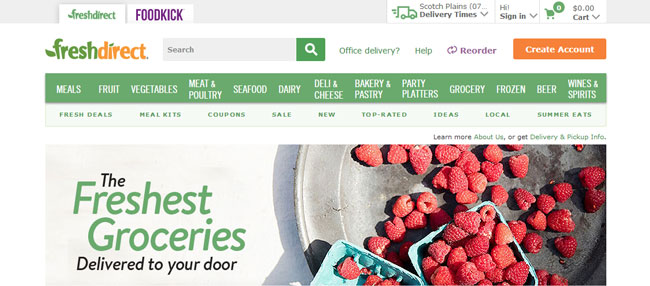 FreshDirect is not just a meal kit delivery. It is a huge online store featuring more than 3,000 healthy, fresh food items. It offers around 30 amazing meal kits suitable for people who eat organic, as well as for meat and seafood lovers, vegetarians, and little picky eaters. The meals usually take 25-45 minutes to make and serve 2 or 4 people. You can order as many kits as you need, as often as you wish.