Compare Prices
The following price comparison is designed to help you easily figure out which of our top-ranked organic meal kit delivery services best fits your budget. We have brought all the pricing information to one place, including the shipping costs and details about the companies' delivery areas, so you can identify the perfect fit in a single glance.
Company
Avg. Meal Price
Shipping
Delivery Areas
Sun Basket
Avg. Meal Price
Shipping Cost
$6.99
Delivery Areas
Plated
Avg. Meal Price
Shipping Cost
$0
Delivery Areas
Green Chef
Avg. Meal Price
Shipping Cost
$6.99
Delivery Areas
Takeout Kit
Avg. Meal Price
Shipping Cost
$0
Delivery Areas
PeachDish
Avg. Meal Price
Shipping Cost
$0
Delivery Areas
FreshDirect
Avg. Meal Price
Shipping Cost
$5.99
Delivery Areas
One Potato
Avg. Meal Price
Shipping Cost
$7.99
Delivery Areas
Best Organic Meal Kit Delivery Companies
What all of our top picks have in common is that they are currently the best on the market. Now it is time to discover what makes each of these organic meal prep delivery companies unique. Explore their distinctive features in the mini-reviews below and choose the one that best satisfies your needs.
1. Sun Basket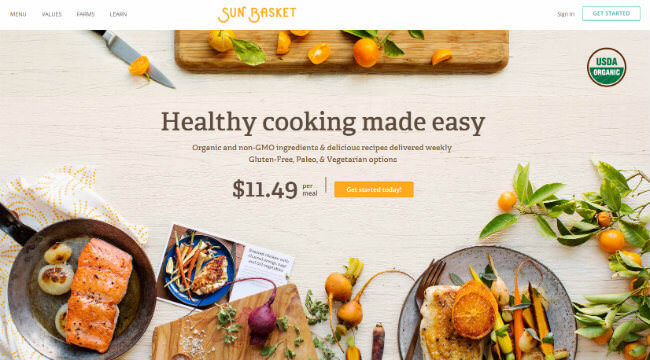 Sun Basket is an organic meal box delivery designed for families of 2 and 4. Its rich weekly menu includes 18 delicious, wonderfully healthy meal ideas crafted by a top San Francisco chef, along with a dozen tasty add-ons. Striving to accommodate the needs of home cooks with different dietary preferences, Sun Basket lets you choose from as many as 11 different meal plans, including Chef's Choice, Paleo, Lean & Clean, Gluten-Free, Vegetarian, Vegan, Pescatarian, Diabetes-Friendly, Quick & Easy, Carb-Conscious, and Mediterranean.
2. Plated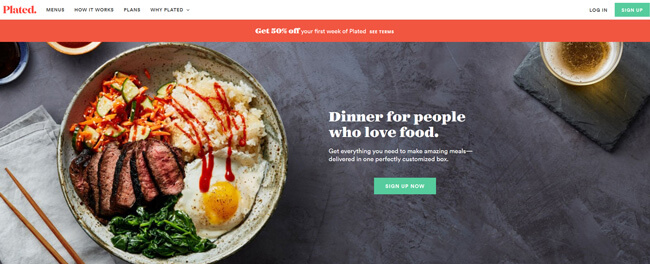 Plated meal kit service is known for the superior quality of its ingredients, amazing simplicity of its recipes, and incredible flexibility of its subscriptions. Every week, its culinary team comes up with 20 gorgeous dinner ideas and 2 lovely desserts. Along with all-natural and organic produce, meat, and seafood, this healthy meal kit service provides special, artisanal spices that you cannot find in stores. Cook for 2, 3 or 4 people 2, 3 or 4 times a week.
3. Green Chef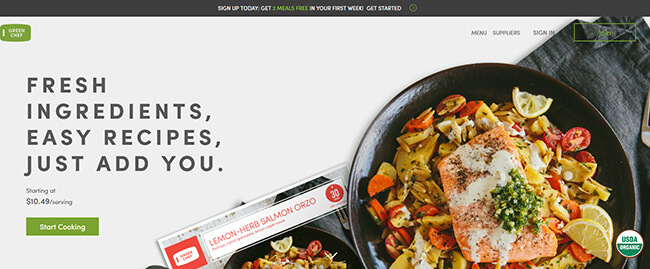 Green Chef is a USDA-certified organic meal kit delivery that offers beautiful 30-minute recipes for 2 and 4 people. Keeping up with the latest healthy food trends, it has designed 9 meal programs for home cooks who want to look good, feel good, and keep their bodies perfectly nourished. The programs at your disposal include Omnivore, Carnivore, Pescatarian, Balanced Living, Gluten-Free, Plant Powered, Vegetarian, Keto, and Paleo. You can switch between the programs at your leisure.
4. Takeout Kit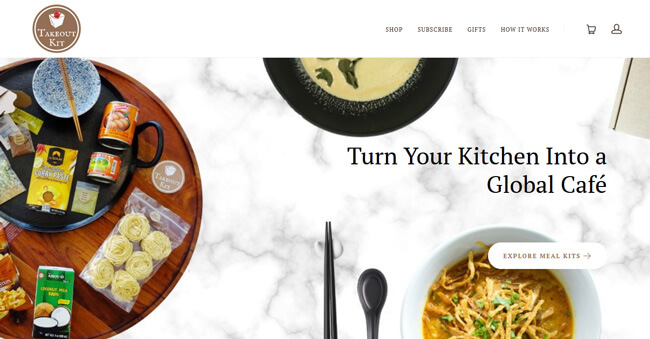 Takeout Kit is a boxed meal delivery that does not only provide the finest, preservative-free, and organic ingredients but also allows you to cook with authentic international products and make the most delicious and exciting dishes from famous world cuisines, including Italian, Spanish, German, Indian, Ethiopian, and Moroccan. You can opt for a subscription or a la carte ordering and even customize certain meals by choosing protein sources and spiciness level.
5. PeachDish


If you are a fan of Southern cuisine, PeachDish meal kit delivery is the way to go. This excellent meal box delivery offers easy recipes for omnivores, vegans, vegetarians, and seafood lovers. Its meal boxes often include superfoods and never contain any artificial products or added gluten. The menu is incredibly varied and makes the most out of naturally delicious seasonal produce.
6. FreshDirect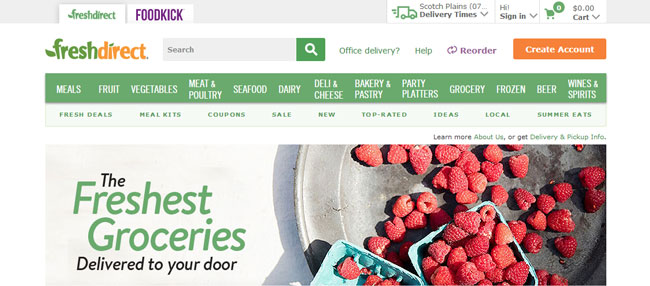 FreshDirect is not just a meal kit delivery. It is a huge online store featuring more than 3,000 healthy, fresh food items. It offers around 30 amazing meal kits suitable for people who eat organic, as well as for meat and seafood lovers, vegetarians, and little picky eaters. The meals usually take 25-45 minutes to make and serve 2 or 4 people. You can order as many kits as you need, as often as you wish.
7. One Potato

One Potato is a family-friendly organic meal kit service that provides 5 meal plans for families of different sizes (2-6 members). Every week, there are 8 delicious dinner kits on the menu, 6 of them designed for omnivores and 5 suitable for vegetarians. Nut-free and gluten-free options are also available.
All kits include 100% certified organic ingredients prepped by One Potato chefs. The meals are ready in no more than 30 minutes. As a bonus, you get organic slice-and-bake cookie dough in every delivery.