Takeout Kit Review
As Easy As Takeout & Twice As Tasty

Advertiser Disclosure
This website features affiliate links. For purchases made via these links, we earn commissions that allow us to keep producing helpful content. To find out more
click here
.
Close
The idea of Takeout Kit was born when its founder Rachel Lake noticed that most meal kits need to be used within 5 days at most. If not, the food goes to waste, along with the cash spent. This inspired her to create a perfect solution for what she calls "meal kit anxiety" – the stress that comes from knowing that your meal kits may go bad before you find the time to cook the meals. We instantly fell in love with this innovative approach and wanted to know if the kits themselves are equally impressive. In this Takeout Kit review, you can read all about our experience with this service and discover its most prominent aspects, including kit variety, pricing, and features that make it unique.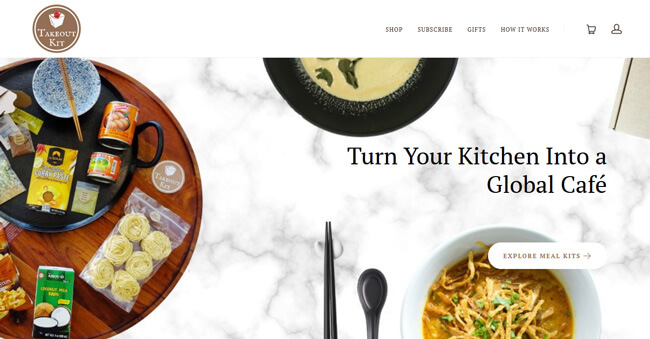 How Takeout Kit Works
We love a meal kit service that knows that not all customers are eager to subscribe, at least not before they get to try out the kits. With Takeout Kit, you can choose the ordering method that works best for you – ordering a la carte, opting for a subscription or even choosing a combination of the two.
A la carte ordering allows you to order individual kits or multi-kit samplers as often as you want. You get to pick the kits and the quantity. With subscriptions, you can choose the length of your subscription and the number and selection of kits included in the deliveries.
Each kit contains information about the dish, a simple recipe, and the ingredients necessary to prepare a meal that can feed 4 adults with healthy appetites. All orders arrive 2 to 6 business days after they are shipped. A la carte orders are shipped as soon as they are packed and ready to go and subscriptions are shipped on the 1st of every month. You can cancel or modify your subscription at your convenience.
What Makes Takeout Kit Different
We said before in this Takeout Kit review that this service came into existence due to the lack of meal kits that do not expire within just 3 to 5 days. Therefore, the main difference between this service's kits and those of its competitors is that they can sit patiently on the shelf for 2 months. What makes them even more unique is that they do not only allow home cooks to prepare dishes inspired by cuisines from around the globe but also include imported specialty ingredients that give an authentic flavor to the meals. In addition to being high-quality, the ingredients are USDA organic and preservative-free whenever possible.
As a Takeout Kit customer, you can get rewards by ordering and spreading the word about the service. By sharing and following Takeout Kit on Twitter, liking and sharing it on Facebook, following it on Instagram, writing a review of a kit, signing up, placing an order, and referring a friend, you get points you can exchange for coupons. For example, if you successfully refer a friend, your friend gets a $10 off coupon and you get 1,000 points. For every 500 points, you get a $5 off coupon. On your birthday, Takeout Kit gives you a present in the form of 500 points.
Speaking of presents, you can get great Takeout Kits for your friends, including gift subscriptions and gift cards and have the presents gift-wrapped.
Meals and Recipes
With Takeout Kit, you get to learn how to cook the hallmarks of various international cuisines and take your taste buds on a trip around the world. A different country is featured every month, but you can order anything on the menu that piques your fancy.

The company's rich selection includes more than two dozen kits. The dishes originate from Italian, Spanish, German, Vietnamese, Burmese, Indian, Ethiopian, Chinese, Moroccan, and other exciting world cuisines. What we particularly like is that in addition to meal kits, the company offers coffee and tea kits, allowing you to prepare and enjoy refreshing Thai iced tea, Vietnamese coffee or perhaps soothing Moroccan mint tea in the comfort of your own home.
Home cooks who like to customize their meals might be happy to hear that Takeout Kit offers special kits that allow customers to choose their own proteins and sometimes even level of spiciness. These kits are marked with an asterisk (*) and come with several customization options. For example, if you choose to order the Burmese Curry Noodles kit, which we highly recommend, you can decide whether you want to cook mild yellow curry or red spicy curry and the protein sources you can add include chicken pieces or drumsticks and firm tofu.
The samplers allow you to enjoy unique, custom-tailored cooking and dining experiences. You can opt for vegan, vegetarian or meat-lover samplers, try out the classic takeout dishes, excite your palate with flavors of Southeast Asia or Europe, and more. The samplers normally contain 3 kits, with the exception of the Around-The-World Ultimate Tour sampler, which contains 12 meal kits and 3 drink kits. Being a large team of adventurous eaters, we ordered this giant kit-treat so we could get a full sense of what this service has to offer.

We were delighted to see that Takeout Kit made good on its promise and provided a variety of specialty ingredients that are hard to come by. The meals were surprisingly easy to cook, with the preparation process being virtually non-existent since everything comes in the right quantity and ready to go into the pan or pot. According to the website, the meals usually take between 30 and 60 minutes to prepare, but some of the dishes were ready in even less than half an hour. What is most important, every dish tasted authentic, with an abundance of exotic flavors and textures, and really made us feel like we ordered takeout from halfway across the globe.
As suggested before, Takeout Kit caters to people on special diets, including vegetarian, vegan, pescatarian, and others. However, keeping in mind that all the kits are assembled in the same facility, they are not recommended to people with severe food allergies.
Pricing
Individual meal kits normally cost between $29 and $35, drink kits cost between $1.75 and $8, and the prices of 3-kit samplers range between $90 and $105. The ultimate 15-kit sampler costs $375. The service often offers discounts on both samplers and individual kits.

The subscription options available include 1-month, 3-month, 6-month, and 12-month subscriptions. With the 1-month subscription, you can order 1, 2 0r 3 kits per month and pay $33, $66 or $93 per month, respectively. As you can see, you get to save a couple of bucks per kit if you order larger quantities. The subscriptions automatically renew every month until you cancel.
The 3-month subscription costs $95 and brings you 1 kit per month for 3 months. The price of the 6-month subscription is $180 and you get 6 kits, one each month. Finally, the 12-month subscription brings you one kit per month for the whole year and costs $350. Shipping is always free of charge.
Month-to-Month Subscription
Meal kits per month
Meal kit price
Price per serving
1
$32.99
$8.25
2
$65.99
$8.25
3
$92.99
$7.75
Delivery Areas
The long shelf life of its kits allows Takeout Kit to have a pretty vast delivery area. It delivers to all 50 US states and even most US territories, including overseas APO addresses. There is no need to sit at home and wait for your package to arrive since the kits do not require refrigeration and can safely be left at your doorstep.
Takeout Kit Pros And Cons
To make sure Takeout Kit meets all your standards and expectations, it is important to know its biggest advantages and disadvantages. With a short overview of its pros and cons, you can easily decide if Takeout Kit is the right meal kit service for you.
Pros
Cook meals from around the world
Subscribe or order a la carte
Healthy ingredients, often USDA organic and pesticide-free
Rich menu including meal, tea, and coffee kits
Choose your proteins with certain kits
Accommodates special diets
2-month shelf life
Rewards program
Available all over the US
Free shipping
Cons
Should consider introducing kits with fewer servings
Sample Dishes
If you subscribe to Takeout Kit, you can easily prepare culinary masterpieces using only the ingredients and recipes found in your meal kit box. You may not be a pro chef just yet, but with Takeout Kit, you can easily make restaurant-grade meals. You don't have to take our word for it – check out the images below to get a better idea of the types of dishes you can enjoy with Takeout Kit.
German Beer Garden Spätzle
Indian Butter Chicken
Paella
Truffle Risotto
Bottom Line
If you like cooking and having the world on your plate, Takeout Kit is an excellent choice. It allows you to cook the best international dishes quickly and easily and expand your culinary horizons at the price of just around $7 – $8 per serving. The ingredients are healthy and some of them are impossible to find at the store, the meals are suitable for a variety of diets, the coffee and teas are divine, and shipping is free of charge, which is always good news.