Compare Prices
The following price comparison is designed to help you easily figure out which of our top-ranked vegetarian meal delivery services best fits your budget. We have brought all the pricing information to one place, including the shipping costs and details about the companies' delivery areas, so you can identify the perfect fit in a single glance.
Company
Avg. Meal Price
Shipping
Delivery Areas
Trifecta Nutrition
Avg. Meal Price
Shipping Cost
$0
Delivery Areas
Veestro
Avg. Meal Price
Shipping Cost
$0
Delivery Areas
Balance By BistroMD
Avg. Meal Price
Shipping Cost
$0
Delivery Areas
Fresh Meal Plan
Avg. Meal Price
Shipping Cost
$0-$20
Delivery Areas
Vegin' Out
Avg. Meal Price
Shipping Cost
$0
Delivery Areas
Splendid Spoon
Avg. Meal Price
Shipping Cost
$0
Delivery Areas
Freshly
Avg. Meal Price
Shipping Cost
$0
Delivery Areas
Healthy Chef Creations
Avg. Meal Price
Shipping Cost
$20.00
Delivery Areas
Diet-to-Go
Avg. Meal Price
Shipping Cost
$9.99
Delivery Areas
Magic Kitchen
Avg. Meal Price
Shipping Cost
$18.00-$20.00
Delivery Areas
Benefits Of Vegetarian Meal Delivery Services
When it comes to following a healthy and varied diet, vegetarians today have more options than ever. In addition to dining out and ordering in, you have another option available nowadays- meal delivery services. Meal delivery companies are becoming increasingly popular and their number is growing steadily. Naturally, most of them offer vegetarian dishes too – and some are even dedicated exclusively to vegetarians and vegans.
When you opt for a meal delivery service for vegetarians, all you have to do is sign up for a plan or choose meals from the weekly menu, decide how many times per week you want to receive meals, and make some specific requirements regarding your nutritional needs. The company of your choice will do all the hard work for you, providing you with fresh, ready-made meals made of ingredients of the highest quality.
Usually, companies that offer vegetarian options cooperate with local farms and known producers and distributors, so you will know exactly where your food is coming from, enjoying the added benefit of knowing it was produced in accordance with sustainably sourced practices. Furthermore, you can also opt for organic, gluten-free, low-carb, low-sodium, and other options, as most companies allow you to customize your plan to perfectly fit your diet.
Meal delivery is an excellent option for vegetarians, whether you want to make it a full-time deal or just an occasional dinner or two for those days when you don't feel like shopping for groceries, cooking, and cleaning up. Whatever the case, you will enjoy exciting new meals prepared with optimal freshness and nutrition in mind while saving a lot of time, energy, and money you would otherwise spend on meal preparation.
How Are The Best Vegetarian Meal Delivery Services Different
The best vegetarian meal delivery services do not just add a couple of vegetarian dishes to the menu to feign variety, which is the case with the majority of meal delivery services out there. Instead, they hire chefs with a deep understanding of the vegetarian cuisine and offer impressive meals that you cannot easily make yourself. They do not merely offer vegetarian options that are in fact uninventive meat-free versions of meaty meals but actually think about the needs of their vegetarian patrons when devising their menus.
A good chef knows that a good vegetarian meal, or any meal for that matter, relies on the glorious natural flavors of high-quality ingredients. Still, many meal delivery services offer meals that are too carby, often bland, or even worse, full of strong spices that mask the low quality of the food. With the best vegetarian meal delivery services, both your palate and your body get to enjoy the benefits of a diet based on fresh, organic food that tastes great and has numerous positive effects on your overall well-being, as well as your mood.
While the superior quality and variety of vegetarian dishes on offer are two of the most prominent characteristics that make the best vegetarian meal delivery services better and different than the rest of the lot, there is another factor that should not be overlooked. Namely, a true vegetarian would never buy meals from a company that disrespects our planet. The finest vegetarian meal delivery services may offer dishes with meat in addition to vegetarian dishes, but they exclusively cooperate with farmers who employ the best sustainable and cruelty-free practices, use eco-friendly packaging, and truly care about keeping our planet alive and thriving, along with all of its inhabitants.
Choosing The Right Vegetarian Meal Delivery Service For You
We know that finding the right vegetarian meal delivery may sometimes seem more difficult than finding a soul mate. Fortunately, we have come up with a clever, fail-proof, albeit time-consuming way to identify the ones that are really as good as advertised. Namely, what we do is analyze all the meal deliveries that offer at least a couple of vegetarian dishes on their menus, evaluate them individually, and compare them in terms of how well they satisfy our crucial selection criteria.
First, we focus on the variety of the meat-free meals on offer. If there are too few vegetarian dishes to mention, the meal delivery in question is not worth your time.
Once we eliminate the services that do not offer enough vegetarian options, we conduct a deeper analysis of the short-listed companies and assess the nutritional value of their vegetarian dishes, along with the portion sizes. We choose the ones that offer perfectly balanced and nutritious meals that can satisfy virtually any veggie lover's appetite.
The meal delivery services that meet the abovementioned requirements and offer a great variety of healthy, tasty, satisfying, and well-balanced vegetarian meals are then compared in terms of the flexibility of their subscription plans and the value they offer for your money. The final result of our selection process is a list of vegetarian meal delivery services that offer amazing vegetarian meals at affordable prices and allow you to customize your orders and easily manage and modify your subscription so it perfectly matches your desires.
Best Vegetarian Meal Delivery Companies
What all of our top picks have in common is that they are currently the best on the market. Now it is time to discover what makes each of these vegetarian meal delivery companies unique. Explore their distinctive features in the mini-reviews below and choose the one that best satisfies your needs.
1. Trifecta Nutrition
Trifecta Nutrition is one of the finest organic meal delivery services on the market and one of the best and healthiest choices for vegetarians as well. Its meals are not only 100% USDA-certified organic, but they are also free from gluten and soy, they are never frozen, and they are perfectly balanced, bringing you all the valuable nutrients you need. Opt for the excellent Trifecta Nutrition Vegetarian plan or order a la carte.
2. Veestro
Created for vegetarians by vegetarians, Veestro is a high-quality meal delivery service that puts an emphasis on the importance of eating greens. With this company, you can enjoy organic, non-GMO meals made from hand-picked ingredients at affordable prices, reaping the benefits of a meat-free diet and maintaining a healthy lifestyle. You can opt for its weight-loss meal plan, a la carte ordering or one of its specialized veggie meal packs.
3. Balance By BistroMD
Balance By BistroMD is a vegetarian-friendly meal delivery service that offers some of the healthiest and tastiest veggie dishes on the market. Its plant-based menu is filled with doctor-designed, medically-approved meals, freshly made from natural ingredients and optimally balanced, providing all the valuable nutrients your body needs. Rich in high-quality lean protein, the meals keep you full for hours. Choose from dozens of healthy breakfasts, lunches, dinners, and snacks.
4. Fresh Meal Plan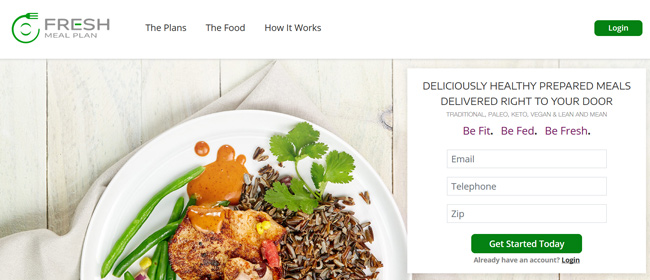 Fresh Meal Plan uses farm-fresh ingredients to design over 20 vegetarian-friendly items every week. You can opt for its plant-based meal plan and order meat-free breakfasts, lunches, and dinners of your choice, along with extras like cookies, salads, and cooked veg in bulk. You can order 6, 10 or 14 meals per week, all of which are fresh, never frozen, microwave-ready, and take just 2-3 minutes to reheat. The prices are more than reasonable and you can modify or cancel your subscription anytime.
5. Vegin' Out
Vegin' Out offers vegan/vegetarian meal plans for both singles and couples. Its weekly menu features 10 vegetarian-friendly items, including plant-based, oil-free entrees, sides, soups, breakfasts, and cookies, all of which are included in your delivery. You can customize your orders to exclude ingredients you dislike or need to avoid and include extra entrees, sides, soups, juices, and more. If you are looking to lose weight, cut down on carbs or control your blood sugar, Vegin' Out has vegetarian-friendly options for that as well. Its meal plans come with zero commitments, they are rather affordable, and shipping is included in the price.
6. Splendid Spoon
Splendid Spoon makes it easy to eat well with its ready-to-eat and ready-to-heat soups, smoothies, and grain bowls made of all-natural, GMO-free, and organic ingredients. Everything on its menu is plant-based and perfect for vegetarians. You can enjoy the smoothies straight from the sippable bottle while grain bowls and soups can be reheated in just 2-4 minutes in a microwave. You can get 5-15 meals per week and customize your order to your taste. No matter where you live, shipping is free on every delivery you get.
7. Freshly
If you love having fresh, healthy, ready-made meals in your fridge when you come home from work, Freshly can be a great choice. This vegetarian-friendly meal delivery uses only high-quality ingredients free from processed foods and offers at least 4 vegetarian dishes per week. Each meal contains a single serving and you can get 4, 6, 9 or 12 of them per week. The prices are more than reasonable and free shipping on all orders makes this service an even more affordable choice.
8. Healthy Chef Creations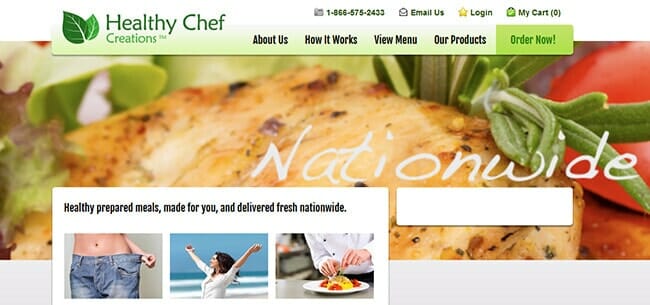 Healthy Chef Creations is passionate about making life easier for veggie lovers who want to eat healthily. It offers delicious and nutritious dishes particularly designed for vegetarians and allows you to complement your meals with healthy sides, snacks, and its signature Spa-Energy drinks. You can decide whether you want to receive regular deliveries with a pre-defined meal plan or hand-pick your meals from the a la carte menu. The service uses organic ingredients and its meals can be customized to contain more of what you love and eliminate what you dislike.
9. Diet-To-Go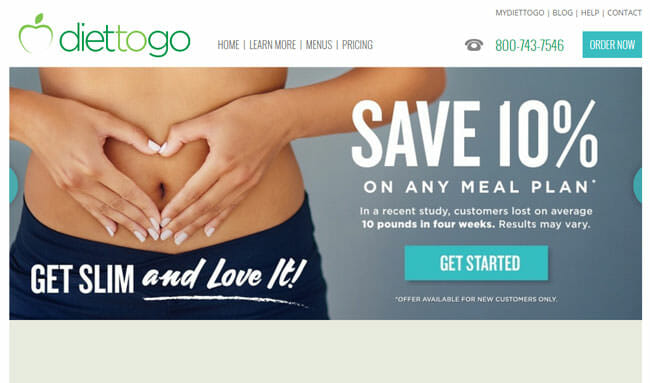 Diet-To-Go is a renowned weight loss meal delivery service that makes it much easier to reach your goal weight by providing tasty, ready-made meals that perfectly suit your needs. Its Balance program is rated #1 for taste by Epicurious and available in a delicious meat-free version particularly designed for vegetarian dieters. This unique vegetarian weight loss plan features nutritionally balanced and heart-healthy meals that are rich in flavor and low in calories.
10. Magic Kitchen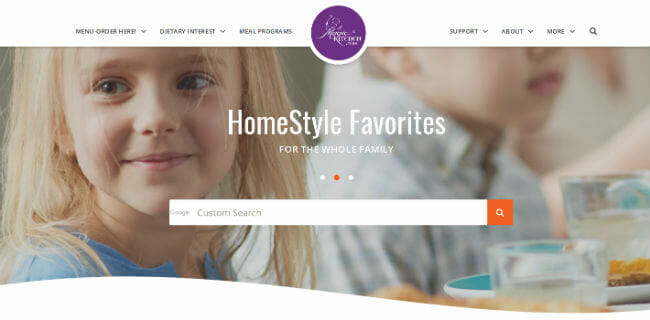 Magic Kitchen is a frozen meal delivery that brings you dietitian-designed, chef-crafted vegetarian dishes for every meal of the week. It can work for singles, couples, as well as families, and it lets you order both with and without a subscription. Its vegetarian meals are calorie-controlled, nutritionally balanced, and come in ample portions including an entrée and 1-2 sides. Since the meals are flash-frozen, you can keep them in your freezer for 6+ months. When you are ready to enjoy them, you can microwave them in only 3 minutes.