Splendid Spoon Review
Advertiser Disclosure
This website features affiliate links. For purchases made via these links, we earn commissions that allow us to keep producing helpful content. To find out more
click here
.
Close
Splendid Spoon is a New York-based vegan meal delivery that opened its doors in 2013. Its goal is to make it easy for you to have at least one delicious plant-based meal per day and feel and look better than ever before.
The service was launched by Nicole Centeno who discovered the benefits of veganism during her first pregnancy, after battling an eating disorder. She used the knowledge in biology, nutrition, and diet therapies she gained in college to create a meal delivery that aims to help change the way you think about food.
If you are not a fan of dieting and want to improve your health and figure by actually enjoying good food, keep reading our Splendid Spoon review to find out if this service can make it happen.
What Is Splendid Spoon
Splendid Spoon is an increasingly popular vegan meal delivery that provides ready-made plant-based meals in the form of smoothies, soups, and grain bowls that you can enjoy on the go. Its meals are exclusively made of clean and GMO-free ingredients.
Due to its focus on healthy, low-calorie, fiber-rich meals that can help reset your metabolism, Splendid Spoon is often viewed as a weight loss meal delivery. The truth is that Splendid Spoon does not make any weight loss claims or promise to help you shed 8 pounds in a week. However, it does promise to help you eat better and for many of its customers, following its most comprehensive meal plan has resulted in pounds lost and self-confidence restored.
What Splendid Spoon does is offer good-for-you breakfasts, lunches, and full-day soup cleanses that nourish your body and help it burn fat more efficiently. What you eat for dinner is up to you. According to the founder of Splendid Spoon, eating so well during the day means that you can treat yourself to something that is more calorie-rich for dinner and thus avoid depriving yourself of the foods you love.
Similar to Daily Harvest, Splendid Spoon is an easy solution for improving your well-being through diet. It lets you decide how many of its low-cal, plant-based meals you want to enjoy per week and customize your experience based on your needs and preferences. Keeping in mind the absence of dinner options, Splendid Spoon cannot be described as a complete solution for a healthy, low-calorie diet, but it does help build a strong foundation for adopting better eating habits and transforming your body.
How Does Splendid Spoon Work
As a Splendid Spoon customer, you can choose from 3 different weekly subscriptions: Lunch, Breakfast + Lunch, and Breakfast + Lunch + Reset. The subscriptions bring you 5 to 15 meals per week and allow you to handpick the meals in your deliveries.
The company's menu features over 40 items, including smoothies in sippable bottles and soups and grains in bowls. While the menu does not change on a weekly basis, new items are frequently added to help diversify your diet.
With the Lunch subscription, you get to enjoy 5 bowls per week. The Breakfast + Lunch subscription brings you 5 smoothies and 5 bowls in every weekly delivery. Finally, the Breakfast + Lunch + Reset weekly subscription includes 5 smoothies, 5 bowls, and 1 full-day Reset featuring 5 light soups.
While the service is entirely subscription-based and does not offer one-off ordering, there is no minimum subscription period. You can cancel as soon as you receive your first delivery or keep ordering for as long as you wish. You can pay for several deliveries in advance or choose to be billed weekly.
If you wish to skip a delivery or cancel your subscription, you can do it in a minute by logging into your Splendid Spoon account and making the desired changes. For changes to apply to your next scheduled shipment, you should modify your account before the weekly cut-off. If you receive your deliveries on Wednesdays, the cut-off is at 4 PM ET on Thursday before your next delivery. If you get your meals on Fridays, the changes should be made before 4 PM ET on Sunday.
What Makes Splendid Spoon Different
As mentioned previously in this Splendid Spoon review, the service exclusively focuses on healthy, ready-made vegan meals. This alone makes it different than most prepared meal delivery services on the market since 100% plant-based options are still rather rare.
Its menu is quite unique as well. Unlike most meal deliveries that focus on dinner, Splendid Spoon does not offer dinners at all but instead provides breakfasts and lunches. Since its smoothies and bowls are ready-to-eat, that means that you get to eat low-calorie, nutrient-rich meals during the day, while you are at work or on the go, and then decide what you want for dinner.
You can combine Splendid Spoon breakfasts and lunches with dinners from your other favorite meal delivery, cook your dinners yourself or dine out. While there are certainly many customers who would love to see dinners on the Splendid Spoon menu as well, there are also those who greatly appreciate the flexibility the service provides. Plus, the service features plenty of delicious dinner recipes on its site to help you make good choices when cooking on your own.
To show how much it appreciates your being a loyal patron, Splendid Spoon has launched a loyalty program that lets you earn credit whenever you order. For every $100 you spend on your deliveries, you get 5 points, that is, $5 in Spoon Credit. Furthermore, when you refer a friend, you get a $25 credit and your friend gets $25 off the first order. Whenever you collect $25 in credit, you can use it as a discount on your next order. This is a rather easy and convenient way to save cash on your smoothies and bowls.
It is also good to note that Splendid Spoon offers gift cards that can serve as excellent last-minute gifts. You can treat someone to a week of Lunch for $65, a week of Breakfast + Lunch for $95, and a week of Breakfast + Lunch + Reset for $135. Alternatively, you can send a gift card with a custom value of your choice.
Splendid Spoon Meals And Recipes
Splendid Spoon meal options
Previously in this Splendid Spoon review, we mentioned that the service has a 40-item menu that is expanded frequently. Normally, you can choose from about a dozen smoothies, 2 dozen soup and grain bowls, and 5 Reset soups.
In the Smoothie section, you can find creative, nutritious, and tasty plant combos like Blueberry Coconut Smoothie with acai and cinnamon, Strawberry Goji Smoothie with cashew butter and baobab powder, and Green Matcha Smoothie with avocado and spirulina.
When it comes to grain bowls, you can enjoy the likes of Aloo Gobi Quinoa Bowl with peas and cauliflower, Brown Rice Taco Bowl with black beans and tomato salsa, and Tuscan White Bean & Tomato Bowl with greens and fennel ragout.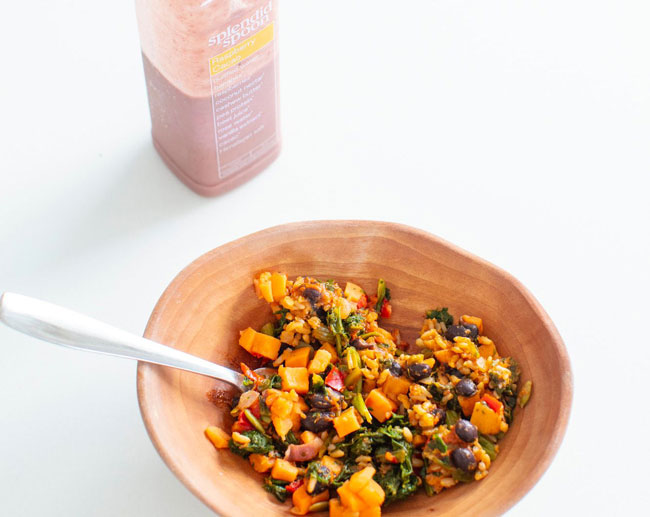 Soup bowls are equally scrumptious and flamboyant and include such creamy, fragrant goodness like Green Split Pea Soup with tarragon and basil, Garden Minestrone with zucchini and basil, and Cumin Sweet Potato with cashews and cilantro.
Reset soups are designed to be lighter than standard soups. You get all 5 of them in your delivery if you opt for the Breakfast + Lunch + Reset plan. They are lower in carbs, sodium, and calories and designed to cleanse your body. On a day of your choice, you get to eat all 5 soups and nothing else but water in order to reset your body and help your digestive system take a break from heavier foods. You can expect to enjoy Pumpkin Pear Bisque with hempseed and cardamom, Butternut Turmeric Soup with sweet potatoes and nutmeg, Parsnip Apple Puree with celery root and cinnamon, Cauliflower Potato Chowder with navy beans and rosemary, and Fennel Consommé with lemon peel and dill.
Nutrition Facts
All the items on the menu are plant-based, fiber-rich, gluten-free, dairy-free, and GMO-free. The meals are generally designed to be rich in healthy fats and plant proteins, but more than a few of them are low in fat as well as carbs. Smoothies are often low in sugar. Each item comes with nutrition facts along with allergen warnings and information on the health benefits of the ingredients used.
Smoothies and soups come in 16-ounce bottles and bowls and grain bowls come in 2-cup portions. If you are having a meal, you should enjoy the entire bottle or bowl. If you are having a snack, you should eat half the bottle or bowl. The average calorie count is between 80 and 200 calories.
If you are allergic to something other than gluten or dairy or you simply wish to avoid certain ingredients, you can state your preferences when signing up. You can choose to eliminate beets, cilantro, coconut, tree nuts, mushrooms, and/or spicy food.
Heating & Storage Tips
When you receive your meals, you should place them in your fridge if you plan on enjoying them within a week. They are shipped frozen and delivered chilled. You can keep your bowls in your fridge for a week and use up your refrigerated smoothies before the Enjoy By date printed on the bottles. If you do not think you can eat everything within a week, you should place the extra meals in your freezer and eat them within a month.
Smoothies can be enjoyed straight from the bottle, whenever you need a healthy meal. Soups and grain bowls can be heated in a microwave or on a stovetop.
The bowls are microwave-safe (and free from BPA), so you can just remove the lid along with the seal and pop your bowl into your microwave without defrosting it. It takes just 2-4 minutes to reheat both soups and grain bowls in a microwave set on high. If you are heating your meal on a stovetop, you should just transfer it to a saucepan and cook on low or medium heat for a few minutes, stirring occasionally, until it reaches the desired temperature.
How Much Does Splendid Spoon Cost
With Splendid Spoon, the price you pay depends on the meal plan you opt for. You can expect to pay $5 to $14 per meal and $50 to $145 per week. You get to enjoy free shipping on all orders regardless of where you live and which meal plan you choose.
If this sounds a bit expensive, you may be happy to hear that there is an easy way to reduce the cost of your deliveries. The service offers sizable discounts to customers who choose the Prepay & Schedule option, which lets you pay for 4, 8 or 12 weeks in advance, schedule your upcoming deliveries, and save cash on your orders. You can opt for Prepay & Schedule after you receive your first delivery.
Now that we have covered the basics, let us take a look at our Splendid Spoon pricing breakdown and find out how much each meal plan costs.
Lunch
Meals per week
Price per meal
Price per week
5
$13.00
$65.00
Breakfast + Lunch
Meals per week
Price per meal
Price per week
10
$9.50
$95.00
Breakfast + Lunch + Reset
Meals per week
Price per meal
Price per week
15
$9.00
$135.00
Where Does Splendid Spoon Deliver
Splendid Spoon ships all over the contiguous US. It delivers its meals to both residential and business addresses. At the moment, you can only choose to receive your deliveries on Wednesdays or Fridays, but more delivery day options are coming soon.
All the meals are shipped via FedEx. They are delivered frozen and neatly tucked into insulated boxes with ice packs. When your order leaves the company's facilities, you should receive an email with your tracking number. Packages are normally delivered within 1 or 2 days after they are shipped, depending on the location.
When your meals reach your home, they should be chilled if not frozen. If they arrive warm or damaged or there is something missing from your order, you can send an email to Splendid Spoon within 14 days after you are charged for your delivery and request a credit or refund.
Splendid Spoon Pros & Cons
To make sure Splendid Spoon meets all your standards and expectations, it is important to know its biggest advantages and disadvantages. With a short overview of its pros and cons, you can easily decide if Splendid Spoon is the right meal delivery service for you.
Pros
40+ smoothies, soups, and grain bowls on the menu
3 meal plans for different lifestyles
Non-GMO and organic ingredients
100% plant-based meals
Vegetarian-friendly, low-calorie, gluten-free, and dairy-free
Free shipping on all orders
Cons
Delivered frozen
Not ideal for those with a big appetite
Does not offer dinners
Sample Dishes
With Splendid Spoon, you get delicious meals prepared by pro chefs at affordable prices. To find out what kinds of delights you will receive in your delivery, we have chosen a couple of sample dishes that accurately represents its offer and can help you decide if it is the right service for you.
Brown Rice Taco Bowl
Chocolate Cherry Smoothie
Fennel Consomme
Green Split Pea
Bottom Line
We finish off this Splendid Spoon review with mixed feelings. There is a lot we loved about this service. Its menu is rich, its recipes are creative and delicious, its ingredients are healthy, and its meals can fit virtually any diet. Although the prices are not too low, they are ok and free shipping is a much-appreciated bonus.
On the other hand, we always prefer fresh over frozen and we wish the meals were a bit more filling. We definitely hope the service soon starts offering satisfying dinners to go with its breakfasts and lunches since this would make it easier for its customers to eat right throughout the day.
Overall, although there is room for improvement, we find Splendid Spoon to be a great choice for anyone who wants to enjoy a healthier diet, eat more plants, and reap the health benefits that come with eating clean, vegan meals throughout the week.