Compare Prices
The following price comparison is designed to help you easily figure out which of our top-ranked weight loss meal delivery programs best fits your budget. We have brought all the pricing information to one place, including the shipping costs and details about the companies' delivery areas, so you can identify the perfect fit in a single glance.
Company
Price Range
Shipping
Delivery Areas
Bistro MD
Price Range
Shipping Cost
$19.95
Delivery Areas
Nutrisystem
Price Range
Shipping Cost
$0
Delivery Areas
South Beach Diet
Price Range
Shipping Cost
$0
Delivery Areas
Diet-to-Go
Price Range
Shipping Cost
$9.99
Delivery Areas
Veestro
Price Range
Shipping Cost
$0
Delivery Areas
Atkins Meal Delivery
Price Range
Shipping Cost
$6.95
Delivery Areas
Medifast
Price Range
Shipping Cost
$0
Delivery Areas
HMR Programs
Price Range
Shipping Cost
$0
Delivery Areas
Paleo On The Go
Price Range
Shipping Cost
$22+
Delivery Areas
WonderSlim
Price Range
Shipping Cost
$0
Delivery Areas
The Mayo Clinic Diet
Price Range
Shipping Cost
$0
Delivery Areas
Benefits Of Weight Loss Meal Delivery Services
Meal delivery services work by bringing food to your doorstep. With a meal delivery service, you actually subscribe to a plan that covers you for an extended period. You pick a plan, decide how many meals you want to receive and how often, and customize your menu according to your needs and preferences. This last part is particularly important for those interested in weight loss.  
Weight loss meal delivery services provide you with ready-to-eat meals that are usually frozen fresh and only need to be reheated, which takes around 10 minutes. This is a significantly smaller time commitment than cooking the entire meal from scratch. Bottom line, going with meal deliveries is much more convenient than cooking all your meals the traditional way.
When it comes to weight loss, meal delivery services are an even greater blessing. As you may know, losing weight is not exactly easy. It takes a lot of hard work, dedication, patience, and time – and not everyone is lucky enough to have all these at their disposal. You may be resolute and dedicated to weight loss but perhaps you don't have enough time to cook and eat healthily or you can't figure out which foods to eat in order to lose weight. Whatever the case may be, the best meal delivery services for weight loss will do most of the work for you. All you need to do is pick a plan, specify your preferences, and pay for your meals. 
How Are Weight Loss Meal Deliveries Different
You may be wondering what exactly makes a good weight loss meal delivery service. First of all, the company has to offer customizable plans. You need to be able to specify what kind of food you are interested in receiving. Most meal delivery services allow you to request low-carb, low-sugar, low-sodium foods, tailoring your meals according to your specifications. Furthermore, many companies, including some on our list, have specific programs designed to help you lose weight. They carefully count the calories, use ingredients known for aiding weight loss and promoting a healthier lifestyle, and make the portions just the right size. Some companies even offer healthy snacks that are supportive of weight loss, as well as additional weight loss items.  
Moreover, weight loss meal delivery services usually make sure to provide details regarding the nutritional value of your meals, from all the vital nutrients to the calorie count. That way, you can rely on the meal delivery service to help you eat better and lose weight, also making sure they are not cutting any corners.  
The best weight loss meal delivery programs usually employ a team of physicians, dietitians, nutritionists, and other experts who make sure their diet plans are actually going to help you lose weight. Some of them also offer help and support via tutorials, knowledgebases, books, and brochures. 
Finally, what's the use of healthy, lean food if it's going to be bland and dull and make you feel lousy? This kind of food is precisely what makes people drop out of their diet plans and regimes, but fortunately, with these meal delivery services, that will never be the case. These companies employ top chefs who come up with delicious, mouth-watering, and exciting dishes for all your meals and who help you actually enjoy your diet as you lose weight. 
Choosing The Best Weight Loss Meal Delivery Program
Choosing the best meal delivery service to achieve your weight loss aspirations is not always easy. This guide is carefully designed to eliminate aimless wandering and provide you with relevant info on some of the best weight loss delivery programs on the market. 
We implemented an all-encompassing set of ranking criteria comprised to screen all the relevant providers and award only the best with spots on our list. We'll share the most important ranking factors with you in order to familiarize you with our ranking process. 
First of all, we pay great attention to the available meal options. This criterion tells us whether any particular provider can accommodate the individual needs of potential users. Our top-ranked weight loss meal delivery services usually feature gluten-free, vegetarian, vegan, Paleo, and many other options, giving you a wide range of choices that can meet the requirements of any chosen diet. They also allow you to customize your subscription in accordance with your dietary preferences, which enables you to eliminate certain ingredients you don't like or are allergic to. In other words, being able to choose between different meal plans lets users answer the demands of different lifestyles. 
Variety is also an essential quality in all meal delivery services designed to help you lose weight. Here, we want to see a rich menu that rotates on a weekly or monthly basis. This way, you'll be able to introduce some much-needed variety into your dietary routine.
Since most successful diets include counting calories, the nutritional value of the meals is a relevant factor as well. We want to see meals that not only taste good but also provide you with the optimal amount of all the major nutrients required for normal functioning on a daily basis. Only tasty, nutritionally balanced, and healthy meals merit our final recommendation. 
Our next criterion deals with the portion sizes offered by our top-ranked providers. As this factor is highly subjective, portion size is considered sufficient for the purpose of this guide only if it provides you with enough energy and nutrients to complete your daily tasks without any additional effort and keeps you feeling full between meals, eliminating the need for snacks. 
Finally, we inspect flexibility and prices. In our book, the best weight loss meal delivery programs need to be affordable without any hidden costs and offer flexible subscriptions. In other words, we want to see shipping costs clearly stated on the official websites, as well as any additional fees the company may charge. On top of that, users have to be able to pause or cancel their subscription at any given moment. 
Best Weight Loss Meal Delivery Programs
What all of our top picks have in common is that they are currently the best on the market. Now it is time to discover what makes each of these weight loss meal delivery programs unique. Explore their distinctive features in the mini-reviews below and choose the one that best satisfies your personal needs.
1. BistroMD
BistroMD is a meal delivery service that focuses on delivering carefully planned, nutritive, healthy, and downright delicious chef-prepared meals. You will have the possibility of choosing your dishes every week, also receiving all the necessary support in your weight loss efforts.
BistroMD was founded by weight loss specialist Caroline J. Cederquist, M.D., so you can count on receiving meals that'll meet all your nutritional requirements while allowing you to start losing weight for real as early as week one. 

2. Nutrisystem
Nutrisystem is a provider of products and services dedicated to weight loss. The company is currently one of the most popular meal delivery services in the world.
Every meal option is produced in accordance with the highest health standards and strikes a perfect balance of all the necessary nutrients. The food is rich in protein and fiber but also contains low-glycemic carbs. This will not only keep your blood sugar in check but also reduce cravings while you're dieting.
3. South Beach Diet
South Beach Diet is a weight loss meal delivery that works best for dieters who need to reduce their carb intake. The service allows you to choose from 80+ ready-made meals and snacks that are low in carbs, high in lean protein, and rich in healthy fats and nutrients.
The meals are available within 3 budget-friendly meal plans. The program is best suited for omnivores and diabetics. You can expect to lose up to 9 lbs. in just 2 weeks.
4. Diet-To-Go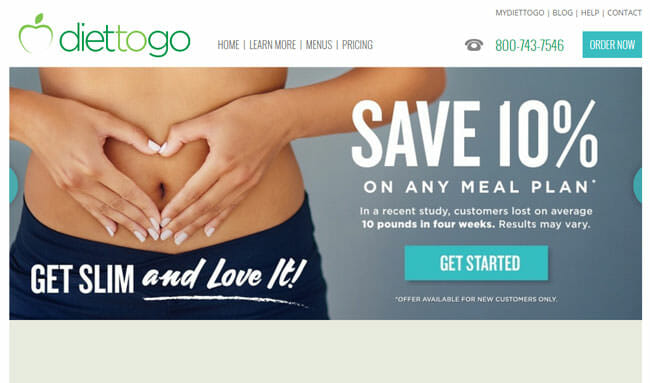 Diet-To-Go is an innovative meal delivery service that allows you to personalize your selection of healthy, tasty, and ready-to-eat dishes in accordance with your taste and preferences. It also implements portion control developed with your dieting goals in mind.
In order to gauge your current state, the company performs a free assessment of your BMI and suggests an appropriate meal plan based on your results. You can further customize your menu to include the ingredients you like and eliminate the ones you don't enjoy.
5. Veestro
Veestro is a meal delivery service that definitely stands out. The company aims to deliver happiness to busy people and not just put a bunch of generic meals on their tables. It specializes in vegetarian and vegan dishes, allowing even the busiest of individuals to meet the requirements of these dieting programs.
Veestro sees plants as the greatest food on earth and offers only the freshest, hand-picked ingredients. A wide variety of available plans is bound to provide you with one that'll fit your desired dietary goals perfectly.
6. Atkins Meal Delivery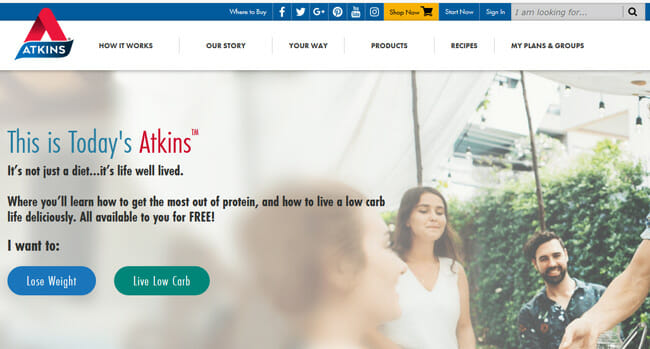 Atkins Meal Delivery provides meals, bars, shakes, and treats that follow the rules of the famous Atkins diet. All 80+ items on the menu are low in carbs and rich in nutrients, allowing for healthy weight loss of about 2 pounds per week. You can order as much food as you need, whenever you like. Atkins food items are affordable, shipping is free on larger orders, and you get discounts if you opt for auto delivery. You also get Atkins meal plans and helpful resources completely free of charge.
7. Medifast
Medifast is a risk-free weight loss solution designed by a team of experienced doctors and nutritionists. Its effectiveness has been proven in clinical studies and the experiences of thousands of dieters and more than 20,000 doctors.
It allows you to enjoy delicious, chef-prepared meals throughout the day, stay full and happy, and lose as much weight as you want without jeopardizing your health. The prices are low and the service offers a 100% satisfaction guarantee, so you have nothing to lose but those stubborn pounds.
8. HMR Programs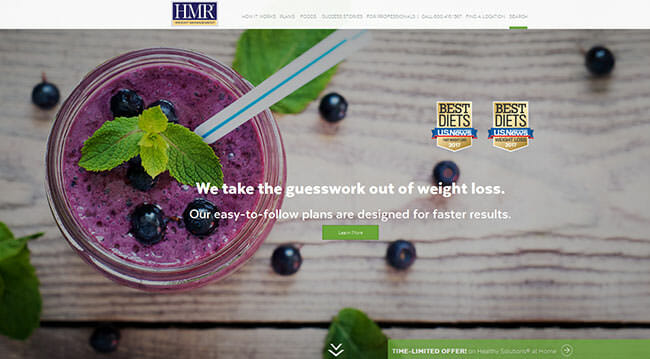 HMR Programs is a healthy weight loss meal delivery that does not only offer delicious diet meals customized to your needs but also provides expert guidance every step of the way. By week 12, you can expect to lose at least 13 lbs. or almost twice as much if you opt for expert coaching, which comes free of charge.
If you want to leave everything to experts and lose weight even faster, you can opt for the excellent Decision-Free in-clinic program.
9. Paleo On The Go
Paleo On The Go is a perfect weight loss meal delivery for dieters who want to transform their bodies by minimizing their carb and sugar intake and eliminating everything that is bad for them from their diet.
Its Keto and Strict 30 menus are rich and designed in strict accordance with the rules of the ketogenic and 30-day reset diets, so you can relax, enjoy good food, and just watch the inches melt away. The best of all is that you can order as often as you want, no subscription or contract required.
10. WonderSlim
WonderSlim weight loss meal delivery service allows you to choose from 3 diet plans including 4, 5 or 7 ready-made meals and meal replacements per day. The plans come in 14-day and 28-day iterations and you can choose between versions for men and women.
WonderSlim diet plans are affordable, dietitian-approved, easy to follow, and designed to help you get fit regardless of your current weight and activity level. They are based on portion control, frequent meals, and the scientifically proven effectiveness of meal replacements.
11. The Mayo Clinic Diet
The Mayo Clinic Diet is a weight loss program created by nutrition experts at the famous Mayo Clinic. It is designed to help you get slim no matter how much weight you need to lose.
Instead of ready-made meals, it provides custom diet plans based on your current eating and activity habits. The subscription is highly affordable and includes a personal meal plan, hundreds of diet recipes, portion-size guides, and free weight loss tools, trackers, and apps.