Smart weight loss plans
Nutrisystem Review - UPDATED Mar 2018
Nutrisystem is a Pennsylvania-based commercial provider of weight loss products and services. They are among the most famous meal delivery services in the world. They started out by selling their products in "brick and mortar" centers but eventually began selling via the Internet and through a call center. Nowadays, Nutrisystem offers personalized meal plans, as well as a selection of special programs that are designed to accommodate specific nutritional and dietary needs. In this Nutrisystem review, we'll explore their rich offer and help you discover whether this is the kind of weight-loss solution you have been searching for.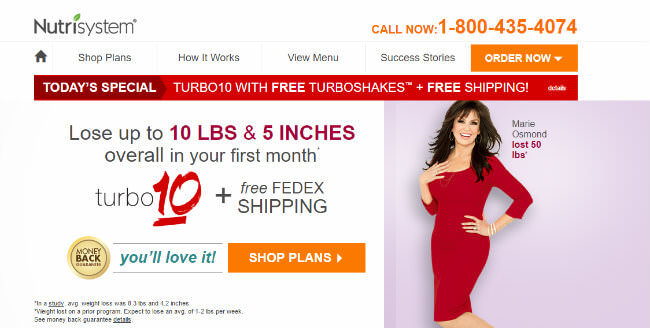 How Nutrisystem Works?
Nutrisystem owes the success of their weight loss diet program to a simple formula that has helped millions of people lose weight already. All their meals are built on the foundation of three strong pillars. The first one is Portion Control, which means that they calculate the perfect calorie count for you and allow you to enjoy their tasty food in reasonable portions. The second one is Balanced Nutrition. By providing you with the perfect nutritional balance, Nutrisystem helps you stay strong and satisfied throughout the day. Frequent Meals is the third pillar of Nutrisystem's effective weight loss programs. You are encouraged to eat up to six times per day, which helps you fight off hunger.
Immediately upon entering their website, you are asked to fill out a form that can help you choose your perfect Nutrisystem meal plan. All you need to do is enter your height and weight and they automatically provide you with a perfect weight loss strategy.
If you're not satisfied with their recommended program, you can customize your plan down to the tiniest of details. Upon picking the plan and choosing your menu, you can place your order and expect it to arrive within 4-10 business days, depending on where you live.
Their FAQ section provides you with a ton of additional information regarding Nutrisystem itself, ordering Nutrisystem diet foods, and starting your weight loss program. Also, you can contact the company through their 1-800 customer service or live chat, which is available from 8am to 11pm EST.
While researching for this Nutrisystem review, we were happy to see that the company has an excellent referral program. You can share their offer with a friend and receive a $50 gift as soon as they make their first purchase. For additional details, check out their Terms & Conditions page.
What Makes Nutrisystem Different?
What distinguishes Nutrisystem from other meal delivery services is their dedication and focus on weight loss. Their meals are based on their successful Turbo 10 program and they provide their customers with a boatload of additional support. They offer fully customized meal plans from an unbelievably rich menu (more than 150 food items), which means you can choose each of your 6 meals for every day of the week. In addition, they provide extra information regarding their weight loss programs and all the tools you might require to safely reach your diet goals.
Nutrisystem also offers a nice insight into their food philosophy – the 3 pillars of their strategy. They make sure that each food item produced adheres to the highest possible health standards. Their meal plans are rich in protein and fiber and contain low-glycemic carbs, which help keep the blood sugar in balance and reduce those cravings we often feel. Not only are their meals nutrient rich and perfectly balanced, Nutrisystem also offers their handy grocery guide that can help you mix in your favorite fresh food throughout the day.
Meals and Recipes
Their Core Plan enables you to design a 4-week plan powered by their Turbo Takeoff Kit. This is a set of meals intended for the first week. They are specifically designed to accelerate weight loss. This Turbo Takeoff Kit is there to help you with their trademark Turbo 10 strategy, which enables you to lose up to 10 pounds and 5 inches during your first month. This prediction is based on a study in which the average candidate lost 8.3 pounds and 4.2 inches.
You are also allowed to cook your own meals and go to restaurants, but Nutrisystem asks you to follow certain guidelines so you wouldn't ruin your results. They provide you with these guidelines.
Each pack contains a selection of breakfasts, lunches, and dinners, plus snacks. With such an extensive plan, you'll very rarely be tempted to "eat outside the box." There are also different plans for men and women.
Nutrisystem offers over 150 unique meals so you'll never get bored or fed up with a certain flavor or style of cooking. Each dish is rated by the Nutrisystem customer community and marked with labels indicating vegetarian or diabetic meals.
Core Program
Their Core Program comes in weekly deliveries. In this program, you get to choose from over 100 different meals and foods and get access to their unlimited support. This support includes access to their counselors, dietitians, tools, and trackers.
The Core Program can be upgraded to Uniquely Yours, which contains everything from the Core, plus some cool additional features. On top of the Core menu, you get an extra 50 meals and snacks to choose from and full freedom to customize your plan with as much frozen food as you wish for a perfect combination of frozen and non-frozen food.
Uniquely Yours Plus
The Uniquely Yours Plus plan is another upgrade to the previous program, which provides you with 28 days' worth of TurboShakes packed with protein and probiotics and a chance to achieve the ultimate weight loss with their best plan.
Moreover, Nutrisystem offers several diet plans based on different dietary needs and preferences. There's a vegetarian plan for those who do not eat meat, the Basic-Diabetes plan, Core-Diabetes, and Uniquely Yours-Diabetes.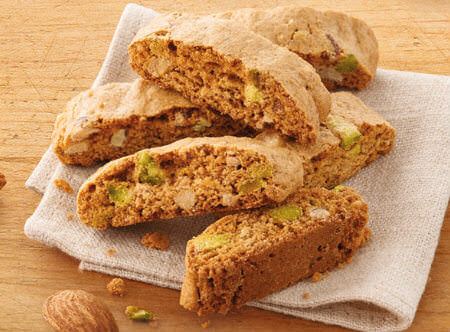 The recipes are carefully selected to combine great variety, amazing flavor, and ideal nutritional value in each meal. Some of the dishes you may expect from the plan include Double Chocolate Muffin for breakfast, a Nutrisystem Coffee Shake for an early snack, Loaded Baked potato for lunch, low-fat Greek yogurt with berries for an afternoon snack, Italian Herb Flatbread Pizza for dinner, and even some honey mustard pretzels for an evening snack.
Pricing
The most affordable plan is the Diabetes Basic plan for four weeks, which costs $9.82 per day. For the whole 4-week program with auto-delivery, you will have to pay $274.99. The Core plan is $10.54 per day or $294.99 for the entire 4-week program with auto-delivery (the Core Diabetes program costs the same) and the Uniquely Yours is $11.96 or $334.99 for the entire program with auto-delivery. The Uniquely Yours Diabetes program costs the same as the Uniquely Yours plan.
It's important to note that Nutrisystem offers free shipping for all 4-week programs. There are also some cool ways to reduce the cost of your first order. For example, subscribing to their email list gives you a chance to save 20% off their best-selling Uniquely Yours program.
A La Carte menu comes with free shipping for frozen items if you order more than $50 worth of frozen food.

Delivery Areas
Nutrisystem delivers food all across the United States, including Hawaii, Alaska, Puerto Rico, APO, and PO Boxes, as well as military addresses and other US territories and possessions.
Pros
More than 150 meals to choose from
Affordable prices
Great customer support
Cons
Auto-renewal can cause complications
Bottom Line
If you're looking for a strong and reliable weight loss partner, you should definitely check out Nutrisystem. They've been on the market for 40 years and boast a myriad of satisfied customers.

Do not get us wrong, Nutrisystem is more than fine. Still, if you want the best of the best, you should definitely check out our Top 10 Meal Delivery Services page where you will find only the finest solutions.