Green Chef Review
Advertiser Disclosure
This website features affiliate links. For purchases made via these links, we earn commissions that allow us to keep producing helpful content. To find out more
click here
.
Close
Green Chef is a meal kit delivery service that offers an astonishing variety of meal programs for different diets, which is one of the main reasons for its growing popularity. This highly successful Colorado-based company was launched in 2014 by a team of experts and food enthusiasts passionate about coming up with creative recipes for delicious, healthy meals that can satisfy nearly any taste and appetite. Its meal ideas are designed with all home cooks in mind, from meat lovers and devoted Paleo eaters to vegans and vegetarians.
Being the first certified organic meal kit company in the US, Green Chef allows you to eat clean, cook easily, and diversify your diet while taking perfect care of your health and saving time on meal planning and grocery shopping. Keep reading this Green Chef review and discover more reasons to give this excellent meal kit delivery a try.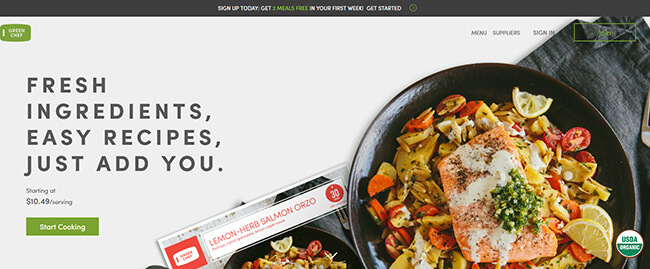 How Green Chef Works
If you want the freshest organic food on your table, Green Chef might be the perfect choice for you. In order to deliver only the finest food to your doorstep, this service cooperates with trusted farmers, ranchers, fishermen, and artisans and settles for nothing but pure natural perfection. The produce it provides is hand-picked, the meat is of the best quality, and the spices are completely natural.
When becoming a customer, you get to choose whether you want to cook for 2 or 4 people. If you are cooking for 2, you can choose from 7 meal programs for different diets while the 4-person option allows you to choose between 2 kid-friendly programs. The service provides a separate weekly menu for each program and the recipes in your delivery are pre-selected, as each menu features just as many recipes as you can order. Although you do not get to choose your recipes, you can decide whether you want to receive or skip the next delivery, depending on whether you like all the dishes on the current menu.
Weekly shipments are delivered in insulated, refrigerated boxes so the ingredients would remain fresh even if you're not home when your order arrives. All ingredients are pre-portioned, which means you can contribute to reducing food waste. Alongside the produce, meat, and company's signature sauces, marinades, and spice blends, you receive easy-to-follow recipes created by an experienced chef. The meals can be prepared in 30 minutes or less.
Your Green Chef subscription is renewed automatically every week, but you're always free to cancel it. The same goes for making any changes to your subscription. You can skip a week,  receive shipments every 2 or 4 weeks or change your meal plan whenever you wish.
What Makes Green Chef Different
Green Chef offers numerous options for anyone who's on a special diet or enjoys a particular lifestyle. There are chef-crafted recipes for meat lovers, omnivores, vegans, vegetarians, keto dieters, people on the Paleo diet, and individuals who are allergic to gluten.
With Green Chef, you don't have to choose between tasty and healthy food. Every single ingredient it provides is carefully picked, GMO-free, and good for your body. This meal delivery service can save you a lot of time you would otherwise spend on grocery shopping. It can also save you money as organic ingredients are usually very expensive in stores.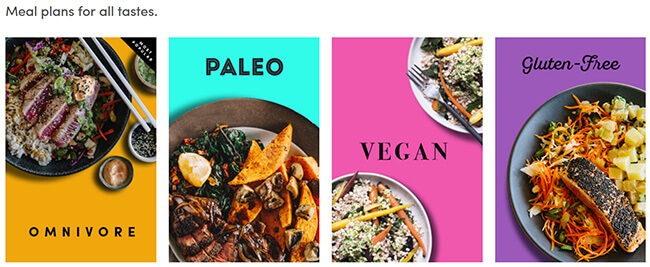 Another characteristic that makes Green Chef different is that it is are truly a green company. The company invests great efforts into educating people about the seriousness of food waste. Plus, all the boxes and packaging you receive from Green Chef are either recyclable or reusable.
Green Chef is uniquely flexible as well. There aren't many meal delivery services that allow you to change your meal plan whenever you want or arrange the delivery when it suits you the most. Fortunately, Green Chef lets you be the master of your schedule by allowing you to pick your delivery day, delivery week, and even delivery month. You can receive shipments weekly, but you can also opt to get a delivery every 2 or even every 4 weeks.
Meals And Recipes
Green Chef offers a phenomenal variety of recipes for a number of diets. The recipes are created by professional chefs and even people with little experience in the kitchen will find it easy to follow Green Chef's instructions. With simple, detailed recipes and pre-portioned ingredients, you can quickly become a skillful chef yourself.

Like we mentioned previously in this Green Chef review, you get to choose between the 2-person and the family plan designed for 4 people. If you opt for any of the 7 different 2-person meal programs, you receive ingredients for 3 meals for 2 people every week.
When you choose the family plan, you get ingredients for 2 family-style dinners per week, both of them portioned for a family of 4. Keep in mind that a professional chef pays close attention to the ingredients and nutritive values, so you will receive recipes appropriate for both children and adults.
Green Chef offers 7 different programs within the 2-person meal plan: omnivore, carnivore, gluten-free, vegan, vegetarian, keto, and Paleo. It is important to note that gluten-free, keto, and Paleo programs are all certified gluten-free. With any of the programs, you get 3 recipes selected by experts from Green Chef.
The family plans provides a smaller number of choices, as you can only choose between the omnivore and the carnivore program with this meal plan.
All recipes are easy, beginner-friendly, and rather quick. You never have to spend more than half an hour in the kitchen and the pre-made signature sauces, marinades, and spice blends allow for speedier prep. Not only that, but they elevate the flavor of your meals and allow you to cook restaurant-grade dishes with minimum effort.
Before we proceed to the Pricing section of this Green Chef review, there is one minor matter we would like to address. Namely, the service clearly states that the 2-person plan is designed for 2 people and that the family plan is designed to satisfy the needs of families of 4, as we mentioned above. What we found peculiar was the fact that once you decide to order, Green Chef asks you whether you want to cook for 1, 2, 3 or 4 people. The problem is that it indeed only offers 2-serving and 4-serving recipes, no matter which number you choose (1, 2, 3 or 4). This may be confusing to some customers and we believe that the service should make matters clearer and remove the 1-person and 3-person options.
Green Chef Pricing
Green Chef charges you per meal, or to be more precise, per portion. With the 2-person meal plan, you receive ingredients for 3 dinners for 2 people, which is 6 servings in total. If you choose the vegetarian program, one serving will cost you $10.49. For vegan and omnivore meals, you'll have to pay $11.99 per serving. Carnivore and gluten-free dinners cost a bit more – every portion amounts to $13.49. The most expensive options are the Paleo and keto programs, where one serving costs $14.99.

The cost of a family omnivore dinner is the same as the cost of meals in the 2-person plan, with each portion amounting to $11.99. However, if your family members like meat and enjoy food rich in protein, you can opt for the family carnivore program. In that case, every portion costs $12.99.
Shipping isn't free, unfortunately. Green Chef charges $9 for shipping and handling your orders, no matter where in the United States you live.
Two Person Plan (2 servings)
Meals per week
Meal kit price
Price per serving
3 paleo meals
$89.94
$14.99
3 vegan meals
$71.94
$11.99
3 gluten-free meals
$80.94
$13.49
3 vegetarian meals
$62.94
$10.49
3 omnivore meals
$71.94
$11.99
3 carnivore meals
$80.94
$13.49
3 keto meals
$89.94
$14.99
Family Plan (4 servings)
Meals per week
Meal kit price
Price per serving
2 omnivore meals
$95.92
$11.99
2 carnivore meals
$103.92
$12.99
Delivery Areas
Your organic ingredients for the most delicious gluten-free, vegetarian or Paleo dinners can reach your home almost anywhere in the continental United States. There are only a few areas in Louisiana that aren't covered. Also, as it is usually the case with meal delivery services, the service does not deliver to Alaska or Hawaii.
Since you can select your delivery day, you should know that it's possible to change it too. You can also change your delivery address, but you have to do so before the weekly cutoff. For example, if you schedule a delivery for Thursday, you need to change your settings before Wednesday midnight the week before.
Green Chef Pros And Cons
To make sure Green Chef meets all your standards and expectations, it is important to know its biggest advantages and disadvantages. With a short overview of its pros and cons, you can easily decide if Green Chef is the right meal kit service for you.
Pros
USDA certified organic, wholesome ingredients for every recipe
Chef-crafted recipes
7 distinct meal programs for different diets
3 certified gluten-free meal programs
Paleo, keto, gluten-free, vegetarian, and vegan options available
Easy cooking with semi-prepped ingredients
Pre-made signature sauces, dressings, and spices
Great flexibility
You can choose the delivery day
Cons
Only 2 programs within the family plan
Sample Dishes
If you subscribe to Green Chef, you can easily prepare culinary masterpieces using only the ingredients and recipes found in your meal kit box. You may not be a pro chef just yet, but with Green Chef, you can easily make restaurant-grade meals. You don't have to take our word for it – check out the images below to get a better idea of the types of dishes you can enjoy with Green Chef.
chiken bruschetta pasta
cumin spiced steak
enchilada quesadilla
tuna poke bowl
Bottom Line
To conclude this Green Chef review, with this meal delivery service, wholesome, organic food can be delivered to your doorstep every week, whenever it suits you the most. Whether you're a vegetarian, vegan or an enthusiastic meat lover, Green Chef has a meal plan for you. You can switch plans, try different diets, and stick to the one you find most suitable for your lifestyle.
Chef-crafted recipes, amazing variety, and the finest organic ingredients combined with unparalleled flexibility make Green Chef a meal kit service you do not want to miss.