Organic food for you & your family
Green Chef Review - UPDATED Apr 2018
Green Chef is a meal delivery service that offers one of the most interesting food selections you've ever seen. They're a team of experts and food enthusiasts who are extremely serious and passionate about coming up with creative recipes for delicious, healthy meals. Meat lovers, vegetarians, devoted paleo eaters – all of you can enjoy the exquisite Green Chef kitchen.
The main goal of Green Chef is to provide their customers with excellent recipes and wholesome ingredients for delightful dinners. From hormone-free meat to GMO-free soybeans, all ingredients and spices in their offer are healthy and organic. Read this Green Chef review for more information.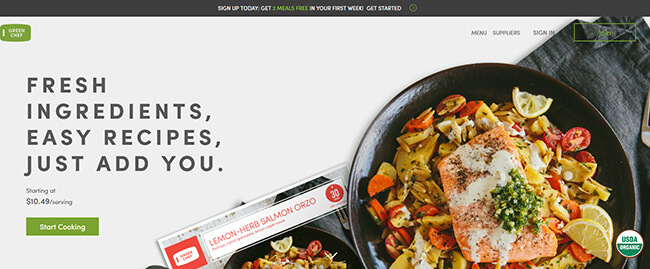 How Green Chef Works
If you want certified organic food on your table, then Green Chef might be the perfect choice for you. They cooperate with trusted farmers, ranchers, fishermen, and artisans in order to provide wholesome ingredients for their many customers. The produce is hand-picked, the meat is of the best quality, and the spices are completely natural.
Weekly shipments are delivered in insulated, refrigerated boxes so the ingredients would remain fresh even if you're not home when your order arrives. All ingredients are pre-portioned, which means you can contribute to reducing food waste. Alongside the produce, meat, and spice, you receive easy-to-follow recipes created by an experienced chef. The meals can be prepared in 30 minutes or less.
There are several meal plans, thoughtfully crafted to satisfy your nutritive needs and meet your specific dietary requirements. Green Chef offers interesting dinner ideas for carnivores, as well as for vegans and vegetarians.
Green Chef subscription is renewed automatically every week, but you're always free to cancel it. The same goes for making any changes to your subscription. You can skip a week, schedule to receive shipments every 2 or 4 weeks or change your meal plan every week.
What Makes Green Chef Different
Green Chef offers numerous options for anyone who's on a special diet or enjoys a particular lifestyle. There are chef-crafted recipes for meat lovers, vegetarians, those who're on the Paleo diet or are allergic to gluten.
With Green Chef, you don't have to choose between tasty and healthy food. Every single ingredient they provide their customers is carefully picked, GMO-free, and good for your body. This meal delivery service can save you a lot of time you would otherwise spend on grocery shopping. It can also save you money as organic ingredients are usually very expensive in stores.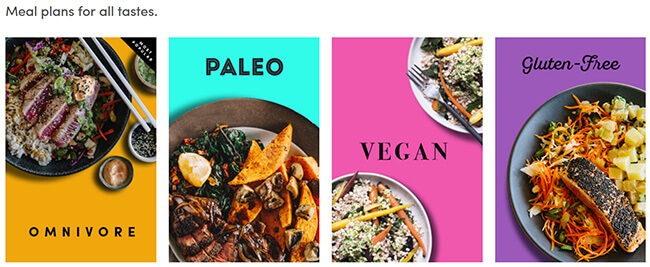 Another thing that makes Green Chef different is that they are truly a green company. The company plays an important role in educating people about the seriousness of food waste. Plus, all the boxes and packaging you receive from Green Chef are either recyclable or reusable
Another important feature of Green Chef is their flexibility. You won't come across many meal delivery services that allow you to change your meal plan whenever you want or arrange the delivery when it suits you the most. Fortunately, Green Chef lets you be the master of your schedule by allowing you to pick your delivery day, delivery week, and even delivery month. You can receive shipments weekly, but you can also opt to get a delivery every 2 or even every 4 weeks.
Meals And Recipes
Green Chef offers a phenomenal variety of recipes for a number of diets. Recipes are created by professional chefs and even people with little experience in the kitchen will find it easy to follow Green Chef's instructions. With simple, detailed recipes and pre-portioned ingredients, you can even become a skillful chef yourself.
With Green Chef, you get to choose between the 2-person and the family plan. If you opt for any of the 7 different 2-person meal programs, you receive 3 meals for 2 people every week. You get enough ingredients for 2 portions.
When you choose the family plan, you get 2 family-style dinners per week, both of them portioned for a family of 4. Meals are created by a professional chef who pays close attention to the ingredients and nutritive values, so you will receive recipes appropriate for both children and adults.
Green Chef offers 7 different programs within the 2-person meal plan: omnivore, carnivore, gluten-free, vegan, vegetarian, keto and paleo. With any of the programs, you get 3 dinners selected by experts from Green Chef. You can't pick the dishes, but you're completely free to change the program whenever you want.
Family plans provide a smaller number of choices, as you can only choose between the omnivore and the carnivore program with this meal plan. If you opt for this plan, you get servings for your whole family.
Before we proceed to the Pricing section of this Green Chef review, there is one minor matter we would like to address. Namely, the service clearly states that the 2-person plan is designed for 2 people and that the family plan is designed to satisfy the needs of families of 4, as we mentioned above. What we found peculiar was the fact that once you decide to order, Green Chef asks you whether you want to cook for 1, 2, 3 or 4 people. The problem is that it indeed only offers 2-serving and 4-serving recipes, no matter which number you choose (1, 2, 3 or 4). This may be confusing to some customers and we believe that the service should make matters clearer and remove the 1-person and 3-person options.
Pricing
Green Chef charge you per meal, or to be more precise, per portion. With the 2-person meal plan, you receive 3 dinners for 2 people, which is 6 servings in total. If you choose the vegetarian program, one serving will cost you $10.49. For vegan and omnivore meals, you'll have to pay $11.99. Carnivore and gluten-free dinners cost a bit more – every portion amounts to $13.49. The most expensive options are the Paleo and keto programs, where one meal costs $14.99.
The cost of a family omnivore dinner is the same as the cost of meals in the 2-person plan, $11.99. However, if your family members like meat and enjoy food rich in protein, you can opt for the family carnivore program. In that case, every portion costs $12.99.
Shipping isn't free, unfortunately. Green Chef charges $9 for shipping and handling your orders, no matter where in the United States you live.
Delivery Areas
Your organic ingredients for the most delicious gluten-free, vegetarian or paleo dinners can reach your home almost anywhere across the continental United States. There are only a few areas in Louisiana that aren't covered. Also, as it is usually the case with meal delivery services, they don't deliver to Alaska or Hawaii.
Since you can select your delivery day, you should know that it's possible to change it too. You can also change your delivery address, but you have to do so before the weekly cutoff. For example, if you schedule a delivery for Thursday, you need to change your settings before Wednesday midnight the week before.
Pros
USDA certified organic, wholesome ingredients for every recipe
Chef-crafted recipes
7 distinct meal programs for different diets
3 certified gluten-free meal programs
Paleo, keto, gluten-free, vegetarian, and vegan options available
Easy cooking with semi-prepped ingredients
Pre-made signature sauces, dressings, and spices
Great flexibility
You can choose the delivery day
Cons
Only 2 programs within the family plan
Bottom Line
To conclude this Green Chef review, with this meal delivery service, wholesome, organic food can be delivered to your doorstep every week. Whether you're a vegetarian, vegan or an enthusiastic meat lover, Green Chef has a meal plan for you. You can switch plans, try different diets, and stick to the one you find most suitable for your lifestyle.
Green Chef delivers healthy ingredients and excellent chef-crafted recipes to your home once a week, whenever it suits you the most. They also give you an opportunity to change the delivery day, skip a week or receive shipments every 2 or 4 weeks.