Compare Prices
The following price comparison is designed to help you easily figure out which of our top-ranked vegan meal kit delivery services best fits your budget. We have brought all the pricing information to one place, including the shipping costs and details about the companies' delivery areas, so you can identify the perfect fit in a single glance.
Company
Avg. Meal Price
Shipping
Delivery Areas
Sun Basket
Avg. Meal Price
Shipping Cost
$6.99
Delivery Areas
Green Chef
Avg. Meal Price
Shipping Cost
$9.00
Delivery Areas
Terra's Kitchen
Avg. Meal Price
Shipping Cost
$0
Delivery Areas
Takeout Kit
Avg. Meal Price
Shipping Cost
$0
Delivery Areas
Hungryroot
Avg. Meal Price
Shipping Cost
$0
Delivery Areas
PeachDish
Avg. Meal Price
Shipping Cost
$0
Delivery Areas
Purple Carrot
Avg. Meal Price
Shipping Cost
$0
Delivery Areas
Foodstirs
Avg. Meal Price
Shipping Cost
$0
Delivery Areas
FreshDirect
Avg. Meal Price
Shipping Cost
$6.99
Delivery Areas
What A Crock
Avg. Meal Price
Shipping Cost
$0
Delivery Areas
Best Vegan Meal Kit Delivery
What all of our top picks have in common is that they are currently the best on the market. Now it is time to discover what makes each of these vegan meal kit deliveries unique. Explore their distinctive features in the mini-reviews below and choose the one that best satisfies your personal needs.
1. Sun Basket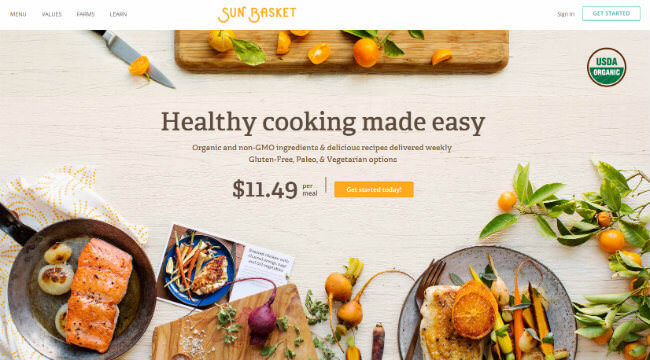 Sun Basket is a meal prep delivery service that offers a wide variety of vegan, gluten-free, lean & clean, and Paleo recipes, alongside clean ingredients and USDA-certified organic produce.  
All of the vegan recipes are approved by dietitians and take only 30 minutes to prepare. The ingredients are pre-measured with a steady influx of seasonal plants at their peak flavor. Hand-picked vegan ingredients are always delivered fresh in insulated, 100% recyclable boxes.  
2. Green Chef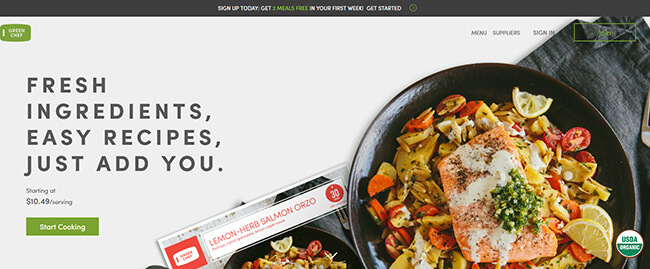 As the name implies, Green Chef is a USDA-certified organic meal kit delivery service that's all about eating and living green. All of its ingredients are sustainably sourced from local farmers and contain no traces of GMO. 
Every week brings delicious new vegan meal kits to the menu, with pre-measured, pre-portioned, and prepped ingredients. With this fresh meal box delivery, you'll have a mind-blowing vegan dinner in just 30 minutes without any grocery shopping or meal planning.  
3. Terra's Kitchen


Terra's Kitchen allows you to prepare delicious vegan recipes without having to waste time on shopping, planning, prepping, etc. The meal prep delivery offers a wide variety of vegan 2-serving meals, 4-serving meals, lunches, snacks, desserts, and beverages.  
Terra's Kitchen delivers fresh and prepped ingredients directly to your door in exactly the right proportions. Its produce is always fresh and top-quality and fruits and vegetables are grower-sourced in order to meet the company's rigorous quality criteria. 
4. Takeout Kit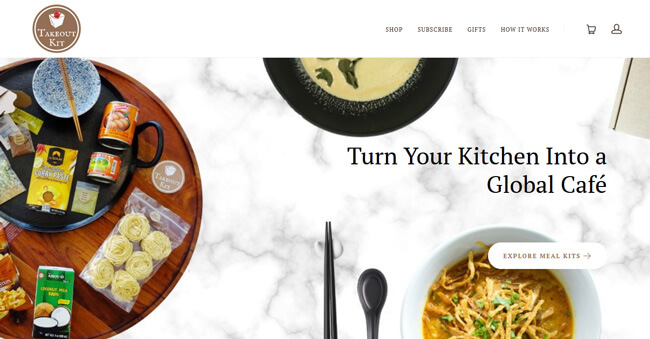 Takeout Kit is a meal prep delivery service launched to make the (culinary) life of its customers much easier with convenient subscriptions and delicious global-inspired vegan meal kits. What sets this company apart is the incredible 2-month shelf life of its meal kits.  
You'll be able to spice up your cooking routine with new global flavors every month while learning new cooking techniques and discovering exotic ingredients you are bound to love.
5. Hungryroot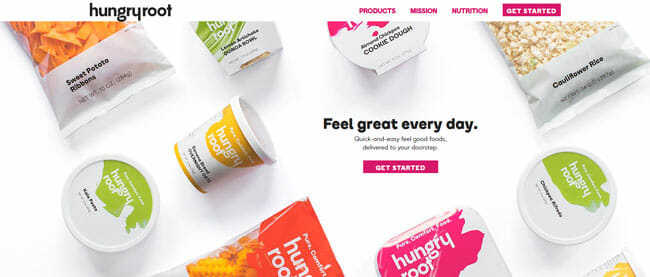 Hungryroot is a vegan-friendly meal box delivery that provides plant-based foods in the form of pre-prepped meal elements and ready-to-eat and ready-to-heat dishes. There are 3 meal plans – Small, Medium, and Large – and dozens of low-calorie vegan items on offer, including fresh-cut veg, vegan sauces, dressings, grains, pastas, proteins, toppings, sweets, and ready-made dishes. With Hungryroot, you are always mere minutes away from a healthy meal, whether you are cooking and assembling the dish yourself or enjoying a chef-crafted meal.
6. PeachDish



PeachDish is a meal box delivery service that allows you to prepare delicious home-cooked meals without having to do any shopping or ingredient prepping. The company always features a certain number of vegan recipes on its menu that changes every single week. All of the ingredients are sourced fresh and delivered pre-measured in special insulated boxes.  
PeachDish makes sure to deliver only the highest quality ingredients without any harmful chemicals and other additives.  
7. Purple Carrot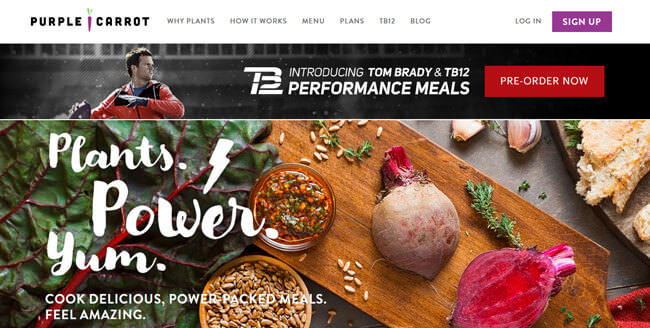 Purple Carrot is a company that allows you to cook amazing plant-based meals by delivering fresh, 100% wholesome, and portioned ingredients right to your doorstep. The menu changes every week to offer a new and outstanding range of plant-based recipes that are also high in protein and, of course, completely gluten-free. You can get 3 tasty dinners per week and grab a couple of 5-minute breakfasts and lunches as add-ons.
As a first-time customer, you'll be eligible for a 20$ discount on your first TB12 Performance Meal, Send Free Meal Program or Gift Purchase.  
8. Foodstirs

Foodstirs is an interesting company that aims to bring baking back into your kitchen. It features a wide range of delicious recipes for all kinds of baked goods and also provides you with all the necessary ingredients. Everything that comes out of Foodstirs is completely organic and without any GMO; not to mention that it is delicious and turns into a mind-blowing baked delight in just 25 minutes.  
All of the mixes are 100% vegan except for the Organic Sunday Stacks Pancake Mix (organic whey). You can also substitute milk and eggs in certain recipes with vegan alternatives.  
9. FreshDirect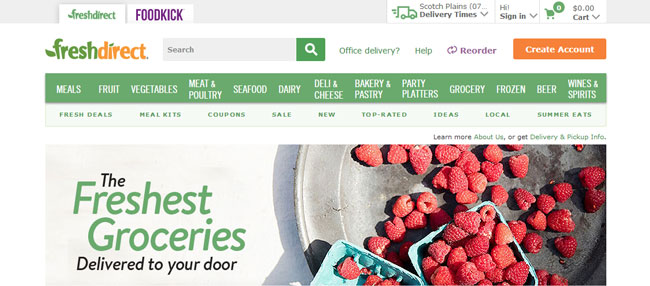 FreshDirect is an organic meal kit delivery that does not specialize in vegan cuisine but is known to offer some pretty amazing vegan meal kits designed with busy, adventurous, and inexperienced home cooks in mind. Although vegan kits are not available at all times, FreshDirect is worth checking out, especially since it offers premium-quality organic ingredients and allows you to shop whenever you want, no subscription required.
10. What A Crock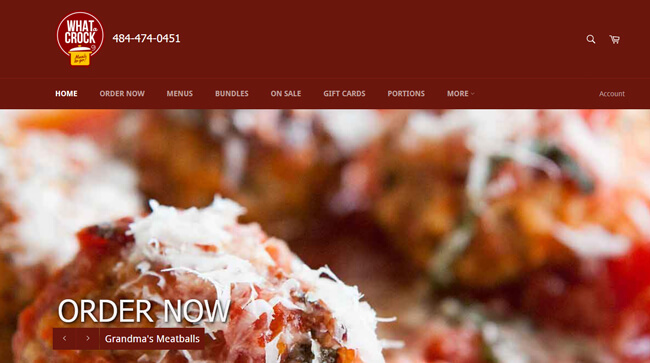 What A Crock is a meal kit delivery service centered around slow cooker, chef-crafted, gourmet meals, which also includes a significant number of innovative and delicious vegan dishes. Basically, all you have to do with What A Crock meal box is place it in your slow cooker in the morning and enjoy a delicious chef-created dinner in the evening.  
What A Crock includes only the best ingredients in its vegan meal kits, sourced fresh, trimmed, chopped, and then browned by professional chefs.