Compare Prices
The following price comparison is designed to help you easily figure out which of our top-ranked vegan meal kit delivery services best fits your budget. We have brought all the pricing information to one place, including the shipping costs and details about the companies' delivery areas, so you can identify the perfect fit in a single glance.
Company
Avg. Meal Price
Shipping
Delivery Areas
Purple Carrot
Avg. Meal Price
Shipping Cost
$0
Delivery Areas
Sunbasket
Avg. Meal Price
Shipping Cost
$6.99
Delivery Areas
Green Chef
Avg. Meal Price
Shipping Cost
$7.99
Delivery Areas
Hungryroot
Avg. Meal Price
Shipping Cost
$0
Delivery Areas
Takeout Kit
Avg. Meal Price
Shipping Cost
$0
Delivery Areas
What A Crock
Avg. Meal Price
Shipping Cost
$0
Delivery Areas
Benefits Of Vegan Meal Kit Delivery
The most common myth associated with veganism is that going vegan guarantees a healthier lifestyle. This is completely untrue since a vegan diet can also include junk foods, such as mock cheeses and meats, vegan desserts, fries, and other heavily processed foods. Therefore, it is very important to know the origins and nutritional value of your food rather than zealously going for "anything vegan." That's why the best vegan meal kit delivery services make sure to provide you only with the top-quality ingredients that'll help you create delicious dishes on a regular basis and move toward a healthier lifestyle. 
Vegan meal kit delivery is also very convenient and allows you to save a bunch of time you would otherwise spend shopping for groceries at your local store. Apart from offering fresh, non-GMO, organic, and sustainably sourced ingredients, the best vegan meal kit delivery services also perform all the initial preparations, allowing you to cook tasty delicacies without too much hassle. All of the ingredients come pre-measured and pre-chopped, which will allow you to execute even the most challenging of recipes without a hitch. 
Lastly, vegan meal kit services are also an excellent choice if you're trying to lose weight. Unlike other diets that are calorie-restricted, vegan diet plans allow you to eat until you feel completely full. You'll naturally eat fewer calories due to a higher fiber intake, which will make you feel fuller after eating less food. Vegan meal kits are recommended if you want to maintain control over your blood sugar, but they can also help in keeping type 2 diabetes at bay. 
How Are The Best Vegan Meal Kit Delivery Services Different
Unlike many other food providers, vegan meal box delivery services make sure you receive only top-quality ingredients at the peak of their nutritional cycle. This means you can stop worrying about harmful chemicals and additives that can endanger your health in the long run. 
Vegan meal kits also provide you with organic, plant-based content without any traces of GMO. In other words, you'll know exactly what you're putting on the table every single day without having to worry about dangerous substances. Not to mention that renowned vegan meal kit deliveries have strict processing policies, which ensure none of the ingredients are cross-contaminated. 
Since vegan meal kit delivery services pay great attention to the origins and overall quality of their ingredients, you'll get to experience the full set of benefits of veganism. For example, you can easily lose weight or maintain a healthy weight. You can keep your blood sugar levels in check without any additional effort and lower your chances of developing type 2 diabetes. Vegan meal kit delivery services can also lower your risk of developing high blood pressure by 75% and the risk of dying from heart disease by 42%. You can also reduce the amount of LDL and total cholesterol. 
Apart from providing you with quality ingredients and guaranteeing numerous health benefits, vegan meal prep delivery services can also save you a lot of time and money, as you won't have to shop for groceries, measure the ingredients or prepare the food.
Choosing The Right Vegan Meal Kit Delivery For You
Maintaining a 100% vegan diet is rather challenging nowadays. Making the time to cook is one thing, but finding the right ingredients is a whole new world of problems. We live in an age of processed foods, preservatives, additives, artificial compounds, and other substances that are downright dangerous to our health. Identifying quality ingredients devoid of GMO and other harmful substances is borderline impossible given our busy schedules. 
That's why we created this comprehensive list of the best vegan meal kit delivery services currently on the market using our meticulous set of ranking criteria. In order to shine some light on the entire process, we'll share some of the most important factors with you today. 
In order to properly gauge the portfolio of any particular vegan meal kit delivery service, we inspect its meal options and the overall variety of meals on the menu. Maintaining a healthy vegan diet shouldn't be boring, so having a wide spectrum of meal choices certainly helps avoid the repetitiveness. 
Nutritional value and portion size are also very important factors since we want to make sure you receive your daily dose of required nutrients. Subscription flexibility and pricing are our final points of interest. The ability to pause, skip or even cancel your subscription is always appreciated and we also want to make certain the value provided is adequate for the money invested. 
Compare Meals And Prices
Previously, we quickly introduced you to our top picks and highlighted their key qualities. Now it is time to dig a bit deeper and find out what makes these vegan meal delivery kits the best of the best. Join us as we explore their offers and pricing and discover which one of them is most likely to suit your cooking style and keep your palate and budget happy.
1. Purple Carrot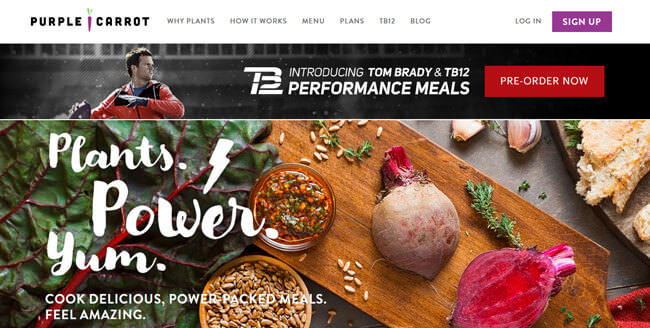 Purple Carrot is a vegan meal kit company that allows you to cook amazing plant-based meals by delivering fresh, 100% wholesome, and portioned ingredients right to your doorstep. The menu changes every week to offer a new range of creative plant-based recipes that are often high in protein and gluten-free. You can get 2-3 tasty dinners per week and grab a couple of 5-minute breakfasts and lunches as add-ons.
2. Sun Basket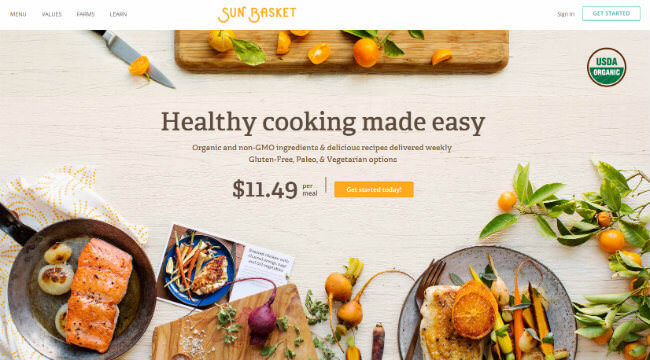 Sun Basket is a meal prep delivery service that offers a wide variety of vegan, gluten-free, lean & clean, and Paleo recipes, alongside clean ingredients and USDA-certified organic produce.  
All of the vegan recipes are approved by dietitians and take only 30 minutes to prepare. The ingredients are pre-measured with a steady influx of seasonal plants at their peak flavor. Hand-picked vegan ingredients are always delivered fresh in insulated, 100% recyclable boxes.  
3. Green Chef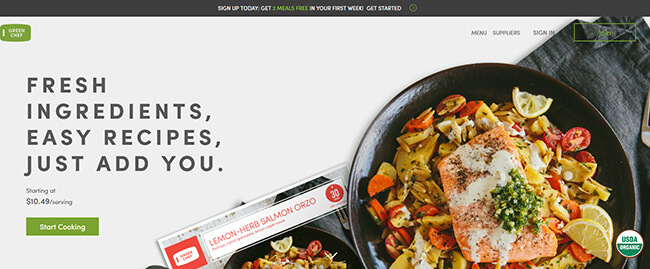 As the name implies, Green Chef is a USDA-certified organic meal kit delivery service that's all about eating and living green. All of its ingredients are sustainably sourced from local farmers and contain no traces of GMO. 
Every week brings delicious new vegan meal kits to the menu, with pre-measured, pre-portioned, and prepped ingredients. With this fresh meal box delivery, you'll have a mind-blowing vegan dinner in just 30 minutes without any grocery shopping or meal planning.  
4. Hungryroot
Hungryroot is a vegan meal box delivery that provides plant-based foods in the form of pre-prepped meal elements and ready-to-eat and ready-to-heat dishes. There are 3 meal plans – Small, Medium, and Large – and dozens of low-calorie vegan items on offer, including fresh-cut veg, vegan sauces, dressings, grains, pastas, proteins, toppings, sweets, and ready-made dishes. With Hungryroot, you are always mere minutes away from a healthy meal, whether you are cooking and assembling the dish yourself or enjoying a chef-crafted meal.
5. Takeout Kit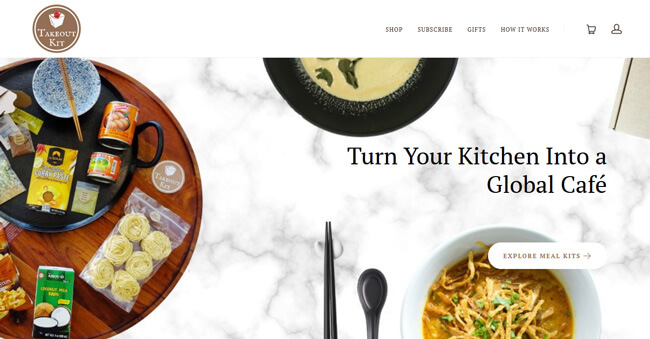 Takeout Kit is a meal prep delivery service launched to make the (culinary) life of its customers much easier with convenient subscriptions and delicious global-inspired vegan meal kits. What sets this company apart is the incredible 2-month shelf life of its meal kits.  
You'll be able to spice up your cooking routine with new global flavors every month while learning new cooking techniques and discovering exotic ingredients you are bound to love.
6. What A Crock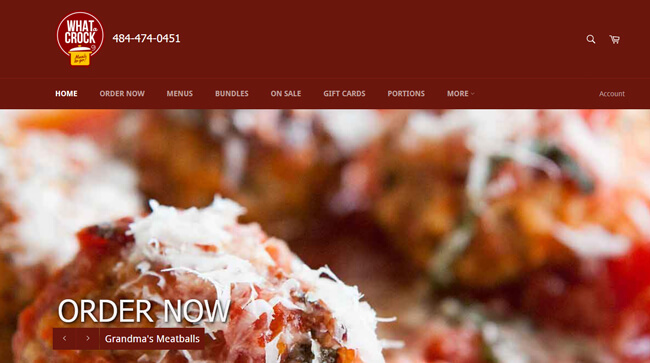 What A Crock is a meal kit delivery service centered around slow cooker, chef-crafted, gourmet meals, which also includes a significant number of innovative and delicious vegan dishes. Basically, all you have to do with What A Crock meal box is place it in your slow cooker in the morning and enjoy a delicious chef-created dinner in the evening.  
What A Crock includes only the best ingredients in its vegan meal kits, sourced fresh, trimmed, chopped, and then browned by professional chefs.