Compare Prices
The following price comparison is designed to help you easily figure out which of our top-ranked keto meal delivery services best fits your budget. We have brought all the pricing information to one place, including the shipping costs and details about the companies' delivery areas, so you can identify the perfect fit in a single glance.
Company
Avg. Meal Price
Shipping
Delivery Areas
Factor
Avg. Meal Price
Shipping Cost
$0
Delivery Areas
Trifecta Nutrition
Avg. Meal Price
Shipping Cost
$0
Delivery Areas
Fresh n' Lean
Avg. Meal Price
Shipping Cost
$0
Delivery Areas
MealPro
Avg. Meal Price
Shipping Cost
$9.99
Delivery Areas
Pete's Paleo
Avg. Meal Price
Shipping Cost
$0
Delivery Areas
Keto Frozen
Avg. Meal Price
Shipping Cost
$0
Delivery Areas
Ice Age Meals
Avg. Meal Price
Shipping Cost
$10-$50
Delivery Areas
Paleo On The Go
Avg. Meal Price
Shipping Cost
$22+
Delivery Areas
Fresh Meal Plan
Avg. Meal Price
Shipping Cost
$0-$20
Delivery Areas
Benefits Of Keto Meal Delivery
If you have decided to go keto, you have made a smart, healthy, and bold choice. You are ready to minimize your carb intake, maximize your fat intake, and turn your body into a fat-burning machine. Keto meal delivery services can help you breeze through the roughest part of the process – the phase where you are just getting used to the keto diet. They allow you to stop worrying about planning your meals and eat professionally cooked dishes created by experts who do not only know how to cook but also know what the keto diet is all about. By having delicious keto meals delivered to your home on a regular basis, you reduce the risk of giving up because the diet requires too much effort. If you always know what your next meal is going to be, you can relax and just enjoy having all the hard work done for you.
These services can also be of great help to those who have already moved on to a more moderate version of the keto diet and are now in the maintenance phase. Although it may be true that you need the greatest amount of help while you are just getting started, it is equally important to stick to your new healthy habits once you have reached your health and weight goal. Sometimes, it takes a lot of willpower not to go back to your old ways and the companies on our list of the best keto meal delivery services can help you stay on track and never gain back those extra pounds that you worked so hard to shed.
How Are The Best Keto Meal Delivery Services Different
One common mistake keto dieters make is assuming that the Paleo and keto diets are more alike than they actually are. This leads them to believe that virtually any Paleo meal delivery can meet their needs. The truth is that while both diets eliminate grains, legumes, and refined sugar and focus on healthy fats, proteins, and leafy greens, they are far from identical. Namely, the Paleo diet is much less rigorous and does not produce the dramatic weight loss results one can expect from the keto diet.
Thus, the main difference between the best keto meal delivery services and most Paleo and non-Paleo meal deliveries is that they provide an abundance of strictly keto options. Yes, most of the really good keto deliveries are also Paleo, but not every Paleo service is the right choice for keto dieters.
The finest keto meal deliveries have experts on the keto diet on their team, which allows them to provide meals that are in strict accordance with the keto diet. Unlike with many allegedly keto-friendly services out there, the meals you get with the best keto meal delivery services are not just labeled keto because they are in line with the basic concept of the keto diet. They follow each and every keto rule and provide meals that are not only 100% keto-friendly, but also optimally balanced, portion-controlled, and downright delicious.
Possibly the most important distinction between the best keto meal delivery services and any other meal delivery service is that with these companies, you can actually relax and take pleasure in the food because you know that every meal you get from them is a completely safe choice. All of their keto meals are really keto, so you can just pick the ones you like the most and enjoy both the flavor and the slimming results.
Choosing The Right Keto Meal Delivery For You
We have to admit that we thoroughly enjoyed every part of the research process that led to the creation of this list. We have tested dozens upon dozens of amazing keto dishes and we can guarantee that the companies featured here have what it takes to satisfy the tastes and cravings of nearly everyone on the ketogenic diet. Their meals are carefully designed and made of fresh, fragrant, natural ingredients, ordering is easy, subscriptions are flexible, and the prices are more than reasonable, keeping in mind the quality of the ingredients and the amount of effort invested in creating perfect keto meals and delivering them straight to the homes of keto dieters.
We strived to provide you with the greatest possible variety, so you can pick the service that truly works for you. Whether you want to receive freshly made meals every week, stock up on tasty meals that you can enjoy whenever you need them or complement your workout with amazing Paleo and keto-friendly meals, you can find just what you need on our list of the best keto meal delivery services.
Basically, what we have done is single out the keto meal deliveries that offer the widest range of keto meals, the highest-quality of food, the most nutritious, satisfying, and well-balanced dishes, the most flexible subscription plans, and the best value for your money. Thus, if you choose any of the companies on our list of the best keto meal delivery services, you can be sure that you are getting nothing but the best at the price you can afford. Now, there is nothing standing between you and your new, healthier, happier lifestyle.
Best Keto Meal Delivery Companies
What all of our top picks have in common is that they are currently the best on the market. Now it is time to discover what makes each of these keto meal delivery companies unique. Explore their distinctive features in the mini-reviews below and choose the one that best satisfies your needs.
1. Factor 75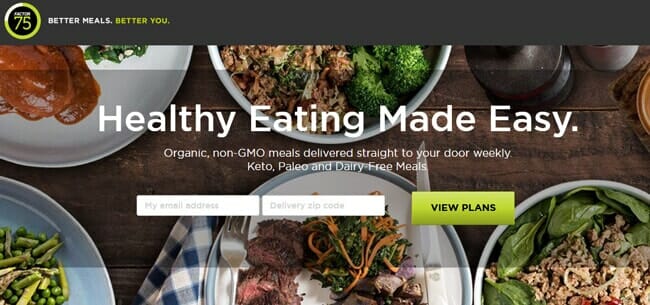 Factor 75 takes its ingredients straight from nature. It always uses organic produce, grass-fed and pasture-raised meat, and wild-caught fish. Plus, everything on its menu is free from gluten, soy, GMOs, hormones, and antibiotics. What makes it perfect for people on the ketogenic diet is the fact that it offers special meals made in complete accordance with keto rules. A total of 18 delicious dishes appear on its weekly menu and around half of them are keto-friendly. To supplement your meals, you can order perfectly seasoned, pre-cooked proteins and cold-pressed juices.
2. Trifecta Nutrition

With Trifecta Nutrition, you get to enjoy organic meals designed in perfect accordance with the rules of the ketogenic diet. The company's dedicated Keto meal plan brings you single-serving meals that contain about 40 grams of proteins, 35 grams of healthy fats, and no more than 10 grams of net carbs. On average, the meals contain 600 calories.
If you want to enjoy greater freedom while ordering, you can create a fully personalized plan by ordering from the a la carte menu. You can purchase pre-cooked, lightly seasoned proteins, veggies, and optional carbs and combine them into meals of your own. The a la carte menu also features keto-friendly almond snacks.
3. Fresh n' Lean

Whether you are interested in a personalized keto meal plan or wish to order delicious keto food a la carte whenever you need it, Fresh n' Lean can work for you. Its tasty ketogenic dishes are available for purchase both with and without a subscription and include breakfasts, lunches, dinners, and sides. You can even get cooked food in bulk and create your own keto meals.
The service lets you eliminate up to 3 ingredients you dislike, so you only get what you love. The meals are always fresh, mostly organic, and take as little as 2-3 minutes to reheat in a microwave. The prices go down as you order more food and shipping is always free.
4. MealPro
MealPro is a keto meal delivery with 18 meals on its menu, more than a half of which are keto-friendly. It lets order with or without a subscription, freely choose your meals, decide on the number of servings per meal, and customize the dishes to increase your protein intake, add more veggies, and remove carbs. You can even order cooked food by the pound and create unique keto meals.
All items on the menu are lightly seasoned and come with sauces and spices that you can add to taste. You can order your keto meals commitment-free, but if you subscribe you get rewards that you can exchange for free meals.
5. Pete's Paleo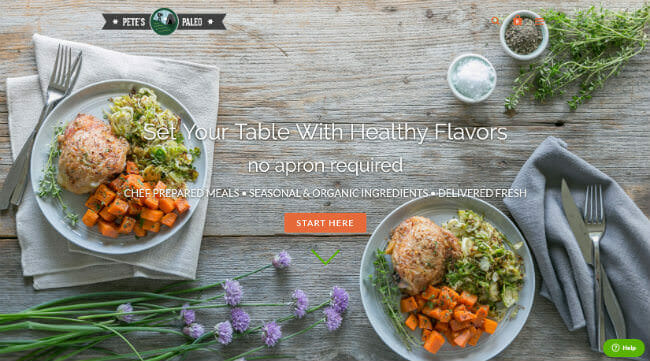 Pete's Paleo is a Paleo meal delivery service that constitutes a perfect choice for keto dieters who want to have delicious keto meals at hand whenever they do not feel like cooking. Its Eat What You Love menu features half a dozen gorgeous, 100% keto meals that you can order as often as you wish. The meals are healthy, natural, freshly made, and delivered frozen for convenient storing. The minimum order is 5 meals and all orders come with free shipping.
6. Keto Frozen
Keto Frozen is an exclusively keto meal delivery that provides highly satisfying power breakfasts and power bowls suitable for lunch and dinner. All of its meals are strictly keto and comprise 75% fat, 20% proteins, and just 5% carbs.  No subscription is required, so you can order whatever you crave, as often as you want. The prices are good and shipping is usually free.
7. Ice Age Meals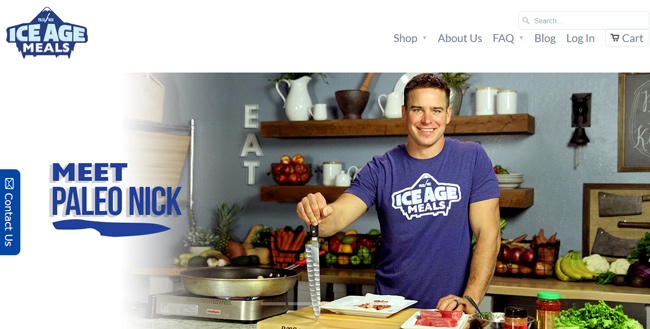 Ice Age Meals brings you keto meals crafted using only real food, including organic produce and grass-fed meat of the highest quality. At all times, there are at least 6 keto meals on the menu, each freshly cooked and seasoned to perfection and flash-frozen for easy storage. You can keep the meals in your freezer for up to 3 months and heat from frozen in just 8 minutes.
The company's keto meals are calorie-controlled, allergy-friendly, and rich in proteins, which makes them perfect for keeping your body in good shape.
8. Paleo On The Go
Paleo On The Go is a healthy meal delivery that offers a dedicated keto and low-carb menu. With over 30 tasty keto items to choose from, sticking to the ketogenic diet is easier than ever. The service does not only offer keto entrees, but also provides keto-friendly veggie sides, soups, breakfasts, sauces, baked goods, and all-natural bone broth. The minimum order is $99 and you can shop as often as you wish. If you choose to subscribe, you can enjoy weekly or monthly deliveries of keto goodness while saving 10% on your first order and 5% on each subsequent delivery.
9. Fresh Meal Plan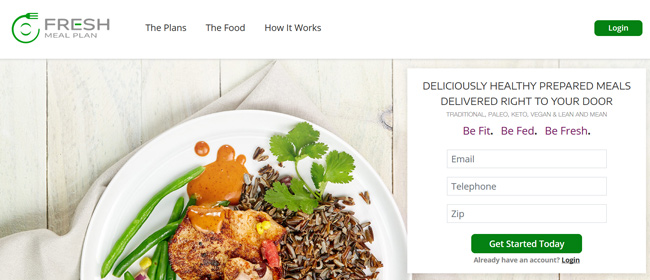 With Fresh Meal Plan, you can choose from over a dozen fully cooked, freshly prepared, chef-designed keto meals every week. If you have unique preferences, you can get pre-cooked proteins, entrées, and sides and create keto meals of your own. You can order 6, 10 or 14 meals per week and decide on the selection of dishes in your orders. You can keep your Fresh Meal Plan meals in your fridge for up to 10 days and pop them into your microwave for 2-3 minutes when you are ready to eat.