Compare Prices
The following price comparison is designed to help you easily figure out which of our top-ranked keto meal delivery services best fits your budget. We have brought all the pricing information to one place, including the shipping costs and details about the companies' delivery areas, so you can identify the perfect fit in a single glance.
Company
Avg. Meal Price
Shipping
Delivery Areas
True Fare
Avg. Meal Price
Shipping Cost
$0
Delivery Areas
Green Chef
Avg. Meal Price
Shipping Cost
$6.99
Delivery Areas
Pete's Paleo
Avg. Meal Price
Shipping Cost
$0
Delivery Areas
Factor 75
Avg. Meal Price
Shipping Cost
$0
Delivery Areas
Paleo Power Meals
Avg. Meal Price
Shipping Cost
$0
Delivery Areas
Keto Fridge
Avg. Meal Price
Shipping Cost
$0
Delivery Areas
Best Keto Meal Delivery Companies
What all of our top picks have in common is that they are currently the best on the market. Now it is time to discover what makes each of these keto meal delivery companies unique. Explore their distinctive features in the mini-reviews below and choose the one that best satisfies your needs.
1. True Fare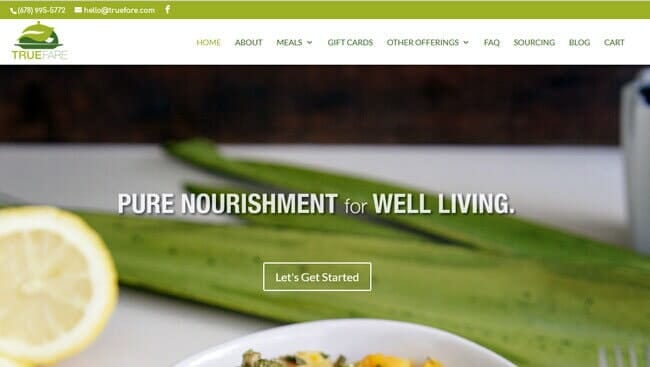 Pre-Made Paleo, which has been renamed to True Fare, is one of the rare meal delivery services that offer specialized keto meal plans. Its 5-day keto plan comes in 4 variations that differ in portion size (5 oz. or 8 oz. entrées) and selection of protein sources (pork or no pork). In addition to the excellent ketogenic meal plan, the service offers handy keto breakfast packs (10 breakfasts per pack), as well as healthy keto snacks and a couple of keto items on the a la carte menu.   
2. Green Chef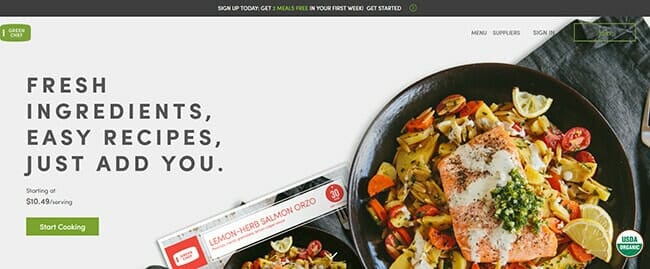 Green Chef is a subscription-based organic meal kit service that makes keto cooking a breeze. It provides a dedicated meal plan for keto dieters including 3 delicious 2-serving recipes per week. All ingredients are USDA-certified organic and free from gluten and dairy. Since the ingredients are mostly prepped and the sauces, dressings, and marinades made by pro chefs, even a beginner can quickly cook a great keto meal with Green Chef. You can start, pause, modify or end your subscription at any time.
3. Pete's Paleo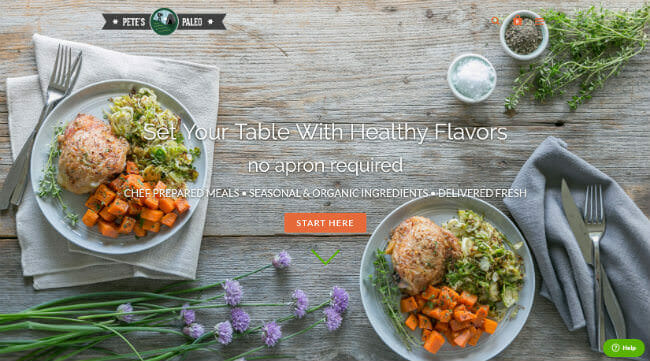 Pete's Paleo is a Paleo meal delivery service that constitutes a perfect choice for keto dieters who want to have delicious keto meals at hand whenever they do not feel like cooking. Its Eat What You Love menu features half a dozen gorgeous, 100% keto meals that you can order as often as you wish. The meals are healthy, natural, freshly made, and delivered frozen for convenient storing. The minimum order is 5 meals and all orders come with free shipping.
4. Factor 75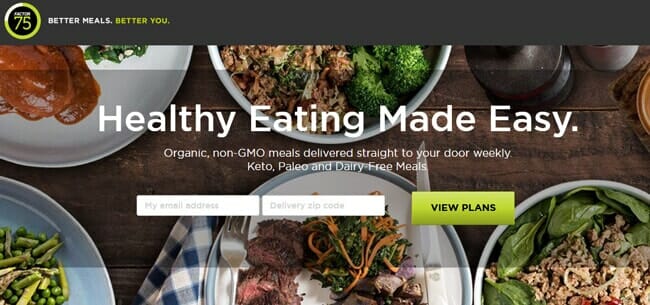 Factor 75 takes its ingredients straight from nature. It always uses organic produce, grass-fed and pasture-raised meat, and wild-caught fish. Plus, everything on its menu is free from gluten, soy, GMOs, hormones, and antibiotics. What makes it perfect for people on the ketogenic diet is the fact that it offers special meals made in complete accordance with keto rules. A total of 16 delicious dishes appear on its weekly menu and around half of them are keto-friendly.
5. Paleo Power Meals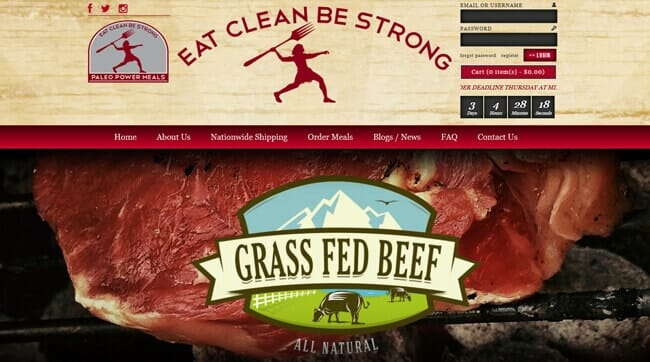 Paleo Power Meals is designed to help you get in great shape through a combination of eating a healthy diet and regularly working out. Its menu features more than 50 amazing items, including breakfasts, lunches, dinners, sides, and bulk items, a large number of which are keto-friendly. Paleo Power Meals uses the highest-quality ingredients, does not use any added sugars, processed foods or legumes, and its meals rarely include grains.
6. Keto Fridge

Keto Fridge is an exclusively keto meal delivery that provides all the nutrition you need throughout the day. With about 50 delicious keto items on its ever-changing menu, you get to enjoy plenty of variety. The menu includes breakfasts, lunches, dinners, pizzas, beverages, snacks, and sweets, all 100% keto and gluten-free. Many of the items are dairy-free and vegetarian-friendly. No subscription is required, so you can order as much food as you need, as often as you want.