Fresh n' Lean Review
Advertiser Disclosure
This website features affiliate links. For purchases made via these links, we earn commissions that allow us to keep producing helpful content. To find out more
click here
.
Close
Fresh n' Lean is an organic meal delivery service particularly designed for individuals on a plant-based diet, those who want to stay fit and energized, and those who want to turn their lives around and start eating as healthily as possible. Its rich menu features freshly made, ready-to-eat meals made of nothing but all-natural ingredients of the finest quality. If maintaining a healthy diet seems like too much trouble, this Fresh n' Lean review will show you how you can keep your body happy without almost any effort.


How Fresh n' Lean Works
Fresh n' Lean offers 100% gluten-free, plant-based, low-sodium meals for a variety of customer profiles. Its meals are suitable for seniors, vegans, vegetarians, people on the Paleo diet, and physically active individuals, as well as people who are trying to lose weight.
The company's customers get to choose between two ordering methods. One involves opting for a subscription and choosing from 4 carefully designed meal plans, including Standard Plant-Based, Standard Low-Carb/Low-Cal Plant-Based, ION Performance Protein +, and ION Performance Paleo. The other option is ordering meals a la carte, commitment-free, without subscribing to the service.
If you opt for a meal plan, you can choose to receive meals for 5 or 7 days per week and decide whether you wish to receive 1 meal per day (lunch or dinner), 2 meals per day (lunch and dinner) or 3 meals per day (breakfast, lunch, and dinner).  You can also customize your meal plan by eliminating the ingredients you dislike or need to avoid or adding some snacks and meals from the a la carte menu to your order. The company also offers you the possibility to set up bi-weekly deliveries.
Fresh n' Lean subscription is extremely flexible and once you have received your first order, you can end or pause your subscription whenever you like. You can skip up to 3 consecutive orders. Pausing for more than 3 consecutive weeks constitutes a termination of subscription. It is important to note that if you want to request plan modifications, skip a week or end your subscription, you need to inform the Fresh n' Lean staff by phone. We have to be honest and say that we believe this is a rather unnecessary complication, given that most meal delivery services allow you to do so online, directly from your account.
What Makes Fresh n' Lean Different
What sets Fresh n' Lean apart from most of the competition is the quality of the ingredients used to prepare the meals. You can eat the company's dishes completely guilt-free, knowing that they only contain natural, organic ingredients that do wonders for your health and your waistline.
Another distinctive feature of this plant-based meal delivery service is reflected in the variety of diets its meals are suitable for. Rarely can we say that a company offers meals that can be enjoyed by virtually anyone, regardless of what their dietary needs and preferences may be, as in the case of Fresh n' Lean. We have already mentioned in this Fresh n' Lean review that this company's meals are not only suitable for a variety of special dietary needs but can also be customized to accommodate the needs of nearly all potential customers. What is more, the meals are reasonably priced, considering the quality, and they can be purchased individually, without a subscription, so there are no obligations.

Still, this Fresh n' Lean review would not be as objective and honest as it needs to be if we did not mention the not-so-great aspects of this service. This primarily concerns the company's website. To be completely honest, we absolutely hated everything about this website.
First of all, there is a bunch of misleading information and almost no photos of the menu items. The homepage features prices that do not match the prices shown on other pages. There are a dozen of meal plans listed, but once you choose one of them, you are redirected to another page which allows you to choose between meal plans and a la carte ordering, and once you click on the meal plans, only 4 of them are available and they do not even match any of the 12 ones you had the chance to view previously.
We found this to be incredibly disappointing, considering that the company's offer is truly excellent. Therefore, if you decide to order from Fresh n' Lean, we suggest you disregard the abundance of plans you see listed and only focus on the ones that can be seen in the poorly designed menu. Once again, we have to say that the absence of photos and additional information for every meal is utterly disappointing and unprofessional, to say the least. We hope that the company will do something about this in the future.
Meals And Recipes
Fresh n' Lean meal options
Thanks to the awful website, you cannot really see it for yourself before ordering, but the meals Fresh n' Lean offers are actually rather good. We could taste the freshness and the quality of the ingredients in every bite and every meal we tried was cooked just right.

Due to the low-sodium content, they are perfect for seniors. Delicious, low-carb, low-fat, and low-calorie meals can help you lose some extra pounds without feeling hungry all the time. The protein-packed dishes are great for active individuals and may even suit the needs of professional athletes. Everything is organic and gluten-free, which makes the meals incredibly healthy and suitable for people who need to steer clear of gluten. The ION Performance Paleo plan offers an abundance of great dishes prepared in accordance with the rules of the Paleo diet. Finally, as we have mentioned before in this Fresh n' Lean review, this company is a great choice for vegans and vegetarians alike.
If you wish to customize your meal plan, you can omit as many as 3 ingredients per plan, which allows you to avoid ingredients you may be allergic to or simply don't like. However, it is important to note that garlic, onion, and carrots cannot be omitted, as they are important ingredients of nearly every meal on the company's menu.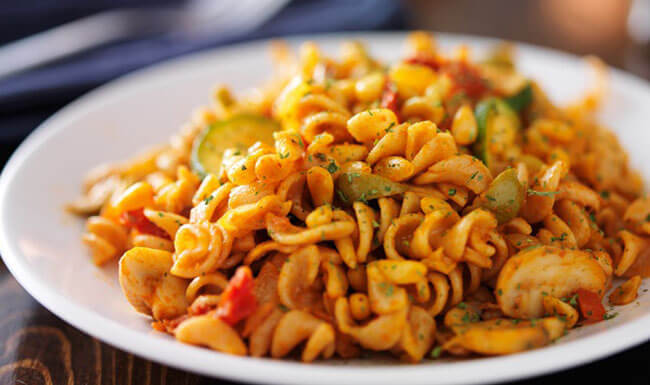 As per a la carte orders, these stand-alone orders can include any of the dozens of breakfasts, snacks, and entrees available in the offer. You can even order meals and side dishes in bulk. These dishes, fortunately, come with photos, unlike the ones included in the meal plan menus.
Pricing
Breakfasts, lunches, and dinners offered within a single plan all come at the same price. All meals in the Standard Plant-Based plan cost $9.33 per meal. Low-Carb/Low Cal Plant-Based meals cost $11.33 each. The price per meal with the ION Performance Protein + plan is $12.25. With the ION Performance Paleo plan, the price of a single meal is $12.69.

The prices of a la carte entrees normally range between $11.99 and $14.49 per meal. Breakfasts and snack cost between $1.99 and $13.99. Bulk meals and sides can cost anywhere between $6.99 and $31.72 per package. The minimum order for a la carte items is $105. For a la carte orders over $200, you get a 6% discount, orders over $250 bring you an 8% discount while orders over $300 come with a 10% discount. This may as well be the best news we have delivered in this Fresh n' Lean review so far.
Standard Plant-Based
Meals per day
Days per week
Price per week
Price per meal
1
7
$103.53
$14.79
2
5
$117.50
$11.75
2
7
$164.50
$11.75
3
5
$139.95
$9.33
3
7
$195.93
$9.33
ION Performance Protein +
Meals per day
Days per week
Price per week
Price per meal
1
5
$86.25
$17.25
1
7
$120.75
$17.25
2
5
$142.50
$14.25
2
7
$199.50
$14.25
3
5
$183.75
$12.25
3
7
$257.25
$12.25
ION Performance Paleo
Meals per day
Days per week
Price per week
Price per meal
1
5
$88.75
$17.75
1
7
$124.25
$17.75
2
5
$147.50
$14.75
2
7
$206.50
$14.75
3
5
$190.35
$12.69
3
7
$266.49
$12.69
Low Carb / Low Cal Plant-Based
Meals per day
Days per week
Price per week
Price per meal
1
5
$79.95
$15.99
1
7
$111.93
$15.99
2
5
$139.90
$13.99
2
7
$195.86
$13.99
3
5
$169.95
$11.33
3
7
$237.93
$11.33
Delivery Areas
Speaking of good news, when it comes to delivery, Fresh n' Lean has done everything right. Its meals are available nationwide, in all the 50 US states. On top of that, delivery is free regardless of the location. We honestly couldn't ask for more.
Fresh n' Lean Pros And Cons
To make sure Fresh n' Lean meets all your standards and expectations, it is important to know its biggest advantages and disadvantages. With a short overview of its pros and cons, you can easily decide if Fresh n' Lean is the right meal delivery service for you.
Pros
Organic ingredients
Fresh, ready-to-eat meals
Suitable for nearly all dietary needs
Great customization options
Flexible subscription
Free delivery
Available throughout the US
Cons
Cancellation, modification, and skip-a-week requests can only be made by phone
Not as affordable as advertised
Lack of details and photos of menu items
Counter-intuitive website
Sample Dishes
With Fresh n' Lean, you get delicious meals prepared by pro chefs at affordable prices. To find out what kinds of delights you will receive in your delivery, we have chosen a couple of sample dishes that accurately represents its offer and can help you decide if it is the right service for you.
Mushroom
Paleo Beef Meal
Paleo Chicken Meal
Paleo Shrimp Meal
Bottom Line
We finish off this Fresh n' Lean review with mixed feelings. The ingredients are amazing, the meals are suitable for a vast range of special dietary needs, the offer is varied, and you do not even have to subscribe in order to receive healthy, tasty Fresh n' Lean meals. However, although the company claims that its meals are affordable, we do not find them to be as budget-friendly as we would like them to be. Still, organic ingredients do always come at a high price, which is why we can at least say that the pricing is justified by the quality. Finally, as stated before, we have seen our fair share of poorly designed websites, but this one really takes the cake. We sincerely hope that the company will take our advice and make it easier for the customers to understand what it is that they are actually offering.