Compare Prices
The following price comparison is designed to help you easily figure out which of our top-ranked Whole30 meal delivery services best fits your budget. We have brought all the pricing information to one place, including the shipping costs and details about the companies' delivery areas, so you can identify the perfect fit in a single glance.
Company
Avg. Meal Price
Shipping
Delivery Areas
Paleo On The Go
Avg. Meal Price
Shipping Cost
$22+
Delivery Areas
Kettlebell Kitchen
Avg. Meal Price
Shipping Cost
$9
Delivery Areas
Snap Kitchen
Avg. Meal Price
Shipping Cost
$12
Delivery Areas
Beetnik Foods
Avg. Meal Price
Shipping Cost
$0
Delivery Areas
Eatology Paleo Zone
Avg. Meal Price
Shipping Cost
$25.00
Delivery Areas
Whole30-Compliant Meal Delivery
As you can see, the number of attention-worthy Whole30-approved services on the market is not huge. That is why we have decided to do some digging and find services that can be of great use to dieters even though they are not advertised as Whole30-approved. According to our meticulous research, these are the companies that offer the best Whole30-compliant meals.
Healthy Chef Creations is an organic meal delivery that offers custom programs for individuals on special diets. All you need to do is request a program that follows the Whole30 rules and state any additional preferences you may have and the service will create completely personalized meals just for you.
Trifecta Nutrition is another organic meal delivery that can work well for Whole30 dieters. It lets you purchase meal components in the form of pre-cooked macros, including grass-fed and free-range meat, wild fish, organic veggies, and carbs like sweet potatoes. You can simply combine these fully prepared components into Whole30 meals and heat them up in 2-3 minutes.
Getting Trifecta Nutrition's meal components for your custom Whole30 meals can be much more budget-friendly that buying pre-designed meals. Plus, the service never uses any soy, dairy, GMOs or gluten-containing ingredients, which is another good reason why it is a good choice for Whole30 dieting.
MealPro is a frozen meal delivery that offers both customizable meals and cooked food by the pound that you can use to create your own Whole30 meals. If you opt for pre-designed meals, the process is perfectly simple. With its No Carb/Double Veg customization option, you can turn its dishes into Whole30-compliant meals and get healthy delights like:
Roasted Chicken without brown rice;
Cajun Bean Chicken without the bean salad;
Chicken And Veg with or without extra veggies;
Sizzling Steak without the bean and rice salad.
Alternatively, you can buy its pre-cooked proteins and veg and combine them into Whole30 meals. Microwave them for 3-5 minutes and that is it. Easy and rather affordable as well.
Similar to our previous choices, ICON Meals lets you create custom meals by choosing your proteins, carbs, and veggie sides. You do not have to worry about added sugar, legumes, grains, dairy or unhealthy, forbidden additives like MSG. You can design your custom meals so that they contain only cooked soy-free proteins, pre-roasted carbs like sweet potato wedges, and healthy green veggies with natural seasonings. If you wish, you can buy these components by the pound and mix them on your own.
From our experience, building your own Whole30 dishes with ICON Meals is fun, it makes it easy to adjust your meals to your taste, and there is no cooking involved. Simply choose, microwave for 2-3 minutes, and enjoy.
Ice Age Meals does not offer custom dishes, but its meals are made of the finest ingredients, they never contain any gluten, nuts, soy or dairy, and more than a few of them are great for Whole30 dieters. You can purchase them without a subscription, whenever you need them. Since the meals are frozen, you can stock up on your favorites, keep them in your freezer, and just heat them for 8 minutes when you are ready to eat. We warmly recommend trying out Ice Age Meals Whole30-compliant delights like:
Butternut Squash Lasagna with turkey or grass-fed beef;
Chicken Tikka Masala;
Fajita Pie;
Thai Meatball Curry;
Deep Dish Breakfast Pizza;
Grass-Fed Tri-Tip With Yams;
Pastel De Papa.
We hope that these additional Whole30-compliant options can help you enrich and diversify your menu. Some of them can even help you save cash and enjoy fully personalized nutrition, which is why we believe they are definitely worth considering.
Benefits Of Whole30 Meal Delivery
Just like with other weight loss programs, including the keto diet, in order for Whole30 to produce the desired results, you have to give up on various kinds of food and stick to the plan, without any creative ways of bending the rules. This requires a lot of dedication and not everyone can afford to spend so much time and invest so much effort into weight loss. Luckily, thanks to convenient and affordable Whole30-compliant meal delivery services, you do not have to go through it alone.
These companies offer excellent ready-made Whole30-approved meals, allowing you to enjoy all the benefits of the program without stressing about every little detail. You order and they make the meals and deliver them to your door, so all that is left for you to do is enjoy the deliciousness and watch the inches melt away.
However, the incredible convenience Whole30 meal deliveries offer is not the only reason to give them a try. The problem with restrictive diets like Whole30 is that they forbid so many types of food that dieters often feel like there are just a couple of dishes that meet the strict guidelines. Whole30 meal delivery services eliminate this problem and allow you to enjoy a greater variety of exciting, scrumptious, and often exotic dishes than you thought possible.
Finally, the Whole30 meal deliveries on our list allow you to enjoy the extra benefit of eating nothing but the finest meals made from the highest-quality ingredients. That way, they guarantee that your Whole30 meals will be perfectly natural, nutritious, and flavorful. With food so good, dieting does not have to feel like dieting at all.
How Are The Best Whole30 Meal Delivery Services Different
If you are wondering what makes the best Whole30 meal delivery services on our list different than other meal delivery services that (claim to) offer Whole30 meals, the answer is – everything.
They have a much larger number of Whole30-compliant meals on their menus, which translates into a more varied diet for you. You are never stuck with just a couple of choices that do not even suit your taste, which is, unfortunately, the case with many services out there.
Further, their meals are actually Whole30-compliant. For those who do not have much experience in ordering Whole30 meals, let us explain why this is such a big deal. Namely, there are too many services on the market that claim to offer Whole30 meals, but when you ask more concrete questions, they just say – look at the labels, it's all there. So you have to spend a lot of time analyzing nutritional information, searching for Whole30 meals, and often you may find that there are in fact no Whole30 meals on the menu at all, just a couple of items that satisfy a rule or two but do not really fit into the program. We find this kind of false advertising to be more than infuriating and it makes us value our top choices even more.
Another key difference is in the quality, as we suggested before. A Whole30 meal made of low-quality ingredients is still just a low-quality meal. If you want to see some real results, you need to eat real food, the fresh, natural, and organic kind, and that is exactly what our top-ranked Whole30 meal delivery companies offer.
Choosing The Right Whole30 Meal Delivery For You
Obviously, when it comes to Whole30, there is no room for compromise. In order to be featured on our list of the best Whole30 meal deliveries, the services need to use nothing but natural, superior-quality ingredients and offer meals that are prepared by professionals with a full understanding of the rules of the program.
Apart from the quality of the ingredients and the compliance of meals with Whole30, there are a couple more requirements that services have to meet in order to be labeled as the best of the best. Mainly, we want them to satisfy the needs of everyone thinking about giving the program a try, whether they are just mildly interested or highly motivated to lose weight with the help of Whole30. The companies on our list allow you to decide whether you wish to order only a few meals and see how it goes or want to make sure you stick to the plan by getting enough Whole30 food for the entire month.
Further, it is highly important for us that the services on our list are extremely flexible and allow you to order without any commitments, so you never have to feel trapped.
Finally, we make sure that the prices set by the services are reasonable, so as not to prevent anyone from enjoying their meals because they cost more than they can afford. With this step, we complete our selection process and bring you a list that exclusively includes moderately-priced, super-convenient, Whole30-approved meal delivery services that take all the work out of following the program and allow you to effortlessly progress toward your weight goal.
Best Whole30 Meal Delivery Companies
What all of our top picks have in common is that they are currently the best on the market. Now it is time to discover what makes each of these Whole30 meal delivery companies unique. Explore their distinctive features in the mini-reviews below and choose the one that best satisfies your needs.
1. Paleo On The Go
With Paleo On The Go, it is easy to stock up your freezer and have ready-to-heat Whole30 dishes whenever you need them. The company's dedicated Whole30 menu includes everything from meals to snacks, all of which are made in strict accordance with the Whole30 rules, using the finest natural and organic ingredients. Whether you want to handpick the meals in your orders or go with the convenient Whole30 meal bundle, you get to order at your leisure, with zero commitments.
2. Kettlebell Kitchen

With Kettlebell Kitchen, sticking to the rules of Whole30 is easier than ever. You can opt for the Whole30 meal plan and get 4-18 meals of your choice per week. You can get breakfasts, lunches, and/or dinners, each containing 350-550 calories, which makes them perfect for healthy dieting.
If you prefer subscription-free ordering, you can handpick your Whole30 meals from the rich a la carte menu including over 80 breakfasts, lunches, dinners, sides, and desserts, many of which are Whole30-compliant. Everything on the menu is all-natural, fresh, chef-crafted, and ready to eat in 3 minutes.
3. Snap Kitchen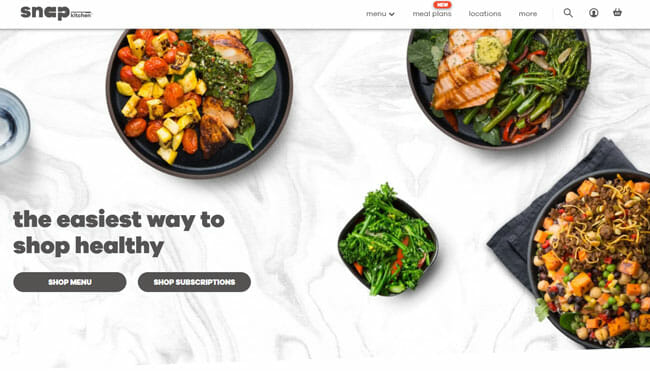 Snap Kitchen is one of the rare meal delivery services on the market that offer a specialized Whole30 meal plan. It lets you order 6 or 12 Whole30 meals per week and handpick your breakfasts, lunches, and dinners. If you wish, you can buy pre-cooked meal components and create custom Whole30 meals.
The company's Whole30 meals are made of whole foods and never contain any grains, legumes, added sugar or soy. They are delivered fresh, they can last up to 6 days in a fridge, and they can be microwaved in no more than 3 minutes.
4. Beetnik Foods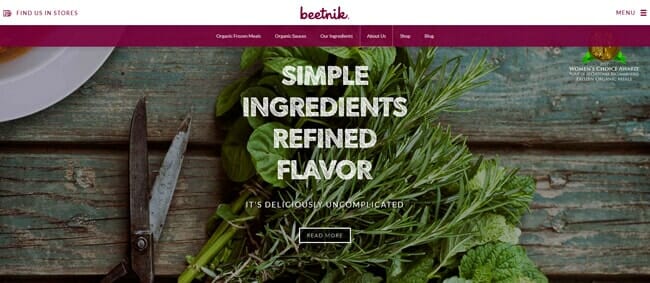 Beetnik Foods is a Whole30-compliant meal delivery service that exclusively offers USDA-certified organic meals that are also free from gluten. Most dishes on its menu are suitable for Whole30 dieters and you can get them all in the money-saving Whole30 Variety Pack. Alternatively, you can purchase individual Whole30 meals and enjoy some extra deliciousness with organic meatballs that go perfectly with marinara and some colorful veggie pasta, like zoodles.
5. Eatology Paleo Zone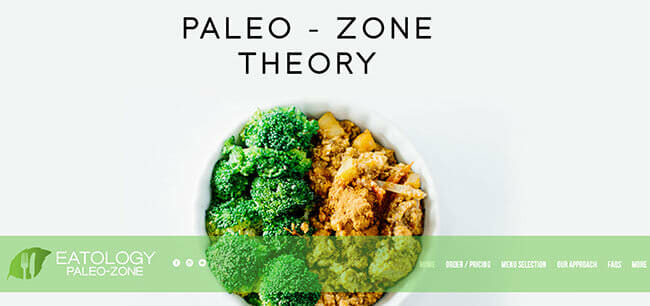 Eatology Paleo Zone is a healthy meal delivery service with a unique food philosophy. It allows you to enjoy the benefits of the Paleo diet and a science-based portion-control method known as the Zone theory while following the Whole30 program. Thus, you get to eat delicious Whole30-compliant meals that are also optimally balanced, portion-controlled, low-sodium, made of real, wholesome food, and free from gluten, hormones, preservatives, and added sugars. Talk about going the extra mile to keep the patrons happy and fit.