Paleo On The Go Review
Advertiser Disclosure
This website features affiliate links. For purchases made via these links, we earn commissions that allow us to keep producing helpful content. To find out more
click here
.
Close
Paleo On The Go is a meal delivery service launched in 2012 that specializes in Paleo, keto, low-carb, and AIP-friendly meals. Its goal is to provide easy home dining solutions to individuals who want to improve their health and fitness through diet without investing a lot of time and effort into meal planning, shopping, and cooking. It uses only the finest, locally sourced, and organic ingredients and its meals are prepared by a top chef who worked in various major restaurants across the US.
Keep reading our Paleo On The Go review to find out how this meal delivery service works and how it can help you improve your diet.

How Paleo On The Go Works
With Paleo On The Go, the ordering process is perfectly simple. You start by choosing your meals from one of the company's specialized menus. Then, you place your order, finish the payment steps, and your delivery is ready to go.
At the moment, Paleo On The Go allows you to choose your meals from 4 distinct menus: the Full menu, featuring all the meals on offer, the AIP menu, the Keto menu, and the Strict 30 menu designed for individuals who want to reset their metabolism and lose weight by following a strict, low-carb dietary regime. You can purchase individual meals or opt for money-saving meal bundles.


Since the service uses only the finest-quality ingredients from sustainable and organic producers, all customers are safe in knowing where their food comes from. Each provider is showcased by name, products, and reputation. That means that you get to know the full history of every ingredient that went from a farm, through the company's kitchen, and to your doorstep.
All Paleo On The Go meals are packaged, stored, and shipped frozen. When you receive your order, the meals can be stored in the freezer for up to a year, but we firmly believe that you couldn't possibly resist the temptation to eat them as soon as possible. When thawed, the meals can be kept in the refrigerator for up to 5 days.
Also, we recommend you check out their company's awesome blog section that covers interesting recipes and cooking techniques for preparing Paleo dishes. Furthermore, it covers interesting stories about the Paleo lifestyle, events from the community, and great tips from the Primal Movement.
What Makes Paleo On The Go Different
We covered numerous meal delivery services that claim their services and products are the best on the market. For the purpose of maintaining the objectivity of this Paleo On The Go review, we decided to hold the fireworks until we got our first order. Let's sum up the company's selling points so you can get the clearest possible picture about this Paleo meal delivery.
First of all, the service makes sure that all its meals are prepared with pasture-raised meat from local farms. By visiting individual farms and making sure all of the meats are individually chosen for maximum quality, Paleo On The Go aims for promoting sustainability and healthy farming practices.
Next up, it insists on following all Paleo diet guidelines by selecting fats, sweeteners, and all additional ingredients to meet the Certified Paleo requirements. This means not using any refined vegetable/soy/canola oils, conventional produce, boxed chicken/beef stock, and sugar of any kind. Instead, Paleo On The Go uses its own rendered animal fats and coconut oil, 48-hour cooked bone broth, and real maple syrup and dates for sweetness. When it comes to fruits and vegetables, it only chooses the freshest organic ingredients from the "Dirty Dozen" list, which means that there is little to no risk of taking in any pesticides or similar contaminants from your food.
Meals and Recipes
Paleo On The Go meal options
After  founder Paleo On The Go has a variety of special meal options available for many specific medical or nutritional needs. All meals on offer are non-GMO, dairy-free, certified gluten-free, grain-free, soy-free, and certified Paleo. Furthermore, there are plenty of options for individuals on the AIP regime as well as those who want to lose weight the healthy way. Let us take a look at its unique menus for different diets.

AIP diet
The AIP diet follows specific guidelines for people struggling with autoimmune conditions. Paleo On The Go offers over 50 AIP-friendly items that are rich in nutrients and free from nuts and seeds, seed-based spices, nightshades, beans, grains, including white rice, gluten, sugar, artificial sweeteners, eggs, and dairy. You can opt for full AIP meals, entrées, sides, soups, sauces, and desserts, as well as bone broth and surprisingly delicious, dairy-free, nut-free Paleo-friendly, AIP-friendly cheddar "cheese" made of grass-fed beef gelatin and veggies.
Keto Menu
The company's keto-friendly menu includes more than 2 dozen tasty items, each containing no more than 25 grams of carbs per serving. These products are designed to help you minimize your sugar intake and reach ketosis more easily, which makes them perfect for individuals who want to shed pounds and enjoy the health benefits of the ketogenic diet. The selection of keto items includes full meals, entrées, sauces, soups, sides, bone broth, and bacon.

Strict 30 program
The Strict 30 menu does not only eliminate sugars, it does a total revamp of your body. By completely removing food types that are harmful to your body for a total of 30 days, you are able to completely reset your diet. By slowly re-introducing foods to your diet, you can see how specific types of food make you feel.
Paleo On The Go Strict 30 meals are free from grains, legumes, dairy, soy, and natural and artificial sweeteners. They are perfect for individuals following 30-day reset programs, like the Whole30. There are more than 30 items on the Strict 30 menu, including complete meals, soups, veggie sides, non-dairy, nut-free cheese, bacon, and bone broth.
Full Menu
If you're just looking to get your hands on some fine looking and delicious tasting meals, you can choose from a wide variety of individual entrees from the Full menu, which includes over 60 Paleo-friendly items. Pick your personal chef-style entrees, Paleo breakfasts, soups and stews, vegetable dishes, sauces, and desserts and order at your convenience.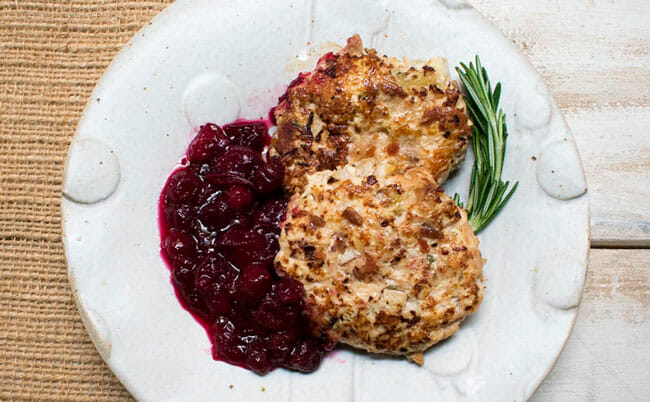 If you want to save cash, you can opt for the handy meal bundles, which normally contain 9 meals, plus occasional sides and soups. You can usually choose between 2 meal bundles that allow you to pay less in comparison to ordering meals individually.
Pricing
To sum it up, Paleo On The Go offers fresh, high-quality produce, meat from animal-friendly farms, a team dedicated to crafting creative combinations and flavorful recipes, professional chefs that prepare the food, and delivery straight to your door. This kind of quality and convenience normally come with a huge price tag, but prices at Paleo On The Go are actually rather reasonable.
The price for individual items on the menu varies slightly, but an ordinary dinner usually costs between $10-25, depending on the portion size and the ingredients used. Sides can cost as little as $5 per serving. You can get a meal bundle including 9 meals for only $99 and save more than $10 on your order.
The minimum order is $99. Shipping costs depend on the shipping option you choose and your location and range from $22 to $93.50. The service offers a detailed overview of shipping costs in the Shipping Information section of its website.

Individual meals
Menus
Price range
AIP menu
$5.00-$25.00
Keto menu
$5.00-$25.00
Strict 30
$5.00-$24.00
Phoenix Helix Variety Pack
$99.00
Meal Bundle
$248.00
Delivery Areas
Paleo On The Go delivers anywhere in the U.S., including Alaska, Hawaii, and Puerto Rico, and you get your meals shipped the next day if you order Mon-Thu before 4 pm. Orders made Fri-Sun are shipped on Monday. You can opt for overnight shipping, Saturday delivery (not available in Alaska, Hawaii, and Puerto Rico) or guaranteed 3 days or less shipping.
Customers ordering from Florida can pick up the meals themselves and decide on the day and time that works best for them. There is only one pickup location: 12423 62nd St. N, Suite 403, Largo, FL. 33773. Pickup times are Mon–Thu 8 am till 4 pm and Friday 8 am till 2 pm.
If there is something wrong with your shipment, you should get in touch with the company's staff within 7 days after you have received your delivery and you may get a credit or refund. Keep in mind that refunds may be refused if you entered the wrong shipping address.
Paleo On The Go Pros And Cons
To make sure Paleo On The Go meets all your standards and expectations, it is important to know its biggest advantages and disadvantages. With a short overview of its pros and cons, you can easily decide if Paleo On The Go is the right meal delivery service for you.
Pros
Paleo, keto, Whole30-compliant, and AIP-friendly meals
3 special diet menus
More than 60 items on offer at all times
Paleo and gluten-free certification
All items are non-GMO, dairy-free, gluten-free, grain-free, soy-free, and Paleo
Restaurant-quality meals
Organic greens and quality, grass-fed meats
Commitment-free ordering
Cons
High shipping costs
Minimum order of $99
Sample Dishes
With Paleo On The Go, you get delicious meals prepared by pro chefs at affordable prices. To find out what kinds of delights you will receive in your delivery, we have chosen a couple of sample dishes that accurately represents its offer and can help you decide if it is the right service for you.
Bangers and Mash
Beef Short Ribs over Portabella
Butternut Squash Lasagna with Beef
Cuban Style Mojo Chicken Wings (AIP)
Bottom Line
If you wish to start or maintain a Paleo diet plan and juice it up with some delicious meals made from the finest ingredients available, Paleo On The Go can definitely satisfy your needs. It is also one of the rare services that offer meals designed in complete accordance with the AIP, keto, and 30-day "reset" diets like Whole30. However, if you are just looking to eat healthily, it may not be the most budget-friendly choice – although it is a perfectly convenient, delicious, and amazingly healthy solution.