Paleo On The Go (or POTG for short) is a meal delivery service which started in 2012 and focuses on preparing and delivering Paleo diet programs. In 2012, a man called Dave Rohde experienced health problems due to poor nutrition and decided to help others eat the healthiest food possible without having to spend countless hours preparing shopping lists and going out to buy the ingredients and preparing them. That's how he founded Paleo On The Go.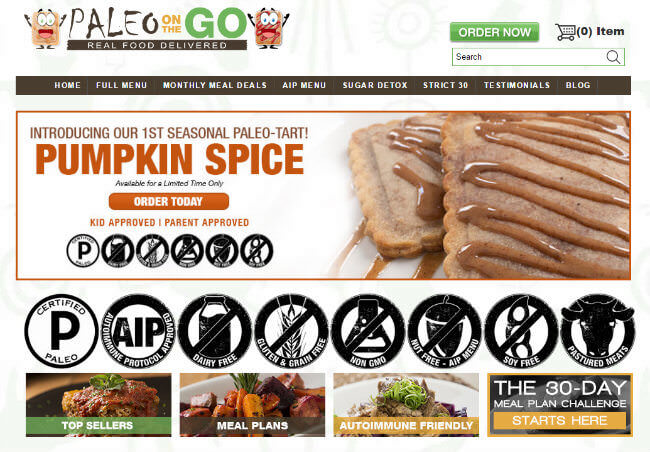 The company employs a team of seasoned experts in many fields. Perhaps the most important person other than Dave is Ann Lotterhos, a Culinary Institute of America graduate who worked for a number of top restaurants all over the U.S. She is constantly upgrading their menu and finding new delicious dishes.
Paleo On The Go is very focused on their approach to food, sourcing only the healthiest, locally grown ingredients and sustainably raised free-range animals. Keep reading our Paleo On The Go review to learn more.
How Paleo On The Go Works?
The user interface on their website is very straightforward and easy to use – exactly what you'd expect from a serious company. The ordering process is very simple and becoming a customer is very easy. You start by choosing your meals or an entire meal plan, you place your order, finish the payment steps, and your delivery is ready to go.
Other than streamlining the ordering process, Paleo On The Go has also put a lot of effort into presenting the process behind the meals you order. They have an entire section of their website dedicated to how they source all the ingredients and there you can see the names of the producers and farms where the ingredients are ordered from.
By using only the finest quality ingredients from sustainable and organic producers, all customers are safe in knowing where their food came from. Each provider is showcased by name, products, and reputation. All in all, a great network that enables Paleo On The Go to be in constant control of the entire product life cycle. That means that you will know the full history of every ingredient that went from a farm, through their kitchen, and to your doorstep.
All Paleo On The Go meals are packaged, stored, and shipped frozen. When you receive your order, the meals can be stored in the freezer for up to a year, but we firmly believe that you couldn't possibly resist the temptation to eat them as soon as possible. When thawed, the meals can be kept in the refrigerator for up to 5 days.
Also, we recommend you check out their awesome blog section that covers interesting recipes and cooking techniques for preparing Paleo dishes. Furthermore, they cover interesting stories about the Paleo lifestyle, events from the community, and awesome tips from the Primal Movement.
What Makes Paleo On The Go Different?
We've covered numerous meal delivery services that claim their services and products are the best on the market. For the purpose of maintaining the objectivity of this Paleo On The Go review, we decided to hold the fireworks until we got our first order. The customer is always right, right? Anyways, let's try and sum up their selling points so you can get the clearest possible picture.
First of all, they make sure that all meals are prepared with pasture-raised meat from local farms. By visiting each individual farm and making sure all of their meats are individually chosen for maximum quality, Paleo On The Go aims for promoting sustainability and healthy farming practice.
Next up, they insist on following all Paleo diet guidelines by selecting their fats, sweeteners, and all additional ingredients to meet the Certified Paleo requirements. This means not using any refined vegetable/soy/canola oils, conventional produce, boxed chicken/beef stock, and sugar of any kind. Instead, Paleo On The Go uses their own rendered animal fats and coconut oil, 48-hour cooked bone broth, and real maple syrup and dates for sweetness. When it comes to fruits and vegetables, they are very strict on selecting only the freshest organic ingredients from the "Dirty Dozen" list which means that there is little to no risk of taking any pesticides or similar contaminants from your food.
Apart from ingredients, Paleo On The Go also doesn't fool around when it comes to getting proper certification for their kitchen. They have both Certified Paleo certification and a certified gluten-free kitchen. We don't have the lab equipment to either confirm or deny the specifications of their products, but we can say that they did seem more natural and more subtly flavored than some other meal delivery services we've tried.
Meals and Recipes
Paleo On The Go meal options
The idea behind Paleo On The Go came after their founder and CEO started battling a number of medical problems that were caused, in larger or lesser extent, by his eating habits. That's why POTG has a variety of special meal options available for many specific medical or nutritional needs.
AIP diet
You can either choose one of the existing programs or go for individual meals from the categories of your liking. Main items in the full menu category are very interesting and rarely seen on the market. First one is the Autoimmune Protocol Friendly Paleo Menu or AIP for short. The AIP diet follows specific guidelines for people struggling with autoimmune conditions and the food sensitivities and inflammation associated with them.
Sugar Detox program
Next up, there's the Sugar Detox program – meals that help people who want to reduce or eliminate their sugar intake. All items on the menu are compliant with the strictest and most effective sugar detox programs.
Strict 30 program
After that comes the Strict 30. This is a program that eliminates not only the sugars, it does a total revamp of your body. By completely removing food types that are harmful to your body and health in general for a total of 30 days, you are able to completely reset your diet. By slowly re-introducing foods to your diet, you can see how specific types of food make you feel.
If you're just looking to get your hands on some fine looking and delicious tasting meals, you can choose from a wide variety of individual entrees from their menu. Pick your personal chef-style entrees, Paleo breakfasts, soups and stews, vegetable dishes, sauces, and desserts. You just need to take your pick like we did and you're set.
Pricing
Let's take a moment to see the big picture here – finest quality fresh ingredients and meat from animal-friendly farms, a team dedicated to creating creative combinations and flavorful recipes, restaurant-grade chefs that prepare the food, and finally, delivery straight to your door. This means that their meals and deliveries must cost a fortune! Well, not really, which means you're in luck!
The price for individual items on the menu varies slightly, but an ordinary dinner piece usually costs between $10-25, depending on the portion size and the ingredients used. When it comes to full programs, the Strict 30 meal plan with 21 meals (3 meals per day) costs $395.47 per week (currently on a 10% discount).
Orders worth more than $333 come with free shipping and for ordering less you need to consult the Shipping info on their website.

Individual meals
Menus
Price range
AIP menu
$5.00-$25.00
Keto menu
$5.00-$25.00
Strict 30
$5.00-$24.00
Phoenix Helix Variety Pack
$99.00
Meal Bundle
$248.00
Delivery Areas
Paleo On The Go delivers anywhere in the U.S., including Alaska, Hawaii, and Puerto Rico, and you will get your meals shipped the next day if you order Mon-Thu before 5pm. Orders made Fri-Sun are shipped on Monday and delivered on Tuesday.
Pros
Paleo and gluten-free certification
Restaurant-quality meals
Organic greens and quality meats
Cons
The lack of seasoning is too obvious
Diet is hard to get used to
Sample Dishes
With Paleo On The Go, you get delicious meals prepared by pro chefs at affordable prices. To find out what kinds of delights you will receive in your delivery, we have chosen a couple of sample dishes that accurately represents its offer and can help you decide if it is the right service for you.
Bangers and Mash
Beef Short Ribs over Portabella
Butternut Squash Lasagna with Beef
Cuban Style Mojo Chicken Wings (AIP)
Bottom Line
If you're looking to start or maintain a Paleo diet plan and juice it up with some delicious meals made from the finest ingredients available, this meal delivery service can definitely answer most of your questions. Then again, if you're just looking to eat healthy, there are many other fish in the sea.