Compare Prices
The following price comparison is designed to help you easily figure out which of our top-ranked Paleo meal delivery services best fits your budget. We have brought all the pricing information to one place, including the shipping costs and details about the companies' delivery areas, so you can identify the perfect fit in a single glance.
Company
Avg. Meal Price
Shipping
Delivery Areas
Freshly
Avg. Meal Price
Shipping Cost
$0
Delivery Areas
The Good Kitchen
Avg. Meal Price
Shipping Cost
$0
Delivery Areas
Home Bistro
Avg. Meal Price
Shipping Cost
$15.95-$59.95
Delivery Areas
True Fare
Avg. Meal Price
Shipping Cost
$0
Delivery Areas
22 Days Nutrition
Avg. Meal Price
Shipping Cost
$20.00
Delivery Areas
Pete's Paleo
Avg. Meal Price
Shipping Cost
$0
Delivery Areas
Trifecta Nutrition
Avg. Meal Price
Shipping Cost
$0
Delivery Areas
Paleo On The Go
Avg. Meal Price
Shipping Cost
$0
Delivery Areas
Beetnik Foods
Avg. Meal Price
Shipping Cost
$0
Delivery Areas
Eatology Paleo Zone
Avg. Meal Price
Shipping Cost
$25.00
Delivery Areas
Best Paleo Meal Delivery Services
What all of our top picks have in common is that they are currently the best on the market. Now it is time to discover what makes each of these Paleo meal delivery services unique. Explore their distinctive features in the mini-reviews below and choose the one that best satisfies your personal needs.
1. Freshly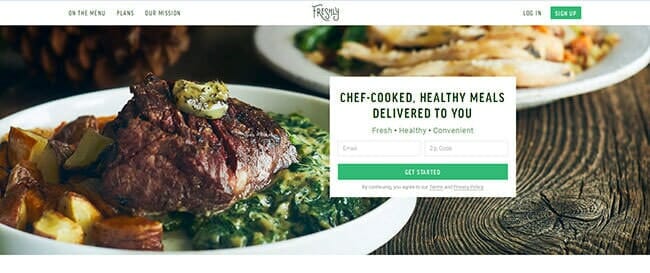 Freshly is one of the best meal deliveries that adheres to the principles of the Paleo diet. Its delicious cuisine is primarily built around protein sources and certain vegetables without any artificial additives, processed sugars, and gluten.  
The meals often include organic ingredients and the company tries to make the dishes as natural and clean as possible by using proven local sources and excluding any artificial ingredients. If you're interested in the Paleo diet, Freshly is definitely the way to go.  
2. The Good Kitchen

The Good Kitchen offers high-quality, Paleo-friendly meal options without any processed products, additives, preservatives or added sugars. The food is prepared by professional chefs from organic, sustainably sourced ingredients and contains no GMO whatsoever; not to mention that it tastes delicious.  
The company separates its meal options into 2 categories – adults and kids, with 4 dedicated programs in each. You can order The Good Kitchen meals even if you live in Alaska or Hawaii. 
3. Home Bistro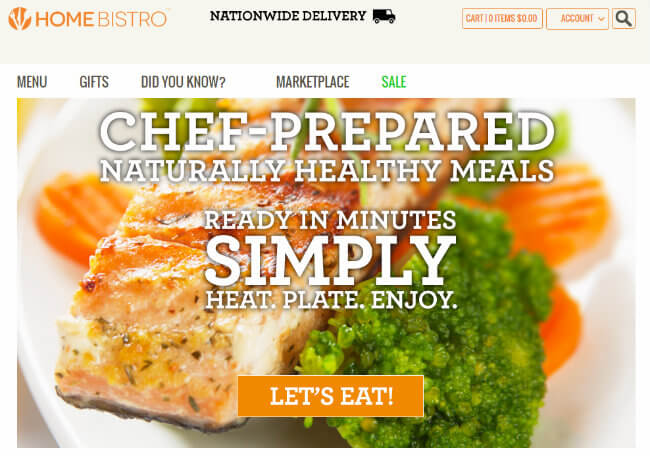 Home Bistro is a meal delivery service that brings the finest tasting cuisine right to your door. The best possible ingredients taken from animal-friendly farms and hand-picked for every meal are transformed into restaurant-grade delicacies. 
With its Paleo options, you can enjoy meals that completely exclude dairy or grain products and processed food. You can either choose pre-existing entrees from the Paleo section of the menu or you can order the ingredients and cook for yourself. 
4. True Fare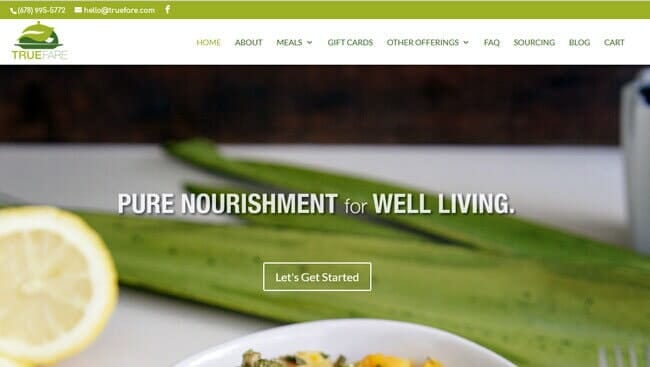 Pre-Made Paleo, now known as True Fare, is definitely one of the best Paleo meal delivery services on the market with a program created by Chef Richard Bradford. All meals are Whole30-approved, which means they strictly follow the Paleo eating regimen.  
All meats are grass-fed, vegetables are 100% organic, and all the food is locally sourced from trusted providers. Pre-Made Paleo delivers to all 50 states in the US, as well as Canada and Puerto Rico.  
5. 22 Days Nutrition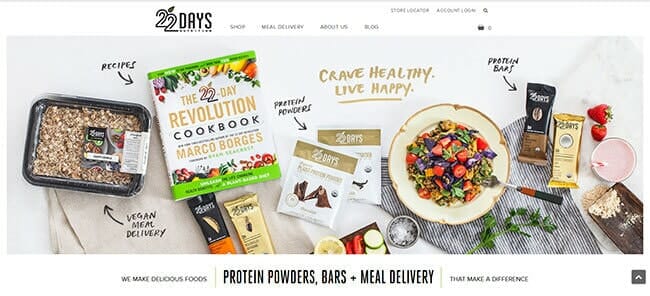 22 Days Nutrition is a vegan meal delivery service launched by Beyoncé and her trainer Marco Borges. The company dishes out 100% organic, soy-free, and gluten-free vegan meals to your home address to guide you toward a healthier lifestyle.  
Note that the company doesn't offer pre-portioned ingredients with appropriate recipe cards but ready-to-eat meals created by some of the biggest professionals in the business.  
6. Pete's Paleo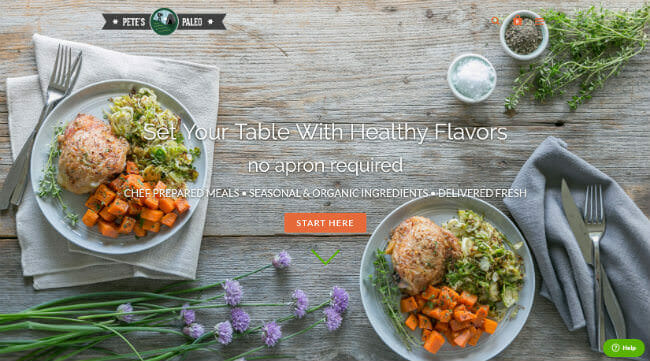 Pete's Paleo is a renowned meal delivery service, and for a good reason. The company is Paleo certified and offers documented origins of its food. Also, any sweetening of provided meals is done via fruits and vegetables, avoiding honey and maple syrup.  
All of the ingredients are organic, seasonal (where applicable), and absolutely GMO-free. The company features numerous meal programs, including Wahls Protocol, 21 Day Sugar Detox Plan, and many other plans. 
7. Trifecta Nutrition

The Trifecta Nutrition meal delivery service is designed to help its customers eat healthy without having to worry about grocery shopping, cooking, and planning their meals.  
It only uses fresh, organic produce and takes care of your daily intake of macro and micronutrients. Its meals are carefully planned, low in calories, and rich in fibers in order to prevent you from feeling the need to snack between meals. 
8. Paleo On The Go

Paleo On The Go is yet another highly popular meal delivery service dedicated to the Paleo diet. The company's kitchen is absolutely gluten-free, certified Paleo and certified Paleo-friendly.  
The produce used is 100% organic, the meats are all pasture-raised, and the meals are cooked in high-quality oils. When it comes to meal choices, the company offers a wide range of options, including its proprietary bacon and bone broth and many other delicacies. 
9. Beetnik Foods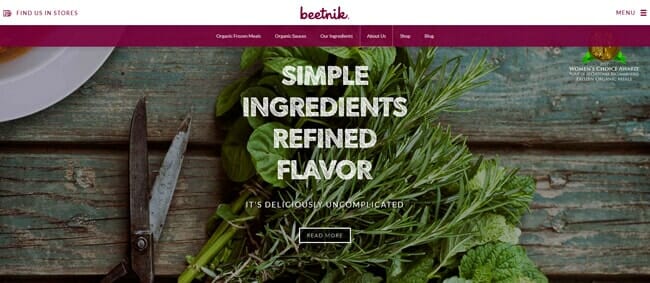 Beetnik Foods is a certified Paleo-friendly meal delivery service that offers a multitude of high-quality nutritional choices to its customers. The company offers non-Paleo foods as well, so make sure your order is marked "Paleo-friendly" during check-out. 
Beetnik Foods offers USDA certified organic produce and antibiotic and hormone-free meats. Its products are also available in health food stores across the nation, so you might even find them in your local store.  
10. Eatology Paleo Zone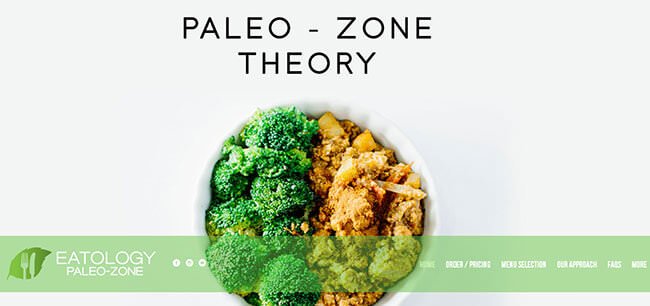 Eatology is a unique meal delivery service in that it provides Paleo options but also primal meals and options dictated by the Zone diet. This translates to balanced meals that encourage a favorable hormonal response from your body.  
All meals feature a well-balanced ratio of fats, proteins, and carbs and can be ordered in different sizes, even allowing you to make dietary decisions guided by the Zone blocks. The food is 100% soy, dairy, and gluten-free.