Compare Prices
The following price comparison is designed to help you easily figure out which of our top-ranked Paleo meal delivery services best fits your budget. We have brought all the pricing information to one place, including the shipping costs and details about the companies' delivery areas, so you can identify the perfect fit in a single glance.
Company
Avg. Meal Price
Shipping
Delivery Areas
Fresh Meal Plan
Avg. Meal Price
Shipping Cost
$0-$20
Delivery Areas
Paleo On The Go
Avg. Meal Price
Shipping Cost
$22+
Delivery Areas
Factor
Avg. Meal Price
Shipping Cost
$0
Delivery Areas
Trifecta Nutrition
Avg. Meal Price
Shipping Cost
$0
Delivery Areas
Freshly
Avg. Meal Price
Shipping Cost
$0
Delivery Areas
Pete's Paleo
Avg. Meal Price
Shipping Cost
$0
Delivery Areas
MealPro
Avg. Meal Price
Shipping Cost
$9.99
Delivery Areas
Home Bistro
Avg. Meal Price
Shipping Cost
$15.95-$59.95
Delivery Areas
Ice Age Meals
Avg. Meal Price
Shipping Cost
$10-$50
Delivery Areas
Eatology Paleo Zone
Avg. Meal Price
Shipping Cost
$25.00
Delivery Areas
Benefits Of Paleo Meal Delivery Services
The Paleo diet is one of the healthiest dietary plans ever. This program guarantees a cleaner diet without any preservatives, additives or dangerous chemicals. You can also experience numerous anti-inflammatory benefits from the nutrients in oils, seeds, nuts, fruits, and vegetables. Red meat, on the other hand, guarantees a steady intake of iron. 
People usually give up on their diet programs due to the prevailing feeling of hunger that overpowers their will to eat healthily and lose weight. Let's be honest, there isn't a single person out there who never gave in to carb cravings at some point. The Paleo diet resolves this problem by increasing your intake of protein and fats, thus providing you with improved satiety between meals. 
On the other hand, we have the inherent benefits of meal delivery services. First of all, these companies will eliminate cooking altogether from your daily schedule. They will also save you countless trips to your local grocery stores and allow you to eat fresh and organic meals with documented origins of all the ingredients. In other words, you'll save a ton of time and know exactly what you put on your plate every day.
The Paleo diet can get pretty expensive if you buy all the ingredients on your own. Paleo meal delivery services, however, have standing partnerships with local sustainable suppliers, which enables them to offer lower prices, so apart from saving time and knowing where your food comes from, you'll also save a ton of money.
How Are Paleo Meal Delivery Services Different
Paleo meal delivery services are incredibly convenient if you're trying to maintain a healthy lifestyle while balancing work, kids, and many other challenges of the modern way of life. The companies are very flexible and their services are designed to suit your personal needs and preferences. You can pick your favorite ready-to-eat Paleo dishes from their impressive weekly menus and customize your delivery further by consulting the a la carte menu (when available). You'll be able to save a ton of time you would otherwise spend shopping for groceries, prepping, and measuring the ingredients, as well as preparing the meal itself. Bottom line, Paleo meal delivery services are incredibly convenient and allow you to maintain a perfect Paleo diet without "doing the time" in the kitchen.
Renowned Paleo meal deliveries will also partner with reliable suppliers, which has two benefits for you. First, you'll know exactly where your food is coming from since every company points out its partners on its official website. This is something you'll never have if you shop for groceries at your local store. Secondly, you'll be able to save a lot of money since meal deliveries can afford the luxury of offering meals below retail prices. 
All the top-ranked companies on our list have their proprietary kitchens ran by professional and experienced chefs who will either create amazing and delicious recipes and prep the ingredients for you or cook fresh meals and send them to your home address. This makes Paleo meal deliveries a unique opportunity to eat restaurant-grade food every day without paying restaurant prices. 
Choosing The Right Paleo Meal Delivery Service For You
The main goal of Top 10 Meal Delivery Services is to transform the overwhelming abundance of meal delivery options into a selection of risk-free choices handpicked by a team of experts with years of experience in sampling and reviewing meal delivery services. 
Trying out every single meal delivery service on the market is a process that requires a lot of time and money. Unfortunately, it can also leave you feeling disappointed or even angry more than once. In order to save you the trouble, our experienced team has singled out the best services in the country and written honest reviews of their offers, letting you know exactly what you can expect. 
When choosing the best meal delivery service, we pay close attention to every aspect that can be relevant to you as a customer. First, we research the meal options every company has to offer. That means that we determine whether it can accommodate the individual needs of its users. The highest-rated services usually have vegetarian, vegan, gluten-free, and/or Paleo options, offer you the possibility to customize your order in accordance with your dietary preferences, so you could avoid the ingredients you are allergic to or simply dislike, and let you choose between meal plans that are designed to suit different lifestyles. 
Variety is another highly important quality in meal delivery services. Some of them offer limited menus that are rarely changed. Others introduce rotating menus with new dishes available every week. That way, even if you order from the same meal delivery service every week, you get to eat the same dishes only several times a year. These are the services that receive the best rating. 
We also take a good look at the nutritional value of the meals. Of course, you want your meals to taste good, but what may be of even greater importance is whether the meals you eat provide you with the optimal amount of all the major nutrients. In our book, only a healthy, balanced, and delicious meal is a meal worthy of recommendation. 
We are rather careful when rating meal delivery services in regard to portion size, as this feature is highly subjective. What may seem small to one person may appear ample to someone else. This is why we analyze this feature in conjunction with the one previously mentioned. That means that we consider portion size to be sufficient if it provides you with enough nutrients and energy to complete your daily tasks with ease and keep you feeling full for hours, without feeling the need to snack between meals. 
Although the quality of food is paramount, we also rate meal delivery services based on their prices and flexibility. In order for it to receive high rating, the service needs to be affordable, with no hidden costs (clearly stated shipping costs and additional fees, preferably offering free shipping), and flexible in terms of subscription, allowing you to cancel your subscription or skip an order at any time, no penalties, no questions asked. 
Best Paleo Meal Delivery Services
What all of our top picks have in common is that they are currently the best on the market. Now it is time to discover what makes each of these Paleo meal delivery services unique. Explore their distinctive features in the mini-reviews below and choose the one that best satisfies your personal needs.
1. Fresh Meal Plan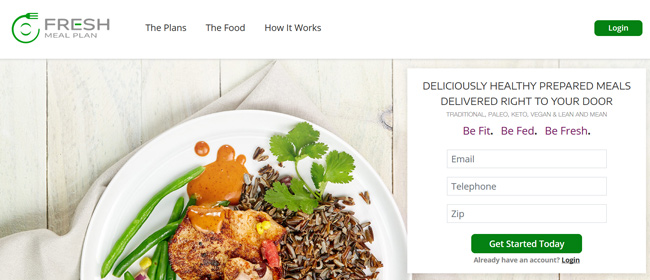 Fresh Meal Plan has a lot to offer to its patrons on the Paleo diet. It has a rich 17-item Paleo menu that changes weekly. It provides meals prepared by a world-class chef, using the finest, farm-fresh ingredients. Its meals are always fresh, never frozen, and they can last for 10 days in a fridge. They are microwaveable and take only 2-3 minutes to reheat. Furthermore, they are designed in perfect accordance with the Paleo rules, which means that they are rich in lean protein, moderate in veg, nuts, and seeds, and low in complex carbs, sodium, cholesterol, and saturated fats. If you need more proteins in your meals, you can get the affordable XL upgrade or purchase pre-cooked proteins in bulk.
2. Paleo On The Go
Paleo On The Go is yet another highly popular meal delivery service dedicated to the Paleo diet. The company's kitchen is absolutely gluten-free, certified Paleo and certified Paleo-friendly.  
The produce used is 100% organic, the meats are all pasture-raised, and the meals are cooked in high-quality oils. When it comes to meal choices, the company offers a wide range of options, including entrees, breakfasts, sides, sauces, soups, stews, baked goods, desserts, bone broth, and many other delicacies. 
3. Factor 75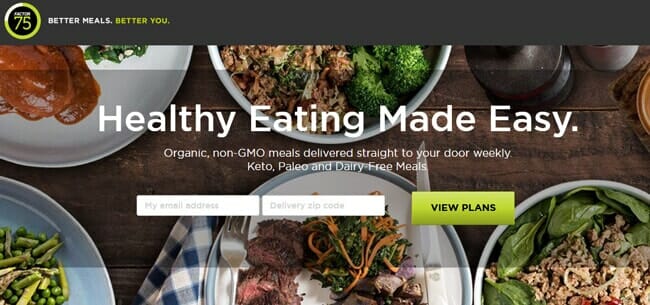 With Factor 75, you can choose from at least 6-7 Paleo meals per week and get 4-18 dishes of your choice in each weekly delivery. All the meals are fully cooked, microwave-ready, and made of premium ingredients, including organic produce, wild fish, and pasture-raised, grass-fed meat. You can order breakfasts, lunches, and dinners, as well as add-ons like cold-pressed juices and bulk proteins. The more food you order, the less you pay per meal and shipping is always free.
4. Trifecta Nutrition
The Trifecta Nutrition meal delivery service is designed to help its customers eat healthy without having to worry about grocery shopping, cooking, and planning their meals.  
It only uses fresh, organic produce and takes care of your daily intake of macro and micronutrients. Its meals are carefully planned, low in calories, and rich in fibers in order to prevent you from feeling the need to snack between meals. 
5. Freshly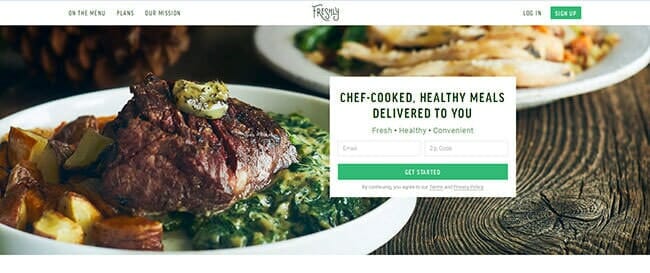 Freshly is one of the best meal deliveries that adheres to the principles of the Paleo diet. Its delicious cuisine is primarily built around protein sources and certain vegetables without any artificial additives, processed sugars, and gluten.  
The meals often include organic ingredients and the company tries to make the dishes as natural and clean as possible by using proven local sources and excluding any artificial ingredients. If you're interested in the Paleo diet, Freshly is definitely the way to go.  
6. Pete's Paleo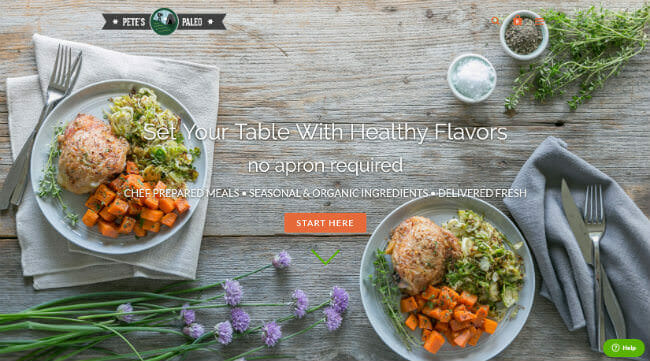 Pete's Paleo is a renowned meal delivery service, and for a good reason. The company is Paleo certified and offers documented origins of its food. Also, any sweetening of provided meals is done via fruits and vegetables, avoiding honey and maple syrup.  
All of the ingredients are organic, seasonal (where applicable), and absolutely GMO-free. The company features numerous meal programs, including Wahls Protocol, 21 Day Sugar Detox Plan, and many other plans. 
7. MealPro
MealPro is a Paleo-friendly meal delivery with a 24-item rotating menu. About 30% of its meals are perfect for Paleo dieters and can be further customized to include more proteins, zero carbs or more veg. Its Paleo meals are prepared fresh using natural and sustainable ingredients and they are flash-frozen to preserve nutrients. They also come with seasoning packets that let you adjust the flavor to your preferences. You can get 18 or 20 meals per order and as many portions of the same dish as you wish. If you want to create your own meals, you can buy cooked ingredients by the pound. You can shop commitment-free, but if you subscribe, you earn points that you can exchange for free meals.
8. Home Bistro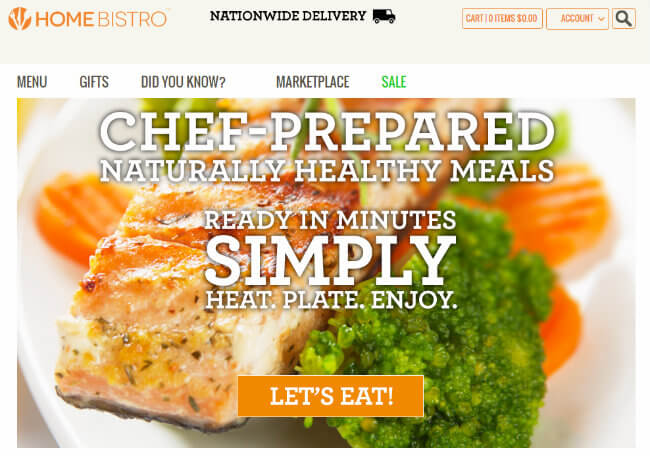 Home Bistro is a meal delivery service that brings the finest tasting cuisine right to your door. The best possible ingredients taken from animal-friendly farms and hand-picked for every meal are transformed into restaurant-grade delicacies. 
With its Paleo options, you can enjoy meals that completely exclude dairy or grain products and processed food. You can opt for individual Paleo entrees or order Paleo meal combos. You can shop commitment-free or subscribe and receive your favorite Paleo meals at lower prices.
9. Ice Age Meals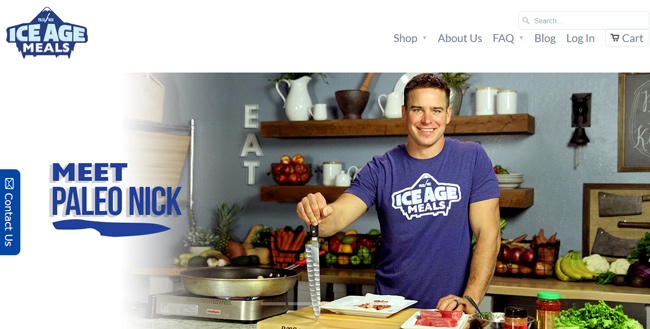 Ice Age Meals is a Paleo meal delivery that is all about flavor and quality. It uses natural and organic ingredients including grass-fed meat and turns them into gourmet dishes that are in complete accordance with the Paleo, zone, and keto diets. Choose from over 30 gorgeous meals every time you shop, order 6-48 of your favorites, and save cash my ordering more. The meals are fully prepared, microwave-ready, and take 8 minutes to reheat.
10. Eatology Paleo Zone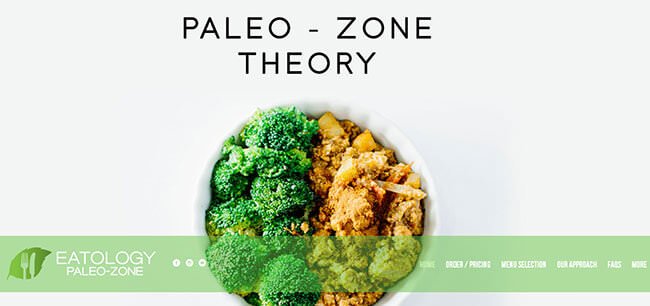 Eatology is a unique meal delivery service in that it provides Paleo options but also primal meals and options dictated by the Zone diet. This translates to balanced meals that encourage a favorable hormonal response from your body.  
All meals feature a well-balanced ratio of fats, proteins, and carbs and can be ordered in different sizes, even allowing you to make dietary decisions guided by the Zone blocks. The food is 100% soy, dairy, and gluten-free.