Fresh Meal Plan Review
Advertiser Disclosure
This website features affiliate links. For purchases made via these links, we earn commissions that allow us to keep producing helpful content. To find out more
click here
.
Close
If you wish that eating properly was as easy as unpack, microwave, and dig in, then Fresh Meal Plan was made for you. This Florida-based meal delivery service first opened its doors in 2011 with the goal of making healthy eating simple, affordable, and easy to fit into a busy schedule. Over the years, it has become one of the favorite sources of fresh and balanced meals among fitness enthusiasts as well as home diners who prefer eating clean.
The service delivers meals crafted by a CIA-trained chef and designed to perfectly suit a variety of special diets. If you want to learn more about its menu, meal plans, and pricing, keep reading this Fresh Meal Plan review.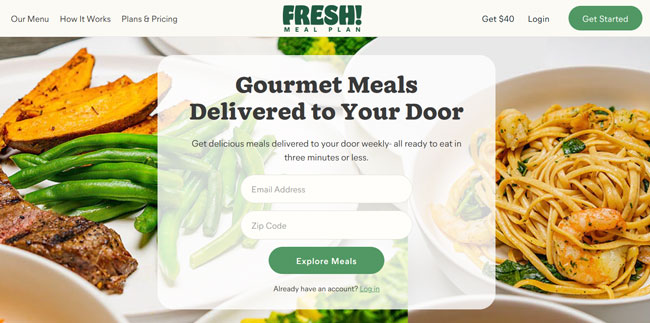 What Is Fresh Meal Plan
Fresh Meal Plan is a meal delivery launched by a certified personal trainer and an experienced chef who cooked for everyone from pro athletes to Presidents Bush and Reagan. It aims to help you optimize your diet for better health and fitness results.
Its offer includes fresh, never frozen, fully cooked meals suitable for keto and Paleo dieters, vegans, individuals on low-calorie diets, and fitness enthusiasts and bodybuilders. Each item on the menu is carefully balanced and has just the right ratio of proteins, veggies, and complex carbs. The meals are available to subscribers only and they are delivered weekly.
As a Fresh Meal Plan subscriber, you get to choose the meal plan and program that works for you, decide how many meals you want to have delivered every week, pick the meals you wish to receive, and state whether you want to get anything extra in your delivery, like bulk proteins or extra sides and entrées.
Since all the meals are fully cooked and delivered in microwave-safe containers, your job is to simply place the meals in your fridge as soon as they arrive, pop the meal of your choice in a microwave when you are ready to eat, and enjoy delicious food. There is no prep involved, reheating only takes a few minutes, and you do not even have to plate the meals if you want to reduce the cleanup process to a bare minimum.
Put simply, Fresh Meal Plan is a meal delivery service that lets you enjoy chef-crafted meals aligned with your fitness and wellness goals and save plenty of time on grocery shopping, meal prep, and cleanup.
How Does Fresh Meal Plan Work
With Fresh Meal Plan, you can choose from 5 meal programs and 3 meal plans. The meal programs at your disposal include Traditional, Paleo, Lean And Mean, Keto, and Vegan. As far as meal plans go, you can choose to receive 6, 10 or 14 meals per week.
For each meal program, the service offers a dedicated menu featuring between 12 and 17 meals. All menus change weekly, with the exception of the Lean And Mean menu. Once you sign up, you can choose the meals in your first delivery and state your ingredient preferences. For subsequent deliveries, you can handpick your meals or let the service choose them for you based on your ingredient choices.
Along with the 6, 10 or 14 meals included in your plan, you can receive a la carte extras available with the dedicated menu section named Fresh+. There you can find about 30 bulk items that let you create meals of your own or enrich your pre-made meals.
By subscribing, you agree to receive Fresh Meal Plan meals every week until you decide to cancel. Prior to every shipment, you can modify, pause or cancel your subscription straight through your account. The cut-off time depends on whether you live in South Florida or elsewhere within the continental US. South Florida orders can be modified between Wednesday at 12 PM and Sunday at 12 PM EST. National orders can be changed between Saturday at 12 PM and Wednesday at 11:59 PM EST.
If you want to change the meals in your order, skip 1 or several deliveries or end your subscription altogether, be sure to make the desired changes before the weekly cut-off. Otherwise, the changes you have made will apply to the week after your upcoming delivery.
What Makes Fresh Meal Plan Different
As suggested previously in this Fresh Meal Plan review, the service specifically caters for home diners who want to maximize their workout and improve their health and figure through diet. This specialized approach makes it different from the majority of prepared meal delivery services that simply provide an alternative to home cooking and takeout.
The second most prominent feature of Fresh Meal Plan is its impressive menu diversity. Currently, the service has more than 500 unique dishes in its selection, over 100 of which are available whenever you order. With such an incredible variety, you are unlikely to get bored with the company's meals any time soon.
Third, the service offers a unique combination of convenience and customizability. What makes it super-convenient is that it takes care of shopping, prep, and cooking and reduces the time you spend in the kitchen to just a couple of minutes, which is the time you need to reheat a meal and wash a fork and a knife.
Going a step further to ensure customer satisfaction, the service gives you more freedom when ordering than many meal deliveries out there. It lets you decide on meal selection and quantity, modify your subscription at any time, and even customize your meals or create new dishes with bulk items.
On the downside, while the service is all about healthy eating, it provides surprisingly little information on ingredient quality. It claims that it uses the finest, farm-fresh ingredients, but that is about it. It does not claim that its ingredients are always natural or organic. Furthermore, based on our experience, ingredient quality tends to vary, particularly when it comes to proteins. Its red meat seems to be of generally higher quality than poultry. This is something to keep in mind when choosing your meals.
If you end up liking what Fresh Meal Plan has to offer, you can share your find with your friends either by joining the company's referral program or by sending a Fresh Meal Plan gift card. For successful referrals, both you and your friends get a $25 credit. Should you opt for a gift card, you can choose between multiple value options, including $50, $100, $200 or a custom value of your choice.
Fresh Meal Plan Meals And Recipes
Fresh Meal Plan meal options
Previously in this Fresh Meal Plan review, we mentioned that the service offers more than 100 dishes every week and that the dishes are featured on 5 distinct menus: Traditional, Paleo, Lean And Mean, Keto, and Vegan. In this section, we will explore all 5 menus, take a look at bulk ordering options, highlight the key qualities of the company's dishes, and offer advice on how to properly store and reheat your Fresh Meal Plan meals.
Traditional
The Traditional menu normally features 17 dishes suitable for breakfast, lunch, and dinner. All the meals on the menu have 40% carbs, 30% fat, and 30% proteins. They feature chicken, turkey, salmon, beef, and pork as star proteins. The meals are mostly classics, so you can look forward to the likes of pancakes, muffins, sandwiches, burgers, steaks, stew, and jambalaya.
If you need more proteins in your meals, you can get the XL upgrade, which brings you extra proteins in every dish.
Paleo
The company usually offers 17 Paleo meals per week. These dishes focus on lean proteins from both meat and fish, as well as fruit, veg, nuts, and seeds. They contain no processed foods, dairy or grains and they are generally low in sodium, cholesterol, saturated fat, and complex carbs.
Just like with the Traditional menu, you can expect to find classic breakfasts, lunches, and dinners, like pancakes, biscuits, stews, and burgers. The XL upgrade with extra proteins is available with this menu as well.
Lean And Mean
The Lean And Mean menu is particularly suitable for bodybuilders. It features about a dozen items, all rich in lean protein and exotic veg, with moderate amounts of healthy starches and whole grains and very little fat. Some examples of Lean And Mean meals include turkey chilli, shrimp pasta, Angus burger with brown rice, basil grilled chicken, and salmon burger with asparagus.
Although the meals already contain about 35 grams on average, the XL upgrade is available if you need more proteins to fuel your workouts.
Keto
The Keto menu brings you 15 fresh meals every week, each comprising about 80% fat and up to 10 grams of carbs. The meals have moderate protein content, with proteins coming from fish, meat, and eggs. The menu features interesting breakfasts, lunches, and dinners, including Mediterranean breakfast rollups, veggie and bacon fritters, smoked salmon plate, and mushroom gravy-smothered pork chop. The XL upgrade is not available with keto meals.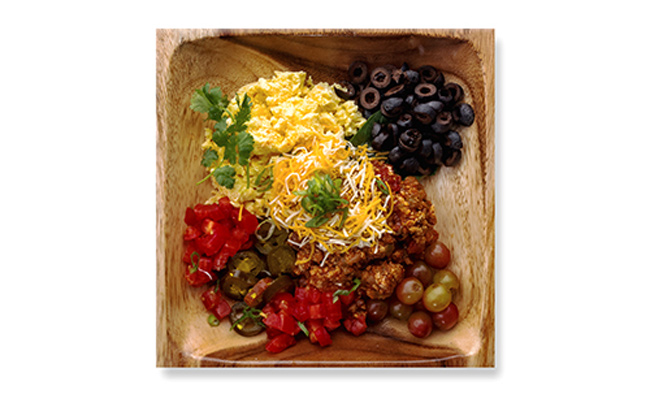 Vegan
If you opt for the Vegan menu, you can choose from 15 flamboyant dishes every week. Everything on the menu is 100% plant-based, well-balanced, and thoroughly satisfying. You get to enjoy such flavorful veggie breakfasts, lunches, and dinners like Pina Colada overnight oats, cinnamon French toast, vegan California burgers, Tuscan sausage pasta, coconut mango curry chick'n, and eggplant roulade. Just like keto meals, vegan meals cannot be upgraded to include extra proteins.
Fresh+
Finally, if you want to get more food in your deliveries, you can pay a visit to the Fresh+ section of the menu and choose from around 30 bulk items. These include cooked proteins like grilled chicken breasts and bison or veggie burgers, sides like mashed sweet potatoes and roasted broccoli and cauliflower, various salads like chicken, quinoa or tuna salad, entrées such as keto lasagna, and desserts including Paleo brownies, keto cookies, parfaits, and peanut butter chia power bites.
Bonus Facts
All the items on the menu are single-serving dishes, with the exception of bulk items. They mostly contain 200-500 calories per serving, but some may have more than 650 calories. Most items have 30+ grams of protein per serving.
While the service does not offer any special allergy-friendly dishes, it does allow you to state your ingredient dislikes so you never get foods you do not want to eat, even if you let the service pick your meals for you. You can exclude cheese, dairy, fish, nuts and seeds, pork, red meat, and shellfish from your curated deliveries.
Unfortunately, gluten is not on the Dislikes list. If you suffer from celiac disease or have any major allergies, we recommend getting in touch with the company's support staff before ordering.
Heating & Storage Tips
Heating your Fresh Meal Plan meals is perfectly easy. Just take your favorite meal out of your fridge, remove the film from the container, and microwave the meal for 2 to 3 minutes. If you want to heat your meals in an oven, you should transfer them to a pan since the containers are not oven-safe. If there are any sauce packets in your meal, be sure to remove them before heating.
After delivery, you can keep your unopened meals in a fridge for up to 10 days or until the expiration date on the container. Once opened, you should enjoy them immediately. If you do not finish your meal, you can pop it back into the fridge and eat the leftovers within a day.
The meals are delivered fresh and meant to be enjoyed fresh. However, you can freeze them if necessary. Just be sure to freeze them before the expiration date and preferably enjoy them within a month.
How Much Does Fresh Meal Plan Cost
If you choose to subscribe to Fresh Meal Plan, you can expect to pay between $10 and $12 per serving. The price per serving exclusively depends on the number of single-serving meals you receive per week. Shipping costs are not included in the price.
The 6 Meals Per Week plan costs $12 per serving and $72 per week. The 10 Meals Per Week plan comes at a price of $10.90 per serving, $109 per week. Finally, if you get the 14 Meals Per Week plan, you pay $10 per serving and $140 per week.
In case you get the XL upgrade, you pay an extra $20 per delivery.
The shipping fee charged per delivery depends on where you live and how much food you order. Within South Florida, you pay a $12 shipping fee if you order 6 meals and enjoy free shipping on orders including 10+ meals. For other locations, shipping costs normally amount to $20 per delivery.
6 Meals Per Week
Price per single-serving meal
Price per week
$12.00
$72.00
10 Meals Per Week
Price per single-serving meal
Price per week
$10.90
$109.00
14 Meals Per Week
Price per single-serving meal
Price per week
$10.00
$140.00
Where Does Fresh Meal Plan Deliver
Fresh Meal Plan delivers throughout the continental United States. However, its 6 Meals Per Week plan is only available in Florida, Georgia, Alabama, and South Carolina. Deliveries are made by hand in South Florida and shipped via FedEx nationwide.
The service only delivers to residential addresses. National shipments are dispatched every Thursday and should arrive on Friday or Saturday, depending on location. Tracking information is provided for each delivery.
South Florida deliveries are made on Monday, Wednesday, Thursday, and Sunday. You can choose the desired delivery window.
No signature is required.
Fresh Meal Plan Pros And Cons
To make sure Fresh Meal Plan meets all your standards and expectations, it is important to know its biggest advantages and disadvantages. With a short overview of its pros and cons, you can easily decide if Fresh Meal Plan is the right meal delivery service for you.
Pros
Rotating selection of 500+ meals
Over 100 menu items available at all times
5 specialized menus and meal programs
3 meal plans for different needs
Convenient extras including bulk proteins, entrées, and sides
Low-calorie, keto, Paleo, vegan, and bodybuilding meals
Flexible subscriptions
Reasonable prices
Referral bonuses
Cons
Varying ingredient quality
6 Meals Per Week plan unavailable nationwide
Does not offer multiple delivery day options for national shipments
Sample Dishes
With Fresh Meal Plan, you get delicious meals prepared by pro chefs at affordable prices. To find out what kinds of delights you will receive in your delivery, we have chosen a couple of sample dishes that accurately represents its offer and can help you decide if it is the right service for you.
Breakfast Sandwich
Southwest Chicken
Southwest Chicken Fajitas
Spinach Omelet
Bottom Line
What we like about Fresh Meal Plan is that its meals are well-balanced and carefully crafted, its menu is amazingly varied, its meal programs suit a variety of diets, and its subscriptions and meal plans are designed to fit most schedules. Since the meals are microwaveable, reheating takes up to 3 minutes and there is virtually no cleanup. The prices are ok and the shipping fee is never too steep.
We only wish the service was more consistent in terms of ingredient quality and it would be nice if you could choose the delivery day that works for you. Still, we think that Fresh Meal Plan offers pretty good value for your money and it can be a great choice if you want to fuel your body properly without spending much time in the kitchen.
Fresh Meal Plan FAQ
How should I heat my Fresh Meal Plan meals?
You can heat your Fresh Meal Plan meals in a microwave. Simply remove the film from the top of the container and heat for 2-3 minutes. The company's containers are not oven-safe.
How can I change my meal plan with Fresh Meal Plan?
With Fresh Meal Plan, you can change your meal plan directly from your account, either via the company's website or the Fresh Meal Plan app. Simply log into your account and choose the desired plan in the Meal Selection section.
How much do Fresh Meal Plan meals cost?
Fresh Meal Plan charges $10 to $12 per single-serving meal. You pay $72 per week if you order 6 meals, $109 per week if you order 10 meals, and $140 per week if you order 14 meals.
What should I do with the bags and ice from the Fresh Meal Plan packaging?
Fresh Meal Plan ice packs are recyclable. Just pour the liquid into the trash and recycle the packs with your plastics. As far as the bags go, you should leave them outside before your next delivery so the company's driver can pick them up.
View All FAQs