BistroMD Review
Advertiser Disclosure
This website features affiliate links. For purchases made via these links, we earn commissions that allow us to keep producing helpful content. To find out more
click here
.
Close
BistroMD is a healthy meal delivery that has been around since 2005. Operating from Naples, Florida, its mission is to help people stay fit or lose weight by home-delivering carefully planned, well-balanced, and delicious chef-prepared meals. Although focusing on diet food, it is also a perfect choice for anyone who seeks to maintain a healthy diet and lifestyle.
Whether you are looking to shed some extra pounds or just seek an easy way to eat well and stay in shape, our honest BistroMD review can help you discover if this meal delivery is right for you.
What Is BistroMD
BistroMD is a low-calorie meal delivery service that provides physician-designed weight loss programs. Its offer includes satisfying diet meals developed in cooperation with registered dietitians and designed with a variety of dietary needs in mind.
The service was founded by Dr. Caroline J. Cederquist, a board-certified bariatric specialist with a successful, decades-long career in medical weight management. Dr. Cedrequist's clinical experience and extensive knowledge of weight and health problems caused by metabolic dysfunction have allowed her to come up with a safe and efficient solution for achieving and maintaining a healthy weight.
Working with patients whose metabolic problems prevented them from reaching their weight and wellness goals, Dr. Cedrequist identified the need for a simpler way to stick to a proper diet. She decided to do something about it and created BistroMD, a diet meal delivery service that makes expertly designed, natural, and tasty meals readily available to everyone who wants to feel good, eat well, and get in optimal shape.
BistroMD For Weight Loss
If you want to discover what losing weight with BistroMD looks like, this section of our BistroMD review can provide all the facts you need. In the following paragraphs, you can learn what kind of results you can achieve with this service, what makes the BistroMD diet effective, what you get to eat while on the program, and how switching to the BistroMD way of eating can affect your health and well-being.
Does The BistroMD Diet Work
BistroMD is a science-based weight loss solution that has helped thousands of people reach their goal weight. On average, individuals on the BistroMD diet lose 1 to 2 pounds a week. The total amount of weight lost on the diet can go up to 100 pounds.
Based on user reports, the diet works equally well for individuals who wish to shed just 10 pounds and dieters who want to cut their weight in half. Positive effects on body mass and composition are usually noticeable after just about 2 weeks on the BistroMD program.
Your individual results may depend on your age, gender, current weight, metabolism, hydration, physical activity habits, and adherence to the BistroMD rules. If you have many pounds to lose, you may shed more than just a couple of pounds during the first weeks on the program. If you drink enough water, do not skip your meals, and enjoy BistroMD snacks in between meals, you can easily enhance your results.
On the BistroMD program, you can expect to consume 1,100 to 1,400 calories per day. In women, weight loss normally occurs after reducing the daily calorie count to approximately 1,500 calories. For men, the threshold is set at about 2,000 calories.
However, it is important to note that a decrease in calorie intake does not necessarily lead to weight loss. Consuming fewer than 1,000 calories can put your body in starvation mode.
Finally, we would like to emphasize that exercising is not mandatory on the BistroMD diet. In fact, an increase in physical activity is not recommended as you get started with the program. That means that if your current lifestyle can be described as sedentary, you do not have to turn into a fitness enthusiast overnight in order to lose weight. You can shed pounds steadily without spending any time in the gym during the first weeks and then slowly move toward a more active lifestyle, in accordance with your body's needs.
Why Does BistroMD Work
The secret to BistroMD's effectiveness is simple. The program limits your calorie intake, structures your diet according to your unique nutritional profile, and helps you kick-start your metabolism with scientifically designed meals and snacks.
Like we mentioned previously in this BistroMD review, Dr. Cedrequist designed the BistroMD diet to help people who find it hard to stay slim due to metabolic problems. Namely, individuals who easily gain weight but have troubles shedding pounds often suffer from metabolic dysfunction, a condition caused by hormonal changes in the body. Such hormonal changes may be the result of the normal process of aging or menopause as well as improper diet or strong medications. In some cases, genetics is to blame.
BistroMD helps reverse these problematic hormonal changes by providing your body with proper macronutrients. Designed by an experienced physician and registered dietitians, BistroMD meals and diet programs are nutritionally balanced and created to promote healthy and long-term weight loss. Furthermore, due to the founder's medical background, they are designed with diverse nutritional needs in mind.
Unlike fad diets that do not take into account the fact that every metabolism is different, BistroMD offers distinct solutions for men and women, diabetics and vegetarians, women in menopause and individuals at risk of heart conditions. Simply put, it works because it understands the varying needs of dieters and combats excess weight by striking at its very core, that is, metabolic dysfunction.
Your Typical Day With BistroMD
With BistroMD, you can decide how often you want to eat ready-made meals and snacks and how often you want to cook on your own or dine out. Preferably, you should eat homemade dinners once a week to practice what you have learned about healthy eating, customize your diet, and simply enjoy extra freedom on the program. Alternatively, you can cook all your meals twice a week, which requires a bit more effort. However, it suits the needs of individuals who like going to restaurants or enjoy homecooked family meals during the weekend.
If you are a lady, your daily menu with BistroMD includes:
A satisfying breakfast;
A protein-packed snack;
A light lunch;
A healthy snack;
A well-balanced dinner.
For men, the standard daily menu features:
A filling breakfast;
A light lunch;
A balanced dinner;
3 snacks distributed throughout the day.
In addition to enjoying diet meals and snacks, both men and women should drink at least 8 glasses or 64 ounces of water during the day. Individuals who already exercise regularly should not change their routine. Those who do not exercise should wait for 3 weeks before they start engaging in moderate physical activity.
As you can see, BistroMD lets you enjoy good-for-you food all day long, so you never feel deprived. It further allows you to cook on your own or eat out from time to time, making dieting more fun. However, it does not leave you guessing what you should or should not eat when you are not enjoying dietitian-designed meals. It provides clear and simple guidelines for cooking, dining out, and grocery shopping, thus steering you toward healthy food choices.
BistroMD Food List
While researching for this BistroMD review, we were particularly curious to find out how strict the diet's rules are when it comes to foods you can or cannot eat. The great news is that your choice is far from limited. You only need to avoid unhealthy options, like processed foods or empty calories. In other words, you can pick up something from nearly every aisle in the store and only look out for bad carbs, sugar, and high-calorie items.
To help you get a sense of what your options are, we bring you a categorized overview of the foods you can eat when enjoying home-cooked or restaurant meals.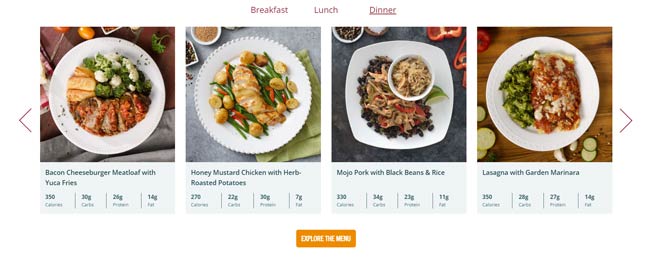 Vegetables
You can use either fresh or frozen veggies, but fresh vegetables are always preferred. Frozen vegetables are absolutely fine if they are free from added preservatives, sodium, and sugar. The recommended choices are:
Asparagus; Bell peppers; Broccoli; Carrots; Cauliflower; Celery; Cucumbers; Kale; Mushrooms; Onions; Spinach; Sweet Potatoes; Zucchini.
Fruit
Like with veggies, you should try to focus on fresh fruit or all-natural frozen options. It is further important not to eat too much fruit due to its sugar content. The recommended amount is 1 serving per day, preferably combined with proteins to keep your blood sugar levels stable. You can opt for:
Apples; Avocados; All kinds of berries; Bananas; Cantaloupes; Grapes; Grapefruits; Oranges; Peaches; Pears; Watermelon.
Bread, Pasta & Grains
When choosing your carb sources, you should make sure whole-grain options constitute at least a half of the grain-based foods you eat. Furthermore, you should opt for bread that contains no fewer than 3 grams of fiber. Examples of foods you can enjoy include:
Oats; Quinoa; Brown rice; Whole-wheat bread; Whole-wheat English muffins; Whole-grain tortillas; Whole-grain pasta.
Dairy & Eggs
Dairy and eggs are frequently featured in BistroMD meals and you can enjoy them when cooking by yourself as well. This may come as a surprise, but you do not have to limit your choice to low-fat or no-fat dairy options. Namely, the latest research suggests that full-fat options can even help prevent or manage health problems like diabetes and obesity. You should only remember that your dairy and egg portions should not be large so as not to impede your weight loss progress. You can use:
Cottage cheese; Dairy or plant-based milk; Plain Greek yogurt; Shredded cheese; String cheese; Whole eggs.
Meat & Seafood
In contrast to dairy, the meat on your plate should be lean. If you want to enjoy deli meat, you should choose items low in added salt and preservatives. Your meals can contain:
Boneless and skinless chicken breasts; Grass-fed ground beef; Salmon; Shrimp; Sirloin; Turkey breasts; Tilapia.
Oils & Condiments
You can add oils and condiments to your meals but use them sparingly. Keep an eye on the calorie count and choose natural options. For example, you can use:
Balsamic vinegar; Coconut oil; Mustard; Olive oil; Pure maple syrup; Low-sodium soy sauce; Salsa; Sriracha.
Cans & Jars
When purchasing canned and jarred foods, try to avoid products with added oil or sugar. Alternatively, you can rinse them in cold water before use. You can opt for:
Applesauce; Black, kidney or pinto beans; Canned tuna or salmon; Peanut butter; Pickles; Pumpkin; Tomato sauce.
Snacks
If you need a snack, you can enjoy a healthy treat that is not high in added salt, oil or sugar. For example, you can indulge in:
Dark chocolate squares (70% or higher); Beef or turkey jerky; Nuts and seeds (e.g. almonds or pumpkin seeds); Unsalted and unbuttered popcorn; Pretzels.
Is BistroMD Healthy
BistroMD is a health-centric weight loss meal delivery program. Designed by a physician and registered dietitians, it is nutritionally balanced, it focuses on natural foods, and it is likely to improve your metabolism along with your overall health.
Instead of being excessively restrictive in order to produce fast results, BistroMD allows you to enjoy all foods that are good for you, including good carbs, healthy fats, and lean proteins. It leads to sustainable, long-term weight loss, properly nourishes your body, and prescribes nutrition rules you can follow throughout your life in order to stay healthy and fit. It can further help you improve your cholesterol as well as your blood pressure.
It is important to know that BistroMD has no worrying side effects. It is perfectly safe and medically based and sound. It even suits the needs of dieters with special dietary needs, including diabetics, people with celiac disease, and women in menopause.
Using vitamins and supplements is not necessary unless recommended by your doctor. On the BistroMD diet, your body gets all the nutrients it needs to function properly. Due to the change in diet, some individuals may experience transient issues like constipation or diarrhea. This is normal when on a new dietary regimen, although not as common with BistroMD as with other, more restrictive diets.
How Does BistroMD Delivery Work
BistroMD provides weekly meal programs that allow you to receive 10-20 meals per week. You can choose between standard and special diet plans and decide whether you want to enjoy BistroMD breakfasts, lunches, and dinners or lunches and dinners only.
Ladies have the Signature, Heart-Healthy, Gluten-Free, Diabetic, and Menopause weight loss plans at their disposal. Gentlemen can opt for the Signature, Vegetarian, Heart-Healthy, Diabetic or Gluten Free weight loss plan.
Both men and women can decide between 4 weekly meal programs. These include:
The full 5-day program including 5 breakfasts, 5 lunches, and 5 dinners per week;
The full 7-day program including 7 breakfasts, 7 lunches, and 6 dinners per week;
The 5-day lunches & dinners program including 5 lunches and 5 dinners per week;
The 7-day lunches & dinners program including 7 lunches and 7 dinners per week.
In addition to meals, all customers can order EATS (Essential And Tasty Snacks) snack packages, available in versions for both men and women. While snacks are entirely optional, they can make it easier to eat well on busy weekdays and lose weight more efficiently.
Once you place an order, the company's registered dietitians create a custom diet program made especially for you. By logging into your BistroMD account, you can view the menu in advance. There you can customize each individual meal, including breakfast, lunch, and dinner. You can make changes to your meals at any time and choose from over a hundred delicious options.
When you are happy with your meals, all you have to do is wait a few days to get your order and start your journey toward your ideal weight.
Although they are delivered frozen, BistroMD meals are of high quality. You just need to quickly heat them up and you can enjoy food that is as fresh as the one you get in a restaurant. The team behind BistroMD has pretty high standards when it comes to food quality, claiming they would never offer meals that they would not eat themselves.
BistroMD Meals and Recipes
As suggested earlier in this BistroMD menu, the company's menu is filled with tasty diet items. At all times, you have between 150 and 200 meals and snacks to choose from.
The menu is divided into 3 sections for easier browsing. The sections include Breakfast, Lunch & Dinner Entrées, and Snacks.
In the Breakfast section, you can find about 50 satisfying dishes. These include classics like omelets, frittatas, bagel sandwiches, waffles, scrambled eggs, and French toast. As you can see, BistroMD's culinary team has made dieting much easier by turning all-time favorites into low-calorie feel-good treats that do not add inches to your waistline.
The Lunch & Dinner Entrées section is even richer and contains nearly 100 items. You can opt for delicious meatballs, sloppy joes, paellas, lasagnas, chicken delights, seafood dishes, hearty veggie stews, comforting soups, and much more. Entrées mostly originate from American cuisine and allow you to enjoy familiar flavors and textures.
The Snack section features around 50 treats that do not seem like diet food at all but can be enjoyed guilt-free. You can opt for cheesecakes, parfaits, chicken strips, parmesan chips, tasty bars, nuts, jerky, almond or pizza puffs, and a whole lot more.
Of course, everything on the menu is low in calories and nutritionally balanced. Lean proteins make up about 40-45% of your daily calorie count, complex carbs account for 30-35% of the calories you eat, and the remaining 20-25% of calories come from healthy fats. All menu items are free from trans fats and added MSG and they are freeze-dried and shelf-stable.
As could be deduced from the selection of programs available, special diet options include gluten-free, heart-healthy, vegetarian, diabetes-friendly, and menopause-friendly dishes.
Gluten-free meals and snacks are wheat-free, rye-free, and barley-free and they adhere to the FDA gluten-free standard. Unlike many other allegedly gluten-free meals on the market, they are suitable for individuals suffering from celiac disease.
Heart-healthy items are crafted in accordance with the American Heart Association's recommendations for sodium, saturated fat, total fat, and calories. You can be sure that each heart-healthy meal you get from BistroMD contains no more than 3.5 grams of saturated fat and up to 600 milligrams of sodium.
BistroMD's diabetes-friendly meals and snacks normally contain up to 25 grams of net carbs. They do not only help you lose weight but also keep your blood sugar levels in check.
Vegetarian meals and snacks on the company's menu are suitable for vegetarians and flexitarians alike. They mostly include plant-based meals, but some of them feature dairy, eggs, and even seafood. Thus, they are not all vegetarian in the strict sense, but with dozens upon dozens of options available, non-flexitarians can easily avoid fish and shellfish and enjoy meals that perfectly suit their preferences.
Finally, BistroMD's team of registered dietitians has made sure that the menu features dishes rich in lean protein and controlled for complex carbs, in accordance with the needs of women in menopause.
How Much Does BistroMD Cost
With BistroMD, the value of your order depends on the number of meals you receive on a weekly basis. Prices range from $119.95 for 5 days of lunches and dinners to $179.95 for the full 7-day program with 20 meals (7 breakfasts, 7 lunches, 6 dinners).
If you decide to add an EATS snack package to your order, you can expect to pay $15 to $31.50 per package. With 5-day programs, women get 10 snacks for $15 and men get 15 snacks for $22. With 7-day programs, ladies can purchase 14 snacks for $21 and men can receive a 21-snack pack for $31.50.
Opting for the full program lets you save about $3 per meal. Currently, there is also a promotion on the company's website that gives you 25% off your first order, as well as free shipping.
Another thing to keep in mind is that your plan is automatically renewed for another week if you do not cancel it on time. While all meal deliveries have cutoff dates for making changes to your order, the problem with BistroMD is that you may not be able to actually taste the first order before the deadline to cancel.
Full Program
Days per week
Price
Price per meal
7
$179.95 (first week $134.96)
$8.99
5
$149.95 (first week $112.46)
$9.99
Lunches and Dinners
Days per week
Price
Price per meal
7
$149.95 (first week $112.46)
$10.71
5
$119.95 (first week $89.96)
$11.99
Where Does BistroMD Deliver
Unlike many other meal deliveries, BistroMD ships its meals throughout the US, including Hawaii and Alaska. All deliveries are done via FedEx. The standard shipping fee is $19.95 for all orders. Alaska and Hawaii shipments come with additional fees.
Bistro MD Pros And Cons
To make sure Bistro MD meets all your standards and expectations, it is important to know its biggest advantages and disadvantages. With a short overview of its pros and cons, you can easily decide if Bistro MD is the right meal delivery service for you.
Pros
Scientifically based, doctor-designed weight loss plans
Dietitian-designed meals prepared by pro chefs
150-200 items on the menu at all times
Natural ingredients of high quality
Abundance of customization options
Unique programs for special diets
Cons
All meals are delivered frozen
Shipping is not free
Sample Dishes
BistroMD provides its happy customers with finger-licking chef-prepared meals that can suit virtually any taste. With this meal delivery service, you can enjoy restaurant-grade dishes in the comfort of your own home without breaking the bank. Take a look at our curated selection of BistroMD meals to get a glimpse of the delights that await you on its menu.
Artichoke Spinach and Roasted Red Pepper Frittata
Blackened Tilapia with Red Pepper Coulis
Turkey-Breast with Cranberry-Chutney and Wild Rice Blend
Turkey Sausage and Cheese Frittata
Bottom Line
Hundreds of successful weight loss stories do not lie. BistroMD offers a wide range of weight loss programs designed by a team of dietitians and nutritionists, with a board-certified weight management physician at the helm of the company. With delivery in all states, you can enjoy BistroMD meals no matter where you live. All you need to do is choose a program that best fits your weight loss goals and dietary requirements and start losing extra pounds while boosting your health at the same time.

Bistro MD FAQ
Does BistroMD work?
BistroMD is a highly effective weight loss solution that relies on science and research. With this weight loss program, designed by a team of dietitians and nutritionists, members lose 1-2 pounds a week on average.
How much does BistroMD cost a day?
With the Full 7-day Program, the cost per day is $25.70. The Full 5-day Program costs $29.99 per day. Lunches and dinners for 7 days or 5 days a week cost $21.42 or $23.99 per day, respectively. Find out more here.
How to cancel BistroMD?
To cancel your program, you need to contact BistroMD via e-mail (CustomerService@bistromd.com) or by phone at 866-401-DIET (3438). To avoid being charged for the following week, you need to cancel before the weekly deadline.
What is the difference between BistroMD and Silver Cuisine by BistroMD?
Silver Cuisine by BistroMD is a meal delivery service particularly designed to suit the dietary needs of people over 50 while the BistroMD menu is suitable for all generations.
How to prepare BistroMD food?
BistroMD meals are delivered frozen. You just need a couple of minutes to heat them up and you can enjoy your food.
Where is BistroMD located?
BistroMD is based in Naples, Florida.
How long does it take BistroMD to ship?
All orders placed prior to Tuesday 12pm ET will be shipped and delivered the same week. If you place your order after that, you will receive it the following week. Orders are delivered between Wednesday and Saturday.
What diet plans are there at BistroMD?
BistroMD's diet plans include the standard Women's Program and Men's Program, as well as special Hearth Healthy, Gluten Free, Diabetic, and Vegetarian Programs available in different varieties for men and women. There is also a Menopause Program for women.
How often does BistroMD deliver?
BistroMD delivers its food once per week.
What is Balance By BistroMD?
Balance By BistroMD is a highly customizable meal delivery program developed by BistroMD that has no order minimums, membership fees or subscription plans, which means that you can order just one meal or a whole week's worth of food whenever you wish.
View All FAQs