Home Bistro Review
Advertiser Disclosure
This website features affiliate links. For purchases made via these links, we earn commissions that allow us to keep producing helpful content. To find out more
click here
.
Close
Home Bistro went a long way from a small New York company to one of the largest businesses in the area. In 2009, it was acquired by its biggest competitor, DineWise. Together, they created a restaurant-grade gourmet meal delivery system that covers the contiguous United States. 
The meal delivery service is famous for its top-quality, innovative, chef-prepared meals that it delivers straight to the doors of its many satisfied patrons. Keep reading our Home Bistro review to learn more about the company and determine whether it is the right fit for your dietary needs and preferences. 

How Home Bistro Works
The team behind Home Bistro wants to change the way Americans eat by focusing on two crucial aspects of every successful diet – personal food preferences and the overall meal preparation process. Unlike many other meal delivery services that have a pre-set list of programs for you to choose from, Home Bistro offers a wide range of individual meals, meal combos, and packs that you can order at your convenience. Furthermore, you can order Home Bistro gift certificates, with values ranging from $25 to $1,000.
If you have any questions, a live chat is available during business hours – from 9 AM to 5 PM Eastern Standard Time. You can also contact the company's customer support staff via the official email. While researching for this Home Bistro review, we talked to the support staff a few times and were pleasantly surprised by how professional and friendly they were.  
Home Bistro's official FAQ section, on the other hand, leaves much to be desired. Some of the important questions are answered, yes, but many of them are left out. We definitely hope Home Bistro will improve this aspect of its service in the future.

What Makes Home Bistro Different
Home Bistro challenges the notion that food is just an industry. That's why the company brings a combination of skill, ethics, and innovation into preparing the finest meals available with the freshest ingredients. 
One of its major advantages is that its kitchen is run by a Certified Executive Chef, which is a certificate presented by the American Culinary Federation and one of the highest standards a chef can receive. Fun fact – only 1/4 of 1% of chefs in America earn this distinction. 
Home Bistro is also committed to providing the best possible dietary programs for families, no matter if they're solely interested in fantastic gourmet cuisine or looking for a healthy meal plan that can help them lose some weight and maintain the results long-term. 
With Home Bistro, you don't need to concern yourself with grocery shopping ever again. The company sources only 100% natural ingredients from suppliers as close to home as possible. It constantly improves its menus and introduces different flavors to make each dish as satisfying and heart-healthy as possible. Its relationship with renowned meat suppliers allows it to use poultry, beef, and pork of the highest possible quality. 
On top of everything, the CEO of Home Bistro offers his unconditional guarantee that every customer will be satisfied with its food. You can replace any item you're not happy with or receive a refund, depending on the circumstances. In his own words – "If you don't love our new food – then it's on me."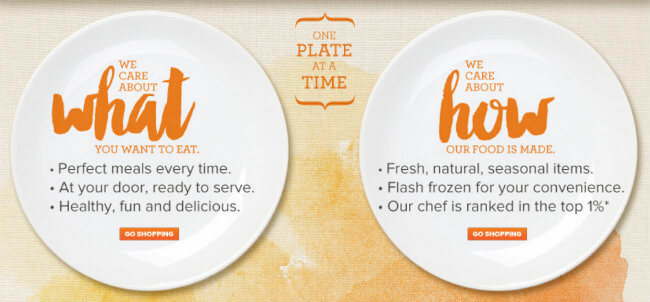 Meals and Recipes
As you might have deduced from our Home Bistro review, this is a company that's very passionate about food. All the dishes are prepared for excellence and the quality remains even throughout the entire menu. The meals are fresh frozen and require heating before serving. The entire process takes less than 10 minutes. 
The recipes are pretty creative. Along with the more classic meals, you can also find innovative meal options based on exotic cuisines. These include either revamped classics with an awesome new twist or something completely original. 

You can order as little as one meal as often as you see fit. Just keep in mind that Home Bistro does deliveries only Wednesday through Saturday. Moreover, you can also choose to order one of its convenient meal combos or packs.
When it comes to prepared packages, there is very little customization and you can only choose the whole package and pay the full price for it. Unlike some other meal delivery services, Home Bistro doesn't provide its users with prepared meal plans. 
Home Bistro recently introduced its SUPERBowls as well, which are very easy to prepare and highly portable. In other words, these microwave bowls are designed to provide you with a proper lunch or dinner while you're on the go.
Pricing
One of the best features that Home Bistro offers is the chance to order as many individual dishes as you want/need. All individual prepared meals are priced per serving. 
The cost of individual meals starts at $12.29 and goes up to $24.99. The prices of meal combos and packs start at $87.99 (the price of a 6-meal pack) and go up to $289.99 for the 14-meal Variety Combo XL. The SUPERBowls cost $74.99 and $129.99 for 7 and 14 Lunch Bowls, respectively. 

In the absence of any filtering options on the official website, you have to go through every single meal individually and see the total amount at checkout. We certainly hope Home Bistro deals with this issue in the future as well. 
Home Bistro also features a rewards system where you can accumulate points to get discounts on your meals, packs, and combos. The points-to-discount table goes as follows:
1,000 points – $10 off
4,000 points – $25 off
5,000 points – 20% off
7,500 points – $50 off
14,000 points – $100 off
30,000 points – $250 off
50,000 points – $500 off
You get 1,000 points just by creating an account, which means your first order comes with an automatic $10 discount. Every $1 you spend with Home Bistro gets you 10 points. What's more, you receive 2,000 points for referring a friend. You also get 1,000 points as a birthday gift every year.
Meal combos
Number of meals
Price
Price per meal
10
$115.99 - $174.99
$11.60 - $17.50
Individual meals
$12.29 - $24.99
SUPERBowls
Number of bowls
Price
Price per meal
7
$74.99
$10.71
14
$129.99
$9.28
Delivery Areas

Just like most other meal delivery services, Home Bistro offers nationwide home delivery. Delivery covers all parts of the contiguous United States, meaning Alaska and Hawaii are unavailable.
All of the orders are shipped by FedEx and marked as "Driver Release," which means that the package is delivered to your address and left at any exterior door, with no signature required. Most orders ship within 1 to 3 business days upon receipt and individual orders cannot be shipped to 2 different addresses. Home Bistro doesn't ship to P.O. boxes. Orders over $149.99 come with free overnight shipping. 
Home Bistro Pros And Cons
To make sure Home Bistro meets all your standards and expectations, it is important to know its biggest advantages and disadvantages. With a short overview of its pros and cons, you can easily decide if Home Bistro is the right meal delivery service for you.
Pros
Certified Executive Chef heads the kitchen

 

Restaurant-grade food

 

Chicken is 100% antibiotic-free, vegetarian-fed, and cage-free

 

Beef is 100% vegetarian-fed without growth hormones or antibiotics

 

Very competent and friendly customer support staff

 
Cons
Low on pre-made plans

 

No meal filters on the website

 

Website isn't user-friendly

 

More expensive than the competition

 
Sample Dishes
Home Bistro provides its happy customers with finger-licking chef-prepared meals that can suit virtually any taste. With this meal delivery service, you can enjoy restaurant-grade dishes in the comfort of your own home without breaking the bank. Take a look at our curated selection of Home Bistro meals to get a glimpse of the delights that await you on its menu.
Chefs Choice
Paleo
SUPER Lunch Bowls
Vegetarian
Bottom Line
Home Bistro's entire business model is dedicated to providing its customers with the best possible dining experience one can receive from a fresh-frozen meal delivery service.  
The company's chefs handpick ingredients for the ideal flavor and the entire kitchen team operates under a Certified Executive Chef. Although pricey, the company still manages to attract plenty of customers by maintaining its high standards of quality in terms of both nutrition and taste.
We hope our Home Bistro review gave you enough relevant information to make an informed choice whether to give this company a shot or keep on searching for your perfect meal delivery service.