Trifecta Nutrition Review
Advertiser Disclosure
This website features affiliate links. For purchases made via these links, we earn commissions that allow us to keep producing helpful content. To find out more
click here
.
Close
With so much to do and so little time, eating healthy is not something that comes easily to most of us. Deliveries and take-outs are often stale, they contain processed foods, and on top of that, they can be rather pricey. On the other hand, shopping for groceries, preparing meals, and planning what to cook next is extremely time-consuming and often rather tedious. This is what inspired the owners of Trifecta Nutrition to create a meal delivery service which offers balanced meals cooked from fresh, organic food at a reasonable price. This service offers meals suitable for vegans, vegetarians, Paleo lovers, and anyone who wants to enjoy the benefits of eating clean.
If you have always wanted to pay more attention to your diet but never had the time, this might just be the solution to your problems. Keep reading our Trifecta Nutrition review to find out if this meal delivery is the right fit for you.
How Trifecta Nutrition Works
Thanks to the well-organized website, ordering from Trifecta Nutrition is about as simple as it gets. Just take a bit of time to browse the range of meal plans on offer, so you can choose the one that best suits your lifestyle and dietary preferences. All meal plans are designed with different healthy diets in mind and include the Clean, Paleo, Keto, Classic, Vegetarian, and Vegan plans.
What we found especially interesting while researching for is that this service does not only offer complete meals but also allows you to order food in bulk. You can pack your fridge with delicious, ready-made food and mix it any way you like. The bulk ordering option lets you choose from a wide variety of pre-cooked foods categorized into proteins, carbs, and vegetables. Bulk food items are available on the A La Carte menu, which further includes a couple of Classic meals and snacks that you can add to your orders.
The subscriptions are highly flexible. You can always switch between plans, cancel or skip a delivery anytime you wish. Just make sure you give the company a week's notice, that is, that you make the desired changes by Friday a week before your next delivery is due.
The nice people at Trifecta Nutrition invested considerable effort into answering all potential customer questions, so make sure you go through the FAQ. In case you do have some additional questions, you can call them, send an e-mail or make use of another cool feature on their website – the live chat – where you can ask anything you wish about the service and get a kind and detailed response in no time.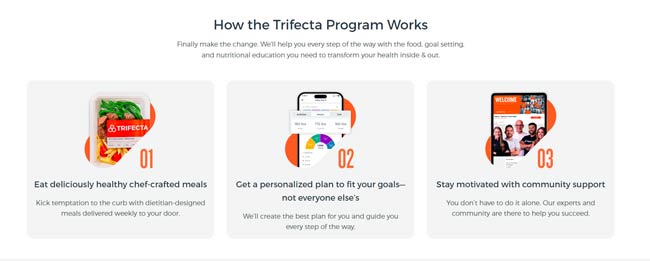 What Makes Trifecta Nutrition Different
One of the most appealing qualities of Trifecta Nutrition is that the customer gets the feeling that it truly cares. It does its best to be eco-friendly by buying organic food directly from the farmers and delivering the meals in recyclable packaging.
At the same time, the service takes pride in the fact that the animal products it uses meet Animal Welfare level 5. It invests considerable effort into educating its customers about healthy eating and strives to provide as much information as possible about the food it uses, the preparation process, and the exact amount of calories and valuable nutrients in every meal.
The company also offers three useful e-books, free of charge, to everyone who becomes a part of the community by simply entering their e-mail address on the website. For customers who want to treat their friends to a couple of delicious and healthy meals, Trifecta Nutrition provides gift certificates that make for excellent last-minute gifts. The values range from just $25 to $500.
Finally, the great possibility of ordering bulk food is what makes Trifecta Nutrition genuinely innovative. By looking into the incredible amount of information and options this meal delivery service offers, we could honestly conclude that it has really thought of everything.
Meals and Recipes
Trifecta Nutrition meal options
As we have already mentioned in this Trifecta Nutrition review, the meals offered by Trifecta Nutrition are available within 6 meal plans: Clean, Paleo, Classic, Keto, Vegan, and Vegetarian. The Clean, Paleo, Keto, Vegan, and Vegetarian plans allow you to enjoy meals handpicked by Trifecta Nutrition's chefs while the Classic plan lets you freely choose your meals.
With Clean, Paleo, and Keto plans, you can get 1, 2, 3 or 4 single-serving meals per day, with meal options including breakfast, lunch, dinner, and an additional entree. You can also decide whether you want eat Trifecta meals 5 or 7 days a week. However, if you opt for the 5-day version, you need to order at least 2 meals per day, that is, 10 meals per week.
Vegan and Vegetarian plans let you enjoy 2, 3 or 4 single-serving meals per day, 5 or 7 days a week. The Classic plan differs from other plans in that it lets you order as many meals per week as you please, as long as your order is worth at least $119.
All plans allow you to enjoy organic and healthy dishes that are allergy-friendly as well. Every item on the menu is free from gluten, dairy, and soy. The service can accommodate 2 additional dietary preferences, depending on your needs.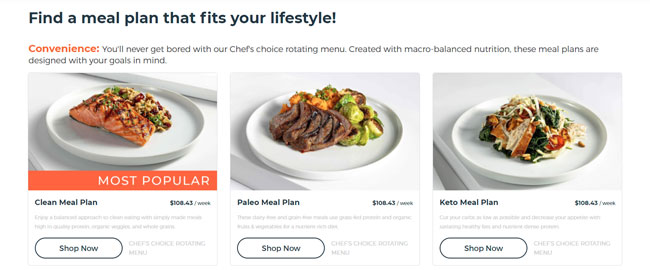 If none of the pre-designed meal plans is perfect for you, you can create completely unique meals and build your own meal plan with a la carte ordering. The only rule when creating your custom plan is that your weekly total should be at least $119, which is equal to about 20 meals. Of course, if this is too much food for a week, you can always ask Trifecta Nutrition's customer support to change your delivery frequency to suit your needs.
Now, let us talk a bit more about what you get with each Trifecta Nutrition meal plan.
Clean Plan
Organic Clean meals offered by Trifecta are a good choice for anyone who wishes to eat professionally prepared food made from high-quality organic ingredients. The meals are designed to enable customers to achieve the optimal balance in their intake of micronutrients. You can expect to enjoy satisfying breakfasts include granola, oatmeal or chia puddings with tasty fruit. The lunches available with the Clean meal plan represent a balanced combination of veggies, rice, and chicken meat or fish while dinners include light mixtures of vegetables, mushrooms, and various kinds of meat. The meals contain between 400 and 550 calories on average.
Paleo Plan
Paleo meals are designed in accordance with all the rules of the Paleo diet. The Trifecta chefs come up with new menus every week and use only the freshest of organic ingredients. If you choose the Paleo plan, you have the chance to enjoy a truly impressive variety of ingredients, packed into delicious, highly satisfying meals ranging from as little as 350 to 450 calories.
Keto Plan
As expected, the Keto plan lets you enjoy meals that are high in fat, rich in protein, and low on carbs, in accordance with the rules of the ketogenic diet.  At Trifecta Nutrition, an average keto meal contains about 40 grams of proteins,  35 grams of healthy fats, and fewer than 10 grams of net carbs. The average calorie count for keto meals is around 600 calories.
Classic Plan
Classic meals are designed for individuals who want to enjoy healthy versions of traditional meals suitable for picky eaters, featuring the perfect balance of macronutrients. Every meal you get with the Classic plan is cooked to perfection by a pro chef and includes 4 ounces of proteins (meat or fish), 4 ounces of carbs, and 4 ounces of vegetables. The calorie count per serving is usually between 250 and 400 calories.
Vegan And Vegetarian Plans
When it comes to vegan and vegetarian meals, Trifecta Nutrition takes pride in its vast knowledge about the needs of its vegan and vegetarian customers and supports their humane lifestyle by offering optimally balanced meals rich in fiber, protein, vitamin B12, iron, and calcium. Trifecta Nutrition's veggie meals contain between 400 and 550 calories on average.
Trifecta A La Carte
With the a la carte ordering option, you get to create a fully personalized meal plan. At your disposal are pre-cooked, lightly seasoned proteins, carbs, and veggies, which can be freely combined into custom meals and further seasoned to taste.
At all times, you can choose from about 15 lean proteins, including beef, bison, venison, elk, chicken, vegan burgers, salmon, shrimp, flat iron steak, peeled hard-boiled eggs, and more. The Carbohydrate section usually features half a dozen items like quinoa, brown rice, white rice, sweet potatoes, muffins, and oatmeal with raisins. In terms of veggies, you can expect to choose from about 10 items, like asparagus, portobello mushrooms, zucchini, cherry tomatoes, broccoli, and green bell peppers.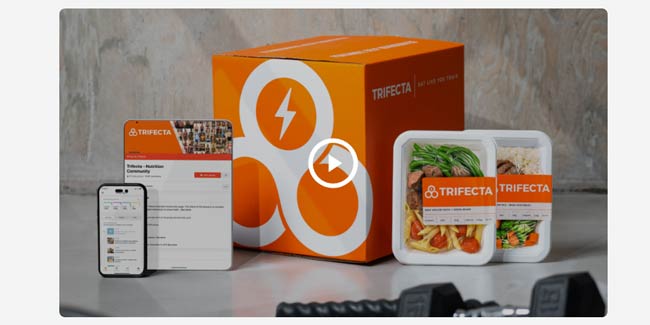 The proteins come in 1-pound and 2-pound containers and they are pre-portioned with 4-ounce portions in mind. The carbohydrates also come in 1-pound and 2-pound containers and you can decide on the portion size. The veggies are sold in 4-cup packages.
If you want to add ready-made Classic meals and snacks to your plan, you can choose from a dozen optimally balanced 12-ounce meals and half a dozen 4-ounce snacks that come in the form of seasoned and plain almonds.
Heating And Storage Tips
Trifecta Nutrition meals are never frozen. They come in chilled containers that keep them fresh, which comes in handy if you are not there to pick them up when they arrive. Still, we recommend that you put them in the fridge as soon as you can. Refrigerated, they can last up to 10 days. If you want to freeze some of the meals, you should pop them into the freezer soon after delivery to preserve freshness. They can sit in your freezer for more than 3 months.
All meals come with specific heating instructions printed on the label. You can heat the meals in a microwave, on a stovetop or in an oven.
Heating in a microwave takes just 2 to 3 minutes. You only need to remember to cut the protective film along the inner wall of the container before microwaving your meal.
When heating meat and fish in an oven, you should place them on a baking sheet, pop them into the cold oven and set to 375 degrees. Once the oven reaches the set temperature, the proteins are ready to eat. If you are using your oven to heat veggies or chicken wings or thighs, you should broil the food for 2 to 5 minutes.
Finally, you can always transfer the food  into a pan and sear or saute for a couple of minutes, until heated through.
Pricing
Considering the high-quality ingredients and the variety of carefully planned meals on offer, we were surprised to find out that the prices of Trifecta Nutrition meals are truly reasonable. Depending on the kind and the number of meals per day you choose to order, the prices of meals usually range from $10.49 to $15.49.
With the meal plans, the price you pay per week depends on how many meals you want to receive per day, the number of days per week you want to eat Trifecta Nutrition meals, and the meal plan you pick. The Clean, Keto and Paleo plans start at $108.43 per week. The Vegetarian and Vegan plans both start at $113.9 per week. Finally, the Classic plan starts at $119 per week.
Customers who choose meal plans with three or four meals per day also qualify for Trifecta Nutrition's monthly giveaway and gain free access to the services of a Trifecta Coach, who offers assistance with switching to a healthier diet and achieving health goals.
As mentioned previously in this Trifecta Nutrition review, the minimum order value for a la carte ordering is $119 per delivery. According to the company's math, a well-balanced meal using bulk food ordered from Trifecta costs just under $7. Turns out eating healthy does not have to be more expensive than having a fast food burger, which might just be the most mind-blowing fact we have stumbled upon while writing this Trifecta Nutrition review.
A la carte
Food type
Amount
Price
Proteins
1 – 2 pounds
$10.49 – $42.39
Carbohydrates
1 – 2 pounds
$6.99 – $31.79
Vegetables
4 cups
$12.99 - $25.99
Classic meals
12-ounce serving
$9.97 - $13.97
Snacks
4 ounces
$4.97
Meal plans
Clean, Paleo, and Keto
Meals per day
Days per week
Price per week
Price per meal
2
5
$149.90
$14.99
3
5
$214.35
$14.29
4
5
$275.90
$13.79
1
7
$108.43
$15.49
2
7
$209.86
$14.99
3
7
$300.09
$14.29
4
7
$386.12
$13.79
Vegan and Vegetarian
Meals per day
Days per week
Price per week
Price per meal
2
5
$113.90
$11.39
3
5
$161.85
$10.79
4
5
$205.80
$10.29
2
7
$159.46
$11.39
3
7
$226.59
$10.79
4
7
$288.12
$10.29
Classic
Meals per day
Days per week
Price per week
Price per meal
2+
5+
$119.00+
$9.97 - $13.97
Delivery Areas
Another great thing about Trifecta Nutrition is that it delivers anywhere in the US. Unlike many other meal delivery services, it ships both to Hawaii and Alaska. What also sets it apart from the competition is that it offers free delivery for all orders.
Trifecta Nutrition Pros And Cons
To make sure Trifecta Nutrition meets all your standards and expectations, it is important to know its biggest advantages and disadvantages. With a short overview of its pros and cons, you can easily decide if Trifecta Nutrition is the right meal delivery service for you.
Pros
Healthy food at a reasonable price
Wide variety of meals
Bulk food ordering option
Deliver anywhere in the US
Eco-friendly
Free shipping on all orders
Cons
You cannot handpick your meals unless you opt for the Classic plan or a la carte ordering
Sample Dishes
With Trifecta Nutrition, you get delicious meals prepared by pro chefs at affordable prices. To find out what kinds of delights you will receive in your delivery, we have chosen a couple of sample dishes that accurately represents its offer and can help you decide if it is the right service for you.
venison
Shrimp
Beef
Ahi Tuna
Bottom Line
Trifecta Nutrition is a meal delivery service that truly aims to please. As can be seen from their sample menus, the chefs are both highly creative and familiar with all the different dietary needs of their customers. The incredibly numerous and diverse dishes it offers are carefully prepared using fresh, organic ingredients and provide for an optimally balanced diet.
The ordering process is highly intuitive and simple. The subscriptions are extremely flexible, the prices are rather reasonable, and shipping is free of charge. All in all, we find healthy and delicious meals combined home delivery and the comfort of knowing that you are eating only high-quality food in just the right amount to be a pretty awesome trifecta.