Trifecta Nutrition VS Metabolic Meals
If you would like to start eating healthier but do not have time to cook, meal delivery services may be the perfect solution to your problem! Check out or objective Metabolic Meals VS Trifecta Nutrition comparison to get a better idea of what these two services offer and determine which one is the right choice for you and your family.

Clean Meals For Easier Weight Loss
VS

Highlights

Metabolic Meals allows you to shed pounds and maintain your weight with incredible ease by enjoying its health-boosting, chef-prepared, nutritionist-designed meals made of fresh, clean, organic ingredients.
Average Price Per Meal:

$14.20

Shipping Cost:

$19.95

*

Delivery Area:

49 states
*
Shipping is free if you order 15 meals

Trifecta Nutrition allows you to enjoy ready-made organic meals that suit your lifestyle and create budget-friendly custom meals of your own by ordering precooked ingredients from the a la carte menu.
Average Price Per Meal:

$14.99

Shipping Cost:

$0

Delivery Area:

50 states
Compare Features

Best For
Best for folks who want to lose weight and improve their health at the same time
Menu/Meal Plans
With Metabolic Meals, you have 3 options at your diposal, including My Choice, Chef's Choice, and Family Plan.
Recipes/Meal Options
Metabolic Meals provides its customers with 30 entrees to choose from each week.
Meal & Recipe Variety
Metabolic Meals offers diet breakfasts, entrées suitable for lunch and dinner, and healthy snacks and treats. All items on the menu are free from gluten, wheat, and soy. Based on your preferences, you can choose to receive meals that do not contain tree nuts, peanuts, pork, beef, chicken, turkey, shellfish, fish, eggs or dairy. The meals are best suited for carnivores and omnivores. Veggie dishes are rarely featured on the menu.
Food Quality
Metabolic Meals uses fresh, seasonal, organically grown produce and antibiotic-free, grass-fed meat. The meals are completely clean and free from artificial colors and flavors, refined sugars, soy, and gluten.
Nutritional Value & Portion Size
Metabolic Meals offers 2 portion sizes. With Fit portions, your daily calorie intake is 1,200-1,400 calories per day. With Performance portions, your daily intake is 1,800-2,100 calories. The meals are nutritionist-designed and optimally balanced.
Subscription Flexibility
To change or cancel your order from Metabolic Meals, you have to contact the company via phone by 11:00 AM CST on Wednesday.
Refunds
For information about refunds, you should contact Metabolic Meals directly.

Best For
Best for active individuals who want to eat healthily with zero effort
Menu/Meal Plans
Trifecta Nutrition offers 5 meals plans, including Clean, Paleo, Classic, Vegetarian, and Vegan.
Recipes/Meal Options
With Trifecta Nutrition, if you go with one of the meal plans, you can opt to receive 2-4 meals per day for 5-7 days a week. The company's a la carte menu has more than 30 items.
Meal & Recipe Variety
Trifecta Nutrition offers Paleo, vegetarian, vegan, classic, and clean, minimally processed meals. In addition to fully prepared meals, it offers precooked proteins, carbs, and veggies that can be bought in bulk and freely combined and seasoned to taste. All meals on the menu are organic and free from gluten, dairy, and soy.
Food Quality
Trifecta Nutrition delivers meals made of the highest-quality ingredients, all of which are USDA-certified organic. Its meals are fresh, never frozen, fish and seafood are wild-caught, and all meat is grass-fed. All meals are free from processed foods and artificial ingredients.
Nutritional Value & Portion Size
Trifecta Nutrition meals are optimally balanced and rich in fiber, protein, and healthy monounsaturated and polyunsaturated fats. They rarely contain added oil and the oil used is of the highest quality. Portion size is carefully calculated and satisfies the needs of adults with an active lifestyle.
Subscription Flexibility
With Trifecta Nutrition, you can edit, skip, pause or cancel your order whenever you want. The cutoff day to make changes to your order is the Friday a week before your expected delivery.
Refunds
Trifecta Nutrition may issue a refund or credit if you are not satisfied with your order.
Compare Plans & Pricing

Metabolic Meals Plans & Pricing
Chef's Choice
Meals per day
Days per week
Price per week
Price per meal
2
3
$90.95
$15.16
2
5
$163.95
$16.39
2
7
$212.95
$15.21
3
3
$125.95
$13.99
3
5
$198.91
$13.26
3
7
$242.95
$11.57

Trifecta Nutrition Plans & Pricing
Clean and Paleo
Meals per day
Days per week
Price per week
Price per meal
1
7
$108.43
$15.49
2
5
$149.90
$14.99
2
7
$209.86
$14.99
3
5
$214.35
$14.29
3
7
$300.09
$14.29
Vegetarian
Meals per day
Days per week
Price per week
Price per meal
2
5
$115.90
$11.59
2
7
$162.26
$11.59
3
5
$161.85
$10.79
3
7
$226.59
$10.79
Vegan
Meals per day
Days per week
Price per week
Price per meal
2
5
$113.90
$11.39
2
7
$159.46
$11.39
3
5
$161.85
$10.79
3
7
$226.59
$10.79
Suitable For

Meals For Families
Meals For Kids
Meals For Seniors
Meals For One

Meals For Families
Meals For Kids
Meals For Seniors
Meals For One
Compare Meal Options

Vegetarian Meals
Vegan Meals
Paleo Meals
Keto Meals
Low-Carb Meals
Low-Fat Meals
Meals For Diabetics
Gluten-Free Meals
Organic Meals
Weight Loss Meals

Vegetarian Meals
Vegan Meals
Paleo Meals
Keto Meals
Low-Carb Meals
Low-Fat Meals
Meals For Diabetics
Gluten-Free Meals
Organic Meals
Weight Loss Meals
Compare Sample Meals

Filipino Adobo Beef & Vegetable Stir fry
King Ranch Chicken With Buffalo Cauliflower
Turkey Cutlet with Lemon Caper Sauce
Wild Caught Shrimp & Aged White Cheddar Corn Grits

venison
Shrimp
Beef
Ahi Tuna
Compare Extras

A La Carte Menu
Gift Cards
Marketplace

A La Carte Menu
Gift Cards
Marketplace
Compare User Reviews

Submitted By Maria M on 04/07/2018

I give My Metabolic Meals an A+++. I am very fussy about my food so I needed a meal delivery service that provided outstanding food with REAL ingredients. I used to think that the only way I could get top quality meals was if I made them myself, but with my work schedule it became too demanding to cook every day. Then I found My Metabolic Meals and they saved the day. The menu choices are mouthwatering and easy to select, the deliveries are always on time, and my food is ready in minutes – and delicious! And an added bonus is I am managing my weight with satisfying meals! Thank you for making my life easier. Maria from Tucson, Arizona

Submitted By Rick Casta on 03/22/2018

My experience in the past few months has been great. Meals are really good, lots of options. Package always arrive cold and intact, and on time. Highly recommend!

Submitted By Jeannette Johnsen on 03/15/2018

I have only been aquatinted with Metabolic Meals for a week and my world is HAPPY, HAPPY! I am a Senior Citizen, living alone, but am active and do Ballroom and Tango dancing. I have been hunting for meals that are not only good but good for you. As all of us that live alone know, it is difficult to prepare good nutritious meal for one person. I have tried several prepared, home delivery companies with varied results. Metabolic Meals gets 5 stars and 2 thumbs up. The packaging separates the meat product from the vegetables and that allows the vegetables to stay fresh and crispy... The Mahi cake was as good as I have ever eaten at a restaurant. With the meat being divided I have added some spices to the beef meals to suit my individual taste. The Savory Breakfast Casserole lends itself to a bit of salsa, but my all-time favorite (at least this week) is the Dill and Cheddar Scrambler. Knowing that scrambled eggs can be a bit on the dry side, I did add a few drops of milk and a tiny bit of butter. But the ability to customize these meals and still stay within the nutritional boundaries is what make the meals so great. I must caution anyone that uses the meals to not over micro-wave. This is also depending on your individual microwave, but I only microwave for 2 minutes. Some of the other prepared meals I heated for 4-5 minutes but the proper packing and organic ingredients doesn't need to be over cooked. With the meals changing every week, the variety, hooray. I look forward to tasting the new items.. A real gastronomic adventure.

Submitted By C Campbell on 03/12/2018

I received Metabolic Meals several years ago... primarily to lose some extra weight. Not only did I lose the weight... but I felt more healthy and in as great of a physical condition as I can remember since I was a kid!. The meals were great and the service was outstanding. Throughout that period, I had only one problem (a meal was missed in one delivery). When I called, I got INSTANT SERVICE... and substitue meals (they gave me extra!) were delievered quickly.. It was as if they took this small mistake personally.... and wanted to correct it immediately! In today's world, that kind of service is impressive. Money, however, became an issue for me at the time ... so I stopped the plan (although, looking back, when I deduct "normal grocery store purchases".... it makes pricing more reasonable). It took awhile, but, eventually, I "slipped back into my old ways" and regained some of the weight. Maybe more importantly, however, even before I'd put on some extra weight... I began to just feel a lot less healthy overall. Fast forward: I restarted several weeks ago... and... I can honestly say.... as good as the meals were the first time... they are EVEN BETTER today! Whether you're wanting to save time, lose weight... or just to feel plain ol healthy.... I highly recommend Metabolic Meals!

Submitted By Erika on 06/14/2018

I really wanted to like Trifecta. I have two teenage boys and a husband that eat very substantial meals, that I enjoy cooking. But I need to lose a few pounds, which is tough when I am always cooking meals for my family. Our family eats a very healthy, 100% organic diet and it seemed like this would be a good service for me to eat a smaller meal, while continuing to cook for my family. I ordered the vegan plan because, although I am not vegan, I am allergic to a lot of foods and vegan meals are the safest. I then ordered some elk and fish a la cart to add to a meal or throw in a salad. After receiving the shipment, I was pretty disappointed in how the meals looked. Pretty unappetizing and not at all how the pics on the website looked. The next morning, I had a breakfast meal, which was a "loaf". It was disgusting. Dry and basically flavorless. I only ate half, because who wants a huge portion of cardboard? Plus I want some fruit and a little protein in the morning. The rest of the meals were blah. They were pretty small and higher calories than I would have expected for such small meals. The elk was okay but had a big piece of gristle running through it. I have not had the fish yet and I just threw it in the freezer. I gave Trifecta 3 stars instead of 2 because it would be a good service for a single person that doesn't cook and wants to eat healthy. That just isn't me.

Submitted By Jen on 03/17/2018

Food was overpriced, and really not good. I ended up throwing away a whole order because just looking at it made me feel nauseated. All I got was chicken. I ordered the lean & clean plan, hoping for some variety. I got chicken and rice dishes that were frankly disgusting in taste. I can admire their dedication to organic and high quality ingredients but wow these tasted really terrible.

Submitted By Kathy Fellows on 01/08/2018

Food is lovely, organic, wild caught,etc. Lightly seasoned really does mean lightly, so i add a lot of seasoning if I can figure out what they're using. I think it's a good value for what you pay. There were two cons as far as I'm concerned. The third week they ignored my food allergy list and sent two meals i couldn't eat. They did refund my money instantly when i called. The other problem is that they can't or won't let you say something like beef only once per week. As far as food allergies you are out of luck if you have more than two,so it may not work for me. Be aware they consider potatoes paleo. I can't remember if they only use the small blue ones or others as well.

Submitted By Damon 01/13/2018

Review: Convienience: 5/5 Timely deliver 3.5/5 Food quality 3/5 Flavor 2/5 Customer service: 1/5 I hate cooking, that, and daving a extremely knowlegable family member as a dietician who teaches nationally was what it took for me to finally try a meal service. I tied one locally that was about $10 per meal with snacks that I enjoyed. However they used agave, which tends to be chocked full of pesicides and chemicals, and they used organic "When available". This pretty much led me to believe, that meant NEVER. Enter Trifecta. $110 seemed quite expensive for 7 meals, but my family dietcian reminded me I probabaly spend that anyway on my "main" meals for the week. So I gave in . I ordered just after Christmas , and about 2 weeks later my first order arrived. Packaging was vaccum packed well and the meals were cold still. I surprised by the fact there was no beef. But its all about flavor and quality. They dont use any salt at all, so the food is bland...and I dont eat very much salt or sweet. I began adding pink sea salt and it helped A LOT. I will rate the meals below This is what I got. Salmon and chick pees 4/5 . Good portion . This was the best tasting meal, but again ALL need at least a little seasoning. Ahi and Brussel sprouts 3.5/5 Good size portion, not great. flavor it up and pretty good. (skin on the ahi which was surprising) Chicken wings and veggie stew- 1/5 TRASH. I was so mad 2 came in the meal. super small, fatty and BLAND. I was so hungry after eating it and im only 175 lbs. Customer service was also a joke. I recieved an email saying my second order was arriving that day. bummed becuase I really didnt want it I online chatted with customer service...no sympathy. Ask me why I canceled, and I explained I wasnt thrilled with the chicken. I was overly nice. The lady offere NO response. Then why ask? lol Anyway ...I dont recommend this company at this time. $15 for a meal that I would have thrown away if it wasnt $16!
Winner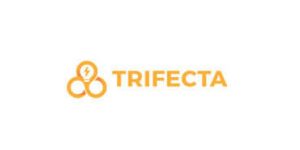 The idea behind Trifecta Nutrition meal delivery service is to offer what most of us strive to achieve: eating healthy meals which fulfill all our dietary needs, every day, without all the hassle. Whether you are a vegan or vegetarian, wish to go Paleo, or simply want to eat clean, Trifecta has got you covered. Eating healthy has never been easier.