Metabolic Meals Review
Clean Meals For Easier Weight Loss

Advertiser Disclosure
This website features affiliate links. For purchases made via these links, we earn commissions that allow us to keep producing helpful content. To find out more
click here
.
Close
Metabolic Meals is a Missouri-based meal delivery service that promises to take the stress out of weight loss and maintenance. It offers a rich menu of chef-prepared meals that are made of the cleanest, freshest ingredients and designed to help you shed pounds gradually while boosting your health at the same time. Discover the full range of options this service offers in the following sections of this Metabolic Meals review.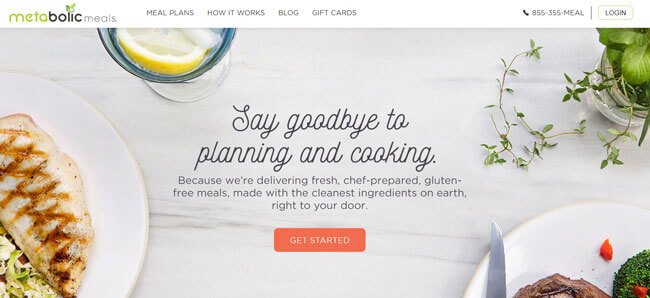 How Metabolic Meals Works
Metabolic Meals is a subscription-based service. In order to receive the meals, you need to choose one of its 2 pre-made plans, including My Choice and Chef's Choice. The plans are flexible, allowing you to choose how many meals you want to receive per week and decide whether you want to pick your meals yourself or let the chefs do the choosing for you.
Regardless of which plan you opt for, you can order breakfasts, lunches, and dinners, as well as healthy treats and snacks that can help curb your cravings between meals without impeding your progress toward your goal weight. The meals come in two portion sizes, including the Fit portion, designed for accelerated weight loss and weight maintenance, and the Extra Protein portion, designed to maximize the results of your workout.
By opting for one of Metabolic Meals' subscriptions, you do not get locked into a contract. You can easily skip a delivery, put your plan on hold, switch between plans or cancel your subscription altogether.
What Makes Metabolic Meals Different
There are several unique qualities that make Metabolic Meals a smart choice. First of all, the company uses nothing but natural, organically grown ingredients and antibiotic-free, grass-fed proteins. Its meals never contain artificial colors and flavors and they are free from refined sugars, wheat, soy, and gluten.
All meals are designed in cooperation with nutritionists and freshly made by professional chefs. They are allergy-friendly and you get to customize your selection of dishes so they do not include ingredients you do not like or need to avoid. You get a lot of freedom in designing your own menu, from choosing the quantity and selection of the meals to deciding on the portion size that suits your needs and appetite.
Apart from offering meal plans for individuals and families, Metabolic Meals offers corporate meal plans that allow employers to boost employee satisfaction and productivity through healthy eating.
If you want to treat someone to a couple of fresh, delicious, healthy meals, you can opt for a Metabolic Meals gift card. You can choose between e-cards and physical gift cards and choose any value greater than $49.
Meals And Recipes
Metabolic Meals meal options
The company's rotating menu includes more than 150 entrees, plus dozens of breakfasts and healthy treats. Every week, you can choose from 30+ new meals suitable for breakfast, lunch, and dinner. The meals range from simple dishes like turkey tacos to fancy grilled grass-fed bison burgers with caramelized onions and pecan broccoli. Unfortunately, there are very few veggie dishes and the menu is not suitable for vegetarians or vegans.

We have already mentioned that all the meals are free from gluten, soy, and wheat. Other ingredients that you can avoid include tree nuts, peanuts, dairy, eggs, fish, shellfish, pork, beef, chicken, and turkey.
If you opt for the Fit portions, you get to enjoy delicious meals that amount to just 1,200-1,400 calories per day. With the Performance portions, all meals of the day amount to 1,800-2,100 calories, which is still a low enough calorie count to allow you to steadily lose weight and get perfectly fit with regular exercise. As far as the meal plans are concerned, you can opt for the My Choice or Chef's Choice plan.
My Choice allows you to choose 6 to 28 fully cooked meals per week and have all of you meals of the week covered. With this plan, you can choose the meals on your own. The Chef's Choice plan brings you 2 or 3 meals for 3, 5 or 7 days per week and the chef pick the meals for you.
Heating And Storage Tips
With Metabolic Meals, you always get fresh, never frozen food. You should pop your meals into your fridge as soon as you receive them. They all come with expiration dates, so you know how much time you have to enjoy them before they lose their freshness. Usually, they remain in perfect shape for at least 5 days. If you wish, you can freeze the meals and extend their shelf life by a month or two, but you should avoid freezing meals that contain fresh produce and eggs.
The meals are easy to heat. You just need to poke a few holes in the protective plastic film, microwave the meal for a few minutes, and grab a fork. The exact heating time is indicated on the packaging, so you cannot go wrong.
Pricing
As we mentioned in the previous section of this Metabolic Meals review, you can choose between 2 meal plans: My Choice and Chef's Choice. With the My Choice plan, the prices start at around $10 per serving. With the Chef's Choice plan, the prices start at around $25 per day.
The price you pay per serving primarily depends on the meal type and portion size, but strangely enough, it depends on your location as well. Lunches and dinners usually cost around $12 if you opt for the smaller, Fit portion and around $17 if you opt for the larger, Performance portion. Breakfasts are somewhat more affordable and usually cost around $10 with the Fit portion and around $14 with the Performance portion. The prices of snacks and treats vary, but you can usually get 7 days' worth of snacks for about $43.
Shipping is free if you order 15 meals or more. Otherwise, you pay a $19.95 fee per shipment.
Chef's Choice
Meals per day
Days per week
Price per week
Price per meal
2
3
$90.95
$15.16
2
5
$163.95
$16.39
2
7
$212.95
$15.21
3
3
$125.95
$13.99
3
5
$198.91
$13.26
3
7
$242.95
$11.57
Delivery Areas
Metabolic Meals ships throughout the contiguous US. Its meals are available in Hawaii as well, although with extra shipping costs. Unfortunately, the company does not ship to Alaska at the moment.
All orders are shipped via FedEx and no signature is required. You get to choose the delivery day that works best for you. The meals normally arrive within 3 to 5 business days after the order is placed.
Metabolic Meals Pros And Cons
To make sure Metabolic Meals meets all your standards and expectations, it is important to know its biggest advantages and disadvantages. With a short overview of its pros and cons, you can easily decide if Metabolic Meals is the right meal delivery service for you.
Pros
Clean, organic, top-quality ingredients
Individual and corporate plans
More than 150 entrees on the rotating menu
Order breakfasts, lunches, dinners, and treats
All meals free from gluten, soy, and wheat
Plenty of customization options
Flexible subscription
Cons
Lacks vegetarian and vegan options
Not too affordable
Shipping is free only on orders of 15+ meals
Sample Dishes
With Metabolic Meals, you get delicious meals prepared by pro chefs at affordable prices. To find out what kinds of delights you will receive in your delivery, we have chosen a couple of sample dishes that accurately represents its offer and can help you decide if it is the right service for you.
Filipino Adobo Beef & Vegetable Stir fry
King Ranch Chicken With Buffalo Cauliflower
Turkey Cutlet with Lemon Caper Sauce
Wild Caught Shrimp & Aged White Cheddar Corn Grits
Bottom Line
Metabolic Meals offers top-quality meals that are sure to help you lose weight if you avoid loading up on carbs and munching on something that is bad for you outside your meal plan. You get to tailor your plan to your personal needs and chuck out everything that you do not want to see on your plate. However, while we find the company's selection of meals to be impressive, we are a bit underwhelmed by the lack of veggie options and the somewhat steep prices. Other than that, we have no doubt that Metabolic Meals can be a perfect companion on your way toward optimal weight and health.
Metabolic Meals FAQ
How to heat Metabolic Meals?
You can easily heat your meal in the supplied BPA-free entrée container. Remove the plastic film from the container and cover it with a sheet of paper towel or wax paper. Heat it in your microwave as recommended on your entrée label.
How does Nutrisystem compare to Metabolic Meals?
Both meal delivery services offer excellent diet breakfasts, lunches, dinners, and snacks. They are designed for people who want to lose weight and improve their health.
Where is Metabolic Meals located?
Metabolic Meals is based in St. Louis, Missouri.
How to cancel Metabolic Meals?
Customers may cancel their subscription at any time by calling 855-355-MEAL (6325). The request to cancel the subscription must be submitted by 9:00 AM CST on Wednesday to prevent a charge or debit for the following week.
View All FAQs