Factor Review
Delicious Organic Paleo & Keto Meals

Advertiser Disclosure
This website features affiliate links. For purchases made via these links, we earn commissions that allow us to keep producing helpful content. To find out more
click here
.
Close
We are always happy to introduce you to a meal delivery service that exclusively focuses on healthy eating and combines quality and freshness with superior flavor. Factor is one of these top-tier services that allow you to take a break from cooking and enjoy fresh, never frozen, professionally prepared meals made of natural, flavorful, good-for-you ingredients. We have had the pleasure to taste its meals and thoroughly analyze all aspects of the service. Read all about our impressions and findings in this Factor review.
How Factor Works
Factor is a subscription-based service. In order to receive the meals, you need to create an account and pick a meal plan that suits your needs. The plans only differ in the number of meals you receive per week and you can order between 4 and 18 meals.
The company uses organic ingredients, free from GMOs and hormones. The meals are suitable for a variety of diets, including keto, Paleo, dairy-free, low-carb, and gluten-free. Every week, there are around 18 dishes on the menu, plus a few extras, and you can decide which ones you want to enjoy that week or let Factor choose for you.
While you do need a subscription to enjoy the meals, you have the freedom to start, pause or end your subscription at any time. You can also change your subscription by opting for a different meal plan.
What Makes Factor Different
All ingredients that go into Factor meals have to meet a set of strict standards. They need to be free from hormones, antibiotics, GMOs, and preservatives and they cannot contain any soy or gluten. The produce is always organic, the meat is pasture-raised and grass-fed, and the fish is wild caught. Basically, the ingredients have to be completely natural, with nothing artificial or even remotely bad for your health.
Apart from making sure that the meals are made of nothing but the finest, healthiest ingredients, Factor works hard on making every order perfect. Once you sign up, you get to fill out a taste profile and let Factor know which foods you need or want to avoid. The options include common allergens, such as dairy, eggs, fish, nuts, and legumes. The information about your preferences is carefully stored and used to make sure that your orders never contain any ingredients you listed as undesirable.
You can enjoy Factor meals yourself, but you can also give them as a gift. Surprise someone with a Factor gift card worth $50, $75, $100, $200 or more and allow them to discover the advantages of this service before investing in a subscription.
Meals And Recipes
Previously in this Factor review, we mentioned that the company's menu normally includes 18 unique dishes. At your disposal, you have breakfasts, lunches, and dinners, with the same menu items being suitable for both lunch and dinner. In addition to meals, you can order cold-pressed juices as well as pre-cooked proteins to supplement your meals.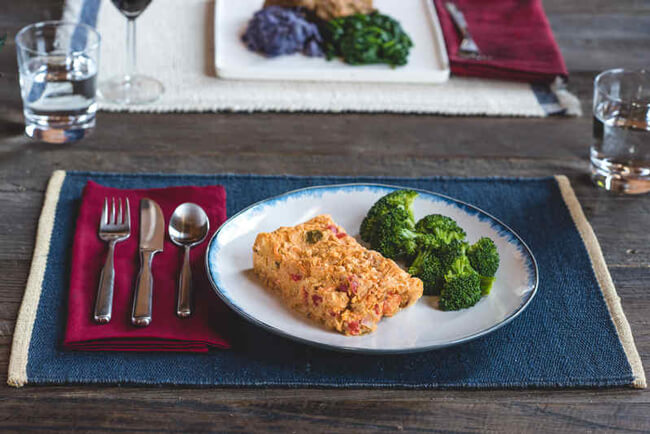 The items that are ketogenic, Paleo, dairy-free, low-carb or spicy are clearly labeled, making it easier to identify the ones that suit your needs and taste. However, if you are on the Whole30 program, we advise you to carefully examine the ingredient list for every item. Not all meals on the menu are Whole30-compliant, nor are any of them labeled as such, so it is up to you to check which ones are made in accordance with the rules of the Whole30 diet. Luckily, most of them are.
It is further worth noting that the company has recently started featuring meat-free options on its menu. Every week, there are about 3 vegetarian breakfasts, lunches, and dinners, which is not really enough for a full weekly menu. Still, more veggie options may become available in the future, making the service truly vegetarian-friendly.
The meals are available within 4 meal plans. You can opt for 4, 6, 8, 12 or 18 meals per week. If you decide you need more or fewer meals, you can add or remove meals, change quantity and edit your order directly from your account.
And here's the list of meal plans:
Chef's Choice – If you don't know what to choose just go with this option that fits any lifestyle including Keto, Vegan, Vegetarian, and Calorie Smart
Keto – Meals that are low in carbs and high in fat giving you the energy boost you need
Calorie Smart – Approved by registered dietitians these meal have less than 550 calories per serving
Vegan & Veggie – Focus on veggies without any meat
Protein+ – Meals with 30 grams of protein or more to support your wellness goals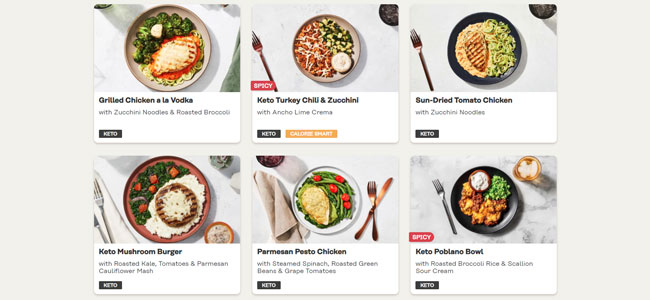 If you order from Factor, you get to enjoy tasty and satisfying meals such as Tuscan Tomato Chicken, Blackened Shimp, Keto Meatloaf, Paleo Burger, Vegetarian Lasagna, Cheeseburger Casserole, and Paleo Chicken Giardiniera. As far as cooked proteins go, you can order the likes of pan-seared salmon, shrimp, herb-roasted chicken, and petite filet, all beautifully seasoned and ready to heat or eat. Cold-pressed juices are sold in 4-packs and flavors include Pineapple Turmeric Basil, Apple Kale Wheatgrass, Apple Beet Ginger, and Carrot Orange Ginger.
Nutrition Facts
Factor meals always yield 1 serving and generally come in 13.5-ounce portions. The calorie count ranges from 320 to 720 calories per single-serving meal. Most items are low-carb and contain fewer than 25 grams of net carbs. The meals are generally high in protein and almost always contain more than 35 grams of protein per serving. The sodium content virtually never exceeds 710 milligrams per meal.
Pre-cooked meat and seafood come in 2-serving packs, with 1 serving weighing about 4.5 ounces. They usually contain about 30 grams of protein and 150 to 200 calories per serving.
Cold-pressed juices come in 12-ounce bottles and usually contain 90 to 110 calories. They are rich in antioxidants and designed to supplement your meals and provide extra nutrients to keep your body healthy and energized. It is good to know that they never contain any added sugars.
Heating And Storage Tips
Since Factor meals are delivered fresh, you should keep them in your fridge. You should use them up within 7 days of delivery. If you order more food than you can eat in a week, you can freeze the meals and preferably enjoy them within a month for optimal nutrition and flavor. However, it is important to keep in mind that not all meals are designed to be frozen. For example, you should eat your salads and frittatas fresh, soon after you receive them.
When reheating your meals, you can use a microwave or an oven. Specific reheating instructions differ from one meal to another and they are printed on the packaging. Generally speaking, if you are using a microwave, you should simply poke a few holes in the protective plastic film and heat your meal on high for 2 minutes. If the meal is not heated through, heat it for 1 extra minute. Frozen meals generally take a few minutes longer to heat. If using an oven, you should preheat it to about 350°F, transfer your meal to an oven-safe dish, and heat for around 20 minutes, with the exact time depending on your oven.
Factor Pricing
How much does Factor cost?
The price you pay per meal depends on the number of meals you decide to order per week.  The more meals you order, the less you pay.
If you decide to order 4 meals per week, you pay $60 per delivery. For 6 meals per week, you pay $77. 8 meals per week cost $99 while 12 meals per week cost $138. The most affordable plan brings you 18 meals per week for $198 per delivery.
Once you do the math, it turns out that if you order 4 meals per week, you pay $15 per meal. With 18 meals per week, you pay only $11 per meal. Therefore, you can save almost 30% if you opt for the largest plan.
You can also save cash with bulk discounts. You can purchase credit for your orders up front and get your meals at much lower prices. For example, if you purchase $400 in credit, you get a $60 discount on your meals, while purchasing $1,200 in credit brings you a $300 discount. The credit is used for all your future purchases. In addition to considerable savings, you get to enjoy bonuses like free nutrition consultations and workout gear.
Factor 75 Pricing
Meals per week
Price per week
Price per meal
4
$60.00
$15.00
6
$77.00
$12.83
8
$99.00
$12.37
12
$138.00
$11.50
18
$198.00
$11.00
Delivery Areas
Factor meals are available in all 48 states within the continental US. Unfortunately, they are not available in Alaska and Hawaii as of yet. Shipping is always free.
You do not need to be at home at the time of the delivery. The meals are shipped in insulated boxes with gel packs that keep them fresh for 48 hours. Put the meals into the fridge as soon as you can and use them within 7 days.
Factor Pros And Cons
To make sure Factor meets all your standards and expectations, it is important to know its biggest advantages and disadvantages. With a short overview of its pros and cons, you can easily decide if Factor is the right meal delivery service for you.
Pros
Natural, organic ingredients
18 meals on the menu every week
Keto, Paleo, Whole30, gluten-free, and dairy-free meals available
Extras including cold-pressed juices and pre-cooked proteins
Flexible subscription
Customizable orders
Bulk discounts
Cons
Not too affordable
Few vegetarian items
Sample Dishes
With Factor, you get delicious meals prepared by pro chefs at reasonable prices. To find out what kinds of delights you will receive in your delivery, we have chosen a couple of sample dishes that accurately represents its offer and can help you decide if it is the right service for you.
Applesauce Pork Tenderloin
Honey Rosemary Chicken
Paleo Teriyaki Salmon
Steak with Loaded Cauliflower Mash
Bottom Line
Factor is a well-rounded service, offering delicious, healthy meals for different diets, flexible subscriptions, great customization options, and simple and easy ordering. It is suitable for people who eat organic food and individuals on the Paleo, keto, Whole30, low-carb, gluten-free or dairy-free diets. Its menu is rich and well-crafted, so it is likely to satisfy the tastes of the vast majority of customers. We cannot say that the service is too affordable. However, the prices are far from unreasonable and you get to save by ordering more or purchasing credit in advance. All in all, Factor has a lot to offer and we warmly recommend you give it a try.
Factor FAQ
How often does the Factor 75 menu change?
Factor 75 changes its menu every week.
How do I cancel Factor 75?
First, log into your Factor 75 account. Then, click your name on the Menu page. Choose Account Settings from the drop-down menu. Click the Cancel Subscription button. Follow the prompts to complete the process.
Where is Factor 75 located?
Factor 75's headquarters is in Batavia, Illinois. Its kitchen is located in Chicago.
How do I heat up Factor 75 meals?
You can heat up your meals in the oven or microwave. All Factor 75 meals come with heating instructions featured on the packaging.
How much is the delivery fee at Factor 75?
Factor 75 offers free shipping to all addresses within the continental US.
View All FAQs