Ice Age Meals Review
Advertiser Disclosure
This website features affiliate links. For purchases made via these links, we earn commissions that allow us to keep producing helpful content. To find out more
click here
.
Close
Launched in 2014, Ice Age Meals is a Nevada-based prepared meal delivery that works perfectly for those who want to say goodbye to processed foods, refined carbs, and empty calories without sacrificing their free time or enjoyment at the table. It uses wholesome ingredients, keeps its meals simple and delicious, and lets you shop as often as you please.
In this Ice Age Meals review, we discover what makes this company's offer unique, what its menu looks like, how much its meals cost, and whether the service is worth a try.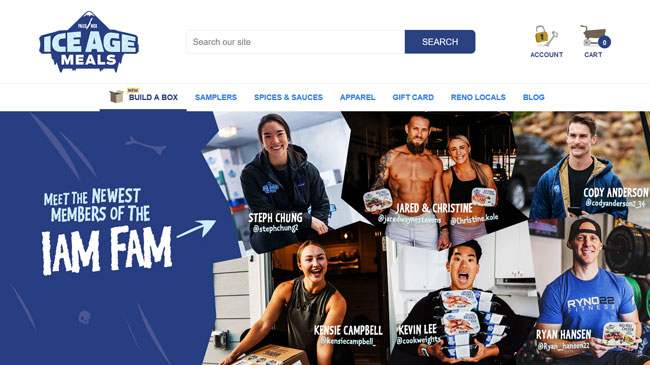 What Is Ice Age Meals
Ice Age Meals is a meal delivery service that focuses on clean eating. It lets you enjoy the combined benefits of the Paleo, Zone, and keto diets. Its meals are freshly cooked, flash-frozen, and preservative-free for optimal nutrition and easy storage.
The founder and "Chief Culinary Ninja" of the company is Nick Massie, who has been in the culinary industry for over 20 years. His decade-long fascination with the Paleo diet gave birth to Ice Age Meals as an easy solution for wholesome eating.
At Ice Age Meals, all meals are cooked in small batches using grass-fed and organic meat and natural produce from family farms. Each dish is meticulously tested before it gets a spot on the menu in order to ensure that it is delicious and that its texture is right both before and after freezing.
What makes this service's dishes tasty is not a bunch of artificial additives or loads of heavy spices. The folks at Ice Age Meals know that the secret to a perfect meal is using few ingredients of exceptionally high quality. This is what makes this service's offer superior to that of many of its competitors.
Although not high in calories, the company's meals are thoroughly satisfying and come in ample portions, so you are sure to leave the table happy and full. And the best part is that you can easily stock up on your favorites and have good food on your table whenever you crave it. No commitments, no strings attached, just wholesome meals that nourish your body and please your palate.
How Does Ice Age Meals Work
Shopping at Ice Age Meals does not require a subscription. You can order at your leisure and handpick the meals that suit your taste. There is only one simple rule you need to follow when ordering: you can choose 6, 14, 24 or 48 meals per delivery.
Building your order is a 3-step process. First, you decide how many meals you want to get. Second, you browse the menu to see what looks good and choose the meals you want delivered. Third, you decide how many servings of each meal you wish to receive. Each serving comes in a separate container.
The menu features just shy over 30 dishes at all times. New meals are added regularly and you can expect to find at least a couple of fresh additions whenever you stop by. Recently, the service has launched its own line of BBQ sauces that you can order along with your meals to elevate the flavor of each dish you enjoy.
Since there are no subscriptions, you do not have to worry about skipping or canceling. However, you should double-check the items in your cart as well as your shipping and billing information before you place your one-off order. The service processes orders quickly, so it is important to get everything right as post-hoc changes may not be possible.
What Makes Ice Age Meals Different
Generally speaking, Ice Age Meals is quite similar to some of the best Paleo meal delivery services currently on the market. It uses premium, organic, and natural ingredients. It follows the rules of the Paleo diet but provides options for other popular diets as well. It gives you a lot of freedom when ordering and it does not require you to shop more often than you wish.
These are all positive qualities, but what makes it truly unique is its meal creation process. Previously in this Ice Age Meals review, we mentioned that each item passes rigorous tests before hitting the menu. This means that when Chef Nick comes up with an idea for a new dish, he first cooks a small batch in his kitchen. He handpicks all the ingredients, marinates meat to perfection, uses toasted spices for extra flavor, and simply pours his soul into the meal. Then he lets his team of Culinary Ninjas taste the dish and share their thoughts. Together, they think of ways to improve the fresh culinary creation and make it tastier, crunchier, creamier or juicier.
After the initial adjustments, the dish is cooked in a larger batch to check whether it needs further modifications to be just right. Afterward, the dish is flash-frozen and reheated, that is, viewed from the customer perspective. If it does not pass the team's tests with flying colors, it does not make it onto the menu. This lengthy process ensures that everything you get in your deliveries far exceeds the expectations you have from a frozen meal.
But that is not all. As an Ice Age Meals patron, you get to enjoy more than just chef-crafted meals. You can also learn how to make Ice Age Meals dishes yourself since Chef Nick makes all the recipes readily available on his site. Furthermore, if you visit the Blog section of the Ice Age Meals site regularly, you can learn about frequently organizes sweepstakes, savings opportunities, and nice bonuses you can get with your future purchases.
If you want to treat someone to a couple of Ice Age Meals delights, you can purchase an e-gift card. Gift card values start at $50 and go up to $1.000.
Ice Age Meals And Recipes
Ice Age Meals meal options
Like we stated before in this Ice Age Meals review, the service's menu features more than 30 single-serving items. All the dishes are Paleo-friendly and suitable for Zone dieters and about half a dozen of them are keto-friendly as well. Everything on the menu is free from gluten, nuts, soy, and dairy and most items are egg-free.
If you like handpicking your meals, you can order individual items from the menu in quantities of your choice. In case you have no time to browse, you can opt for samplers that feature 14, 24 or 48 meals pre-selected by the Ice Age Meals team. If you want to get some Paleo BBQ sauces as well, you can choose from 4 unique flavors: Chipotle Pineapple Punch, Jalapeño Mango Marauder, Strawberry Habanero Hero, and Peachy Paleo-Q.
Some of the dishes you can find on the Ice Age Meals menu include smoked brisket with or without rice or eggs, chicken tikka masala, fajita pie, smokehouse burgers, grass-fed tri tip with yams, smoked pork belly, spaghetti and meatloaf, deep dish breakfast pizza, and one of Chef Nick's favorites, pastel de papa.
Nutritional Info & Portions Size
Ice Age Meals mostly provides meals under 500 calories. Only a few items exceed this calorie count. On average, the meals contain 28-50 grams of proteins, 20-45 grams of carbs, and up to 20 grams of fat, with several exceptions. They rarely contain more than 800 milligrams of sodium per serving.
If you follow the Zone diet, you should know that each meal on the menu contains 4 Zone blocks. If you just want to know how large the portions are, the answer is 13 to 18 ounces on average.
Heating Tips
You can reheat the dishes you get from Ice Age Meals by using a microwave or an oven. In a microwave, you should reheat your meal on high for 4 minutes, with the plastic seal on. Then take it out of the microwave, remove the plastic seal, poke the meal with a fork, and heat for another 4 minutes or until the food reaches 165 F. Wait for a few minutes until it cools a bit and enjoy.
If you are using an oven, you should preheat it to 375 F and bake the meal for 25-30 minutes. Once again, you can use a food thermometer to check whether the meal has reached the safe temperature of 165 F.
How Much Does Ice Age Meals Cost
At Ice Age Meals, the price you pay for a single-serving meal depends on how much food you choose to order and whether you opt for standard or keto dishes. The prices usually range from $11.35 to $17.42 per meal. The more you order, the lower the price. The general rule is that keto meals cost more than standard options that are only suitable for the Paleo diet and the Zone diet.
If you order 6 meals, you pay $15.83 per standard meal and $17.42 per keto meal. With the 14-meal box, a standard meal costs $13.35 and a keto meal costs $14.94. In case you order 24 meals, you pay $11.99 per standard meal and $13.58 per keto meal. Finally, if you choose to receive 48 meals, you pay $11.35 per standard meal and $12.94 per keto meal.

In other words, you get a 16% discount if you order 14 meals, a 25% discount if you order 24 meals, and a 29% discount if you get 48 meals. If you live in Reno or if you can pick up your meals at Reebok Crossfit One, you can make use of the company's special offer. You can purchase 12 meals and get each meal for just $9.99 (standard) or $10.99 (keto).
As far as samplers go, they normally start at $184.99 per 14-meal pack and go up to $ 544.99 for a pack of 48 meals. All BBQ sauces cost $9.99 per bottle.
Shipping costs $10 to $50 per delivery. The shipping fee increases gradually from the West Coast to the East Coast. You can check the graph in the FAQ section of the company's website to find out how much it costs to ship meals to your state. If you are ordering BBQ sauces only, you get to enjoy free shipping if you order 4 bottles. Otherwise, there is a $7 shipping fee.
Finally, it is good to know that all the meals come with a 100% money-back guarantee, so if you are not completely satisfied, do not hesitate to get in touch with the Ice Age Meals support staff.
6-Meal Box
Price per standard meal
Price per keto meal
$15.83
$17.42
14-Meal Box
Price per standard meal
Price per keto meal
$13.35
$14.94
24-Meal Box
Price per standard meal
Price per keto meal
$11.99
$13.58
48-Meal Box
Price per standard meal
Price per keto meal
$11.35
$12.94
Where Does Ice Age Meals Deliver
Ice Age Meals delivers throughout the United States, including Alaska and Hawaii. It mostly ships to residential addresses, but if you want your meals shipped to a hotel or somewhere else, the service can make it happen (extra charges may apply).
Once the meals are dispatched, they should reach your home within 2 days. Tracking information is provided as soon as orders are shipped. In case you notice an error in your shipping information, be sure to immediately reach out to Ice Age Meals via phone. If it is not too late, the service will redirect them to the right address, but you may be required to pay an extra $20 fee.
Ice Age Meals Pros And Cons
To make sure Ice Age Meals meets all your standards and expectations, it is important to know its biggest advantages and disadvantages. With a short overview of its pros and cons, you can easily decide if Ice Age Meals is the right meal delivery service for you.
Pros
Organic and grass-fed meat and natural veg
30+ delicious items on the menu
Suitable for the Paleo, Zone, and keto diets
Always gluten-free, nut-free, soy-free, and dairy-free
Most meals contain fewer than 500 calories
Commitment-free ordering
100% satisfaction guarantee
Cons
The prices are not too low
Sample Dishes
With Ice Age Meals, you get delicious meals prepared by pro chefs at affordable prices. To find out what kinds of delights you will receive in your delivery, we have chosen a couple of sample dishes that accurately represents its offer and can help you decide if it is the right service for you.
Grass Fed Barbacoa with Tomatillo Salsa
Grass Barbacoa with Tomatillo Salsa and Rice
Paleo butternut squash lasagne
SmokedBrisket KETO
Bottom Line
While researching for this Ice Age Meals review, what we loved the most was this service's commitment to quality. It uses only the finest ingredients, it carefully crafts each meal, and it makes sure everything on the menu is both delicious and good for you. It does not impose any strict ordering rules and it lets you shop at your convenience.
Its meals are not cheap, but the ingredients it uses do not come at low prices either, so the pricing is pretty reasonable. Plus, all the meals come with a satisfaction guarantee, so if you do not love them, you can get your money back.
All in all, we cannot think of any good reason why you should not give this rather interesting service a shot.
Ice Age Meals FAQ
How long are Ice Age Meals frozen meals good for?
You can safely keep your meals from Ice Age Meals in a freezer for up to 3 months.
How much do Ice Age Meals dishes cost?
Ice Age Meals charges between $11.35 and $17.42 per single-serving meal. Keto meals cost more than others. You pay less per serving if you order more meals.
Where can I buy Ice Age Meals products?
You can purchase Ice Age Meals frozen meals directly through the official Ice Age Meals website. No subscription is required.
How should I cook Ice Age Meals dishes?
Ice Age Meals delivers flash-frozen, ready-made dishes. When you are ready to eat, just microwave your meal on high for 4 minutes with the seal on. Then remove the seal, poke the food using a fork, and heat for another 4 minutes.
View All FAQs