Eatology Paleo Zone Review
Advertiser Disclosure
This website features affiliate links. For purchases made via these links, we earn commissions that allow us to keep producing helpful content. To find out more
click here
.
Close
Eatology Paleo Zone is a Texas-based frozen meal delivery service dedicated to spreading love for healthy food across the US and making it easy for everyone to eat right. They also have their own food philosophy that is based on two simple principles: a) food has to be delicious and b) food has to have certain health benefits.
Eatology combines the concept of the Paleo diet with the Zone theory that specifies the consumption of calories from carbohydrates and protein in a set ratio. They do so because they want to provide their customers with a healthy solution that everyone will understand and easily utilize.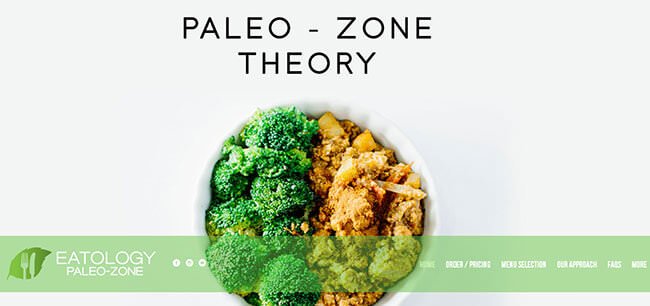 How Eatology Paleo Zone Works
When you enter the Eatology website, you may find yourself feeling like a kid in a candy store. There are so many packages, so many different meals. We are here to help you find out all about their block portions, different packages, and ordering and customization options.
Eatology lets you order individual meals, family/party platters, and meal packages. The meal packages come in stacks of 10, 15, and 21 meals. Unlike many other meal delivery services, Eatology offers breakfasts, lunches, and dinners, so you can have every meal of the day planned out. The basic kinds of packages are Sampler Pack (10 meals), Workweek Pack (15 meals), and Full Week Pack (21 meals). You can decide whether you wish to order food for only one week or choose the month version of one of the packs, with enough meals for all 4 weeks of the month. If you decide you like Eatology and want to have their food delivered weekly or bi-weekly, you can opt for the recurring option and save some money on your orders.
When it comes to the servings, you get to decide what meal size your stomach is willing to take. The two sizes available are 2-block (2B) meal portions, which are medium, and 3-block (3B) meal portions, which are quite large. The blocks are Eatology's equivalent of servings, but the difference lies in the carefully calculated amount of nutrients each block contains. A block is characterized by an optimally balanced ratio of 30% of protein, 40% of carbohydrates, and 30% of fats.
Eatology lets you customize your meals, so you can avoid the ingredients you dislike or want to avoid for whatever reason. Make sure to list any allergens or preferences so that they wouldn't send you anything you can't or don't want to eat.
As you can see, with Eatology, you get to decide on everything. You can determine the portion size and the number of meals per week. You can opt for a single or recurring purchase. You can buy a meal pack or order individual meals. You can state your preferences and only get the food you love. You are the one in control. Just pick the option that suits you best, go to the checkout, and wait for the delicious, healthy food to arrive.

What Makes Eatology Paleo Zone Different
The greatest challenge we faced while writing this Eatology Paleo Zone review was fitting everything that makes Eatology different into a couple of paragraphs. First of all, the concept they employ is completely different from the ones we are used to in meal delivery services. They have developed a thoroughly innovative method of creating food that does wonders for your metabolism.
Eatology Paleo Zone uses a combination of Paleo-approved ingredients and portion control strategies of Zone eating in their meals. The result is a dish with an optimal amount of carbohydrates/proteins/fats, which can balance your hormones by controlling your blood glucose levels.
This particular approach is necessary for those who have tried losing weight with the quite common Paleo diet and encountered difficulties along the way. Some people have trouble sticking to the Paleo diet because of the portions – even if you're eating healthy, don't expect to see benefits if you can't regulate the amount of food you eat.
Many great cooks stick with the philosophy – if it is not perfect, don't serve it. Although the folks at Eatology strive to make every meal perfect every time, after the meals are packaged, sometimes it happens that they get a bit banged up or there is not enough room for them in their storage. In order to avoid throwing away perfectly good food, they came up with a brilliant idea – Banger Meals. These are the meals you can purchase for as little as $6. Sometimes the packaging may be slightly bent or there may be nothing wrong with it at all – they just ran out of space. It is a great way to save up some cash and enjoy delicious, nutritious food at the price of a burger.
Most people tend to struggle with finding healthy food their kids like. This is especially true when it comes to meal delivery services that rarely take into consideration the pickiest eaters of all – children. Eatology solves this problem by introducing the Kids Meal Line. Read more about it in the next section of this Eatology Paleo Zone review.
Meals and Recipes
Eatology Paleo Zone meal options
As far as the company's offer is concerned, the meals are masterfully prepared with the highest quality ingredients.
Here's what a sample day of meals looks like:
Breakfast – pumpkin espresso French toast sausage with apple pie
Lunch – honey mustard chicken with carrots, tomato, and spinach
Dinner – orange cranberry meatballs with Brussels sprout slaw, and mashed potatoes
Eatology is one of those food delivery companies that have a large variety of products in stock but miraculously manage to keep up with all the quality standards. You might be surprised to hear that you can choose from around 20 two-block meals and around 30 different 3-block meals every time you stop by, which is a lot more than most meal delivery services offer.
The selection of meals changes every day and the menu rotates weekly. That means that you can always find quite a lot of different meals to try out. But not just that, you can also return to some old favorites as the meals regularly reappear on the menu. While we all crave and need variety in our diet, it is always great to be able to have a meal you really loved again.

If you are planning a social gathering, watching a game with friends or want to bring the whole family together, you can order their family/party platters at the price of $35. Cooking for a larger group of people can prove quite tricky sometimes and requires a lot of time, which is why these platters are such a great and convenient option. Each platter contains 12-15 blocks, there are plenty of options to choose from, and you can even place custom orders in order to please everyone at the table.
Now, something for the little ones. Eatology brings you its amazing solution to the problem of satisfying the young picky eaters. Eato-lette, their own meal line for kids, features wonderful, healthy meals children love. You can choose between 1-meal and 5-meal packs, depending on your specific needs.
Pricing
When you do the math, each 2B meal amounts to approximately $10 and if you decide to buy meals individually, the math remains the same – you pay $10.50 per meal. If you order 3B meals, you pay $12.75 per portion. However, Eatology lets you save some money by opting for longer subscriptions with more packages. For example, if you decide to go with a recurring order, you can save 20% on your delivery. Let us illustrate.
If you opt for a single order of the Workweek Pack (the most popular pack), you get 15 three-block meals at the price of $157 or 15 three-block meals for $191. However, if you choose the recurring option, you get the 15 meals at the price of $125 for the 2-block option or $155 for the 3-block meals. That means that the recurring option lets you save $32 or $36 every week.

Bigger orders mean even more savings. If you opt for a single Workweek Month Pack, 15 meals per week for 4 weeks, you pay $630 for 2-block meals or $767 for 3-block meals. However, with the recurring option, you only pay $499 for 2-block meals or $619 for 3-block meals. That's $131 off the price of the 2-block pack and $148 off the 3-block option. The conclusion is simple: the more you order, the more you save.
The prices stated above do not include the price of shipping. Shipping costs are $25 per week for 1-15 meal plans and $50 per week for 21+ meal plans. For monthly orders, the costs are $100 for 10-15 meal plans and $200 for 21+ meal plans. While these prices may seem too high, the good news is that if you live in or near Bryan, Texas, you can pick up the food from their store and avoid the shipping costs altogether.
While doing research for this Eatology Paleo Zone review, we were happy to see that they offer seasonal and first-time discounts that help you save even more. The seasonal discount gets you 15% off your delivery while the discount on your first order is 10%. All you have to do in order to activate the discount is enter the coupon code during checkout.
Individual meals
Size of meals
Price
2B (medium)
$10.50
3B (large)
$12.75
Family Platters (4-6 servings)
$35.00
The Healthy Chef Diet
Number of meals
Size of meals
Price
Price per serving
10
2B (medium)
$105.00
$10.50
10
3B (large)
$127.00
$12.70
15
2B (medium)
$157.00
$10.46
15
3B (large)
$191.00
$12.73
21
2B (medium)
$220.00
$10.47
21
3B (large)
$267.00
$12.71
Single 4 week order
Number of meals
Size of meals
Price
Price per serving
40
2B (medium)
$420.00
$10.50
40
3B (large)
$510.00
$12.75
60
2B (medium)
$630.00
$10.50
60
3B (large)
$767.00
$12.78
84
2B (medium)
$882.00
$10.50
84
3B (large)
$1071.00
$12.75
Auto weekly subscription
Number of meals
Size of meals
Price
Price per serving
10
2B (medium)
$83.00
$8.30
10
3B (large)
$103.00
$10.30
15
2B (medium)
$125.00
$8.33
15
3B (large)
$155.00
$10.33
21
2B (medium)
$174.00
$8.28
21
3B (large)
$216.00
$10.28
Auto monthly subscription
Number of meals
Size of meals
Price
Price per serving
40
2B (medium)
$333.00
$8.32
40
3B (large)
$412.00
$10.30
60
2B (medium)
$499.00
$8.32
60
3B (large)
$619.00
$10.31
84
2B (medium)
$699.00
$8.32
84
3B (large)
$867.00
$10.32
Delivery Areas
Eatology ships to all countries in the US. They have an intricate map on their website that shows the average time required to ship to each state. The delivery days also vary depending on the state, so we'd advise you to carefully study the map before you make any purchases.
It is important to note that your food may not be shipped the day you place your order. Eatology employs a special shipping practice in order to avoid having your food spend the weekend at the shipping terminal, which may compromise its freshness and quality. If the delivery cannot reach your home by the following Saturday, they delay shipping until the following Monday in order to ensure the food they ship reaches your home in an optimal state.
As far as the shipping costs are concerned, we have already mentioned them in the previous section of this Eatology Paleo Zone review. However, it is important to note that there is an additional $5 charge for deliveries made to CA, ID, ME, MT, NY, OR, and WA.
Eatology Paleo Zone Pros And Cons
To make sure Eatology Paleo Zone meets all your standards and expectations, it is important to know its biggest advantages and disadvantages. With a short overview of its pros and cons, you can easily decide if Eatology Paleo Zone is the right meal delivery service for you.
Pros
Incredible variety of meals
Scientifically-based method of creating healthy meals
Ships all over the US
Various discounts
Meal line designed for kids
Sample Dishes
With Eatology Paleo Zone, you get delicious meals prepared by pro chefs at affordable prices. To find out what kinds of delights you will receive in your delivery, we have chosen a couple of sample dishes that accurately represents its offer and can help you decide if it is the right service for you.
Chili Cheese Fries
lemon garlic salmon
meatloaf cupcakes
Moussaka
Bottom Line
Eatology Paleo Zone is not just a Paleo meal delivery service. Its innovative approach that combines the rules of the Paleo diet and the Zone theory guarantees each meal on their menu is perfectly balanced and nutritious. With the impressive number of meals and ordering options available, you are sure to find an option that works for you. What is more, you can finally get ready-made meals that suit the needs and tastes of the ones you love most – your kids. Eatology is definitely one of the most creative and dedicated meal delivery services around and it can really help you take care of your health.