Eatology Paleo Zone Review
Advertiser Disclosure
This website features affiliate links. For purchases made via these links, we earn commissions that allow us to keep producing helpful content. To find out more
click here
.
Close
Eatology Paleo Zone is a Texas-based frozen meal delivery service dedicated to spreading love for healthy food across the US and making it easy for everyone to eat right. It also has its own food philosophy that is based on two simple principles: a) food has to be delicious and b) food has to have certain health benefits.
Eatology combines the concept of the Paleo diet with the Zone theory that specifies the consumption of calories from carbohydrates and protein in a set ratio. That way, it allows its customers to enjoy clean, healthy food at all times while effortlessly keeping track of their daily calories and macros.
Keep reading this Eatology Paleo Zone review to find out what makes this innovative meal delivery service worth a try.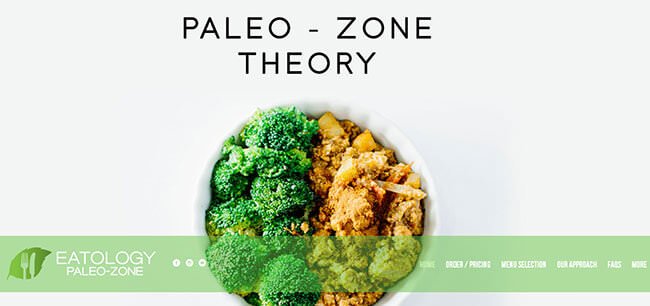 How Eatology Paleo Zone Works
When you enter the Eatology Paleo Zone website, you may find yourself feeling like a kid in a candy store. There are so many packages, so many different meals. If you are not familiar with both the Paleo diet and the Zone theory, it may be a bit difficult to figure out what you get with this service that combines the benefits of these two popular healthy eating solutions. We are here to help you find out all about the different ordering and customization options at your disposal and explain how the company's block portioning method works.
As an Eatology Paleo Zone customer, you can opt for one-time or recurring orders. Depending on your preferences, you can handpick your meals or let the company's chefs pick them for you in accordance with your dietary needs.
With one-time orders, you can choose between individual meals for 1 person, family platters that feed 4-6 people, and meal packages. Meal packages contain single-serving meals of your choice but they exclusively come in stacks of 10, 15, and 21 meals. You can get as many individual meals or family platters as you want or get the meal package that suits your needs. Regardless of your choice, you can handpick each item in your delivery. If you wish, you can opt for the monthly version of one of the meal packs and receive 4 consecutive weekly orders.
With recurring orders, you set up auto-shipments and receive meals every week until you decide to cancel. The auto-shipment option is available for meal packages, so you can get 10, 15 or 21 meals per week. If none of the meal packages works for you, you can get in touch with the company's staff via phone and request a custom weekly meal plan. Your auto-shipment plan allows you to save cash in comparison to one-off ordering and gives you the freedom to put your deliveries on hold and cancel anytime.
Unlike many other meal delivery services, Eatology offers breakfasts, lunches, and dinners, so you can have every meal of the day planned out. The company's menu changes daily and it is divided into 3 sections. It features 2-block meals, 3-block meals, and family platters. The block portioning method originates from the Zone theory and it lets you order meals with an optimally balanced macronutrient ratio and pre-determined calorie count. Normally, 2-block meals work best for women, 3-block meals are good for men because they need more calories, and family platters contain 12-15 blocks, so they can serve up to 6 people. We will thoroughly explain the block portioning concept in the Meals And Recipes section of this Eatology Paleo Zone review.
It is important to emphasize that the service lets you customize your menu so you can avoid the ingredients you dislike or want to avoid for whatever reason. Therefore, make sure you list any allergies or preferences you may have so that you do not get anything you cannot or do not want to eat.
As you can see, with Eatology, you get to decide on everything. You can determine the portion size and the number of meals per week. You can opt for a single or recurring purchase. You can buy a meal pack or order individual meals. You can state your preferences and only get the food you love. You are the one in control. Just pick the option that suits you best, go to the checkout, and wait for the delicious, healthy food to arrive.
What Makes Eatology Paleo Zone Different
The greatest challenge we faced while writing this Eatology Paleo Zone review was fitting everything that makes Eatology different into a couple of paragraphs. First of all, the concept it employs is completely different from the ones we are used to in meal delivery services. The folks behind this service have developed a thoroughly innovative method of creating food that does wonders for your metabolism.
Eatology Paleo Zone uses a combination of Paleo-approved ingredients and portion control strategies of Zone eating in their meals. The result is a dish with an optimal amount of carbohydrates/proteins/fats, which can balance your hormones by controlling your blood glucose levels.
This particular approach is necessary for those who have tried losing weight with the quite common Paleo diet and encountered difficulties along the way. Some people have trouble sticking to the Paleo diet because of the portions – even if you are eating healthily, you cannot expect to see benefits if you cannot regulate the amount of food you eat.
At Eatology, meals come in block portions, so it is always easy to calculate your calorie, protein, carb, and/or fat intake. There are no variations in calorie count and macronutrient ratio. A 2-block meal or a 3-block meal has the same nutritional value regardless of whether the actual dish is a breakfast pie or brisket with Paleo potatoes. This makes dieting much simpler and allows you to freely choose your meals in accordance with your taste, without wasting extra time on calorie or carb counting.
If you have friends who would appreciate this unique approach to meal delivery, you can send them Eatology Paleo Zone gift cards. The values start at just $25 and go up to $200. What is great is that gift cards never expire, so your friends can redeem them whenever they wish.
Meals and Recipes
Eatology Paleo Zone meal options
Earlier in this Eatology Paleo Zone review, we mentioned that the company's meals come in portions containing 2 to 15 blocks and we promised that we would explain what these block portions are all about. The concept is actually rather straightforward.
One block contains exactly 7 grams of proteins, 9 grams of carbs, 1.5 grams of fat, and about 77 to 87 calories. Therefore, a 2-block meal has 14 grams of proteins, 18 grams of carbs, 3 grams of fat, and 155 to 175 calories. A 3-block meal contains 21 grams of proteins, 27 grams of carbs, 4.5 grams of fat, and 230 to 250 calories. This portioning method allows for optimal nutrition, since a block is characterized by an ideally balanced ratio of 30% of protein, 40% of carbohydrates, and 30% of fats.
At all times, you can choose from nearly 20 two-block meals, about 2 dozen 3-block meals, and 3 family platters. You can get breakfasts and items that can serve as both lunch and dinner. You can get a few individual meals or combine the meals on the menu into 10-meal, 15-meal, and 21-meal packages. Here is what a sample day of meals looks like:
Breakfast – pumpkin espresso French toast sausage with apple pie;
Lunch – honey mustard chicken with carrots, tomato, and spinach;
Dinner – orange cranberry meatballs with Brussels sprout slaw, and mashed potatoes.
Like we said before in our Eatology Paleo Zone review, the selection of meals changes every day and the menu rotates weekly. That means that you can always find quite a lot of different meals to try out. But not just that, you can also return to some old favorites as the meals regularly reappear on the menu. While we all crave and need variety in our diet, it is always great to be able to have a meal you really loved again.
All the meals are gluten-free, Paleo-friendly, Zone-friendly, and low in calories and sodium. There are plenty of options for Whole30 dieters, as well as vegetarians. The meals are made of clean, high-quality ingredients and they never contain any added sugar, hormones or preservatives.
Heating And Storage Tips
Since Eatology Paleo Zone meals are frozen, you should pop them into your freezer as soon as they arrive. They can last for 6 months if frozen, but they may lose a bit of their nutritiousness and flavor after the first month. Once thawed, they can be kept in a fridge for 3-4 days, but it is highly recommended that you consume them within 24 hours after thawing.
The great news is that you the meals come in microwave-safe and oven-safe containers. Plus, you can reheat them in minutes even if you have not thawed them beforehand.
If you are using a microwave, you should first remove both lids from the container. In case your meal is already thawed, you should heat for 2 to 3 minutes, stir the meal, and return it to the microwave for another 30-60 seconds if needed. When heating a frozen meal, you should pop it into your microwave for 6 to 8 minutes, stir, and then heat for another 8 to 10 minutes. The service recommends opting for the defrost mode for optimal heating results.
Should you decide to heat your meal in an oven, you should keep the lid on. However, you need to let the meal breathe, so it should be vented at the corners. In an oven preheated to 350°F, you should heat your meal for 15-20 minutes if thawed or 45 minutes if frozen. Then take it out of the oven, stir, and heat for a few more minutes if needed.
Pricing
With Eatology Paleo Zone, the price you pay per meal depends on whether you opt for one-off or recurring orders and whether you opt for 2-block meals, 3-block meals or family platters. With recurring orders, the price depends on whether you opt for a week-to-week subscription or a longer subscription period.
With one-time orders, 2-block meals cost $10.50 each and a 3-block meal comes at the price of $12.75. Family platters always cost $35 per platter, which amounts to $5.83 – $8.75 per serving, since they serve 4-6 people. While not the lowest on the market, the prices are rather reasonable.
If you opt for a weekly subscription, you pay 20% less in comparison to one-off orders. You pay $8.30 per 2-block meal and $10.33 per 3-block meal. That means that you save $32 or $36 every week if you choose auto-delivery instead of one-off ordering.
To help you save even more cash, the service allows you to opt for the 3-month subscription. With this option, you agree to receive your meals every week for 12 weeks, unless you choose to put your subscription on hold and resume it later. The 3-month subscription brings you 2-block meals at the price of $7.87 and 3-block meals at the price of $9.55.
The prices stated above do not include the price of shipping. Shipping costs are $25 per week for 1-15 meal plans and $50 per week for 21+ meal plans. For monthly orders, the costs are $100 for 10-15 meal plans and $200 for 21+ meal plans. While these prices may seem too high, the good news is that if you live in or near Bryan, Texas, you can pick up the food from their store and avoid the shipping costs altogether.
One-time orders
Portion size
Price per serving
2 blocks
$10.50
3 blocks
$12.75
12-15 blocks (family platter)
$5.83 - $8.75
Weekly subscription
Portion size
Meals per week
Price per week
Price per serving
2 blocks
10
$83.00
$8.30
2 blocks
15
$125.00
$8.33
2 blocks
21
$174.93
$8.33
3 blocks
10
$103.30
$10.33
3 blocks
15
$155.00
$10.33
3 blocks
21
$216.93
$10.33
3-month subscription
Portion size
Meals per week
Price per week
Price per serving
2 blocks
10
$78.75
$7.87
2 blocks
15
$118.08
$7.87
2 blocks
21
$165.33
$7.87
3 blocks
10
$95.58
$9.55
3 blocks
15
$143.41
$9.56
3 blocks
21
$205.75
$9.79
Delivery Areas
Eatology ships to all states in the US. It has an intricate map on its website that shows the average time required to ship to each state. The delivery days also vary depending on the state. All orders are delivered via UPS.
It is important to note that your food may not be shipped the day you place your order. Eatology employs a special shipping practice in order to avoid having your food spend the weekend at the shipping terminal, which may compromise its freshness and quality. If the delivery cannot reach your home by the following Saturday, it delays shipping until the following Monday in order to ensure the food it ships reaches your home in an optimal state.
As far as shipping costs are concerned, we have already mentioned them in the previous section of this Eatology Paleo Zone review. However, it is important to note that there is an additional $5 charge for deliveries made to CA, ID, ME, MT, NY, OR, and WA.
Eatology Paleo Zone Pros And Cons
To make sure Eatology Paleo Zone meets all your standards and expectations, it is important to know its biggest advantages and disadvantages. With a short overview of its pros and cons, you can easily decide if Eatology Paleo Zone is the right meal delivery service for you.
Pros
Natural, clean ingedients
Incredible menu variety
Scientifically-based method of creating healthy meals
Great for Paleo, Zone, and Whole30 dieters
Ships all over the US
Great discounts on auto-delivery
Sample Dishes
With Eatology Paleo Zone, you get delicious meals prepared by pro chefs at affordable prices. To find out what kinds of delights you will receive in your delivery, we have chosen a couple of sample dishes that accurately represents its offer and can help you decide if it is the right service for you.
Chili Cheese Fries
lemon garlic salmon
meatloaf cupcakes
Moussaka
Bottom Line
Eatology Paleo Zone is not just a Paleo meal delivery service. Its innovative approach that combines the rules of the Paleo diet and the Zone theory guarantees each meal on its menu is perfectly balanced and nutritious. With the impressive number of meals and ordering options available, you are sure to find an option that works for you. Eatology is definitely one of the most creative and dedicated meal delivery services around and it can really help you take care of your health.