Pete's Paleo Review
A major treat for Paleo food-lovers

Advertiser Disclosure
This website features affiliate links. For purchases made via these links, we earn commissions that allow us to keep producing helpful content. To find out more
click here
.
Close
Rarely do we stumble upon a meal delivery service that really has it all. Maybe it is because we look too hard to find the flaws or maybe it is because we are a tough crowd to please. But when we do, we speak from our hearts and incredibly thorough research. What follows is exactly how we felt while doing this Pete's Paleo review.
The great people at Pete's Paleo are an inspired, hard-working crew with over 40 years of combined experience (sous chef level and higher). They do not write the menus in advance. What they do is take the best seasonal ingredients the farmers and ranchers have to offer at the given moment, their creative juices get flowing, and the final result is a colorful variety of Paleo dishes that are beaming with flavor.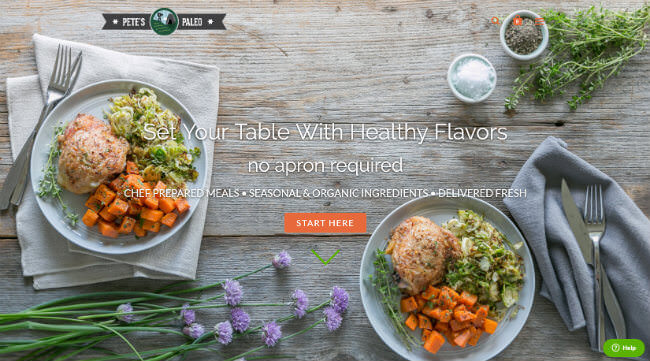 True, there is not an endless range of seasonal ingredients, but that does not mean that everything has to be prepared the same way every time until it gets boring. At Pete's Paleo, the ingredients are always cooked in different ways, with different spices, using different methods. This innovative approach is what makes every dish prepared in their kitchen exciting, unique, and downright delicious.
How Pete's Paleo Works
The process that takes place from the time you order your food until it reaches your home or office is made up of five steps.
First, you place your order by Monday night. You can choose one of the Paleo meal delivery plans that include the dishes from the weekly menu, order ligher meals from the Pete's Paleo Lite menu, get great meals for special diets available on the Eat What You Love menu or opt for meals designed for those who wish to follow the 21-Day Sugar Detox program.
If you are interested in doing some cooking on your own, you can order the company's out-of-this-world bacon and bone broth. While you are there, you can take a look at the Paleo recipes on their blog.
When choosing a meal plan, you get a chance to choose whether you wish to have pork in your meals or upgrade your plan with twice as much protein for every meal or one extra side dish per meal. You further get to decide whether you want to receive your deliveries weekly or biweekly. After all decisions have been made, all that is left for you to do is proceed to checkout, provide all the necessary information, and look forward to your order.
The next step is completed by the kind ranchers and farmers who supply Pete's Paleo with all the top-quality ingredients. Chef Pete and his crew maintain friendly, personal relationships with their suppliers (who come from over a dozen of the best local farms and ranches) and make sure that the food that reaches your home is made of ingredients that originate from animals and plants that received proper, constant care and are never treated with any artificial or harmful substances. The produce the service uses is organic, locally grown, and harvested the same day, rarely the day before the meals are prepared. The meat comes from grass-fed, pastured animals. Once all of the suppliers provide Pete's Paleo team with their freshest products, it is time for step three.
The third step takes place in the Pete's Paleo kitchen. This is where the magic happens. Chef Pete and his equally talented and experienced team work on turning the best seasonal ingredients available into meals that are truly fit for a Paleolithic king.
Now, step four. Once the meals are ready, they are conveniently packaged and shipped fresh, so you could enjoy them at their best.
Finally, step five is where you receive your food. The company offers nationwide shipping via UPS (takes 1-2 days to reach you), but if you live in San Diego or somewhere nearby, you can pick up the meals on your own every Thursday. Just choose the location that works best for you and check the time the food is available there. You can see the list of locations and pickup times on the Pickup Locations page of the Pete's Paleo website.
The service also offers you the possibility to send $25-$300 gift cards to the people you love. It is only important to keep in mind that the cards are only valid for one-time orders. If you want to use them for subscription purchases, the folks at Pete's Paleo kindly ask you to contact them first. The gift cards come with no additional processing fees.
If you have some questions, you can contact the company's customer service via live chat and quickly get all the answers you need.
What Makes Pete's Paleo Different
Pete's Paleo is more than a meal delivery service. It does not only offer amazing Paleo dishes but also deeply cares about where its ingredients come from and how the animals and plants are treated. Its meals are the result of a lot of care, love, and dedication you can taste in every bite. It is a meal delivery service with a soul.
What also makes it special is that it has its own products. It provides bacon and bone broth that are exclusively prepared for its customers and made from only the highest-quality ingredients, without any unnecessary and unhealthy substances. It further offers Chef Pete's book on Paleo cooking and e-books with recipes for people who love bacon or a good, healthy breakfast. On top of that, it offers meals that are designed to help you follow specialized Paleo programs.
Meals and Recipes
Pete's Paleo meal options
Pete's Paleo offers five standard meal plans. These include the 5-Meal plan, the 10-Meal plan, the 14-Meal plan, the Family plan, and the Vegetarian meal plan.
With the 5-Meal plan, you get 5 meals for 1 person in every delivery. The 10-Meal plan can work for both singles and couples. It offers 2 meals a day for 1 person or 1 meal a day for 2 people for 5 days.
The 14-Meal plan is designed to last you 7 days. It is good for 2 meals a day for 1 person or 1 meal per day for 2 people. The Family plan is designed to provide a family of 4 with 1 meal a day for 5 days.
Finally, the Vegetarian plan includes 10 gorgeous veggie dishes, so 1 person can eat 2 of them each day for 5 days or share the deliciousness with someone so they both could have 1 dish a day for 5 days.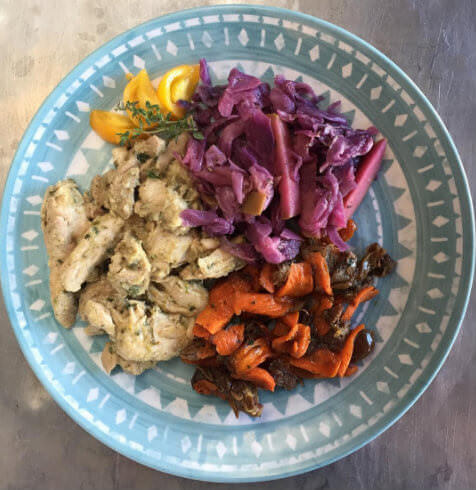 If you are trying to get or stay fit, you can opt for Pete's Paleo Lite meals and get 7 delicious meals that are not high in calories but rich in protein and nutritious veggies.
For individuals on the AIP, Low-FODMAP, and keto diets, Pete's Paleo has designed the excellent Eat What You Love menu. You can filter the meals by diet and order a minimum of 5 out of about 2 dozen tasty meals on the menu.
Pete's Paleo also offers ready-to-eat meals for the 21-Day Sugar Detox program for individuals who want to say goodbye to their sugar cravings. All meals are approved for all 3 levels of the 21-Day Sugar Detox program and you can order 7, 14 or 21 meals.
Pete's Paleo takes special pride in its products and one of them is its signature bacon. Once you have tried Pete's Paleo bacon, you are unlikely to ever settle for anything less. It contains no sugar, nitrates or nitrites, just excellent meat from pastured pigs seasoned with salt, great spices, and a lot of love. Most of the bacon you can find in stores is brined, which is why it shrinks beyond recognition when you fry it. Pete's Paleo bacon is cured, so all that happens to it while frying is that it turns golden brown and even more mouthwatering. It is meaty and supple and essentially good for you. When you purchase Pete's Paleo bacon, you get it in a slab that can be sliced and diced any way you wish.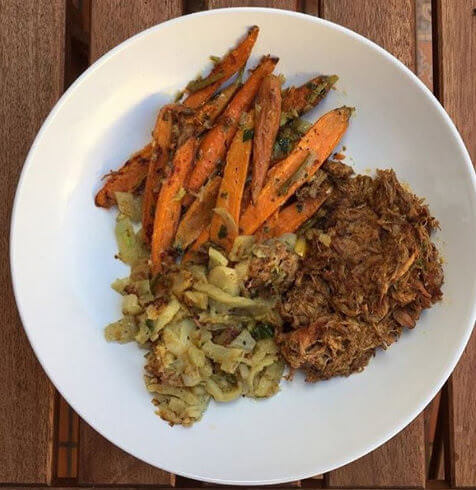 Another product in the company's offer is bone broth that is AIP-friendly and contains no flavorings and colorings, MSG, salt or preservatives. It is exclusively made using bones from responsibly and humanely raised animals, as well as organic vegetables and herbs.
Finally, apart from food, the service also offers reading material for anyone interested in the Paleo diet. Chef Pete has written an excellent book on Paleo cooking titled Paleo by Season, which details preferred cooking techniques, offers more than 100 recipes, and tells you where to find the best ingredients in the country. You can also order 7 Days of Breakfast, an e-book with recipes for breakfasts throughout the week, and you will get another e-book for free – A Day of Bacon: 4 Simple Recipes for Each Meal of the Day (including dessert).
Nutrition Facts
At Pete's Paleo, nutrition facts and portion size vary depending on meal type. All meals except for Family options contain 1 serving. Standard 1-serving meals include 5 ounces of protein and 7 ounces of veggies, unless you choose to double up on proteins and get extra sides. Prior to customization, they have 290 to 560 calories.
Pete's Paleo Lite meals contain 3.5 ounces of protein and 5 ounces of veg. They usually have 20% to 30% fewer calories than Pete's Paleo standard meals.
Meals on the Eat What You Love menu and the 21 Day Sugar Detox menu  are designed in complete accordance with the rules of the special diets for which they are suitable and the portions are adjusted accordingly. For example, keto meals allow you to get 60% to 75% of your calories from fat, 5% to 25% of calories from protein, and no more than 20% of calories from carbs. They are also moderate in calories, with the average count of 430 calories per single-serving meal.
Heating And Storage Tips
Since most Pete's Paleo meals are shipped fresh (with the exception of the Eat What You Love menu) you should store them in your fridge. Refrigerated, they can last for 2 weeks, which gives you plenty of time to enjoy them fresh. However, if you find that you cannot eat them all before they go bad, you can store the extra meals in your freezer for 6 months.
What is good to know is that the meals are perfectly easy to reheat. You should just remove them from the bags and microwave them in a microwave-safe dish for 1 or 2 minutes or saute them in a pan for about 5 to 6 minutes.
Pricing
This is the part we are less enthusiastic about, but still, after doing extensive research for this Pete's Paleo review, we are absolutely sure that the quality you get is well worth the price. Let us lay out the prices of their products for you, so you could judge for yourself. The standard meal plans range from $123 (5 meals) to $324 (family plan). If you opt for Lite meals, you get 7 meals for $99. The prices of individual meals on the Eat What You Love menu usually range between $14.25 and $18.25 per meal.
The prices of meals for 21-Day Sugar Detox start at $163.50 ($147.15 for subscriptions) for 7 dinners, with the possibility of saving some money by ordering more meals. It is important to know that, unlike the meals on their weekly menu, these meals are shipped frozen.
The prices of Pete's Paleo bacon start at $47.56 for 4 pounds and you can order up to 10 pounds. The prices of bone broth start at $68 for 96 ounces, which is enough for 12 servings. The prices differ depending on whether chicken, beef or both chicken and beef bones were used while preparing the broth.
7 Days of Breakfast e-book costs $2.99 and you get A Day of Bacon: 4 Simple Recipes for Each Meal of the Day e-book free of charge. Paleo by Season is available on Amazon, starting at $9.99 for Kindle.
When it comes to shipping, the service states that some orders come with reasonable shipping fees, while most orders ship for free. Based on our research for the purpose of this Pete's Paleo review, only Hawaii and Alaska orders come with shipping fees, usually amounting to $21.95 per delivery.
Standard
Number of meals
Price
Price per meal
5
$123.00
$24.60
10
$189.00
$18.90
14
$249.00
$17.78
Family Plan (4 servings)
Number of meals
Price
Price per meal
5
$324.00
$12.90
Vegetarian
Number of meals
Price
Price per meal
10
$129.00
$12.90
Pete's Paleo Lite
Number of meals
Price
Price per meal
7
$99.00
$14.14
21 Day Sugar Detox
Number of meals
Price
Price per meal
7
$147.15
$21.02
14
$241.65
$17.26
21
$315.00
$15.00
Delivery Areas
As we have already mentioned in this Pete's Paleo review, there are two ways to get your hands on their meals. They can be shipped to your home or office and they ship nationwide, so wherever you are within the US, the food will reach you in one or two days. The other way is to pick up the food yourself on one of the 8 locations in San Diego every Thursday. Just make sure you check the time when the food is available. There is also the possibility to pick up the food on Friday during business hours if you could not make it on Thursday, but we encourage you to avoid such delays, as there are no guarantees that the food will remain fresh if it stays at the pickup location for another day.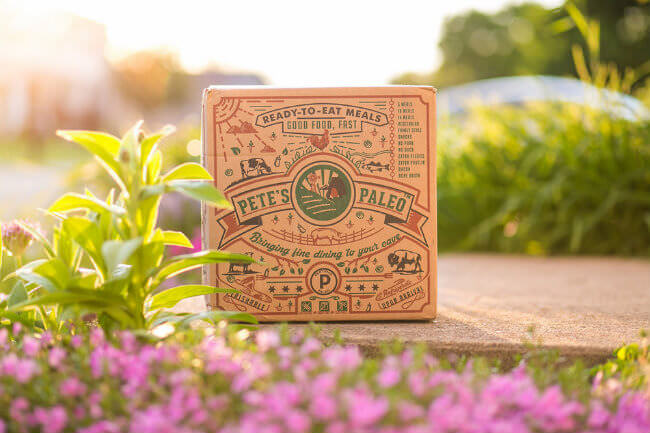 Pete's Paleo Pros And Cons
To make sure Pete's Paleo meets all your standards and expectations, it is important to know its biggest advantages and disadvantages. With a short overview of its pros and cons, you can easily decide if Pete's Paleo is the right meal delivery service for you.
Pros
Exciting variety
Organic, seasonal ingredients
Experienced chefs
Delicious, all-natural bacon and bone broth
Delivers nationwide
Free shipping on continental US orders
Sample Dishes
With Pete's Paleo, you get delicious meals prepared by pro chefs at affordable prices. To find out what kinds of delights you will receive in your delivery, we have chosen a couple of sample dishes that accurately represents its offer and can help you decide if it is the right service for you.
21 Day Sugar Detox
Black-Pepper-Tenderloin-with-Golden Beets and Sauteed Spinach
Coconut Curry Chicken Stew
Petes Paleo Meals
Bottom Line
There is not much left to say about Pete's Paleo, except that it is one of the best meal delivery services we have tried so far. The food is rich, flavorful, nutritious, and healthy and the ingredients are organic and could not be fresher.
We love that it does not only provide ready-made, quick-to-heat meals but also offers other products and information that help you make great dishes all by yourself. It delivers nationwide and the pickup option is a great opportunity for people from San Diego who want to get their hands of their favorite meals as soon as possible.
Finally, the only downside to Pete's Paleo is that the prices are a bit high, but it is certainly worth it.
Pete's Paleo FAQ
How many servings does 1 Pete's Paleo meal include?
Pete's Paleo almost exclusively offers single-serving meals. If you want to get more portions per meal, you can opt for the Family Plan, which provides 4-serving dishes.
How much sodium do Pete's Paleo meals contain?
Pete's Paleo meals normally contain no more than 770 milligrams of sodium per serving, which is in line with the USDA dietary recommendations for sodium. Each Pete's Paleo meal comes with a nutrition facts label that indicates sodium content.
Where is Pete's Paleo located?
Pete's Paleo is based in San Diego, California.
How should I heat up Pete's Paleo bone broth?
We do not recommend heating bone broth in a microwave, due to its high gelatin content. You should heat it in a saucepan and bring to a simmer or boil, depending on your preferences.
How do I heat Pete's Paleo food?
You start by removing the food from the bags. The best way to heat your Pete's Paleo meals is to sauté all meal elements in a pan at medium-high heat for 5 to 6 minutes. Alternatively, you can microwave the food for 1 to 2 minutes.
View All FAQs