Cooking with superior ingredients
Plated Review - UPDATED Mar 2018
Plated is a meal delivery service geared toward supplying you with fresh ingredients, which you can then use to prepare delicious meals. Their subscription plans are very customizable and affordable, so they will surely fit your schedule and price range. Our Plated review will explore their offer in great detail in order to provide you with all the information you need to decide if this meal delivery service is just right for you and your loved ones.
How Plated works
Instead of shopping for groceries yourself or searching for new recipes, Plated saves you all that hassle by sending you the ingredients straight to your door. The ingredients are portioned to be just the right amount, so all you need to do is follow the recipe and you'll be a pro chef in no time.
One of the first things we noticed about Plated is that they offer a live chat with their friendly customer support team. Should you have questions or concerns at any point, their staff will be available for you and ready to help. Unfortunately, the live chat is not available round the clock. They do, however, offer free phone and email support too.
Besides the standard subscription you pay for yourself, you can also give someone a gift card which they can redeem on Plated's website.

What Makes Plated Different?
Plated generally offers more flexibility than most meal delivery services. With Plated, you can choose whether you want 2, 3 or 4 servings, 2, 3 or 4 times a week, with 20 dinner recipes and 2 dessert options each week – each week they offer a different seasonal menu! The best part is that you can cook just two nights and even skip weeks if you want to.
In addition, Plated only sends meat raised without any antibiotics or added hormones, so you can be sure that the taste will be completely natural. Their produce is exceptionally fresh and they also use organic fruits and vegetables whenever possible. Plated uses fish from sustainable fisheries, which they are partnered with, and special artisan ingredients you won't find in stores. The result is a huge difference in both quality and taste, which you will notice instantly.
Meals and Recipes
Like we already said in this Plated review, they offer 20 new recipes each week, plus 2 desserts, carefully designed by professional chefs to fit any level of cooking skill.
The concept is that Plated delivers ingredients for specific meals to your door and you're the chef who prepares them. The ingredients are pre-portioned, which means you'll get just the right amount for any given meal. You can choose two, three or four servings, depending on who you plan to be cooking/dining with. These will all be carefully packed in insulated boxes and delivered to your doorstep between 8 AM and 8 PM.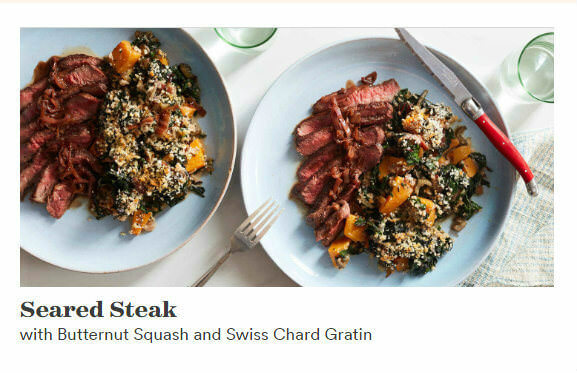 Even if you're not home when your box arrives, this shouldn't be a problem as no signature is required and the boxes are insulated, so they can usually keep your food fresh at least until midnight of the same day.
The recipes are designed so that there is a new seasonal menu every week, with eleven original recipes designed by professional chefs. Don't worry about not having enough experience in the kitchen – these recipes will suit any cooking level, with various lengths of preparation that usually take less than an hour. Concerned about the ingredients? You don't need to worry about that either. All the meats and seafood are responsibly sourced and the seasonal ingredients come from local farms. On top of that, these menus are made to suit omnivores, vegetarians, seafood, and dessert lovers alike.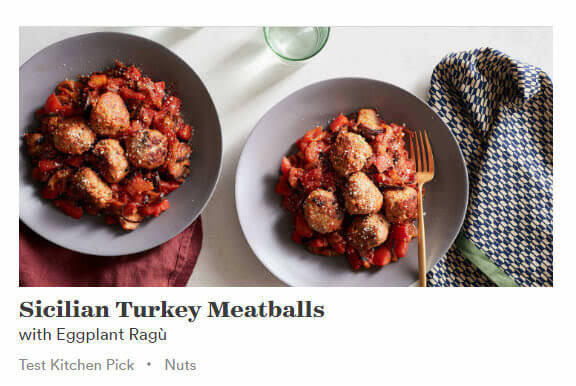 As mentioned at the beginning of this Plated review, Plated offers you incredible flexibility, both when it comes to choosing recipes and customizing your subscription plan. The recipes can be selected in any combination with no limitations.  As for the subscription, you are free to skip weeks and cancel anytime you like, which is an option not many meal delivery services offer.
Pricing
Plated's pricing plans are what truly sets them apart from their competition. First of all, you can choose between 2, 3 or 4 servings per dinner – each is good for a single portion for adults or 1-2 children. After that, you can choose how many dinners per week you'd like to cook.
If you choose to cook for 2 people, you pay $11.95 per serving. With the 3-serving and 4-serving options, you get your meals at the price of $9.95 per serving. The service offers an excellent 50% discount on your first order. Shipping is free on all weekly orders over $60.
Delivery Areas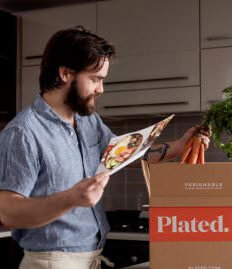 As much as we were satisfied with everything else, we were a bit disappointed with Plated's delivery coverage. They only deliver to 95% of the US. In addition, they currently aren't shipping to the non-continental states, such as Hawaii and Alaska, as well as a few cities in Texas, including San Antonio, Corpus Christi, Laredo, and Midland.
If you're not sure whether Plated delivers to your area, you can simply enter your zip code during signup to get confirmation. This way, you don't have to worry about subscribing and then finding out you're not in the delivery range.
Pros
You can skip weeks or cancel anytime.
Plated uses only high-quality ingredients.
Carefully crafted artisan spices which can't be found in stores.
The meals are good for any cooking skill level.
Plated offers very affordable plans.
Cons
Their delivery range doesn't cover all of the US – only 95%.
There aren't as many dessert options as we expected.
Bottom Line
The bottom line is that Plated has many neat options which most of their competitors do not. One of the biggest advantages is the price – they actually don't charge much more than the regular cost you would pay for those ingredients at a store. On top of that, their dinner plans are highly flexible. Not only can you chose between 2, 3 or 4 servings, you can also skip weeks and cancel at any point if you wish. The menus seem incredibly versatile, with something to suit everyone's taste, plus the quality of the ingredients is top-notch. If you're looking to cook easy recipes several times a week at a favorable price, Plated is the meal service for you.