Plated Review
Advertiser Disclosure
This website features affiliate links. For purchases made via these links, we earn commissions that allow us to keep producing helpful content. To find out more
click here
.
Close
Plated is a New York-based meal kit delivery service that has been on the market since 2012. In just a couple of years, it has managed to grow from a mere start-up to one of the industry leaders, setting and raising standards in food quality, menu variety, and flexibility ever since. If you are a home cook seeking a completely personalized meal kit cooking experience, read this Plated review and find out why this company is one of the best-loved meal kit services in America.

How Plated Works
Plated is a complete solution for stress-free home cooking. It boasts one of the richest menus in the business, its ingredients are always fresh and natural, and its recipes are designed with even the most inexperienced cooks in mind. Here is how cooking with Plated works.
First, you get to pick the plan that works best for you. You can decide whether you want to cook 2, 3 or 4 times a week and whether you want to cook for 2, 3 or 4 people. The plans are highly flexible and can be modified to suit your changing needs. You can adjust everything from the number of servings to the desired delivery date every single week, so you are never stuck with a subscription that does not work for you.
Once you pick a plan, you can move on to the fun part – choosing your meals. Every week, there are 20 dinner recipes and 2 delectable dessert ideas on the menu and you can choose anything that suits your taste.
After you place your order, the Plated staff gets busy, handpicking the finest ingredients and carefully measuring them, so each recipe would yield perfectly satisfying portions. Your recipe cards and ingredients are carefully packed, transported in insulated boxes that preserve freshness, and delivered straight to your home.
Just like the meal plans, the subscriptions are incredibly flexible. You can pause, modify or cancel your subscription at your convenience, no questions asked. You just need to make all the desired changes before your order is processed, that is, by noon 6 days before the scheduled delivery day.


What Makes Plated Different
As we mentioned previously in this Plated review, this unique service has managed to differentiate itself from the rest by offering greater variety and flexibility and higher food quality than most similar solutions on the market. It does not only offer dinner recipes but also comes up with incredible dessert ideas every week. It offers a completely personalized ordering and cooking experience, with easily modifiable plans and subscriptions. It chooses nothing but the best ingredients, so your meals are rich in both flavor and nutrients.
It carefully chooses its suppliers and exclusively cooperates with farmers that employ the best sustainability practices. The meat you receive from Plated is raised without any antibiotics or added hormones, so you can be sure that the taste will be completely natural. The produce is exceptionally fresh, always natural, and organic whenever possible. Plated uses fish from sustainable fisheries and provides special artisan ingredients you cannot find in stores. The result is a huge difference in both quality and taste, which you are sure to notice instantly.

Meals and Recipes
Like we already said in this Plated review, they service offers 20 new dinner recipes each week, plus 2 dessert ideas, carefully designed by professional chefs to fit any level of cooking skill.
Dinner recipes can be divided into two basic categories – weekly recipes and encore recipes. Weekly recipes are the ones freshly crafted by the Plated team and featured for the first time on the Plated menu. Encore recipes are the ones that were featured on the menu in the past weeks and received the highest ratings from the company's customers. Thus, whether you want to try something new or play it safe and choose the meals that everyone loved, the Plated menu has plenty of options to satisfy your desires.
Although the service does not offer separate meal plans for individuals with special dietary needs, its menu features plenty of options for all the most common diets. Every week, there are recipes suitable for omnivores, vegetarians, individuals allergic to gluten, and people who prefer low-carb and low-calorie meals.

In order to help you choose your meals more easily, Plated has sorted its meals by categories. Depending on your dietary preferences, you can filter the meals by main protein source and view dishes featuring meat, seafood or veggies only. Alternatively, you can apply additional filters and view gluten-free, low-carb, quick-prep, stovetop-only or meals under 600 calories.
It is important to emphasize that Plated does not only aim to satisfy your dietary needs but also expand your culinary horizons. Its recipes are incredibly innovative and inspired by numerous world cuisines, like French, Italian, Indian, Mexican, Chinese, and traditional American.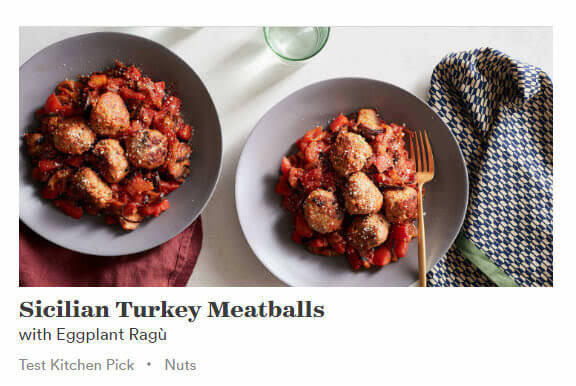 As far as meal preparation is concerned, it is minimized, as all the ingredients come in just the right quantities. The recipes are simple, with several easy steps and clear instructions that guarantee perfect results. The meals are usually ready in no more than 45 minutes and some may take as little as 20 minutes to make. Hands-on time normally ranges between 10 and 30 minutes.
Plated Pricing
How much does Plated cost?
Plated's pricing is another aspect of the service that truly sets it apart from their competition. It is perfectly straightforward, so you never have to wonder how much your orders will cost. The price exclusively depends on the number of servings per meal. Here is how much a weekly delivery costs with each of the available options.
If you choose to cook for 2 people, you pay $11.95 per serving, which amounts to $47.80 for 2 recipes, $71.70 for 3 recipes, and $95.70 for 4 recipes per week. With the 3-serving option, you pay $9.95 per serving. Thus, 2 recipes per week cost $59.70, 3 recipes cost $89.55, and 4 recipes per week cost $119.40.
If you are cooking for 4 people, the price per serving is the same as with the 3-serving option – $9.95. That means that you pay $79.60 for 2 recipes, $119.40 for 3 dinners, and $159.20 for 4 dinners for 4 people per week.
2 Servings
Meals per week
Meal kit price
Price per serving
2
$47.80 (first week: $35.85)
$11.95
3
$71.70 (first week: $53.77)
$11.95
4
$95.60 (first week: $71.70)
$11.95
3 servings
Meals per week
Meal kit price
Price per serving
2
$59.70 (first week: $44.77)
$9.95
3
$89.55 (first week: $67.16)
$9.95
4
$119.40 (first week: $89.55)
$9.95
4 servings
Meals per week
Meal kit price
Price per serving
2
$79.60 (first week: $59.70)
$9.95
3
$119.40 (first week: $89.55)
$9.95
4
$159.20 (first week: $119.40)
$9.95
Delivery Areas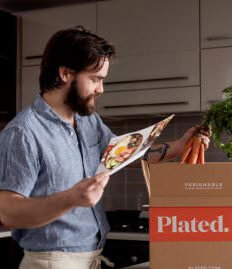 As much as we were satisfied with everything else, we were a bit disappointed with Plated's delivery coverage. It only delivers to 95% of the US. In addition, it does not to Hawaii and Alaska, as well as a few cities in Texas, including San Antonio, Corpus Christi, Laredo, and Midland.
If you're not sure whether Plated delivers to your area, you can simply enter your zip code during signup to get a confirmation. This way, you don't have to worry about subscribing and then finding out you're not in the delivery range.
On the plus side, you get to choose the delivery date that works best for you and you do not have to pay for shipping if your order is worth $60+. Furthermore, you do not have to be at home to receive your delivery. No signature is required and the boxes are insulated, so they can usually keep your food fresh at least until midnight of the same day.
Plated Pros And Cons
To make sure Plated meets all your standards and expectations, it is important to know its biggest advantages and disadvantages. With a short overview of its pros and cons, you can easily decide if Plated is the right meal kit service for you.
Pros
Diverse weekly menu featuring 20 dinner recipes and 2 dessert ideas
Gourmet, vegetarian, gluten-free, low-calorie, and low-carb dishes
High-quality ingredients, organic whenever possible
Carefully crafted artisan that can't be found in stores.
The meals are good for any cooking skill level
Incredible flexibility
Excellent discounts for new customers
Free shipping on orders over $60
Cons
Only delivers to 95% of the US
Jut 2 dessert options
Sample Dishes
If you subscribe to Plated, you can easily prepare culinary masterpieces using only the ingredients and recipes found in your meal kit box. You may not be a pro chef just yet, but with Plated, you can easily make restaurant-grade meals. You don't have to take our word for it – check out the images below to get a better idea of the types of dishes you can enjoy with Plated.
Tahini Chicken Schnitzel
Brie Mac and Cheese
Farro and Arugula Salad
Cauliflower Tinga Tacos
Bottom Line
As seen in this Plated review, it has many neat options which most of its competitors do not. One of the biggest advantages is the price – it actually doesn't charge much more than what you would pay for those ingredients at your local store. On top of that, the plans are highly flexible. Not only can you chose between 2, 3 or 4 servings, you can also skip weeks and cancel at any point if you wish. The menu is incredibly versatile, with something to suit everyone's taste, plus the quality of the ingredients is top-notch. If you're looking to cook easy recipes several times a week at a favorable price, Plated is the meal kit delivery service for you.