Plated VS Terra's Kitchen Comparison
Advertiser Disclosure
This website features affiliate links. For purchases made via these links, we earn commissions that allow us to keep producing helpful content. To find out more
click here
.
Close
If your body is craving something healthy and tasty, but there is no room for cooking in your overcrowded schedule, it is time to give meal delivery services a shot. Check out our Terra's Kitchen VS Plated comparison and find out which one to trust with taking care of your diet. Enjoy amazing meals, hassle-free!

Glorious Flavors Of The Mediterranean
VS

Cooking with superior ingredients
Highlights

Whether you are looking for healthy, ready-made meals or want to cook delicious meals in 15-30 minutes, Terra's Kitchen has plenty of options to satisfy your unique needs.
Price Range:

$$$

Average Price Per Meal:

$12.99

Shipping Cost:

$0

*

Delivery Area:

35 states
*
free on orders over $100, $5.99 for orders worth less than $100

Plated offers incredible ordering flexibility, competitive pricing, and one of the richest menus in the meal kit market, with recipes for a vast range of tastes, diets, and cooking skill levels.
Price Range:

$$

Average Price Per Meal:

$9.95

Shipping Cost:

$0

*

Delivery Area:

48 states
*
except on weekly plans under $60
Compare Features

Best For
Best for fans of the Mediterranean cuisine
Menu/Meal Plans
Terra's Kitchen features one menu, which you can browse by meal type, servings, and more.
Recipes/Meal Options
Terra's Kitchen provides its customers with 50+ recipes.
Meal & Recipe Variety
Terra's Kitchen has an incredibly rich menu filled with low-carb-low-fat, Paleo-friendly, vegetarian, vegan, gluten-free meals, and even dishes suitable for weight loss. All of its meals are inspired by the Mediterranean cuisine. It offers both ready-made meals and meal kits and allows you to choose from a wide variety of lunches, dinners, snacks, sides, desserts, and beverages.
Food Quality
Terras Kitchen makes sure that all of its ingredients are natural and never provides any artificial or highly processed ingredients. Everything is sustainably sourced, often organic, and meat and poultry are antibiotic-free and hormone-free.
Nutritional Value & Portion Size
Terra's Kitchen meals come in ample portions and usually contain 350 to 750 calories. However, some items go over 1,000 calories per serving. They are nutritionally balanced, generally free from trans fats, and incredibly rich in vitamins.
Subscription Flexibility
With Terra's Kitchen, you can modify your order or cancel your subscription at any time, but you must notify the meal delivery of any changes before the weekly cutoff time, which is 6 or 7 days before your next delivery is due.
Refunds
Terra's Kitchen features a 100% customer satisfaction guarantee, meaning if you are not satisfied with your order from the company, you can contact the service within 7 days of your delivery and receive a credit voucher or refund.

Best For
Best for semi-experienced home cooks who value variety and want to eat healthily
Menu/Meal Plans
Plated features one menu that changes on a weekly basis.
Recipes/Meal Options
Plated offers 30 new recipes each week, including dinner, brunch, side dish, appetizer, and dessert ideas.
Meal & Recipe Variety
Every week, the Plated menu features fresh meal ideas suitable for omnivore, vegetarian, gluten-free, low-calorie, and low-carb diets. The recipes are inspired by popular world cuisines, such as French, Italian, Indian, Mexican, Chinese, and traditional American cuisine. Most items are quick-prep recipes with hands-on time ranging from 10 to 30 minutes.
Food Quality
Plated does not only offer sustainably sourced meat & seafood and the freshest seasonal produce from the best local farms but also supplies home cooks with rare artisanal spices that give rich flavor and tantalizing aroma to every dish.
Nutritional Value & Portion Size
Plated carefully calculates its portion sizes to satisfy the needs of an average adult, with no leftovers. By thoughtfully combining high-quality ingredients into satisfying meals, the Plated culinary team ensures all meals are rich in nutrients and well-balanced, with plenty of items under 600 calories.
Subscription Flexibility
With Plated, you can change your box's recipes or servings at any time. You can also skip, pause or cancel your order whenever you want. Keep in mind that all changes to your subscription must be made by noon six days before your delivery is due.
Refunds
If you are not satisfied with your delivery or something is missing from your box, you can contact Plated and they may issue a credit to your account.
Compare Plans & Pricing

Terra's Kitchen Plans & Pricing
2 Servings
Meals per week
Meal kit price
Price per serving
custom
$21.98 - $33.98
$10.99 - $16.99
4 Servings
Meals per week
Meal kit price
Price per serving
custom
$39.96 - $47.96
$9.99 - $11.99

Plated Plans & Pricing
2 Servings
Meals per week
Meal kit price
Price per serving
2
$47.80 (first week: $35.85)
$11.95
3
$65.70 (first week: $49.27)
$10.95
4
$87.60 (first week: $65.70)
$10.95
3 servings
Meals per week
Meal kit price
Price per serving
2
$59.70 (first week: $44.77)
$9.95
3
$80.55 (first week: $60.41)
$8.95
4
$107.40 (first week: $80.55)
$8.95
4 servings
Meals per week
Meal kit price
Price per serving
2
$79.60 (first week: $59.70)
$9.95
3
$107.40 (first week: $80.55)
$8.95
4
$143.20 (first week: $107.40)
$8.95
Suitable For

Meals For Families
Meals For Kids
Meals For Seniors
Meals For One

Meals For Families
Meals For Kids
Meals For Seniors
Meals For One
Compare Meal Options

Vegetarian Meals
Vegan Meals
Paleo Meals
Keto Meals
Low-Carb Meals
Low-Fat Meals
Meals For Diabetics
Gluten-Free Meals
Organic Meals
Weight Loss Meals

Vegetarian Meals
Vegan Meals
Paleo Meals
Keto Meals
Low-Carb Meals
Low-Fat Meals
Meals For Diabetics
Gluten-Free Meals
Organic Meals
Weight Loss Meals
Compare Sample Meals

Grilled Chicken
Salmon Piccata
Skinny Mediterranean Pasta
Turkey Nachos

Tahini Chicken Schnitzel
Brie Mac and Cheese
Farro and Arugula Salad
Cauliflower Tinga Tacos
Compare Extras

A La Carte Menu
Gift Cards
Marketplace

A La Carte Menu
Gift Cards
Marketplace
Compare Customer Reviews

Submitted By Stellasue Lee on 03/29/2019

We ordered five meals our first week. Everything was easy to prepare, no waste, beautiful instructions, step by step, and the product was picture perfect. Really, we took a picture. I enjoyed all five meals. Twice, we even had a guest and there was enough for three of us. The meats and fish were so fresh. We are looking forward to our next delievery tomorrow.

Submitted By Lori on 03/22/2019

I signed up for this service in February and was very excited to try it. The service had great reviews and was exactly what I was looking for. I submitted my first order and it never arrived. I contacted customer service and they could see where the order was placed, but did not know why it disappeared from delivery schedule. They advised my second order in the system and was ready to go. I requested the coupon code for first time user be applied. This was not done and my second order also did not make it to delivery schedule. Was advised by customer service that there was a glitch and had turned over to manager and IT. Was advised they fixed the glitch, but the same thing happened to my third attempt to order. Closed account, but was told the issue would be looked into and I would be notified when corrected. A few weeks later with no response, I reached back out to customer service, as I really was very interested in getting their service. Was advised computer glitch had been fixed. Again requested the first time user coupon code again as this was to be my first order. This order also disappeared after the processing date. Customer service then directed me to a link that was no help whatsoever for getting the coupon code after I added it to my fifth attempt. I closed my account again. I am very disappointed that they could not get their computer glitch fixed or really help me in any useful way. I can not recommend them after my experience and all the people I had talked to and talked up the company too, beforehand are definitely not interested in using them either.

Submitted By Nathan on 06/19/2018

The quality of this food was so much better than I had anticipated. Despite its pre-packaged appearance the food tastes incredibly fresh. We had tacos and a spaghetti chicken dish. We wife prepared the meals and I hadn't realized that these dishes were meals from Terra's Kitchen - that's how quality the food was. If I had to pick a criticism it would be that the portion sizes (especially for our family) are small. We have a large family (6) and we are large people ( only people who aren't 6'+ tall are my youngest boys who are still growing). Thanks Terra's Kitchen.

Submitted By Kristyn Keen on 08/21/2017

I was 100% impressed with my Terra's Kitchen order. The shipment was on time. Everything was perfectly organized and still very cold. There was not one item missing (I've experienced that from Blue Apron as well as rotting spinach) and all the food smelled fresh, looked fresh and tasted fresh. Every meal I made was delicious and much easier to prepare than Just Fresh. I can't figure out where these poor reviews are coming from. I was blown away by the quality of everything I received and the perfect organization. I got the Ranchero bowls for 4 (excellent) The Nicioise salad for 2 (amazing) and the Chicken curry flatbreads for 2 (perfect) I can't believe people keep complaining about waste. There is much less waste than other services and the little containers can be reused for a multitude of things. The recycled vessel was the coolest thing ever and picked up the next day with no problem. I LOVE Terra's Kitchen! They are my new favorite food delivery company as of yet! I can't wait to get my next order. If you don't try them you are missing out!!

Submitted By D Simon on 09/04/2019

I've tried several meal delivery services, and so far Plated is my favorite. The reason? The recipes are far more interesting than Blue Apron, Martha Stewart, EveryPlate, and HomeChef (the other services I've tried). Ingredients are good quality, I've had only a handful of occasions where ingredients were not included, and customer service credited me in each instance without delay. I'm quite satisfied with this company.

Submitted By Alicia Allaire on 08/30/2019

After cooking 1458 recipes, I've cancelled Plated. The Service began with great quality ingredients. Occasionally there would be a leaking vinegar, or sauce. We would provide feedback and often there would be improvements made in packaging. But, for the most part, everything was great! In the past 6 months the quality has deteriorated severely. The produce has been horrible. The spinach in my shipment last week was ROTTEN in 2 days from receipt. This week it was already starting to spoil when I opened the box. Previously we noticed that after providing feedback they would make GOOD changes. Now they're just making cheaper decisions and providing less quality every shipment. We have moved on and cancelled our subscription. Plated, get it together! There is too much competition out there these days to cut SO many corners.

Submitted By Robin K Holmes on 04/27/2019

I just wanted to comment on the reason why I cancelled my weekly subscription box from Plated. I was a brand new customer, very excited to try their products, so I opened an account and set up a weekly delivery and made meal plans for several future weeks. I was so excited to receive my first order...and then it didn't come. I contacted customer service and they apologized and refunded me. I was told that everything was straightened out and I would definitely receive a box the very next week. A few days later I received an email from Plated saying "Yay! we're going to ship your order!" So I shopped light at the grocery store, confident that Plated would send me a box...and then it didn't come. Again. (I had nothing planned for dinner for the next 3 days and had to go out and buy more groceries after working a 12-hr shift.) I contacted customer service and received a refund to my bank account. But really? Two weeks in a row? No delivery, no explantion? Did they even want my business? Why would they not make certain that the order was shipped given the failure of the previous week? It was a very disappointing experience, and I would not recommend their service to anyone else. Plated gave me another refund, and when I told the customer service rep that I felt I should cancel my service if they could not deliver food I was told "We understand, sorry to see you go." No offer of a coupon or any type of customer recovery, just sorry to see me go. Don't bother to order from them, they can't seem to guarantee delivery.

Submitted By Maria Foster on 01/16/2019

7 meals in and we love love love Plated! Everything arrived super fresh which is way more than we expected in this age of online frauds and dishonesty. One important thing though, NEVER EXPERIMENT with the recipes! We did it once and it was a disaster. The recipes are laser precise and you have to follow them to a T for good results.
Winner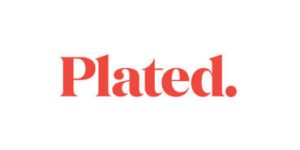 Plated is a meal kit delivery service that offers very flexible subscription plans, as well as high-quality foods. Each week, it comes up with a new seasonal menu, including 20 new recipes and 2 desserts, easily meeting the needs of its customers. Read our thorough analysis of the Plated meal kit service and dozens of user-written Plated reviews.