Terra's Kitchen Review
Advertiser Disclosure
This website features affiliate links. For purchases made via these links, we earn commissions that allow us to keep producing helpful content. To find out more
click here
.
Close
Established in 2015, Terra's Kitchen has grown into a serious business since its foundation, offering healthy and delicious food inspired by the Mediterranean cuisine. It brings you meal kits that can help you stay or get fit. If you love cooking but only if it takes less than half an hour, stick around as we go on a tour around Terra's Kitchen. It might turn out to be just what you have been looking for.


How Terra's Kitchen Works
The simple things in life are usually the best and ordering and cooking with Terra's Kitchen is as simple as it can be. First, you need to decide how many meals you wish to cook per week and how many people are joining you at the table. You can cook for 1 to 4 people and pick the dishes you want to prepare. The choices before you are dinners and various add-ons, ranging from salads to snacks.
Terra's Kitchen offers meals for a variety of special diets (read more about it in the Meals and Recipes section of this Terra's Kitchen review). It also has a great weight-loss plan that covers all your dietary needs and helps you lose weight while cooking and eating delicious meals that are easy and fun to make.
Weekly deliveries from this interesting company include fresh, sustainably produced ingredients, pre-measured and chopped for your convenience, as well as colorful recipe cards with steps that are easy to follow. All meals can be prepared in 15 to 30 minutes, so you can spend less time in the kitchen and have more time for yourself.
What Makes Terra's Kitchen Different
First of all, we love that Terra's Kitchen seeks inspiration in the wonderfully creative and healthy Mediterranean cuisine. At your disposal are more than 50 amazing recipes that make use of all nature's gifts and combine them in exciting ways. The ingredients are always fresh and of premium quality, which you can taste in every bite. It is also incredible that you can prepare any meal in the time it takes to chop a couple of onions.
Terra's Kitchen invests a lot of time in selecting the ingredients, but it also invests a lot of effort into keeping them fresh and lovely until you decide to use them. It uses special vessels for transportation, which look like high-end portable coolers. Every vessel features a set of drawers where the plastic containers with ingredients are placed. Each ingredient comes in a separate container in order to avoid cross-contamination.

Unfortunately, although its vessels are rather handy and it would be nice to keep them, Terra's Kitchen requires you to return them once you empty them. You should return your vessel, with the cold sources inside, to the very spot where the driver dropped it off, so it is easier for the FedEx staff to pick it up. If you are wondering why this is necessary, here is the answer. Terra's Kitchen takes environmental protection seriously, which is why it reuses the vessels for up to 100 times before finally recycling them. It also encourages you to recycle the plastic containers you receive with your delivery.
If you want to treat someone to a couple of Terra's Kitchen meals, you can purchase a gift card. The amounts available range from $25 to $300. You can opt for an instant e-card or purchase a physical gift card that is sent via mail and comes with a handwritten note.
You can also refer a friend directly from your account. Once your friend orders food from Terra's Kitchen and the order is shipped, you get a credit on your account that you can use to order more lovely meal kits.
Meals and Recipes
Terra's Kitchen meal options
Once you subscribe to Terra's Kitchen, you get to pick the plan that best fits your needs. The 2 standard options include 2-3 meals for 1-2 people and 2 meals for 3-4 people. If you wish, you can add more meals to your order.

You also get to state whether you "like it all" or want to receive vegetarian meals. However, this does not mean that those are your only options. Once you take a look at the menu, you can see that this company also offers gluten-free, vegan, Paleo, and low-calorie meals.
If you are trying to shed some extra pounds, you can opt for its Real Weight-Loss Plan. With this plan, your weekly deliveries contain lunches and dinners filled with nutrients and low in calories, as well as healthy snacks and protein-packed smoothies.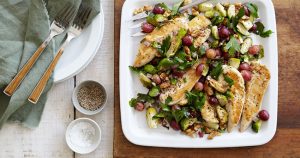 Generally speaking, Terra's Kitchen meals come in two forms: Dinners and Grab-n-Go items. You get to choose which dinners you want to receive in your delivery and the minimum number of dinners you can order is determined by the plan you choose, namely, 2 or 3.
Once you pick your dinners, you can also add some Grab-n-Go items to your cart. You can order as many as can fit in your vessel and Terra's Kitchen notifies you if you have room left or if your vessel is full. The Grab-n-Go items include salads and smoothies, snacks and juices, and side dishes and proteins (meat, fish, and seafood).
Terra's Kitchen Pricing
How much does Terra's Kitchen cost?
With Terra's Kitchen, each menu item has an individual price, which depends on the ingredients required, the intricacy of the dish, and similar factors. The prices of single-serving Grab-n-Go items mostly range from $3.99 to $9.99. The prices of 2-serving Dinner items normally range from $9.99 to 18.99 per serving.
Shipping is free of charge on your first order. For all subsequent orders, you get free shipping if your order is worth $100+ and pay a $4.95 shipping fee for orders worth less than $100. The minimum order is $72.

2 Servings
Meals per week
Meal kit price
Price per serving
custom
$21.98 - $33.98
$10.99 - $16.99
4 Servings
Meals per week
Meal kit price
Price per serving
custom
$39.96 - $47.96
$9.99 - $11.99
Delivery Areas
While researching for this Terra's Kitchen review, what really stumped us was how hard it was to find out where exactly Terra's Kitchen delivers to. After failing to find out on our own, we reached out to customer support, but we got nothing more than what was already stated on the site. Therefore, we can only tell you that Terra's Kitchen does not deliver to all areas within the US.
In order to find out whether it makes deliveries to your location, you need to enter your zip code or physical address on the site. You should receive instant feedback. If not, try contacting customer support.
Terra's Kitchen Pros And Cons
To make sure Terra's Kitchen meets all your standards and expectations, it is important to know its biggest advantages and disadvantages. With a short overview of its pros and cons, you can easily decide if Terra's Kitchen is the right meal kit service for you.
Pros
Sustainably sourced ingredients
Wide variety of menu items
Meals for special diets
All meals ready in 15-30 minutes
Excellent weight-loss plan
Free shipping on the first order and subsequent orders over $100
Cons
Minimum order of $72
No information on delivery areas
Sample Dishes
If you subscribe to Terra's Kitchen, you can easily prepare culinary masterpieces using only the ingredients and recipes found in your meal kit box. You may not be a pro chef just yet, but with Terra's Kitchen, you can easily make restaurant-grade meals. You don't have to take our word for it – check out the images below to get a better idea of the types of dishes you can enjoy with Terra's Kitchen.
Grilled Chicken
Salmon Piccata
Skinny Mediterranean Pasta
Turkey Nachos
Bottom Line
Terra's Kitchen allows you to explore the wonders of the Mediterranean cuisine, with dozens of great recipes at your disposal and the freshest, pre-measured, pre-chopped ingredients delivered right to your door. It makes the dream of cooking healthy meals in less than half an hour come true. Its menu is rich and you get to pick the meals that fit both your desires and your budget. Unfortunately, there is a minimum order, but it is reasonable enough and shipping is free on orders over $100. With many special diet options, it is sure to satisfy the tastes and needs of the majority of hungry customers around the country.