Compare Prices
The following price comparison is designed to help you easily figure out which of our top-ranked healthy meal prep delivery services best fits your budget. We have brought all the pricing information to one place, including the shipping costs and details about the companies' delivery areas, so you can identify the perfect fit in a single glance.
Company
Avg. Meal Price
Shipping
Delivery Areas
Sun Basket
Avg. Meal Price
Shipping Cost
$6.99
Delivery Areas
HelloFresh
Avg. Meal Price
Shipping Cost
$6.99
Delivery Areas
Green Chef
Avg. Meal Price
Shipping Cost
$9.00
Delivery Areas
Terra's Kitchen
Avg. Meal Price
Shipping Cost
$0
Delivery Areas
Gobble
Avg. Meal Price
Shipping Cost
$6.99
Delivery Areas
Takeout Kit
Avg. Meal Price
Shipping Cost
$0
Delivery Areas
Hungryroot
Avg. Meal Price
Shipping Cost
$0
Delivery Areas
PeachDish
Avg. Meal Price
Shipping Cost
$0
Delivery Areas
Purple Carrot
Avg. Meal Price
Shipping Cost
$0
Delivery Areas
FreshDirect
Avg. Meal Price
Shipping Cost
$6.99
Delivery Areas
Best Healthy Meal Kit Delivery Companies
What all of our top picks have in common is that they are currently the healthiest options on the market. Now it is time to discover what makes each of these healthy meal kit delivery companies unique. Explore their distinctive features in the mini-reviews below and choose the one that best satisfies your needs.
1. Sun Basket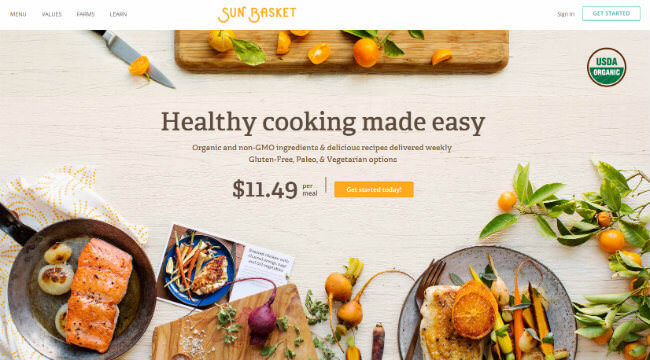 Sun Basket is a healthy meal kit delivery that has plenty to offer to home cooks who prefer natural food. Its weekly menu includes 18 recipes crafted by one of the best San Francisco chefs, along with healthy add-ons like 5-minute salads, dips, sauces, and veggie snacks. Its organic produce comes from the finest local farms and its meat and seafood are sustainably sourced and of the highest quality. You can choose from a variety of meal plans for healthy diets, including lean & clean, Paleo, gluten-free, vegetarian, vegan, pescatarian, diabetes-friendly, carb-conscious, and Mediterranean.
2. HelloFresh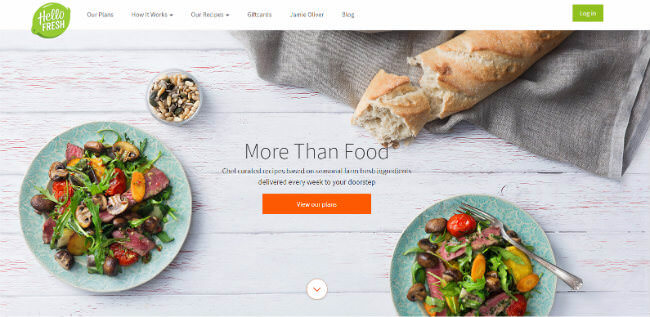 HelloFresh is a meal kit delivery service that allows you to cook healthy meals in as little as 20 minutes, with minimum cleanup. It sources only the freshest natural ingredients and provides recipes that are optimally balanced and easy to follow. It offers plenty of options for special diets, including vegetarian, kid-friendly, gluten-free, dairy-free, egg-free, and nut-free meal ideas, as well as recipes under 500 calories. It develops its recipes in cooperation with the famous healthy eating advocate and celebrity chef Jamie Oliver.
3. Green Chef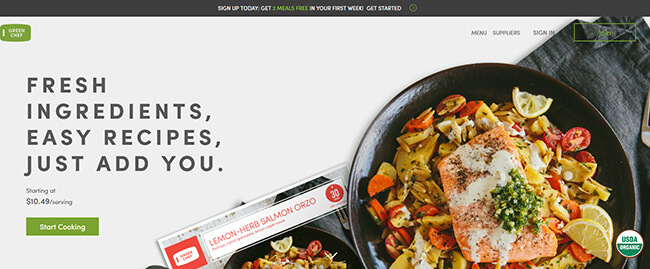 Green Chef is an organic meal box delivery that provides only the best for you and your family. All of its ingredients are USDA-certified organic and its recipes are crafted by professional chefs with both flavor and nutritional value in mind. It offers 7 meal plans for different dietary needs and preferences, including omnivore, carnivore, gluten-free, vegan, vegetarian, keto, and Paleo. Choose the plan that best fits your lifestyle or switch between meal plans at your convenience.
4. Terra's Kitchen


If you want to enjoy the health benefits of Mediterranean food, Terra's Kitchen meal kit service is a premium choice. With fresh, sustainably sourced ingredients and more than 50 delicious and healthy recipes, you can cook with ease and enjoy gorgeous flavors and textures while taking care of your body. Enjoy a variety of meal kits for omnivores, vegetarians, and vegans, as well as gluten-free, Paleo, low-calorie, and weight loss kits.
5. Gobble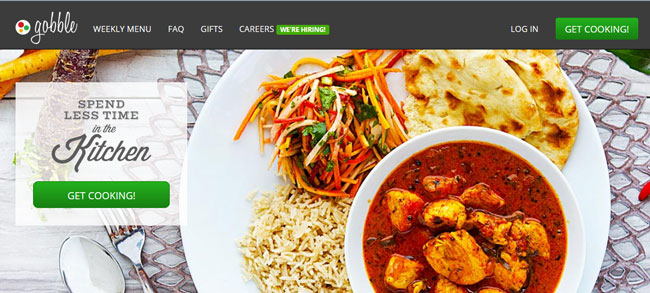 Gobble meal kit service has everything you need to improve your diet and health with less effort than you thought possible. This healthy meal kit delivery allows you to choose from 10 gorgeous recipes every week and cook with the freshest, natural ingredients, pre-measured, chopped, and prepped by pro chefs and ready to be combined into a beautiful meal. The meals take just 10-15 minutes to make and they are as tasty as they are good for you.
6. Takeout Kit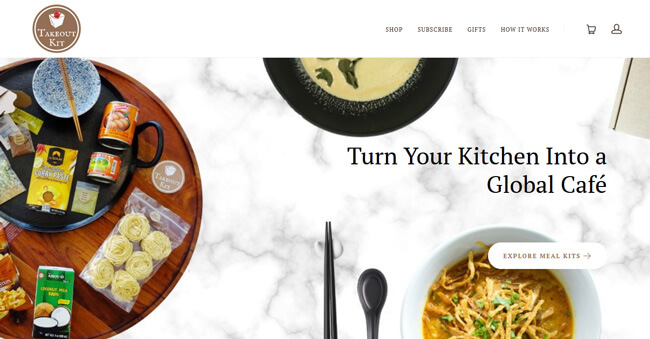 Takeout Kit is a unique meal box delivery that provides healthy meal kits with longer shelf life. Its recipes originate from some of the most famous world cuisines and its ingredients include the finest imported artisanal ingredients that make the meals taste 100% authentic. There are more than 2 dozen kits to choose from and the selection includes amazing dishes for meat lovers, vegans, and vegetarians. With some kits, you can even choose the main protein source and spiciness level.
7. Hungryroot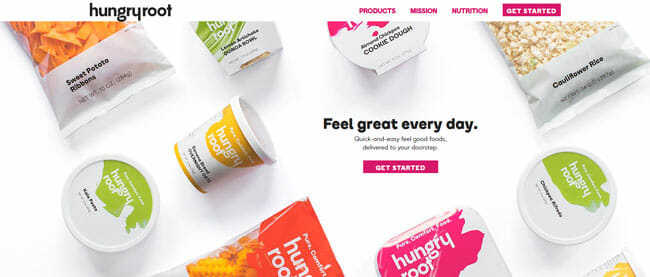 Hungryroot brings you natural and certified organic and non-GMO ingredients that are pre-prepped and ready to be cooked or combined into delicious meals that are good for your body. You can choose between the Small, Medium or Large meal plans, all readily customizable, and get regular deliveries of fresh-cut veggies, sauces, pastas, plant-based proteins, meat, fish, and more. All the meals are ready to eat in about 10 minutes. The menu includes omnivore, pescatarian, vegan, vegetarian, gluten-free, dairy-free, soy-free, and nut-free items.
8. PeachDish


PeachDish is a healthy meal kit delivery service that brings you the freshest seasonal ingredients straight from some of the best local farms. Its recipes usually originate from Southern cuisine, they are perfectly balanced and nutritious, and they are suitable for omnivores, carnivores, vegans, vegetarians, and people on a gluten-free diet. Choose from over a dozen of healthy, easy-to-make meals and desserts designed for 2, 4 or 6 people.
9. Purple Carrot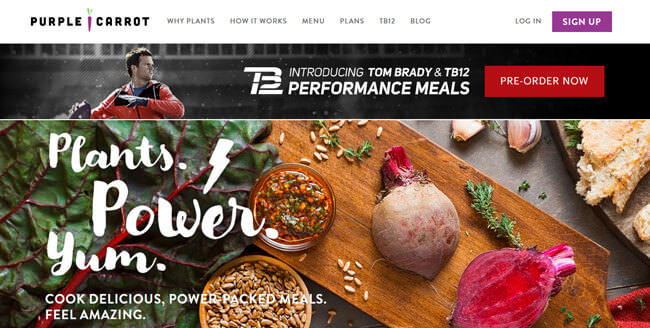 Purple Carrot is an excellent vegan meal kit delivery that exclusively offers natural ingredients and 100% plant-based recipes designed to make you feel and look better while cooking and enjoying restaurant-grade food. In addition to its 3 standard meal plans – Chef's Choice, Quick & Easy, and High Protein – it offers the famous Tom Brady meal kit plan designed for 1-2 people who want to maximize their workout results or just wish to get healthy meal kits to complement their active lifestyle.
10. FreshDirect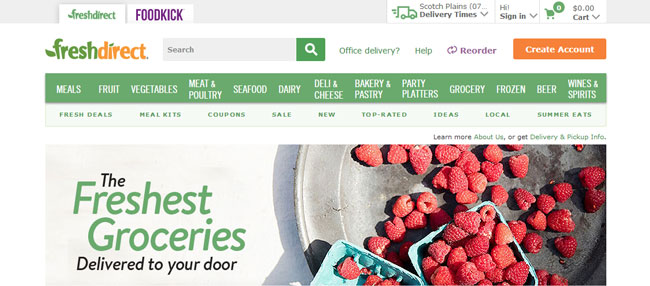 FreshDirect is an organic meal kit delivery that provides dozens of delicious meal kits designed for people who want to eat healthily, including but not limited to carnivores, omnivores, and vegetarians. It is well-known for the superior quality of its ingredients and in addition to meal kits, it offers 3,000+ varieties of fresh food items, allowing you to fill your pantry and fridge with top-quality food while shopping for tasty meal kits.