Sun Basket VS Terra's Kitchen
Choosing between Terra's Kitchen and Sun Basket, you are faced with a rather difficult task. Both services have unique qualities that make them highly popular among hungry customers nationwide. However, that does not mean that the choice is impossible to make, as one of these services does have a bit more to offer. Our Terra's Kitchen VS Sun Basket comparison below allows you to discover what it is that makes these two services different from each other, as well as which one constitutes a better choice.

Glorious Flavors Of The Mediterranean
VS
Cooking healthy meals in no time
Highlights

Whether you are looking for healthy, ready-made meals or want to cook delicious meals in 15-30 minutes, Terra's Kitchen has plenty of options to satisfy your unique needs.
Average Price Per Meal:

$12.99

Shipping Cost:

$0

Delivery Area:

48 states
With Sun Basket, you can handpick recipes that suit your taste, diet, and lifestyle, decide on the number of recipes you want to order per week, double or triple your order when you need more food, choose between high-quality and premium meat options, and completely personalize your orders and meal plan.
Average Price Per Meal:

$11.99

Shipping Cost:

$6.99

Delivery Area:

47 states
Compare Features

Best For
Best for fans of the Mediterranean cuisine
Menu/Meal Plans
Terra's Kitchen features one menu, which you can browse by meal type, servings, and more.
Recipes/Meal Options
Terra's Kitchen provides its customers with 50+ recipes.
Meal & Recipe Variety
Terra's Kitchen has an incredibly rich menu filled with low-carb-low-fat, Paleo-friendly, vegetarian, vegan, gluten-free meals, and even dishes suitable for weight loss. All of its meals are inspired by the Mediterranean cuisine. It offers both ready-made meals and meal kits and allows you to choose from a wide variety of lunches, dinners, snacks, sides, desserts, and beverages.
Food Quality
Terras Kitchen makes sure that all of its ingredients are natural and never provides any artificial or highly processed ingredients. Everything is sustainably sourced, often organic, and meat and poultry are antibiotic-free and hormone-free.
Nutritional Value & Portion Size
Terra's Kitchen meals come in ample portions and usually contain 350 to 750 calories. However, some items go over 1,000 calories per serving. They are nutritionally balanced, generally free from trans fats, and incredibly rich in vitamins.
Subscription Flexibility
With Terra's Kitchen, you can modify your order or cancel your subscription at any time, but you must notify the meal delivery of any changes before the weekly cutoff time, which is 6 or 7 days before your next delivery is due.
Refunds
Terra's Kitchen features a 100% customer satisfaction guarantee, meaning if you are not satisfied with your order from the company, you can contact the service within 7 days of your delivery and receive a credit voucher or refund.
Best For
Best for home cooks looking for a perfect combination of variety, quality, and customizability
Menu/Meal Plans
With Sun Basket, you can choose between the Classic Menu and the Family menu.
Recipes/Meal Options
Sun Basket features 18 new recipes on the Classic Menu and 6 new recipes on the Family Menu each week.
Meal & Recipe Variety
Sun Basket offers Paleo, lean and clean, gluten-free, vegetarian, vegan, pescatarian, Mediterranean, Heart-Check certified, dairy-free, soy-free, and family-friendly recipes. Most meals are ready in around half an hour and there are plenty of easy-prep, one-pot, stir-fry, and make-ahead options. The recipes are inspired by various world cuisines. including Thai, Italian, Vietnamese, Mediterranean, American, and Mexican.
Food Quality
Sun Basket sources the best organic produce of the season, its seafood is of the highest quality and recommended by the Monterey Bay Aquarium Seafood Watch, and its meat is humanely raised, grass-fed and free from antibiotics and hormones.
Nutritional Value & Portion Size
The average calorie count for Sun Basket meals is between 500 and 800 calories per serving. All meals are optimally balanced and approved by its in-house nutritionist. The meals on the Classic menu are perfectly portioned for 2 or 4 adults and the ones on the Family menu are designed for 4 adults with leftovers.
Subscription Flexibility
With Sun Basket, you can make changes to your order or skip, pause, and cancel your delivery at any time. All changes must be made by Noon PST / 3pm EST the Wednesday before your delivery is due.
Refunds
Sun Basket boasts an excellent 100% money-back guarantee, so if you are not happy with your order for whatever reason, just notify the company within 7 days of delivery and you will be issued a refund or credit.
Compare Plans & Pricing

Terra's Kitchen Plans & Pricing
2 Servings
Meals per week
Meal kit price
Price per serving
custom
$21.98 - $33.98
$10.99 - $16.99
4 Servings
Meals per week
Meal kit price
Price per serving
custom
$39.96 - $47.96
$9.99 - $11.99
Sun Basket Plans & Pricing
Classic Menu (2 servings)
Meals per week
Meal kit price
Price per serving
3
$71.94
$11.99
Classic Menu (3 servings)
Meals per week
Meal kit price
Price per serving
3
$143.88
$11.99
Family Plan (4 servings)
Meals per week
Meal kit price
Price per serving
2
$87.92
$10.99
3
$131.88
$10.99
4
$175.84
$10.99
Suitable For

Meals For Families
Meals For Kids
Meals For Seniors
Meals For One
Meals For Families
Meals For Kids
Meals For Seniors
Meals For One
Compare Meal Options

Vegetarian Meals
Vegan Meals
Paleo Meals
Keto Meals
Low-Carb Meals
Low-Fat Meals
Meals For Diabetics
Gluten-Free Meals
Organic Meals
Weight Loss Meals
Vegetarian Meals
Vegan Meals
Paleo Meals
Keto Meals
Low-Carb Meals
Low-Fat Meals
Meals For Diabetics
Gluten-Free Meals
Organic Meals
Weight Loss Meals
Compare Sample Meals

Grilled Chicken
Salmon Piccata
Skinny Mediterranean Pasta
Turkey Nachos
Chipotle rubbed chicken with strawberry and kale salad
Poached cod in tomato broth with potato and golden raisins
Spicy roasted shrim with and ajo blanco sauce
Thai style salmon in spicy red curry
Compare Extras

A La Carte Menu
Gift Cards
Marketplace
A La Carte Menu
Gift Cards
Marketplace
Compare User Reviews

Submitted By Nathan on 06/19/2018

The quality of this food was so much better than I had anticipated. Despite its pre-packaged appearance the food tastes incredibly fresh. We had tacos and a spaghetti chicken dish. We wife prepared the meals and I hadn't realized that these dishes were meals from Terra's Kitchen - that's how quality the food was. If I had to pick a criticism it would be that the portion sizes (especially for our family) are small. We have a large family (6) and we are large people ( only people who aren't 6'+ tall are my youngest boys who are still growing). Thanks Terra's Kitchen.

Submitted By Kristyn Keen on 08/21/2017

I was 100% impressed with my Terra's Kitchen order. The shipment was on time. Everything was perfectly organized and still very cold. There was not one item missing (I've experienced that from Blue Apron as well as rotting spinach) and all the food smelled fresh, looked fresh and tasted fresh. Every meal I made was delicious and much easier to prepare than Just Fresh. I can't figure out where these poor reviews are coming from. I was blown away by the quality of everything I received and the perfect organization. I got the Ranchero bowls for 4 (excellent) The Nicioise salad for 2 (amazing) and the Chicken curry flatbreads for 2 (perfect) I can't believe people keep complaining about waste. There is much less waste than other services and the little containers can be reused for a multitude of things. The recycled vessel was the coolest thing ever and picked up the next day with no problem. I LOVE Terra's Kitchen! They are my new favorite food delivery company as of yet! I can't wait to get my next order. If you don't try them you are missing out!!

Submitted By Anna Baldwin on 02/28/2017

I love the recipes and the ingredients are usually really good, but they are not always as fresh as they should be.

Submitted By Maria Ortiz on 01/14/2017

I don't order that often, I mostly skip because it's a bit pricy, but I do treat myself to a couple of meals now and then and everything is perfect every time.
Submitted By Markus Cooper on 10/17/2018

I have to admit Sun Basket is the first and only meal kit service I've tried. I used to order ready-made meals, but I like my food to be real fresh and after a day or two in transport, it's really not the same as having a meal cooked right before you eat it. As far as I'm concerned, Sun Basket has it all. The recipes are really different and so easy and I like trying out new things, so it really works for me. I liked some recipes more than others, but even with the ones I didn't love, I could just feel they were healthy, so I enjoyed them anyway.

Submitted By Samantha Tyson on 10/05/2018

I've been ordering for a year and a couple of times, I considered trying another service, but there's something about having a SB box waiting for me on the doorstep that still makes me feel excited to come home and cook. I have no complaints but one: not all meals are equally satisfying. Sometime, a single portion is too much for me and sometimes I get hungry just an hour or two after the meal. This is something they should definitely pay attention to.

Submitted By Carla Hansley on 09/28/2018

When I was young, I wasn't really into cooking and now I'm sad I didn't show more interest and learn from my mom, she was such a great cook. Sun Basket has meant so much for me, because now I have to eat and cook healthy and my mom is no longer around to teach me. I'm far from a good cook, but I've already learned a lot and the meals I cook with SB are actually tasty. Worth every dime!

Submitted By Phil on 09/18/2018

I was so excited to try Sun Basket. Reviews were good, their website looked good, so I gave it a go! First delivery was disappointing. Everything arrived at room temperature. The ice pack had melted, the salmon smelled funny and the salad was off with a watery brown residue. Huge disappointment. To be fair, Sun Basket gave me a full refund. Delivery number 2. The ice pack although melted, was still chilled. However, the eggs were broken, the yellow pepper had gone bad and the green beans were not there! (Brussel sprouts included by mistake). So I am done. Sad, but I'm not willing to pay $50+ every week for a sub-standard service and product. @ Sun Basket - step up your game if you want to be taken seriously.
Winner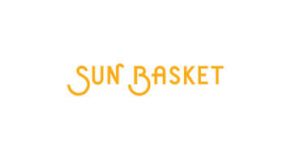 Sun Basket helps you save time while cooking for yourself or your loved ones. A renowned California chef, an in-house nutritionist, and all of the country's best farmers work together to provide you with everything you need to make great meals quickly. Discover if this is the right meal kit delivery service for you in our Sun Basket review.