If your body is craving something healthy and tasty, but there is no room for cooking in your overcrowded schedule, it is time to give meal delivery services a shot. Check out our FreshDirect VS Plated comparison and find out which one to trust with taking care of your diet. Enjoy amazing meals, hassle-free!

More Options Than You Ever Imagined
VS

Cooking with superior ingredients
Highlights

FreshDirect is a huge marketplace filled with fresh food items, ranging from meals and meal kits to groceries, baked goods, and treats of all sorts, all natural and reasonably priced.
Average Price Per Meal:

$12.50

Shipping Cost:

$6.99

Delivery Area:

6 states

Plated offers incredible ordering flexibility, competitive pricing, and one of the richest menus in the meal kit market, with recipes for a vast range of tastes, diets, and cooking skill levels.
Average Price Per Meal:

$9.95

Shipping Cost:

$0

*

Delivery Area:

48 states
*
except on weekly plans under $60
Compare Features

Best For
Best for individuals looking for a one-stop shop for all their dietary needs
Menu/Meal Plans
Fresh Direct provides its customers with several ordering options, including meal kits, ready-made meals, and various food items.
Recipes/Meal Options
With Fresh Direct, you have thousands of food items, hundreds of dishes, and around 40 meal kits at your disposal.
Meal & Recipe Variety
FreshDirect offers omnivore, vegetarian, vegan, organic, low-calorie low-carb, low-fat, and gluten-free meals and meal kits. Its ready-made dishes include breakfasts, entrées, sides, appetizers, and soups, as well as a variety of sauces, marinades, salsas, dips, salads, pizzas, sandwiches, wraps, marinated meats, kabobs, and even sushi. You can also purchase groceries, pastry, and beverages.
Food Quality
Although FreshDirect offers a vast variety of different products, what they all have in common is that they are fresh and generally made of high-quality, natural, and organic ingredients.
Nutritional Value & Portion Size
As FreshDirect offers over 3,000 food items and hundreds of meals, nutritional value and portion size vary significantly. However, since the company uses natural and organic ingredients, the products are generally healthy and rich in nutrients.
Subscription Flexibility
If you wish to modify or cancel your order with FreshDirect, you can do it at any time, but you must notify the company before the cutoff date, which depends on your location.
Refunds
If you are not happy with your order from FreshDirect, contact the company straight away and you will either get a replacement or refund.

Best For
Best for semi-experienced home cooks who value variety and want to eat healthily
Menu/Meal Plans
Plated features one menu that changes on a weekly basis.
Recipes/Meal Options
Plated offers 20 new recipes each week, plus 2 desserts.
Meal & Recipe Variety
Every week, the Plated menu features fresh meal ideas suitable for omnivore, vegetarian, gluten-free, low-calorie, and low-carb diets. The recipes are inspired by popular world cuisines, such as French, Italian, Indian, Mexican, Chinese, and traditional American cuisine. Most items are quick-prep recipes with hands-on time ranging from 10 to 30 minutes.
Food Quality
Plated does not only offer sustainably sourced meat & seafood and the freshest seasonal produce from the best local farms but also supplies home cooks with rare artisanal spices that give rich flavor and tantalizing aroma to every dish.
Nutritional Value & Portion Size
Plated carefully calculates its portion sizes to satisfy the needs of an average adult, with no leftovers. By thoughtfully combining high-quality ingredients into satisfying meals, the Plated culinary team ensures all meals are rich in nutrients and well-balanced, with plenty of items under 600 calories.
Subscription Flexibility
With Plated, you can change your box's recipes or servings at any time. You can also skip, pause or cancel your order whenever you want. Keep in mind that all changes to your subscription must be made by noon six days before your delivery is due.
Refunds
If you are not satisfied with your delivery or something is missing from your box, you can contact Plated and they may issue a credit to your account.
Suitable For

Meals For Families
Meals For Kids
Meals For Seniors
Meals For One

Meals For Families
Meals For Kids
Meals For Seniors
Meals For One
Compare Meal Options

Vegetarian Meals
Vegan Meals
Paleo Meals
Keto Meals
Low-Carb Meals
Low-Fat Meals
Meals For Diabetics
Gluten-Free Meals
Organic Meals
Weight Loss Meals

Vegetarian Meals
Vegan Meals
Paleo Meals
Keto Meals
Low-Carb Meals
Low-Fat Meals
Meals For Diabetics
Gluten-Free Meals
Organic Meals
Weight Loss Meals
Compare Sample Meals

Dinosaur Bar B Que Pulled Pork
Frozen Crispy Chicken Fingers
Oregano Lime Chicken
Three Cheese Lasagna

Tahini Chicken Schnitzel
Brie Mac and Cheese
Farro and Arugula Salad
Cauliflower Tinga Tacos
Compare Extras

A La Carte Menu
Gift Cards
Marketplace

A La Carte Menu
Gift Cards
Marketplace
Compare User Reviews

Submitted By Henry Giles on 07/22/2017

I'm a lazy guy, so this kind of store is exactly what I need. Groceries – they've got 'em, meals – so many options, beer – hell yeah.

Submitted By Laura Forbes on 05/05/2017

Sure, it's convenient, but it's not as good as it's hyped up to be.

Submitted By Hannah Rogers 3.5 on 03/14/2017

The food's awesome, but it's too pricy if you ask me.

Submitted By Robyn IarobyncoaRngeli on 03/28/2018

I ordered for the 1st time. Waited all day- Started a chat at 7:45 to let them know nothing has been delivered. Told me to wait until 8:00. Reached out again at 8:01. Going back and forth finally got a credit back to me, only that it will take 5-7 business days. Fedex - stated at 8:15 that the business was closed. This was a condo delivery. Called fed-ex not helpful. Contacted Plated again - it will be my descretion if I choose the food upon arrival. Completely unacceptable! Cancelled my subscription immediately. Very Poor - I do not want to give them a 1 star - completely below standards.

Submitted By Tammy on 03/24/2018

I used Plated for a couple of years and enjoyed. When they were bought out this year the meat .... beef was less quality cut and the package was 2 ice packs instead of 4 packs.. It looked like getting less for the same price.. the original plated company always cared about your comments and concerns.......new owners never replied to my concerns. I no longer purchase Plated meals.

Submitted By Diane B on 02/28/2018

My experience with Plated has been top notch so far. I've made three meals, and I found that the ingredients and the recipes are excellent. I've been really impressed with the produce, it's al been so fresh, and the herbs are just beautiful. I read a review that complained about the work involved to put together a meal, but hey, it's not Meals On Wheels! If that's what you're looking for then you're better off ordering take out. It's true that there is some preparation required to make a meal; the vegetables need to be rinsed and chopped, and you have to combine some ingredients before cooking them, but what you don't have to do is shop for the ingredients wherein you purchase more than you're going to use because that's how they're sold, and end up cluttering up your refrigerator with the leftover bok choy or whatever a week or so before you throw it out. (At least that's what I do). With this, the food arrives in just the quantities you need, which incidentally saves the steps of measuring and wrapping and storing the stuff you don't use. Not to mention not having to wash and put away measuring cups and spoons. I really love this service and the results have been delicious. And it's made cooking a whole lot more fun for me!

Submitted By H. Lackey on 02/25/2018

I decided to try the promotional first week free. I scheduled a Saturday delivery. No box ever arrived. When I called Plated, they said that they had no record of the shipment from their delivery company and offered no explanation. I am extremely unimpressed.
Winner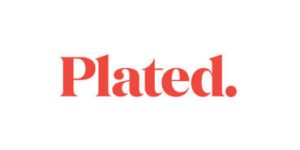 Plated is a meal kit delivery service that offers very flexible subscription plans, as well as high-quality foods. Each week it comes up with a new seasonal menu, including 20 new recipes and 2 desserts, easily meeting the needs of its customers. Find out more exciting details about this meal kit delivery in our Plated review.